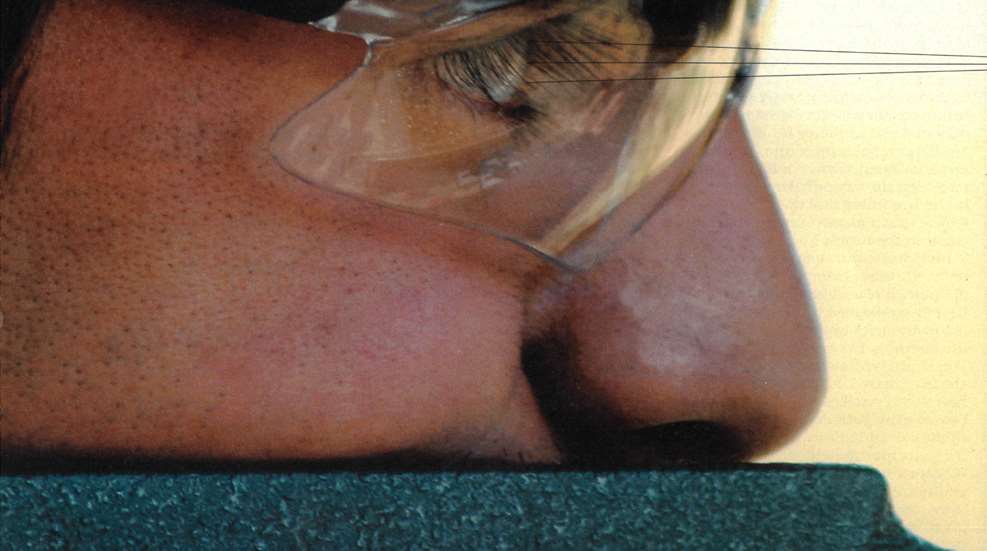 From the vault: Word quickly spread that history was in the making at the 2005 NRA High Power National Silhouette Championships. During the first day of competition, Agustin Sanchez flirted with shooting perfection while he blistered metal targets in the desert heat. Read our coverage of his near-perfect run at the match as published in the October 2005 issue of Shooting Sports USA.
Flirting with Perfection
By Rory K. Aikens
In nearly 40 years of high power rifle silhouette competition, no one has ever shot a perfect 40. At the Ben Avery Shooting Facility—just north of Phoenix—on June 16, 2005, Agustin Sanchez looked as if he might be the first.
Round after round, the 22-year-old shooter originally from Tijuana, Mexico, methodically knocked down the small metal targets. The action didn't go unnoticed by the other shooters, and the word spread like wildfire across the range that a historic feat was afoot.
Sanchez held the crowd's attention as chickens, rams and pigs disappeared in systematic order. Sanchez finally missed a turkey and, just like that, the quest for perfection was over. He ended up with a near-perfect 39 during the first day. "I was just one-half inch off," Sanchez said. "I didn't listen to my coach, Tony (Tello), and I missed."
This is the second time Sanchez was within one shot of high power silhouette perfection. Two years ago, during the NRA national championships in Pennsylvania, Sanchez missed one chicken to shoot a 39. Sanchez talked nonchalantly about his pair of flirtations, but there was also that look of determination on his face. It's just a matter of time before he shoots that dream 40.
RECORD-SHATTERING
While Sanchez didn't make history by shooting a perfect score, he did break a long-standing NRA record during the three-day match under the clear blue desert skies. After shooting the 39 on the first day, Sanchez banged out two consecutive scores of 36 during the next two matches to compile a three-match total of 111 in standard rifle. That broke a long-standing NRA record of 110 for three matches set by David Tubb, of Texas, in 1990. The record score was more than enough to win the championship. His nearest competitor finished a Texas mile behind.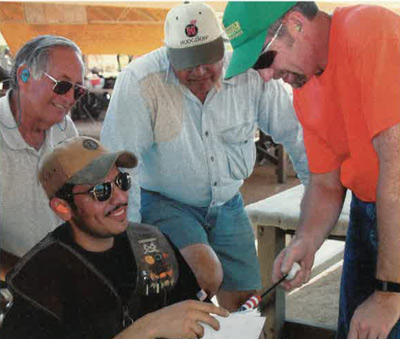 Although Sanchez did not flirt with perfection during the hunter rifle silhouette competition, scoring a 36 on the second day of shooting provided him a commanding five-shot lead over his nearest competitor. Sanchez methodically widened that gap on the final day and blasted his way to a three-day total of 98. That was a nine-shot lead over his nearest competitor.
"Sanchez is awesome. He's a shooting machine," said Mark Pharr, who placed second in the heavy rifle category by shooting a 90. "Sanchez is in a class by himself. He doesn't so much compete against us as he does against himself and his own records." Pharr was almost right.
Sanchez said the secret to his shooting success is in the mind. "I always think that the one I have in the chamber is the first one. I shoot 40 matches of one shot each, not a single match of 40."
Other shooters agree. Eric Boos, an unassuming shooter from Washington who ranked number one in the master class for hunter rifle, said all competitors like to have the best equipment available, but being a top competitor takes more. "We're all good shooters. We all like having the best equipment. But having the right mental focus is the key to winning."
It took plenty of mental focus during the national shoot. Conditions were challenging, as the dry desert heat rose to 108 degrees during the first day of the finals. Shooters had to contend with floating mirages while looking through their riflescopes at the rows of steel chickens, turkeys, pigs and rams. Beads of sweat would barely appear on brows before they would evaporate.
Sanchez and Pharr both said they are accustomed to shooting in such conditions.
Other shooters were not quite as accustomed to shooting in the desert climes. "These are the hottest temperatures I have ever experienced in my whole life, by about 30 degrees," remarked Fabian Connolly with the Irish National Shooting Team.
Connolly added that Ireland typically never gets hotter than around 78 degrees. "All in all, it's not that bad if you stay out of the sun. You get used to it, I guess. As they say here, 'it's a dry heat.'"
But after a seven-day bake, Connolly had lost the lilt in his manner. You could tell the good-natured Irishman couldn't wait to return to his more temperate home on the Emerald Isle, where swirling dust devils are best described with a print in the hand.
SHOOT-OFF
Fittingly, the last shots fired during the three-day championship came during a shoot-off between Boos and Sanchez after each shot a 32 in the hunter rifle during the last day. Twice they both missed. Twice they both hit. Then Boos hit and Sanchez didn't. All while the desert wind tossed the flag around.
Boos said it was gratifying to win the shoot-off with the top gun to claim the daily record, but shrugged his shoulders and said, "Sometimes you're on, sometimes you're not. Today, I had a good shooting day. Sanchez has had yet another great match."
Sanchez was also philosophical about it. He didn't have as good a shooting day as he wanted, but all in all, he was satisfied with winning the two high power rifle silhouette titles during the competition.
Another champion shooter put it in perspective. "When you can say you shot a 32 and had a bad day, you're a heck of a shooter," said Troy Lawton, who placed third in the championship. Lawton, who has won his share of national championships over the years, including the 2005 Smallbore Hunter Rifle Silhouette Championship, was just two shots behind Pharr in the standard rifle.
Lawton, a ballistician for the U.S. Army, said he used his Remington .243-caliber hunter rifle in both of the high power competitions. He uses a 107-grain Sierra bullet for most targets, but goes to a 115-grain bullet just for the rams. "You need 1,000 pounds of energy at 100 meters to consistently knock down the rams," he said. Lawton ought to know—he tests ammunition for the Army.
Lawton explained the hunter rifle competition was created so that anyone could be competitive for a comparatively modest investment by using a rifle straight out of the box. Holding up his hunter rifle, Lawton said, "This isn't just a target gun, I have used it for deer hunting as well."
Pharr, a gunsmith, also uses his .260 Rem. for both high power competitions. "I think it helps my consistency by using just one rifle for both competitions rather than switching back and forth. I don't have to readjust for a different trigger pull. It looks like it paid off for me this time." Pharr explained in the hunter rifle class, the minimum trigger pull allowed is two pounds.
COMIC RELIEF
Going into the third day of shooting, Sanchez led the field by a staggering 12 shots in the heavy rifle competition. Pharr, who was in second place, joked that the only way he had a chance of winning was if Sanchez didn't show up for the final day.
"If he shot a 28 and I shot a perfect 40, then we would go to a shoot-off," Pharr said jokingly on the final morning. "That ain't about to happen. I thought about letting the air out of his tires this morning, but Tony (the coach) would've just called a cab."
Knowing full well that Sanchez had a virtual trigger-lock on the national championship, the fun-loving Texan took every opportunity to tease him. "You're going down Sanchez, you're going down."
The quiet-spoken Sanchez would just smile at the brash Texan, then go back out on the range and systematically knock down target after target. Actions speak louder than words.
Pharr even joked around that the reason he took second place is not because he shot well, but that most of the field didn't.
Sanchez didn't start shooting competitively until he was age 17. He has had a meteoric rise since then.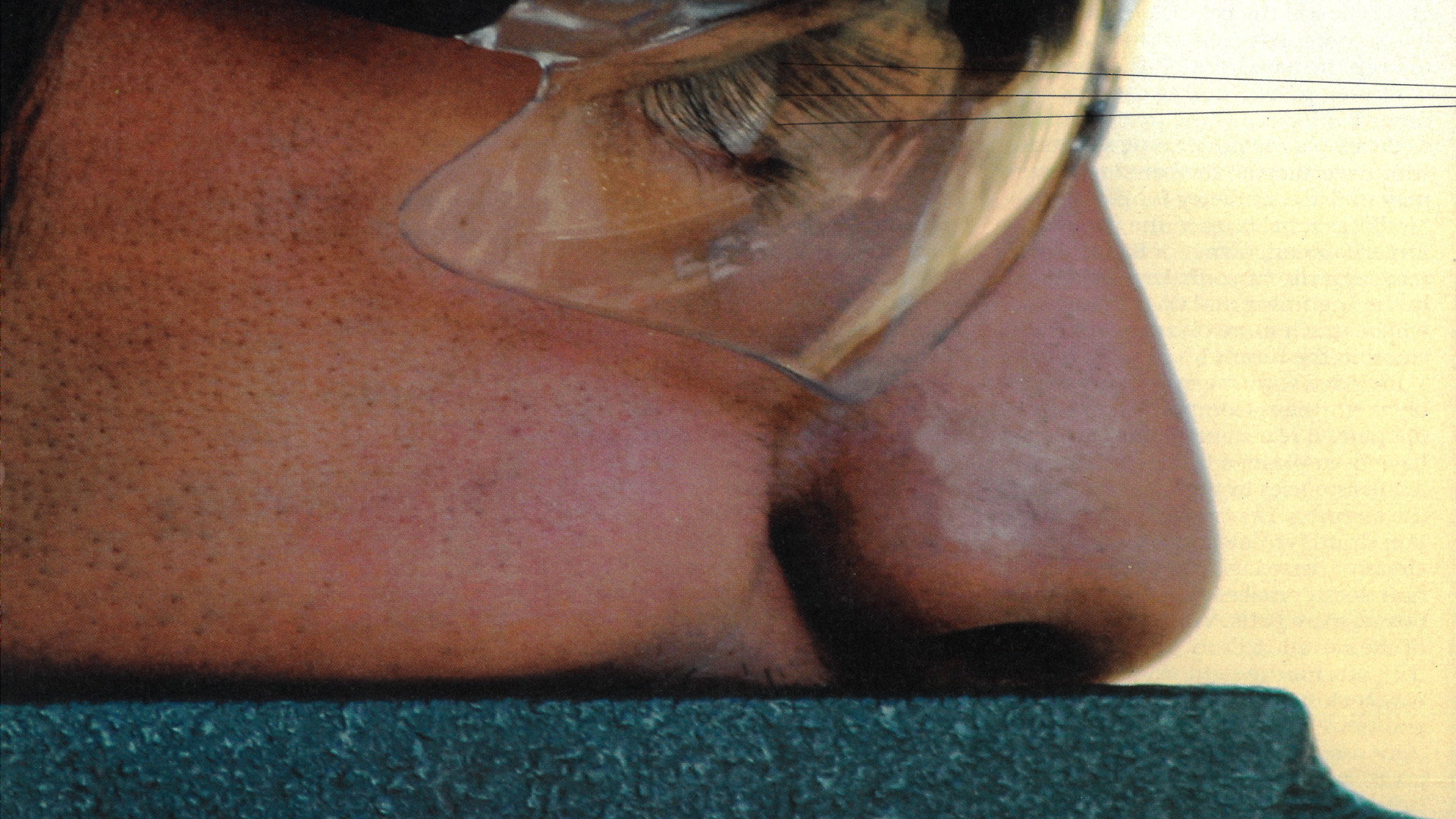 Photo: Intense concentration on the target is the hallmark of Agustin Sanchez, who shoots every round as if it is his first, and his last. He had already claimed the 2005 NRA Smallbore Rifle National Silhouette Championship a week before, and during this event he added two more titles to his resume. Photo by Rory K. Aikens.
---
Read more:
How To Gain Confidence In Silhouette Shooting