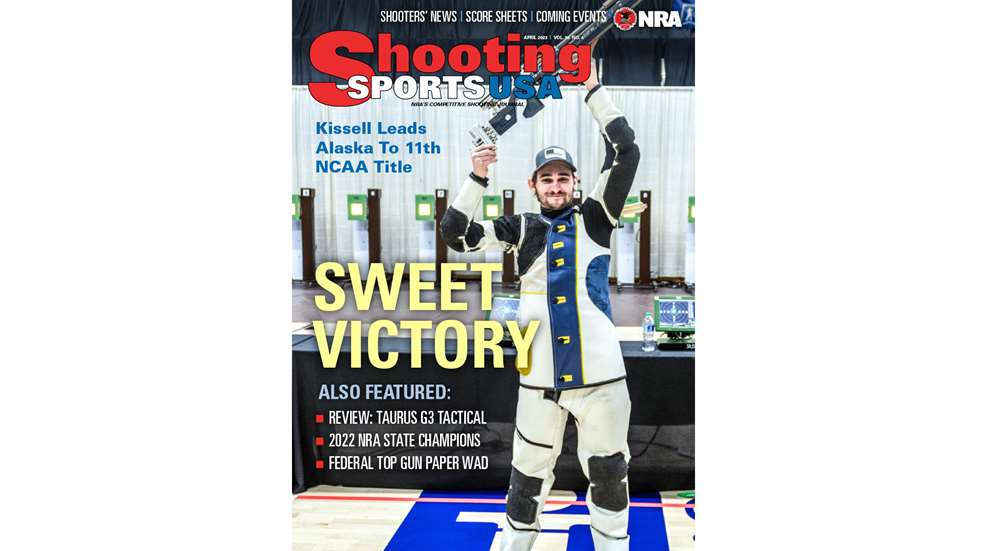 Pictured on the cover is collegiate competitor Rylan Kissell, who in March led the University of Alaska-Fairbanks Nanooks rifle team to victory at the 2023 NCAA rifle championship, held in Ohio at the University of Akron's Rhodes Arena. Kissell was the top individual shooter at the match, and also fired a perfect air rifle qualification score of 600-58X, setting a new NCAA championship record. I was at the championship in Akron on March 10-11, and let me tell you, the air rifle final medal match between Kissell and West Virginia University's Mary Tucker will be one that is remembered for many years to come. You can read all about it, and the smallbore rifle contest, in my 2023 NCAA championship match report.
Do you know who your state champion is? You can find out by reading our 2022 NRA State Champions feature, which includes the winners of NRA-sanctioned competitions conducted around the country. As the 2023 shooting season shifts into high gear, it's fun to look back at the memories created last year and recognize the achievements of our friends on the firing line. In addition, you can always find local match coverage in the Shooting Sports USA monthly Score Sheets section.
For Product Focus, Field Editor Chris Christian reviews the Taurus G3 Tactical 9 mm, an interesting new option for action pistol competitors. Optics-ready, the Taurus G3 Tactical also includes a second recoil spring, giving shooters the ability to fire an IDPA or USPSA match using the standard spring and 125 power factor loads, then change the spring assembly and compete with a lighter-recoiling load in a non-power factor discipline, such as Steel Challenge.
In general, longer barrels in firearms will increase velocity. But what happens when this isn't the case? Author Brad Miller this month shares the story of a "slow" revolver in his collection that does not produce the speeds he expected from it. After research and testing, he outlines the steps that he took to discover what was slowing down his Smith & Wesson Model 27 revolver with 8.38-inch barrel.
If you are a Federal shotshell fan, you should know the company recently released new paper wad options for certain Top Gun lead and steel loads. Author Dana Farrell reviews Federal's Top Gun with Paper Wad loads, which sport an exclusive paper wad (shot cup), cellulose-based filler, and a paper gas-sealing over-powder wad (critical for maintaining a good gas seal).
Finally, the 152nd NRA Annual Meetings and Exhibits will be in Indianapolis, Ind., from April 14-16. Be sure to come say hello if you see me in the exhibit hall—I look forward to chatting with many of you at the Indiana Convention Center. Go to nraam.org to learn more.
John Parker
Editor-in-Chief, Shooting Sports USA
Are you a subscriber?
Not receiving the monthly digital magazine announcement in your inbox? Become a subscriber. Not only is it completely free, it only takes a minute to sign up and it guarantees you'll never miss a single issue of the NRA's competitive shooting journal. Subscribe here.