On the cover is the new Stag 15 3-Gun rifle from Stag Arms, a fast-shooter loaded with features that action shooters want. Chambered in .223 Wylde and packed with multiple upgrades, including a Hiperfire Hipertouch Competition trigger, Magpul MOE SL-S adjustable stock and 40-round PMAG, the Stag 15 3-Gun rifle is ready for competition out of the box. Just add an optic and you are ready to go. Read my review of the Stag 15 3-Gun rifle paired with Trijicon's 2x20 Compact ACOG optic.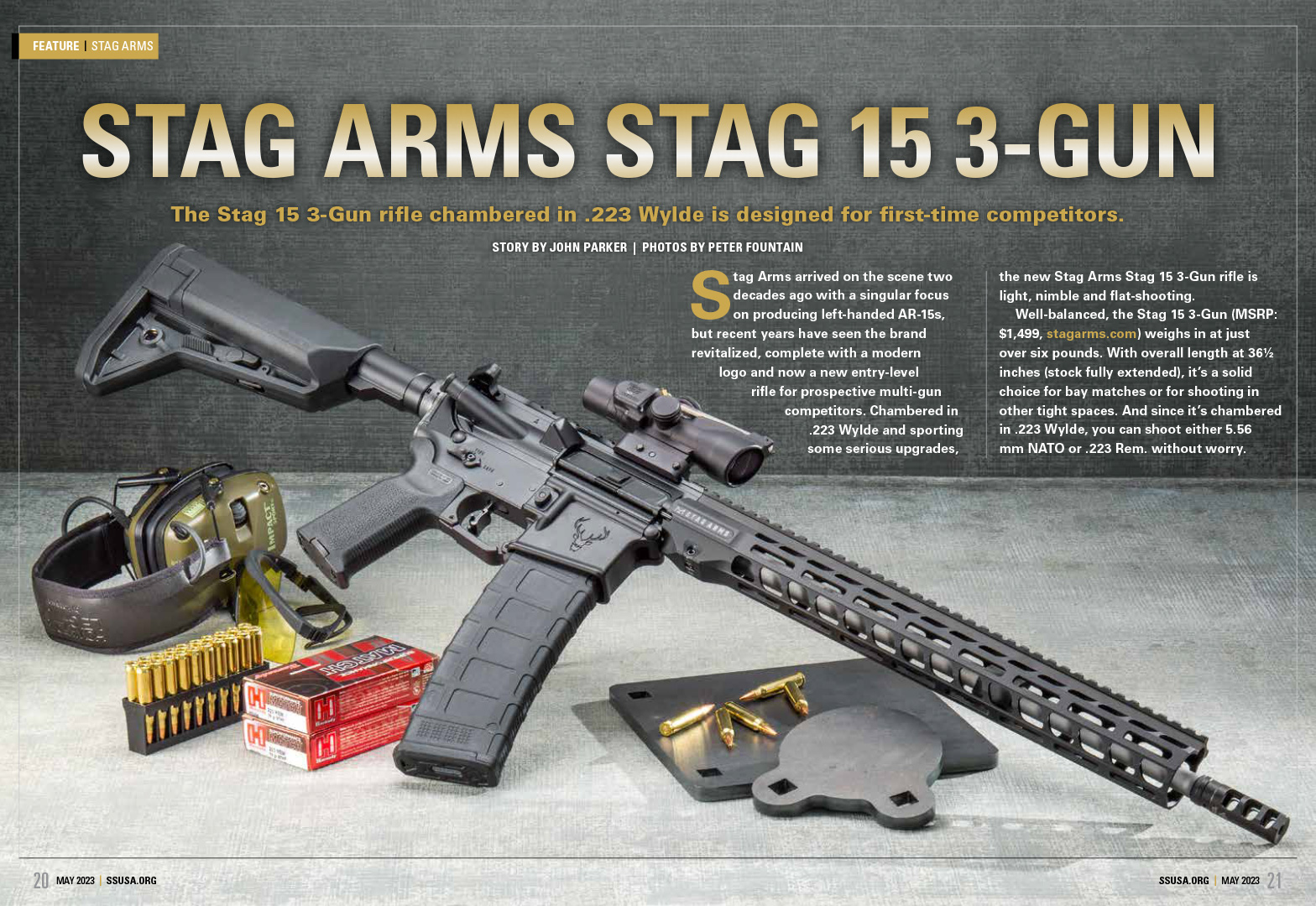 In Product Focus, Field Editor Art Merrill brings us his second ammunition roundup of the year, this time with a focus on centerfire rifle competition ammo. Merrill said, "Today's factory match-grade centerfire ammunition has improved so much over recent years that much of it no longer takes a back seat to skillfully crafted handloads." Learn about new centerfire rifle precision loads from top companies such as Berger, Federal, Hornady, Remington, Winchester and more.
New gun owners working on shooting fundamentals know all about repetition, and how skill-building drills can often use up many boxes of ammo. Author Dick Jones shares three drills that will help improve your shooting skills without breaking your ammunition budget, in his article "Low Round Count Training."
Since 2021, the Practical Competition Shooting League has been an alternative for shooters seeking the adrenaline rush of multi-gun competition. Founded by competitive shooter Max Leograndis, the league has its own high-risk, high-reward target, along with a self-described focus on "competition, not politics." Author Serena Juchnowski attended a PCSL match in Utah not long after SHOT Show 2023 to find out more about this burgeoning practical shooting league.
Thanks to our friends from the National Rifle Association of the United Kingdom, it's been revealed that the first American presence at the U.K.'s historic Wimbledon Common occurred in 1863—eight years prior to the formation of the National Rifle Association of America. A privately held oil painting, recently displayed at the NRA of the U.K.'s facility in England, clearly shows the American flag and what appears to be a breech-loading rifle demonstration by Mr. Montgomery Storm. Read "Stars and Stripes at U.K.'s Wimbledon Common in 1863" for a fascinating history lesson.
Online registration for the 2023 NRA National Matches at Camp Atterbury is open now at the NRA Competitive Shooting web portal. The 2023 NRA National Matches at Camp Atterbury—including the Precision Pistol, Smallbore Rifle and High Power Rifle National Championships—are set to begin July 8 and conclude August 6. You can see the most up-to-date calendar and register for the National Matches at the NRA Competitive Shooting website.
John Parker
Editor-in-Chief, Shooting Sports USA
Are you a subscriber?
Not receiving the monthly digital magazine announcement in your inbox? Become a subscriber. Not only is it completely free, it only takes a minute to sign up and it guarantees you'll never miss a single issue of the NRA's competitive shooting journal. Subscribe here.