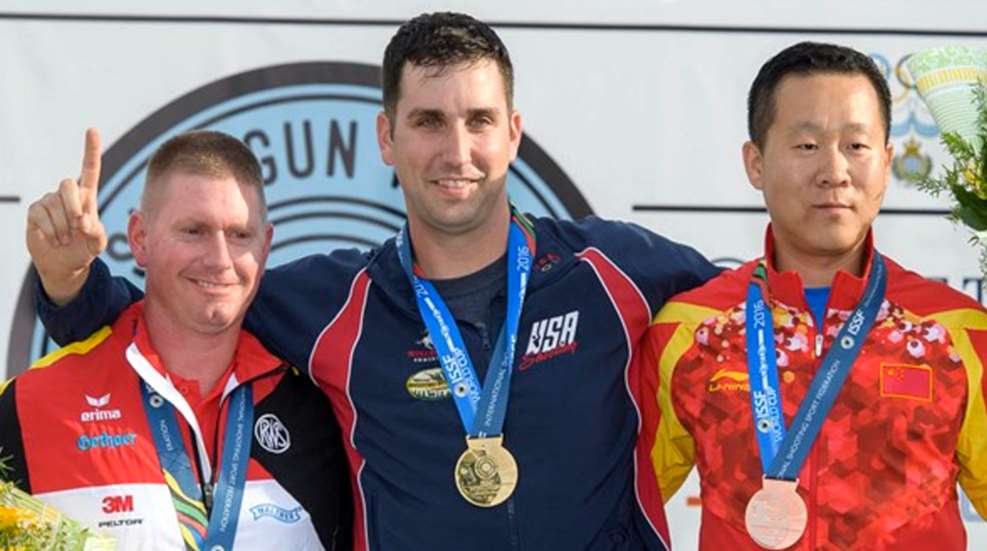 Above: SSG Josh Richmond (center) beat Germany's Andreas Loew (left) by one target in the gold medal match at the ISSF World Cup. People's Republic of China's Pan Qiang (right) won the bronze.

With the pressure removed after securing an Olympic Team spot a few weeks back, SSG Josh Richmond of the U.S. Army Marksmanship Unit (AMU) got back on track internationally by winning a gold medal in Double Trap at the International Shooting Sport Federation (ISSF) World Cup in San Marino.

Richmond (Hillsgrove, PA) is hopeful this trip to the top of the podium is a sign of things to come just months before he competes in his second Olympic Games. This is the 12th World Cup medal and sixth victory of his career. His last World Cup victory came in 2014.

Richmond beat German shooter Andreas Loew, 29-28, in the gold-medal match to conclude a rain-soaked day. His quest for gold began after hitting 140/150 targets in qualification. From there, he scored 28/30 targets in the semifinal match and win a shoot-off against China's Pan Qiang and join Loew to determine the top spot. Qiang would eventually claim the bronze medal with Australia's James Willett finishing in fourth place.

Richmond was perfect until the final pair in which victory had almost certainly been guaranteed. Loew, who had secured Germany's Olympic berth just last week, missed just two targets in the Finals after being perfect in the semifinals.

"It was another great day in San Marino for me," Richmond said afterwards. "I shot here in 2009 and got a bronze medal. I came here trying to stay consistent throughout the day. The weather conditions affected the targets, and the light was changing back and forth, but I stayed focused, hitting one target after the other until the end."

The two-time World Champion finished ninth in Nicosia earlier this year and did not compete in Rio. Richmond is the only Olympian in Shotgun set to compete in the final World Cup of the season, June 20-29, in Baku, Azerbaijan.

Richmond's teammate, Glenn Eller (Houston, TX), finished 17th after hitting 134 targets in qualification. Two poor rounds of 25/30 during his second and fifth rounds cost him any shot of pursuing a medal.

Getting the World Cup started right for Team USA was Corey Cogdell-Unrein (Eagle River, AK), who earned a silver medal Friday. All seven members of the U.S. Olympic Team for Shotgun are participating with Women's and Men's Skeet still left to compete later this week featuring reigning World Champion Morgan Craft (Muncy Valley, PA), five-time Olympic medalist Kim Rhode (El Monte, CA), two-time Olympic gold medalist Vincent Hancock (Eatonton, GA) and reigning national champion Frank Thompson (Alliance, NE).

Editorial assistance and photo provided by the ISSF and USA Shooting.