We're saddened to share that Lawrence Bruce Carter―"Larry" to his shooting sports family, passed away suddenly at his home in Gray, ME, on Monday, Dec. 3 at the age of 67. Larry and his daughter, Amanda, frequently contributed to Shooting Sports USA and were known for their unselfish devotion to the shooting sports at large. In particular, Larry was a staunch supporter of youth shooting and promoted the sport heavily among women athletes.

As a young man, Larry served in the Marines and was first assigned to Marine Corps Base 29 Palms, CA. Extracurricular activities are slim at this desert outpost and so, when not performing his military duties, Larry took-up dirt bike racing. He also discovered he was an expert marksman, something he would return to later in his multi-faceted career. Having returned to Maine after serving his country in the 1960s, Larry pursued drag car racing while working as a mechanic and heavy equipment operator.

By the 1990s, the shooting spark had reignited in Larry and, true to form, he took it to a competitive level. In addition to his own National Championship standing in Bullseye (now Precision) Pistol, Larry took a newly assembled Ultradot civilian team to first place at the National Championships at Camp Perry in 1999. As in everything Larry did in life, his pursuit of shooting found him leading the way as the owner of Larry's Guns and later, as an accomplished gunsmith. Search through archived Shooting Sports USA articles and Larry's name comes up often with insights into red dot scopes and how to manage match pressure where he once shared:

"One of the things that seems to work for me is 'starting over' every time I pick up the gun. If I find myself focusing on things gone wrong, I take a glance into my gun box lid where I have some favorite pictures. I then take a little mind trip to one of the places or times in those pictures, until I hear 'shooters to the line' or whatever the next command is. This is my signal to 'start over' on a fresh run."

We will miss seeing Larry on the line and in "Commercial Row" at Camp Perry, but will always be grateful for his many, lasting contributions to advancing our sport.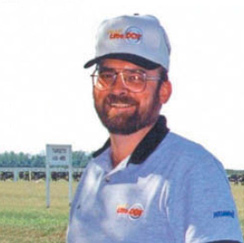 Lawrence "Larry" Bruce Carter
1950-2018