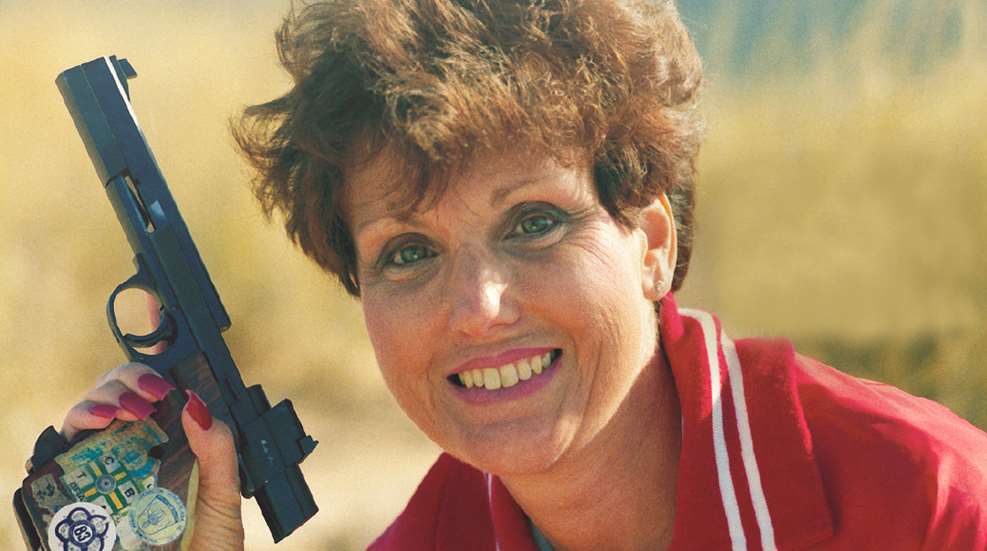 When asked if she ever "plinked" or shot just for fun, Ruby reflected for a moment and answered: "Shooting was always serious. It was a job that I loved. It was reverent. It was always a dress-up performance."

Born in Los Angeles, CA, Ruby Ellen Fox learned how to shoot from her competitive shooting husband, Art. At the 1984 Summer Olympics in Los Angeles, Canada's Linda Thom and Ruby tied for first in the women's 25-meter sport pistol with record-setting 585s. Thom won the shoot-off 198 to 197, earning Fox the silver. Ruby also competed in the 1988 and 1992 Summer Olympics.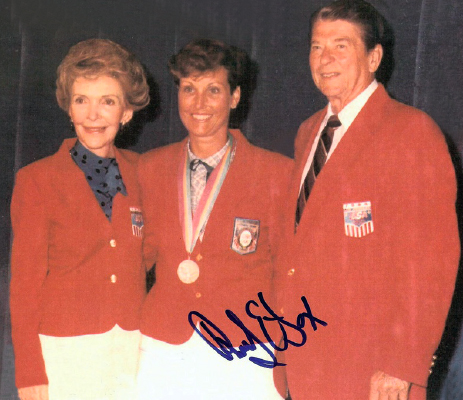 Fox traveled the world during her shooting career and was the only woman on the elite U.S. Army Reserve Pistol Team, serving nearly 29 years. She still coaches, teaches and competes.

As a "California Girl," were you exposed to shooting sports growing up?
I was born in Los Angeles. But by the time I was four years old, my father's asthma had worsened to the point that his doctor recommended relocating to a dryer climate—either Las Vegas or Parker, AZ. My father said "No daughter of mine is going to live in Las Vegas." He knew me (laughs), so my mother packed us up and we moved to Parker, and I've been here for sixty-some years.

Is it true you spent your honeymoon at a shooting match?
Well, I didn't shoot. My husband shot. He was the shooter back then and I was just a young bride.
Col. Jack Vincent recruited you for the Army Reserve team. How did you two meet?
Jack was my commanding officer for all the years that I shot in the Army Reserve. I met Col. Vincent at many matches when I was a civilian competitor. At a San Diego match in 1974, he asked me if I would be interested in joining the U.S. Army Reserve Pistol Team. It didn't take me long to answer.

The person who gave me my first shooting lesson in 1968 was Air Force Major Frank Green in South Bend, IN. Frank was the silver medalist at the 1964 Tokyo Olympics. I was the next U.S. pistol competitor to win an Olympic medal, 20 years later.

You have credited a long list of helpful shooters and coaches for your many accomplishments. In addition to a strong work ethic and determination to win, what personal traits, inherited or developed, do you attribute to your successes?
My father was a watchmaker. Some of my jobs after school, when dad was working on watches, were to wind four feet of mainspring wire into a tiny, quarter-inch spool to insert into the watch, or installing some of the very small jewels by hand. We didn't have the automatic tools then, so I learned to be very meticulous. At 10-11 years of age, I was working in a discipline that required a great deal of concentration where "close" wasn't good enough. I think that helped shape my attitude toward shooting. And our father instilled in us that "You do the best you can, no matter what your job is."

I also felt accountable to the tremendous amount of support from people who had invested a lot in me. I wanted to give back every time I went to the line as a way to say "Thank you." I sometimes would be embarrassed if I left the line thinking I hadn't done enough for those who had done so much for me.

What's your favorite 3-gun stage; .22, Centerfire or .45?
I was married to Art, but I had a 34-year love affair with my Hämmerli (laughs). After Art bought me a compensated .45 that Bob Marvel made, I LOVED shooting .45 because I could shoot it two days in a row for both the centerfire and .45 stages. Slow fire was my favorite 3-gun stage with both the .22 and the .45. slow fire makes you work and concentrate more than timed and rapid fire, and it is the most challenging.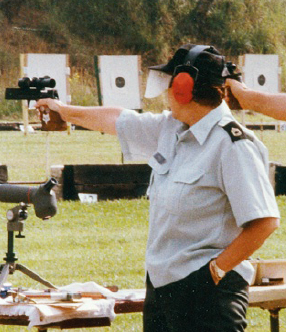 The Hämmerli 208 fit your hand like a perfect leather glove. The second you picked the gun up with the semi-custom made grip, you could slide it in to your hand and it was just like shaking hands with a really good friend. It felt good. It was comfortable. And the balance was so good that from rotating the gun to insert the magazine, to turning it back over, the balance was the same, even with the additional weight of the ammunition. When I had a custom grip made, it put all of the balance of the gun over my knuckles. So it just fit like your favorite pair of old shoes.

In all of the years I shot the Hämmerli, I never had a malfunction. She just sat there when I put her in my hand. The sights were aligned perfectly. And if they weren't, I knew I had to move my feet or body, never the grip.

Olympic rifle shooter Launi Meili once commented about not only adjusting her natural point of aim day-to-day, but sometimes during the match.
Yes, because your body gets tired. Even during a series I will change position if my sights aren't aligned. Everything else in your body is changing due to fatigue, and we're trying to keep the sights as still as possible.

During a long match where you might be on the line for three hours, do you maintain the same focus throughout, or do you allow yourself to take mental breaks?
You can't concentrate on one thing for the entire match. You only need to focus for 15 to 20 seconds in any slow fire or precision match, and for 20 and 10 seconds 20 and 10 seconds in timed and rapid fire.

During a precision match, I have found that if you hold for more than 15 seconds while looking for your sights and squeezing the trigger, you should either put the gun down and start over, or suffer the consequences.

My mental breaks came between series or while changing and scoring targets. In an international match, you can sit down and let your mind wander or plan your next series. In NRA matches, you have time between series to stand, sit, score, talk and plan. When the R.O. gives the command—"Shooters to the line," I start thinking about shooting.

And as far as everyday practice, it doesn't hurt to dry-fire each day in order to practice your stance, grip, sight alignment and trigger squeeze. When you go to the range, go with a plan. Shooting bullets without a plan is a waste of bullets. I feel that if you can't shoot a 200 in practice, you'll never do it in a match!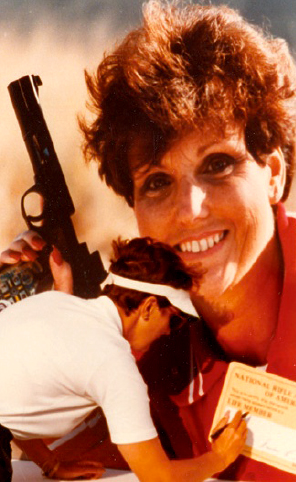 So all of these things lead up to a match. By the time you're shooting the match, there's nothing you can control except your trigger. It comes down to that, and that alone. You've known what to do. Now your performance will be the result of your hard work. And that's the best you can do. Someone else will decide your position on the podium. The 1984 Olympics exemplifies that to me because I had no idea whether I was first, second or twentieth. You just have to keep going. You have a path and you know where you're going, and you can't give up. You just go, and go, and go. It comes from inside.

You have coached shooters at the international level. Can you give us an idea of the kinds of things you're seeing and the corrections you suggest at that skill level?
It's often more about attitude and emotional control than shooting technique. Also, we address how to begin the match—strong. I always say: If your first shot's a nine, you're not going to shoot a hundred (laughs). One shot at a time should be the focus.

Your biggest shooting disappointment (if any)?
I came in second place three times in the National Individual Trophy (NIT) and the President's 100. I never won any of those. I came in second several times by X's and once, by a point. The second time Brian Zins beat me was by one X in the President's 100. I walked over to see Brian by myself and I had my .45 with me. He wasn't there, but I caught his eye as he drove by. Seeing my pistol, he probably thought "I guess we're going to settle this once and for all!" The entire USMC pistol team had a good laugh on our behalf.

And—your best day shooting?
I've had several "best" days shooting. In chronological order, the earliest was my first win at Camp Perry in 1976 with Barbara Hile, Kim Dyer and others. The next was breaking 2600. Of course, that's always our goal, until I broke it. Then I wanted to break 2650.

I never shot 2650 because I jumped to 2660. Next was winning the World Championship in air pistol; the gold medal at the Pan American games; and, of course, the Olympics in 1984. It also wasn't a bad day when I was inducted into the Shooting Hall of Fame!

Those were my best score days, but there were a lot more "best" days of shooting with friends and having fun.

TESTIMONIALS 
Bob Mitchell
Executive Director USA Shooting and former National Rifle Coach
Ruby most deservedly was inducted into the International Shooting Hall of Fame in 2009. We are pleased that Ruby remains active in Olympic-style shooting and training of our women pistol team members.

Kathy Chatterton
National Bullseye Champion and Coach
Ruby is the most generous shooter I know with regard to sharing training tips and motivating those around her. Some years ago we were at the Olympic Training Center in Colorado Springs getting ready for team tryouts. I was shooting next to her and we had been training for days. Everyone was tired and the coach was unyielding in his demand that we continue to practice. Ruby suddenly announced to the group of women that she was paying a dime for every ten we shot. That instantly brightened the mood and everyone had renewed energy. The dull practice became fun, and we all shot much better. Nobody took Ruby's money, but you can be sure we totaled up the amount we WOULD have won!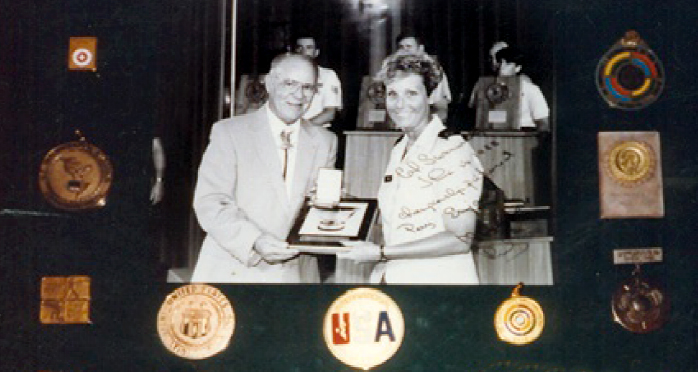 Ruby was famous for participating in her husband's practical jokes. Art loved to show up at local matches where nobody knew Ruby and ask the match directors if they "minded" if his wife shot the match. He would imply by his attitude that his wife was a new, inexperienced shooter, although he never said as much. The skeptical match director would inquire as to her ability to keep her shots on her own target and Art would reply that he thought she probably could, but he'd keep an eye on her. Ruby was sometimes completely unaware of this, and would just quietly set up her gear and begin to shoot as usual. Art would stand back and listen, straight-faced, as the group started marveling at Ruby's targets. Eventually they caught on, but Art already had his laugh for the day!
Ruby and Art provided, and continue to support, the trophy for High Civilian Woman at the National Championships. We love her and we miss having her on the line at Perry, but we sincerely appreciate everything she has done for the shooting sports.

Judy Tant
Eight-time National Women's Bullseye Pistol Champion
While I have met Ruby Fox and spoken with her briefly, I can't say that I really "knew" her because my entry into the Bullseye field started after her most active years in it. But I always admired her reputation as the only female shooter that the "big guns" (all male) considered to be right up there with them (this from listening in on conversations at Perry and elsewhere.)

Her example and her scores were an inspiration to me as I struggled up the ladder. She has truly been an exceptional shooter in this most difficult of disciplines.

H.Q. Moody
NRA National Rifle Manager
Ruby's year at the Olympics (1984) was a banner year for women in the Olympic Shooting sports. This was the first time that women had their own shooting events. Ruby Fox, Wanda Jewell and Patty Spurgin were the trail blazers who made Olympic history. I can remember anxiously listening for the results and being excited when I heard of our women winning. I met Ruby once, several years later, and remember coming away from our meeting thinking that I had just met one of the finest ladies of our sport.

EQUIPMENT
From her husband, Art: "Ruby used a Hämmerli Model 208 her entire shooting life, both in NRA and international matches. I remember at one time she, Kathy Chatterton and Kim Dyer were about the only ones on the line with a Hämmerli, and the men's remark was: "The gun will not shoot at 50 yards." When Ruby won the .22 slow fire (from 50 yards) at the 1996 National Championships with a 199-7X, it changed a lot of minds.

The USAR, the Army and the Marines all went to the 208 the next year. The sad part is that they stopped making them." Other guns shot by Ruby included Feinwerkbaü and Hämmerli air pistols and a 1911-style Bob Marvel .45.

SHOOTING HISTORY
Fox's NRA shooting career was from 1967 to 2002 where Ruby won the Outdoor Women's Championship 17 times. She won several fired matches at Camp Perry, made the Mayleigh Cup team as a firing member and, in 1995, won the Plowboy Trophy, which is awarded to the high USAR service pistol shooter at a Championship. She holds 10 of the 16 records for women at 50 and 25 yards, outdoors.

Her international shooting career spanned from 1974 to 1992, during which she earned nine gold, four silver and four bronze medals. In 1987 she won the Ladies Air World Championship in Korea and a gold medal in the Pan Am Games, setting a new Pan Am record. She became an Olympic medalist in 1984 and, in 2009, was inducted into the U.S. International Shooting Hall of Fame.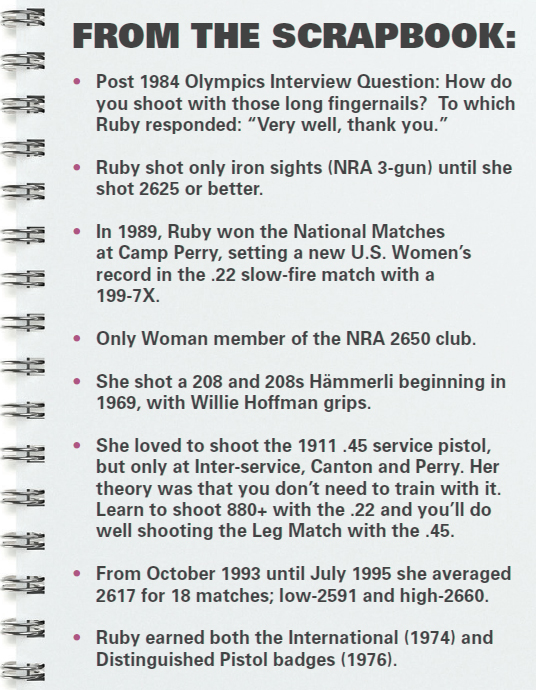 All photos by NRA and the Fox family.