Big news from the University of Memphis yesterday. The Wildcats announced that former West Virginia University (WVU) rifle team shooter and two-time NCAA smallbore champion Morgan Phillips has accepted a position with the rifle team as a graduate assistant coach.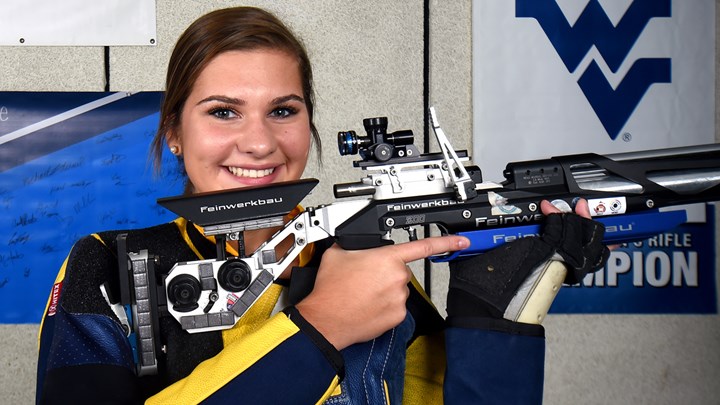 Regular SSUSA readers will remember our first interview with Phillips in 2017, during her freshman year at WVU, where under head coach Jon Hammond, she helped the Mountaineers win the NCAA team rifle championship. She was also a member of the WVU rifle teams that finished as the NCAA rifle runner-up in 2018 and 2019. Additionally, Phillips was back-to-back NCAA individual smallbore rifle champion in 2017 and 2018.
She joins Memphis rifle team head coach Dan Hermsmeier, another member of the Jon Hammond coaching tree who helped the Mountaineers as a graduate assistant coach from 2014 to 2016.
"We have both spent considerable time in Morgantown under Mountaineers head coach Jon Hammond, so we will work very well together developing Memphis rifle into a championship-level team," said Hermsmeier.
Phillips is excited about her new role, particularly about sticking around competitive shooting, but this time as the teacher, rather than the student. In an interview with the Memphis Athletics website, she said:
"There is a great group of student-athletes here at Memphis," said Phillips. "I've only been here a few weeks working with them so far, and all the student-athletes work really hard and are very receptive to coaching. I see a lot of potential in them as they all are eager to learn. I'm excited to see where we can go."
As for the 2020-21 rifle season, the Memphis Tigers have more than new coach Morgan Phillips as an ace up their sleeve. Five student-athletes are returning to the team, which ranked No. 10 at the close of last season—the program's highest finish since 2016.
Lead photo courtesy of WVU Athletic Communications.
---
See more:
The New Gold Standard: Ginny Thrasher