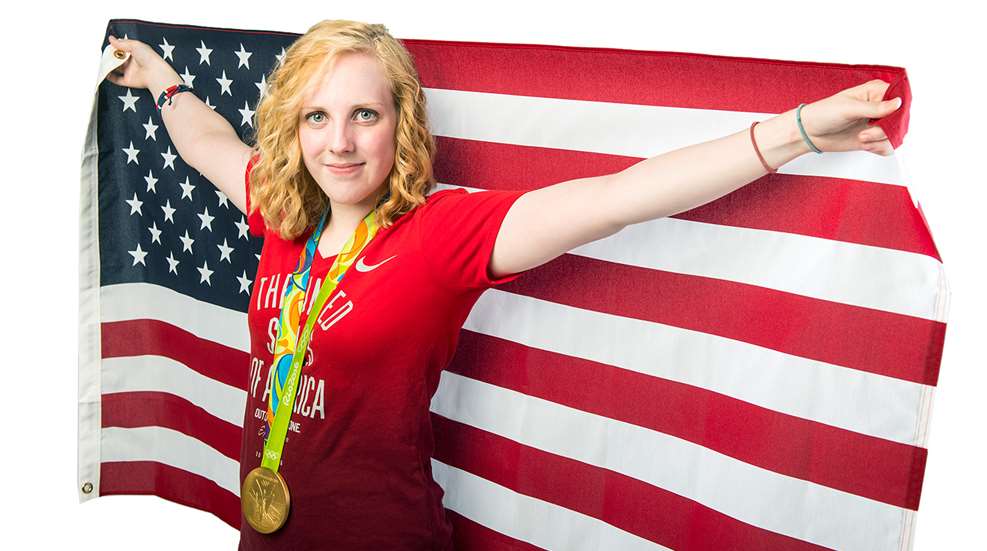 Above: Ginny Thrasher poses triumphantly with the stars and stripes and her gold medal. Photo by WVU Athletics.

Even before she became a gold medalist, Ginny Thrasher usually had a big impact at the matches she participated in. The 19 year-old West Virginia University (WVU) sophomore shocked the shooting world in August, when she won the women's 10-meter air rifle competition during the Rio Olympics—winning the first gold medal at this year's Games.

Only an hour or two after she won, Thrasher was trending high on Facebook and Twitter as she began round after round of interviews in Rio. Her victory surprised some in the international shooting community, since Thrasher was ranked 23rd in the world at the time and was facing several competitors with extensive Olympic experience. But if you have followed her career, it's really not surprising at all—she was shooting at a high level long before going to college. Ginny was kind enough to talk to SSUSA about her big year.

2016: Year of the Ginny
To say that Ginny Thrasher is a shooting phenom is an understatement. She originally took up the sport five years ago after a hunting trip with her grandfather. Two years later, she was the 45th best junior shooter in the country and was destined for success.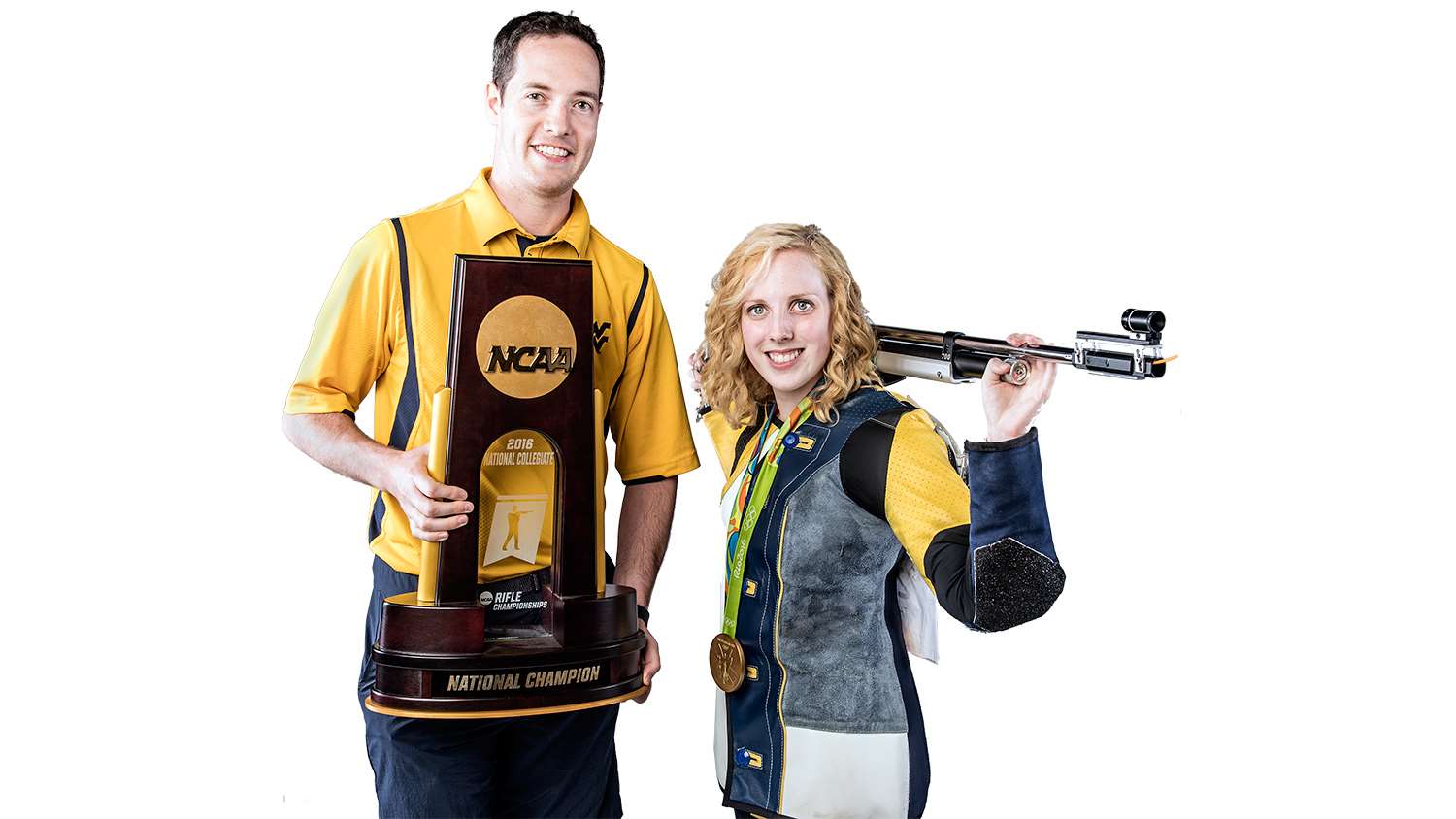 Earlier this year, she continued the tradition of rifle shooting excellence at WVU when she helped the team win a fourth consecutive NCAA rifle championship. This year's championship made Thrasher the only true freshman in history to sweep both NCAA individual air and smallbore rifle titles.

After the NCAA 2016 championship, Ginny told me, "… it was kind of a weird situation, because we took four seniors and myself to the championship. I was very thankful to have all the seniors there to guide me—especially after the first day when I won smallbore and needed to refocus … I was prepared the next day to go and shoot a match the way I know I can."

Her WVU Rifle Coach, Jon Hammond was instrumental in helping Thrasher reach such lofty heights.

"The start of her WVU career has been incredible," said Coach Hammond. "The progress she has made this year makes me incredibly proud. The amount of improvement she has made, all the preparation and work learning our system at WVU before going to Rio—all while maintaining the same high standards at practice, that is a very hard thing to do," he added.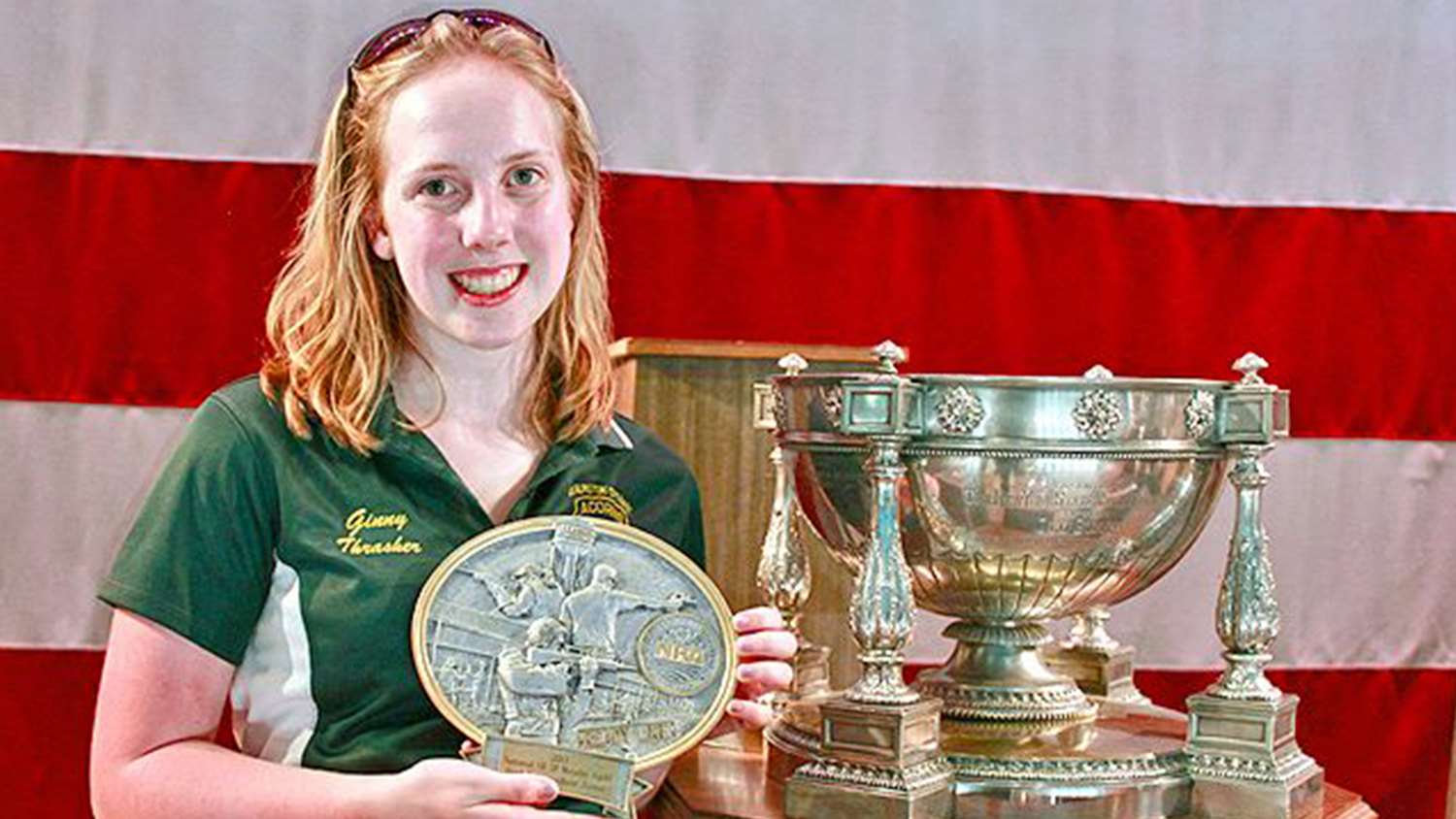 Thrasher herself said about her first year with the team: "I wanted to make my freshman year on the team one of learning for myself. At the beginning of the season, I sat down with Coach Jon Hammond and told him, 'This is the year I want to make changes. I want to learn, and give myself the best foundation for success the rest of my career.'"

Confidence has played a major role in Ginny's success. After the Olympics at a press conference Ginny said, "You have to have the confidence to go into every match and know that your self-worth isn't invested in the results of that match, but you can do anything you want to do."

On Winning Gold in Rio
In the 51 woman qualification round for the women's 10 meter air rifle event at this year's Olympics, Thrasher faced a challenging field at the Olympic Shooting Center—especially veteran competitive shooter Du Li of China, who was a gold medal winner at the 2004 and 2008 Games. Ginny was one of eight competitors to advance to the finals in women's 10 meter air rifle, finishing in sixth place. Shooting a bullseye for her first shot during the qualification round gave her a confidence-building score of 10.9.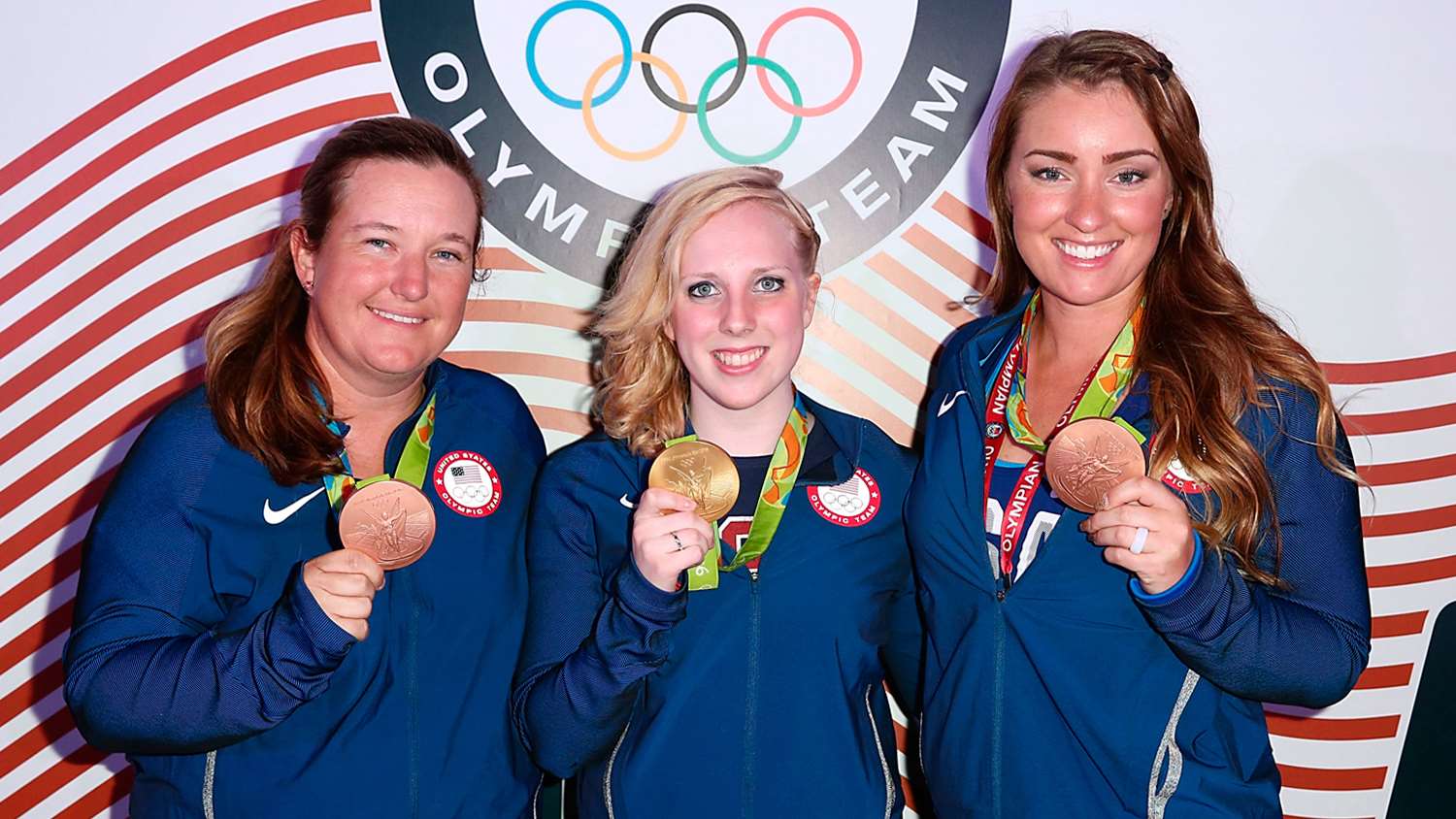 Thrasher was able to triumph over this year's silver medal winner Du Li in the finals by a full point—making her only the third U.S. shooter to win the women's 10 meter air rifle event at the Olympics, and the first since Nancy Napolski-Johnson won the gold in 2000.

Olympic shooting events present difficulties that competitors can't prepare for until they are there. Ginny was able to maintain her focus on the ultimate stage.

"I think this competition is one where you can mentally outthink yourself, and that's the danger. For me, just being very focused during the match. I started out with some struggles, and I had to come off the line and my Olympic coach down there said, 'Ginny, all you can do is shoot the best you can.' I got back on the line, and that's what I did. I shot the best that I could. I had a very bad hold, but it didn't matter. Once I got into the final, I was very much focused on my breathing, and that was the point where all the training and all the discipline just came through for me. All I did was focus on my breathing and let my body do what it knew how to do."

The Future
Regarding her 2016 Olympic performance, WVU rifle coach Jon Hammond said:

"The fact that Ginny's medal was the very first medal of the 2016 Games has brought an incredible response. The extra attention that brought I think was incredible. It was really far reaching, not just in West Virginia, not just in the U.S., but all around the world. That actually was great not just for Ginny, the team and WVU, but for the sport of rifle and shooting as well."

When asked if winning the gold medal changes her preparations for the upcoming season, Thrasher said: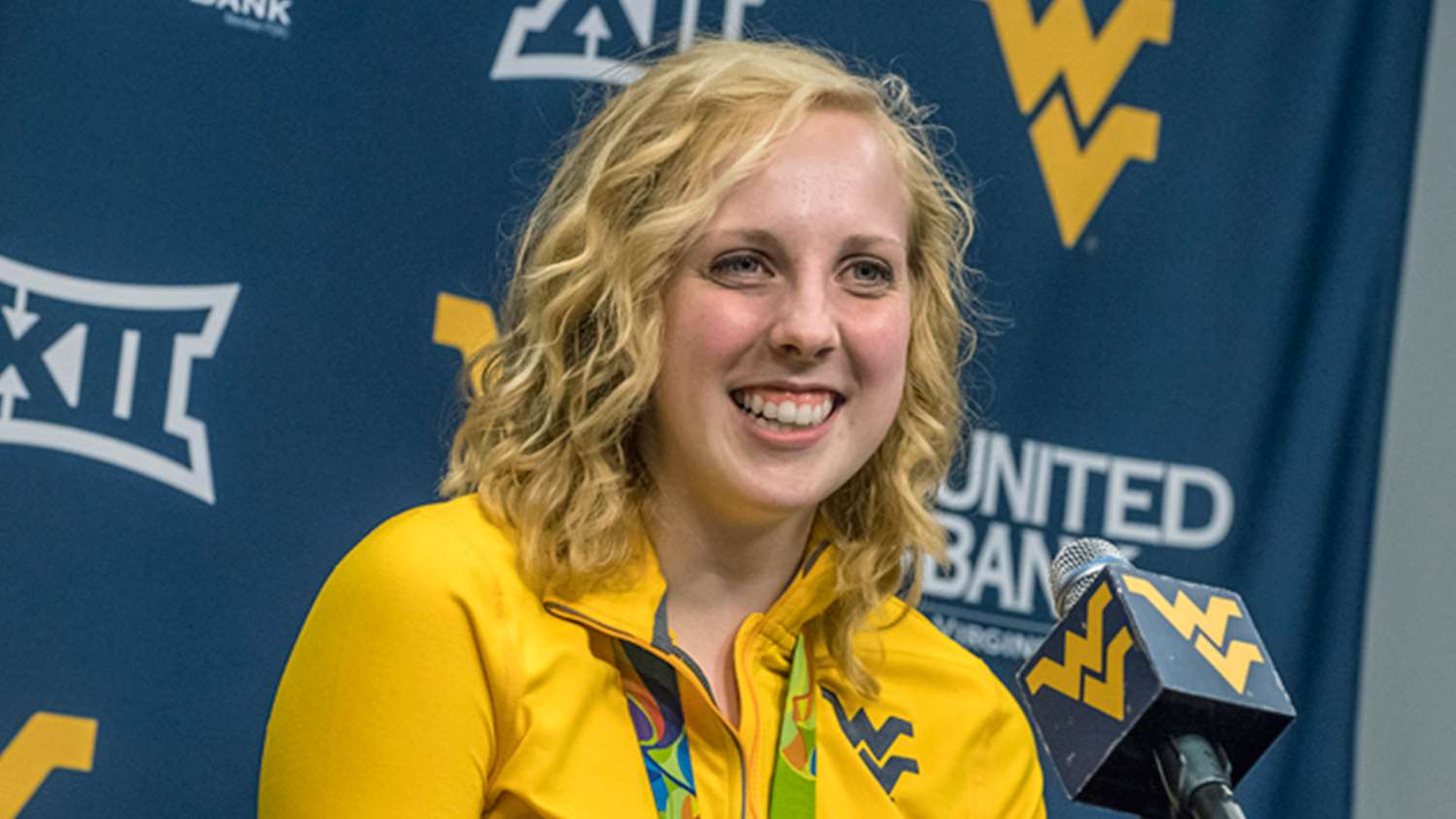 "No. My goal has always been to be the best shooter I can be, not only that but to be the best person I can be, the best teammate, the best student, everything. That doesn't change no matter how many medals, or what color the medals are, or where you get the medals. All I want to do is go into the next year and try to improve and help my team."

Additionally, Ginny wants to spread the word about rifle competition, saying, "One of the best parts about rifle is natural ability does not hold you back. Whether you're a male, female, 5'1" or 6'1", it doesn't matter. Rifle is a sport where you very much get out of it what you put into it, and that's the message I would like to get across."

Thanks to Ginny Thrasher, WVU rifle coach Jon Hammond, and Shannon McNamara of WVU Athletics for all of their help with this article.