West Virginia University (WVU) freshman rifle shooters Morgan Phillips and Milica Babic are helping ensure the school's rifle legacy stays in good hands. Phillips, winning the NCAA smallbore championship, and Babic the air rifle championship, prove that the Mountaineers—who won a fifth straight NCAA rifle championship (19th overall) with a combined championship-record score of 4723 this year—can certainly count on these two bright shooters to carry on the team's success into the future.

Phillips finished second in air rifle behind teammate Milica Babic with a 207.2 score. The final two shots were tight between the roommates, as each shot a 10.9 in the second-to-last shot. The two standout freshman rifle shooters talked to SSUSA about their big year.

Smallbore Champion Morgan Phillips

Few student-athletes have accomplished what Morgan Phillips of Salisbury, MD, has been able to in such a short period. Scoring a career-high 589 score, Phillips won the 2017 NCAA smallbore rifle individual title.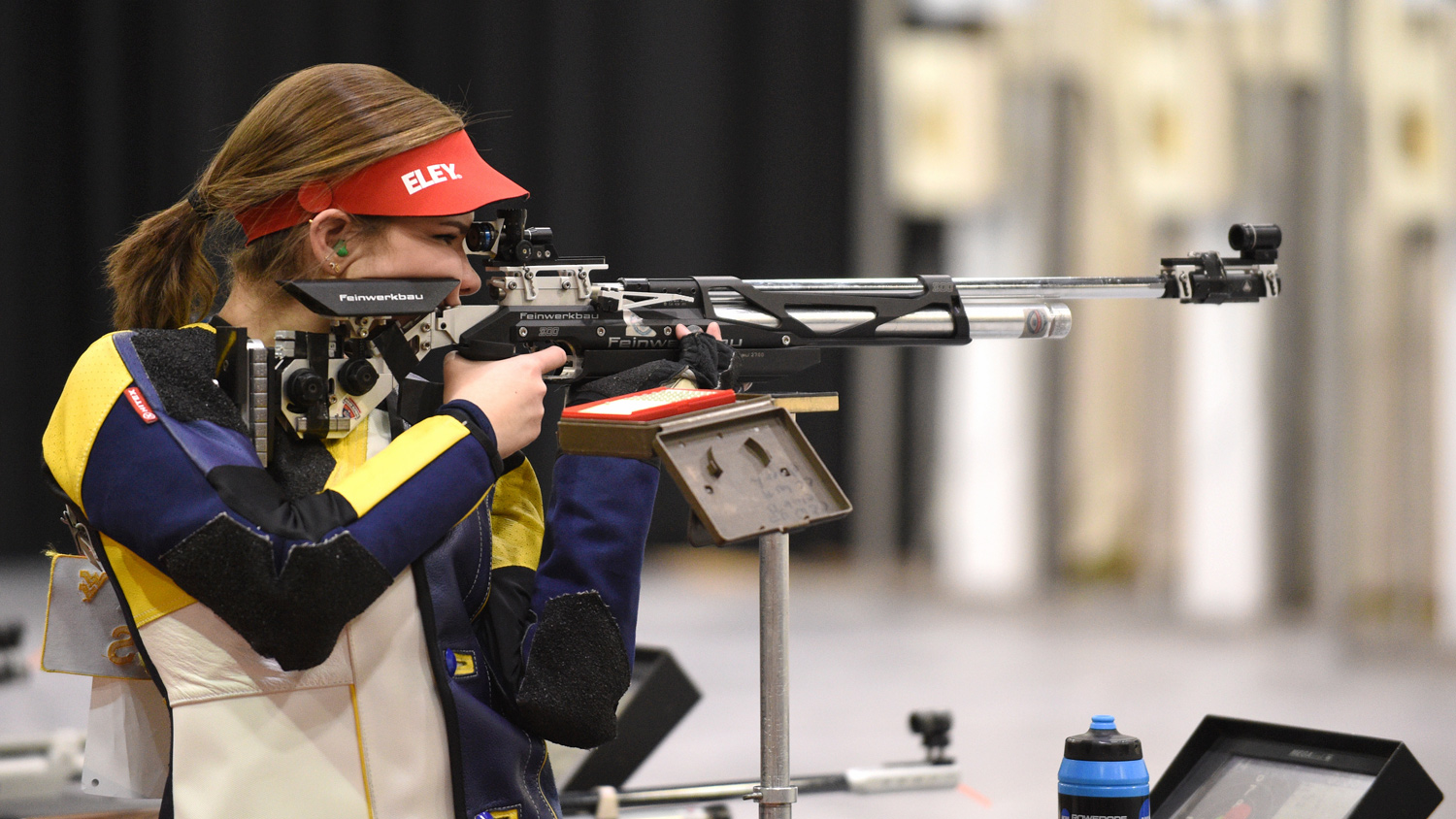 Philips began shooting at age nine, shooting BB guns at a local Boys and Girls Club. Her dad, a 22 year Maryland State Trooper and now a police chief introduced her to the shooting sports. "My dad shot when he was in high school. He didn't shoot in college. I was in the same program he was when he was a kid. It was really a bonding thing for both of us. We would drive far away for matches—there wasn't a lot of choices near where we lived. Everything was a three hour drive away. You can imagine how many hours we spent traveling and then shooting together."

She kept at it, first learning sporter, than moving on to precision air rifle by age 13. "I learned 3-Position with BB gun. When I got a bit older and bigger I began sporter air rifle. I did that for a few years and then started traveling an hour and a half from my home once a week to a 4-H Club in Centreville, MD, to learn precision air rifle."

One of 25 students in her class at the Salisbury School, Phillips says her junior year is when she started to take competition seriously. "The summer of my junior year, I committed myself to the sport because I knew colleges were doing a lot of recruiting. I needed to step up my game, so I increased my training junior year. I won my age group at the National Junior Olympic Championship."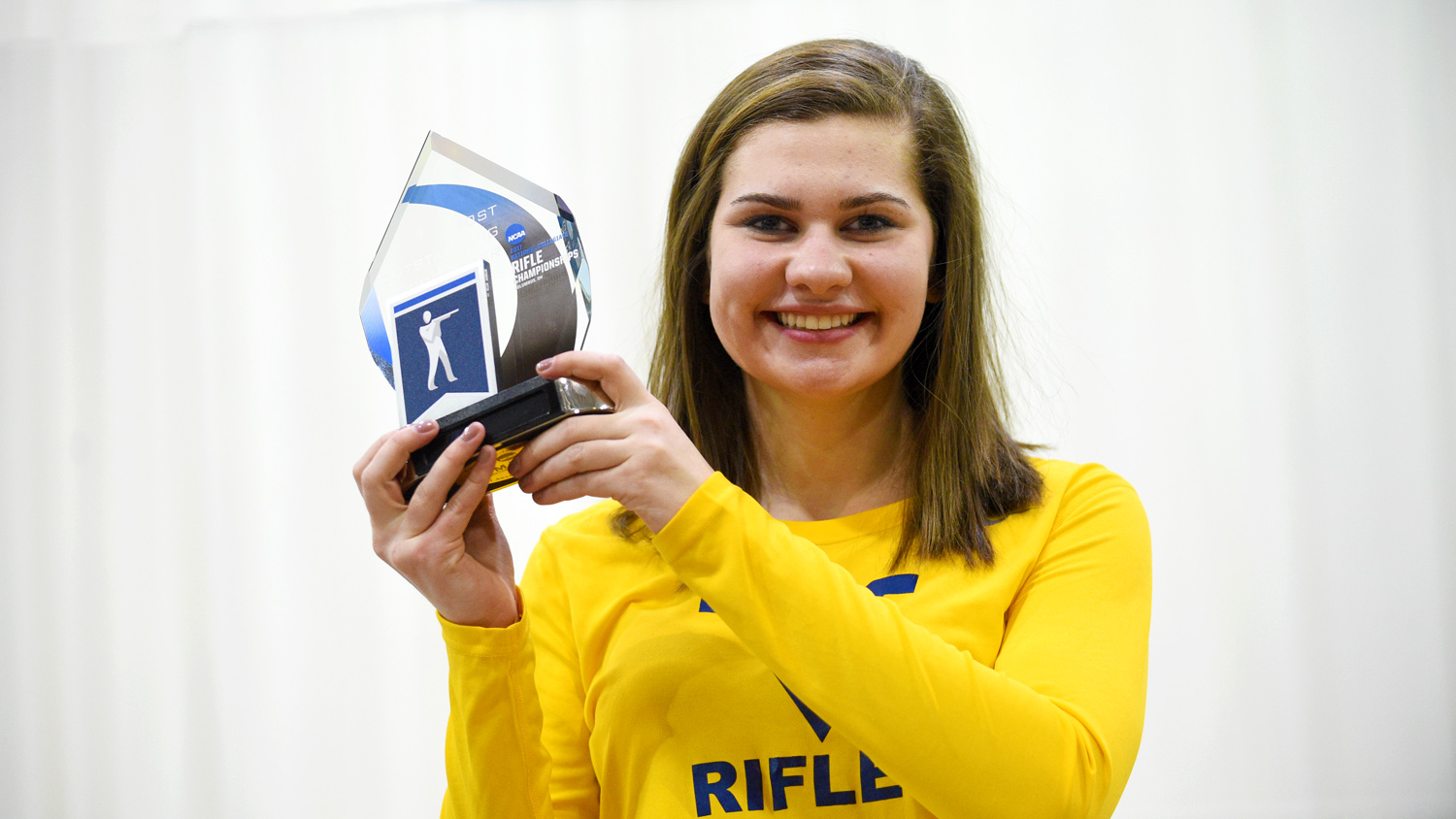 She chose WVU for college after visiting her last year of high school. "The first time I stepped on campus, I told my dad on the ride back—'I think this is where I want to go.' I knew this is where I wanted to be."

Coach Hammond is one of the most cited reasons for the team's immense success. Phillips said, "He is really great about fixing technical problems with a position—he is really great about fixing that. I chat with him before matches. If I am struggling in the middle when I come off, I'll chat with him. And he just kind of gets me back in that right mindset. He knows the right thing to say to me for sure."

At NCAA, Phillips shot career best scores for both air rifle and smallbore. She wasn't rattled during the NCAA finals, for her it was all about her team. "I wasn't nervous in the final. All I was really concerned with was having a good match—just for the team. My only concern was with the team performance at the match. Once I got done with my score that contributed to the team score, I really wasn't concerned about the final at all."

As the second freshman in school history to win the individual smallbore NCAA title in as many years, Phillips is in great company—sophomore Ginny Thrasher (2016 smallbore champion) and the rest of the very deep WVU roster. "It's awesome to be surrounded by people that are at this level. I think that is a huge advantage and appeal in coming here. Being surrounded by people that are very serious and at that high level—that has been very helpful," she commented.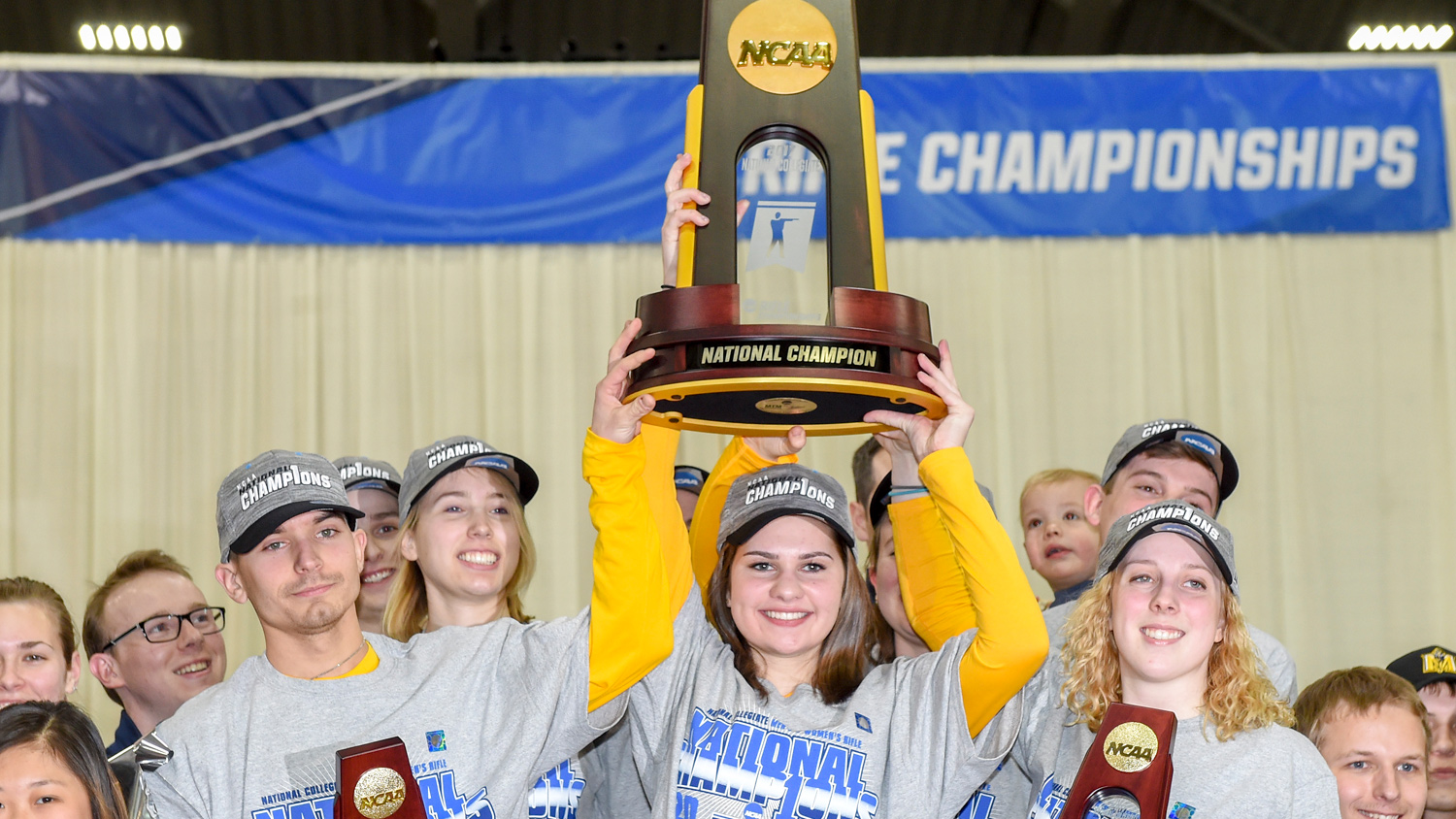 For smallbore rifle, Phillips uses an Anschutz Model 54 with Precise Stock and ELEY Tenex ammo. For air rifle, she shoots a Feinwerkbau 800—also preferring to shoot with no-name Chinese pellets.

To prepare for her first collegiate rifle season, Phillips trained just as she had before. "Senior year and then over the summer, I did the same thing I was doing in high school. We didn't make any changes until I got here. Once here we started doing the things Jon runs in the program and this is really when things kind of changed."

Phillips credits her teammates for helping her out during her first collegiate season. "I think overall the support is incredible. Anything that I could possibly need, I just ask, or they offer and it's there. They were there pulling my equipment off of the line and helping me carry stuff at the matches. I am very proud to be a part of this team."

Air Rifle Champion Milica Babic 

Milica Babic scored 208.1 during the final to claim this year's NCAA air rifle championship. She entered the final in first place with a 598 relay score.

Babic said about her accomplishments, "Hard work will always beat talent ... I practiced a lot and still do and I am just trying to get to my goal by working hard. I don't think that anything is going to fall from the sky."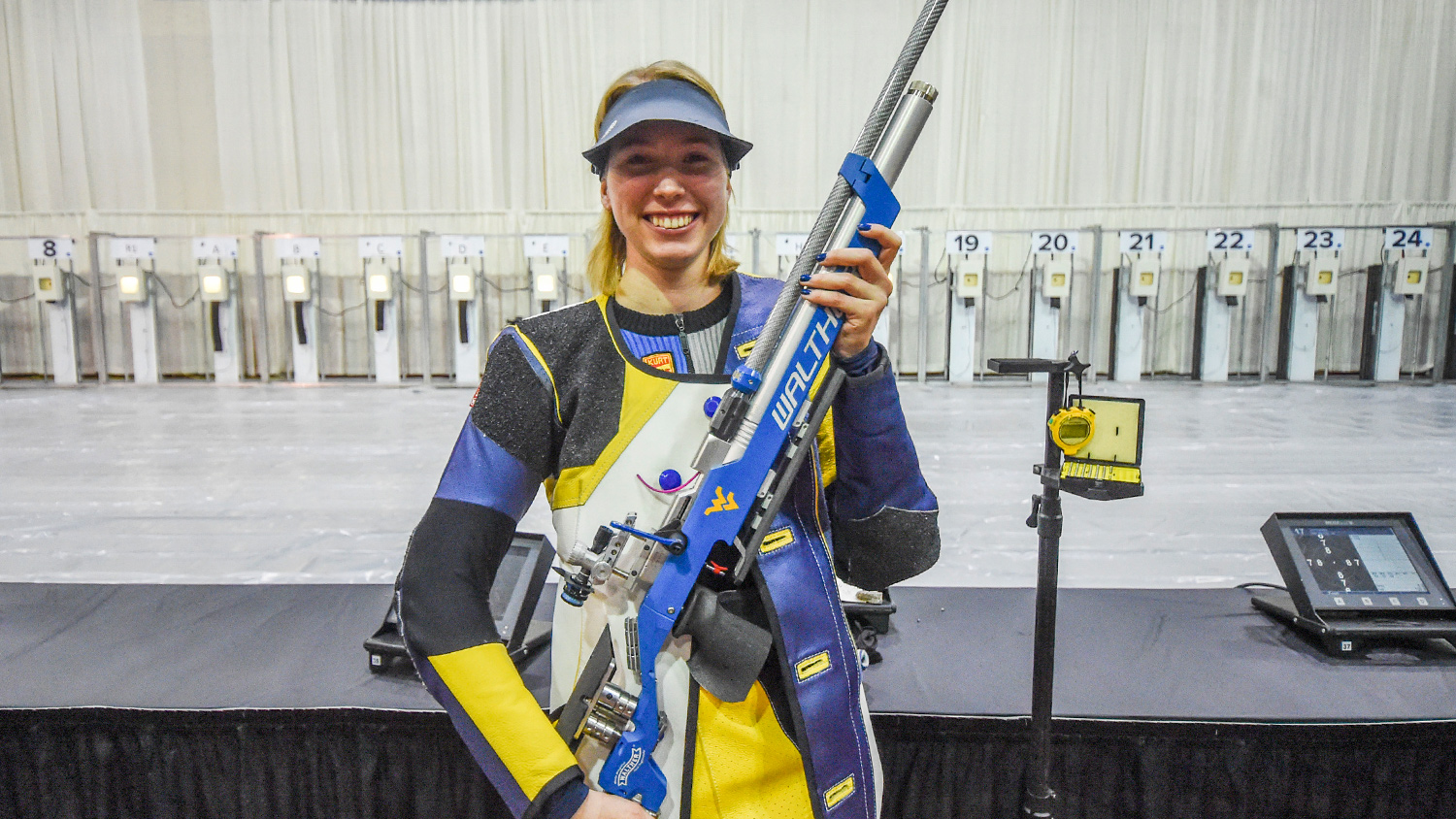 A native of Belgrade, Serbia, Babic first began shooting six years ago. She originally was focused on a career as a tennis player. "I was supposed to be the representative for one of the younger school teams in tennis when I broke my leg. My family and I went to Turkey to rehabilitate my leg that summer, and one of the activities that we were doing each day was shooting water balloons that were thrown out at sea with an air gun. I was the best shooter each day." The shooting bug had bitten her.

Eventually, Babic found a good local shooting club—USCE Belgrade—thanks to one of her best friends, Lana. "You can call it fate. Lana came to school about two years prior. She told me it's a really good club and that it would be nice to have a friend there she already knew. And we started competing against each other there. I started beating her, so she kept shooting pistol." Later on, Babic started competing at the regional and national level—and kept winning.

Early in life she dreamt of coming to the U.S. to study. "Since I was in kindergarten, I told my mom that I wanted to study in the states." Babic fell in love with WVU after visiting the college with her parents. She met Coach Hammond and the rifle team. "I was overwhelmed. It was more than I ever dreamed of, and I committed right there and then.

I visited two schools—WVU and the University of Kentucky. I got a chance to compare both of them. Both are brilliant schools and it was a tough decision. But I chose WVU and just felt pride."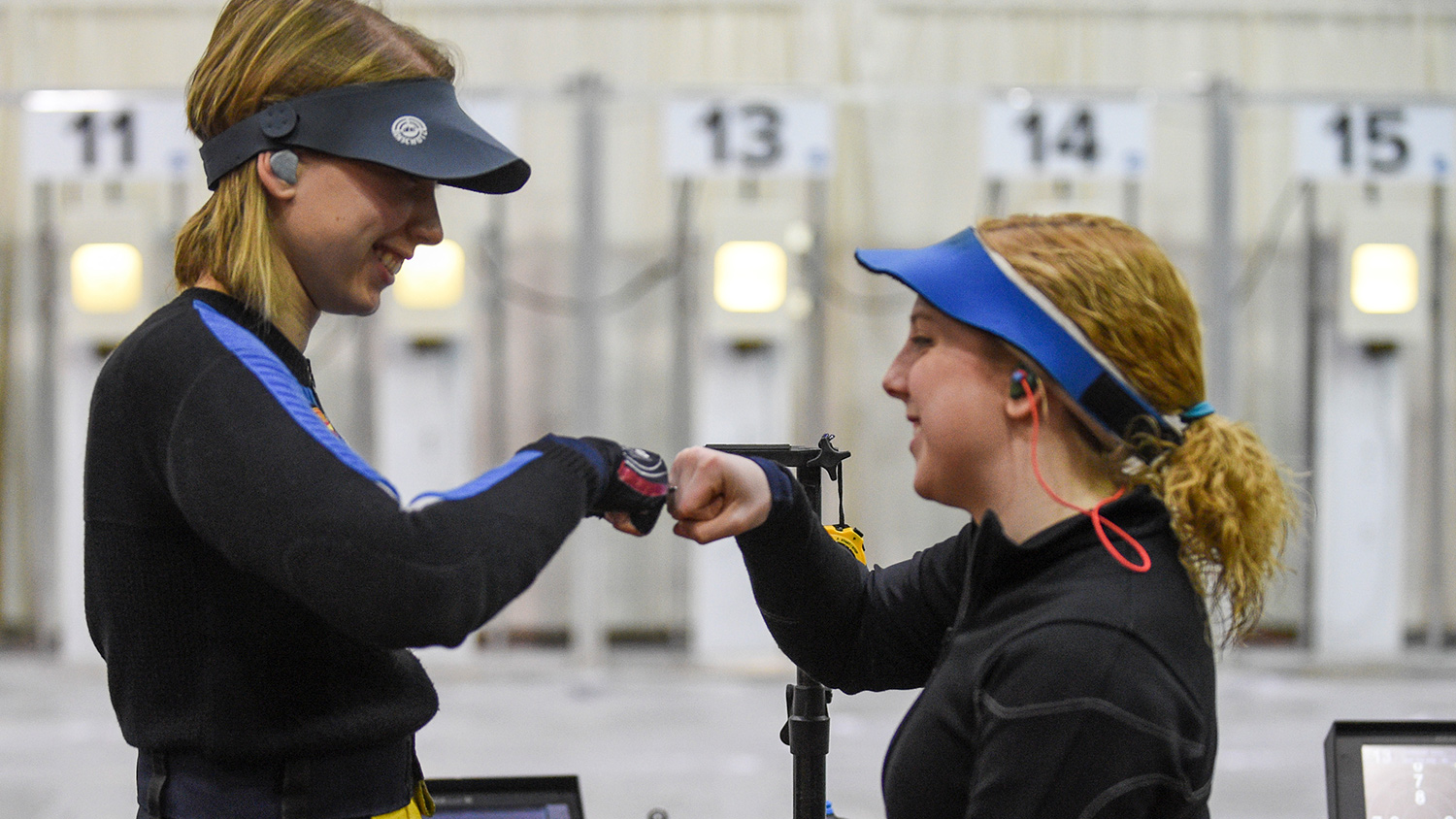 Babic credits Coach Hammond as big reason why she chose WVU over other universities. "Jon is actually one of the biggest reasons why I chose WVU. Because he is such a great coach. He is really dedicated to the team. He really makes us feel like he is our second family. And for me that's really important because I am half a world away from mine. My real family and the family that I have here—I care so much for them. There is nothing that I wouldn't do for them and I know the feeling is mutual and Jon is like a father to us."

It's hard work preparing for the NCAA rifle championships, something that can dominate an athletes mind if allowed. Regarding the team's attitude Babic remarked, "NCAA—we worked hard for it—always about giving our best effort, and being in the right mental state. There wasn't a lot of pressure coming from the team itself. But every single one of us felt that little bit of pressure to represent our school and continue the winning legacy. We worked on our mental state the most, which is important when it comes to shooting. You have to try to get rid of all the distractions, and just be in the match."

For air rifle, Babic uses the Walther LG400 Electronic. For pellets she uses R10. According to Babic, "They are the most compatible with the LG400 that I have at home and here." For smallbore she uses a Bleiker, the same that teammates Ginny Thrasher, Will Anti and J.P. Lucas shoot. For ammo, she uses ELEY Tenex Red.

Summing up her exemplary freshman year with the Mountaineers, Babic said:

"This year is a good example of how great the program is at WVU. That it doesn't matter how long you have been here—everyone works really hard to help you and it's not just the coaches. It's just wonderful—Morgan and I are roommates and we support each other and in life and on the range."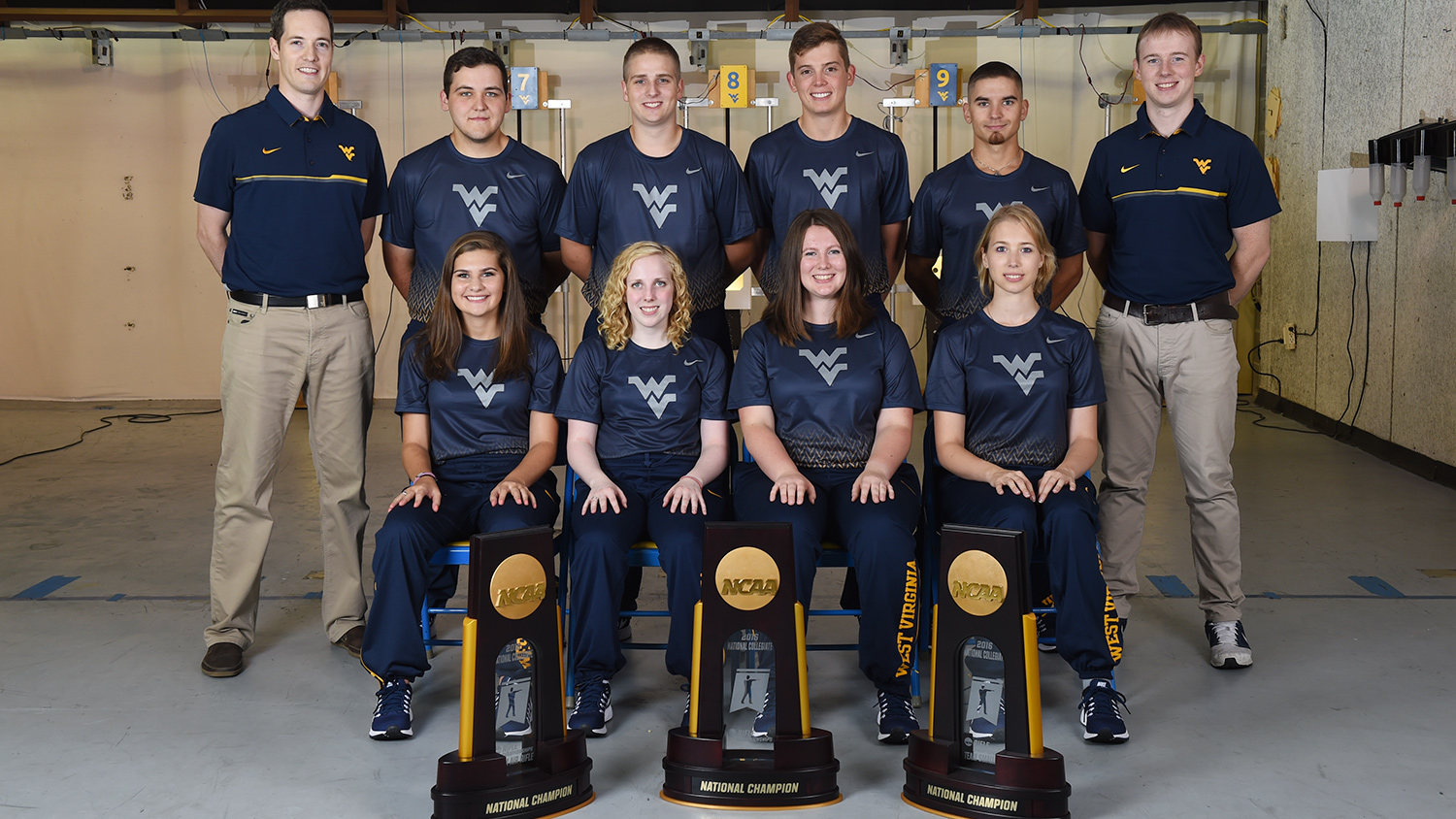 Instead of a rivalry between the two, these roommates are each other's ultimate support system. This is also a testament to how good of a rifle program exists at WVU. You can look at numbers and history, but what the players have to say is most important.

Babic concluded, "I would say that because in our team—the most important thing is the team. It doesn't matter if someone shoots very well or badly, we will be there for them. To help them or cheer them on. Or just celebrate with them."

Photos by WVU Athletics