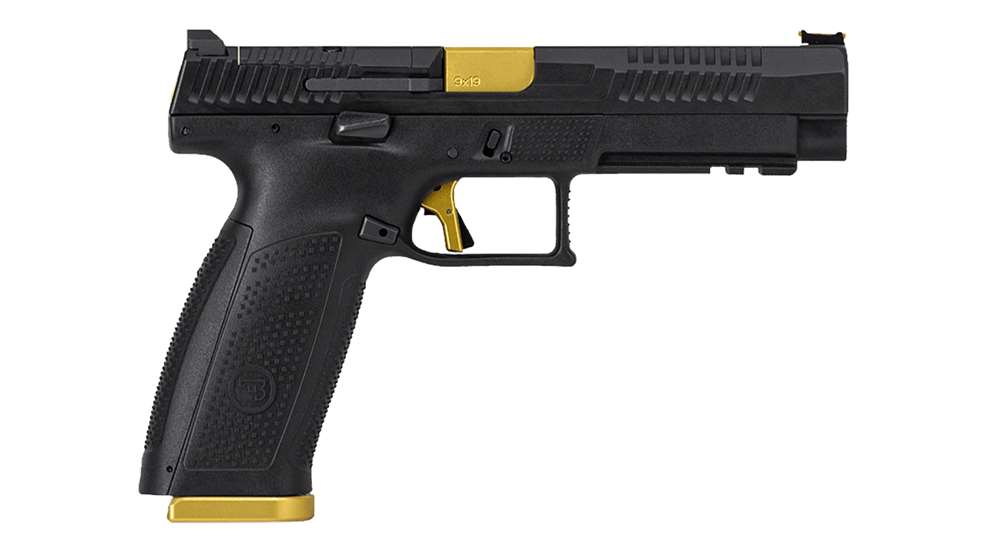 There are generally three types of semi-automatic pistol actions: blowback-operated, recoil-operated and gas-operated.
Blowback-Operated Actions
In blowback-operated semi-automatic pistols, the action is not mechanically locked, and the weight of a heavy slide, plus a strong recoil spring, is all that keeps the action closed. Upon firing, chamber pressure created by cartridge ignition pushes the slide rearward, compressing the recoil spring. The inertia of the slide, aided by spring resistance, keeps the action closed long enough for pressure in the chamber and bore to drop to a safe level. Blowback designs are generally restricted to pistols firing low-powered cartridges, typically .22 Long Rifle, .25 ACP, .32 ACP and .380 Auto.
Recoil-Operated Actions
With recoil-operated semi-automatic pistol actions, when the action is closed, the barrel is locked to the slide. Upon firing, the barrel and slide recoil rearward together for a distance before the barrel unlocks and allows the slide to travel further rearward to complete the cycle.
Most self-loading pistols chambered for cartridges of the power of the 9 mm or greater use recoil-operated actions. There are many mechanical designs for both locking and unlocking the actions of such pistols.
Gas-Operated Actions
In gas-operated actions, high-pressure propellant gas is bled from the bore through a small hole in the barrel. This, in turn, exerts pressure on a piston or other component, driving it rearward to unlock the breech and work the action.
Semi-Automatic Pistol Magazines
Most semi-automatic firearms use detachable box magazines, which afford one of the main advantages of such arms—rapid reloading. High-capacity magazines confer the additional benefit of being able to fire a large number of rounds in succession without reloading.
Box magazines typically have a steel, aluminum or plastic body which houses the cartridges and the magazine's internal components. At the bottom of the magazine is a floorplate, usually of the same material. This is often removable to allow magazine cleaning. Inside the magazine are the magazine spring and follower, which together push the cartridges in the magazine upward into position for reliable feeding.
Photo: CZ's new P-10 F Competition-Ready semi-automatic pistol has a milled slide for mounting plates for poular red-dot optics. Look for a review of the P-10 F Competition-Ready in a future issue of the digital magazine.
---
Read more:
Handgun Operation: Types Of Pistol Actions