To unload a semi-automatic pistol, first ensure that it is pointed in a safe direction. Remove the trigger finger from the trigger and place it outside the trigger guard, alongside the frame. Next, press the magazine release button to drop the magazine from the gun. In most modern pistols, this button is located to the rear of the trigger guard, near the firing-hand thumb. As with other pistol controls, some firearms offer ambidextrous magazine releases that are equally convenient for both right- and left-hand users. Left-handed shooters operating right-handed guns will have to depress the magazine release button either with the tip of the trigger finger, or with the fingers of the non-firing hand. Note that some semi-automatic pistols (mostly older models) do not have a magazine release near the trigger guard, but instead feature a latch at the rear of the magazine well, typically operated by the non-firing hand.
Once the magazine is removed from the pistol, it is still necessary to extract the live cartridge from the chamber. With the pistol kept pointed in a safe direction, and the trigger finger still outside the trigger guard, use the support hand to sharply retract the slide fully to the rear. This will extract the live round from the chamber and eject it. Do not attempt to catch or capture the cartridge flying out of the ejection port. At this time, with the slide fully rearward, visually inspect the chamber to ensure that it is empty.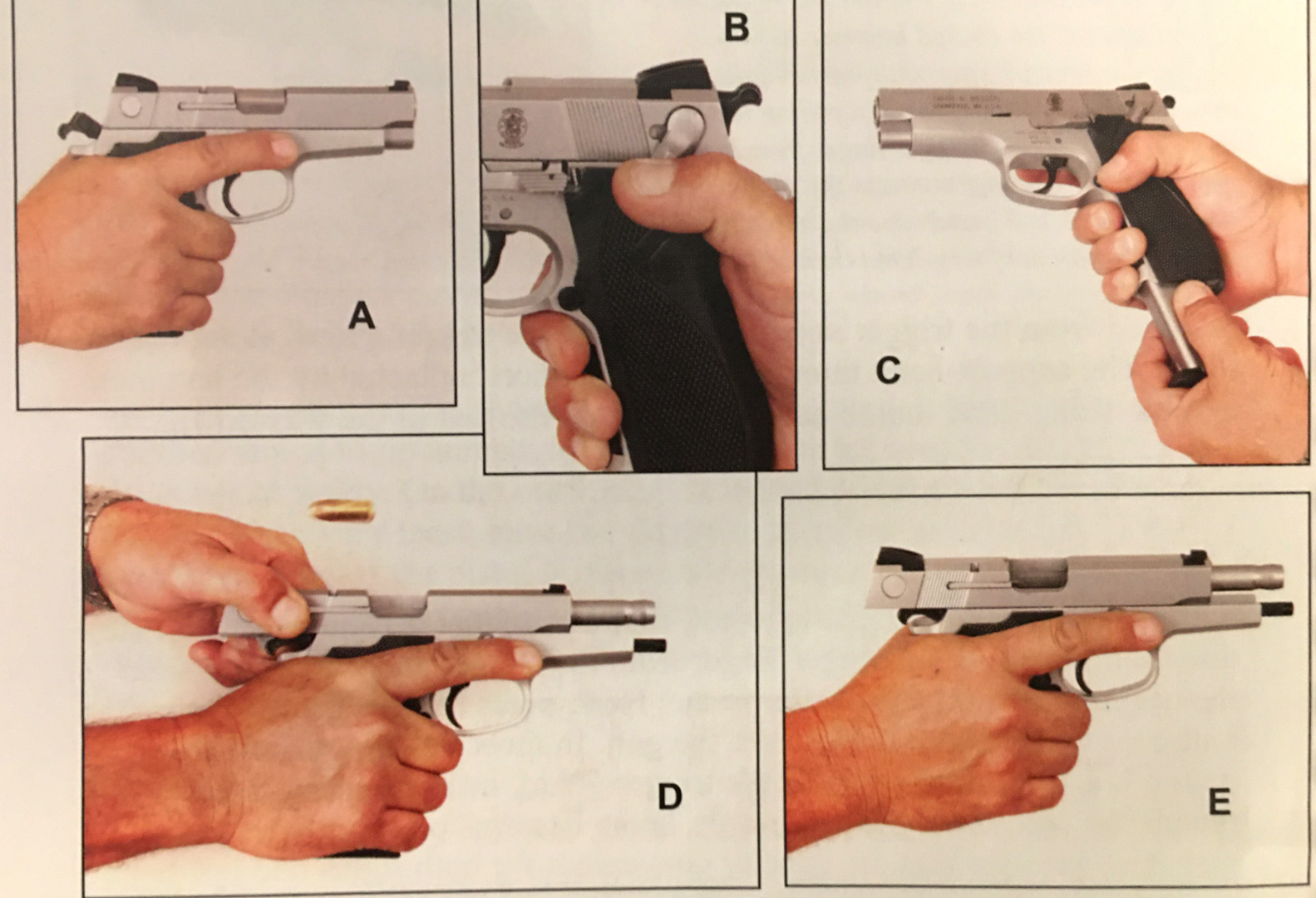 If further shooting is anticipated, the pistol may be left on the shooting bench with the slide locked open and the magazine removed. On the other hand, if the firearm is to be put back into its case, the slide should be eased forward and, while the gun is pointed in a safe direction the hammer dropped either by engaging the decocker or by pulling the trigger on the empty chamber. Some semi-automatic pistols, most notably rimfire pistols, can be damaged by dry-firing them. With any pistol, the owner's manual should be consulted to determine if dry-firing is safe to do.
Learn about firing semi-automatic pistols.
---
Read more:
Unloading Double-Action And Single-Action Revolvers