From the vault: Guy J. Sagi's coverage of Team USA's shooting performance at the Athens Summer Olympics back in 2004. All the elements may have been in place for a classic Greek tragedy—drama, endearing characters and a shocking end—but U.S. shooters rewrote the script by bringing home a pair of gold medals at the 2004 Olympics, doubling 2000's total. As published in the December 2004 issue of Shooting Sports USA.
---
Olympic Homecoming
By Guy J. Sagi
When the curtain rose on the 2004 Athens Olympics, on Aug. 13, USA Shooting had hopes of six medal-winning performances from America's marksmen. By the time the entire act played out, and the closing ceremony took place on Aug. 29, two gold medals and one silver hung around the necks of American shooters—less than expected, although more than in recent memory and far from any ending Homer would have crafted.

The suspense grew through the first four days, however. Despite being in her first Olympics, 27-year-old Emily Caruso, of Fairfield, CN, was one of the most experienced athletes on the U.S. team. When the first day's shooting was done, she found herself right on the cut-off point in women's air rifle—a six-way tie at 396 for the final three slots. When she lost in the shoot off, the stage was set.
Spec. Hattie Johnson, from Athol, ID, tied for 14th, scoring 394. Johnson, who is a member of the U.S. Army Marksmanship Unit in Ft. Benning, GA, was also shooting in her first Olympics.
By day two, Lance Bade, a three-time Olympian who won bronze in 1996, was tied for second in men's trap going into the finals. Missing a single target early in the day to stay tied with Italy's Giovanni Pellielo, he later dropped two targets in a row. A third miss sealed his fifth-place fate. "They pretty much handed me a medal," Bade said. "And I just threw it away. That is the hard part to get over. This finals match should have been easy. But I got antsy and started to jump the gun when the target was thrown. I lost sight of the target and just couldn't catch it with my second shot."
SFC Bret Erickson, Bennington, NE, watched his friend from the sidelines. Erickson had double-qualified for men's trap and men's double trap, but didn't shoot well enough to make the first event's finals.
Three-time Olympian Beki Snyder, Grand Junction, CO, and Libby Callahan, Upper Marlboro, MD—the oldest member of the 2004 U.S. Olympic Team—were unable to break into the finals during the 10-meter women's air pistol event. Snyder's score of 380 placed her 16th and Callahan's 374 put her in 30th.
Seventeen-year-old Collyn Loper, from Indian Springs, AL, buoyed the American team's spirits. Shooting an 82 (out of 100 possible) she took a fourth-place finish in women's trap, the USA's highest finish to that point.
The wind may have driven the women's scores down, but on the 10-meter range it had little affect in men's competition. There, Qinan Zhu shattered Jason Parker's record on his way to gold.
As a shooter for the AMU, Parker, who is from Omaha, NE, had been training for this chance at a medal since the day he missed the 2000 Olympic medal stand by 7/10 of a point. Unfortunately, this was not to be Parker's day, as he finished last in the eight-man final.
"The hardest shots were my first two, and that is where I shot the best," Parker said of the final 10 shots. "I really thought I was in a good position. I relaxed a little bit, and started shooting 9s. I thought they were good shots, pulled the trigger, and they came out 9s." 
Trigger problems during the qualification rounds saw Parker going into the finals in seventh place with a 594. Finishing with a 694.5, Parker said this year's loss was harder to deal with than it was four years ago.
Matt Emmons, Browns Mills, NJ, finished tied in ninth with three other people at 594. Emmons, who when younger participated in the NRA's Marksmanship Program, says he felt comfortable with how he approached his match and was hungry for his next two events—men's prone and three-position rifle.
After the fourth day of competition—when the U.S. Olympic Shooting Team failed to qualify for one of its more successful event's finals, men's double trap—all that was missing for a Greek tragedy was a protagonist. Erickson finished 13th, while the reigning World Champion and two-time Olympian Glenn Eller, from Houston, TX, finished a distant 17th.
Erickson and Eller weren't alone. In men's 50-meter free pistol, SFC Daryl Szarenski, of the AMU, and Jason Turner placed 15th and 18th, respectively. Szarenski, who competed in the 2000 Games, scored 554, and Turner, who is from Rochester, NY, turned in a 553.
Second Act
NRA life member Kim Rhode, from El Monte, CA, ended the drought on day five to win gold in women's double trap. Hitting 146 out of 160 targets, the three-time Olympian also became the most decorated U.S. women's shooting athlete in Olympic history.Women's double trap is being phased out of the Olympics, making Rhode's repeat wins record setting in itself. "The fact that this is my last Olympics shooting double trap brings out mixed feelings," Rhode said. "It is a bittersweet ending. It's sad because I look back at these eight years with tons of memories, but it is also a start of a new era."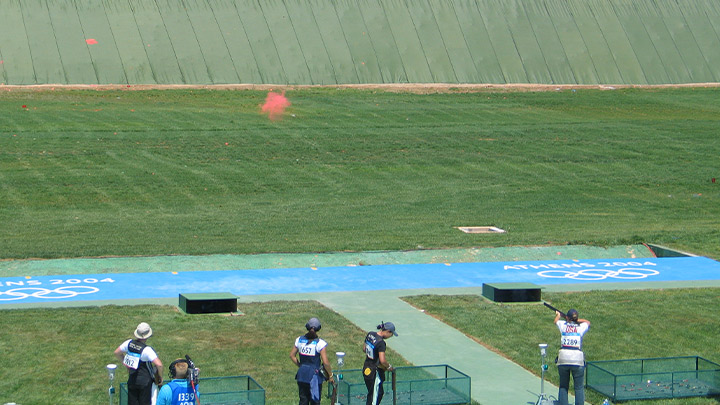 The same day, 52-year-old Libby Callahan and Beki Snyder wrapped up their second event—25-meter sport pistol. Snyder started strong, tied for fifth going into the rapid-fire round, but fell to 21st by the end of the match. Callahan came in 19th.
Rhode didn't have time to celebrate her gold. The next day she and teammate Connie Smotek, a 1992 Olympian from Lyons, TX, found themselves in a shootoff for the fifth and sixth positions in the women's skeet finals.
They entered the final competition of the day three points behind the bronze. When the smoke cleared, Smotek had missed three targets to fall into sixth, and Rhode missed two finishing in fifth.
The same day on the 10-meter range, Adam Saathoff, of Hereford, AZ, found himself tied in second place going into the day's fast-run qualification round in men's running target. The round caught him off guard, however, and the three-time Olympian fell from the top of the leader board to eighth. Saathoff scored a 90 in his second series of 10, finishing with a 281 for the day, and a 575 for the two-day event.
"During the middle 10 string, my shots started to get away from me," Saathoff said. "I was focusing on my shot plan, and knew something wasn't on, like it should have been today. There is nothing I could have done differently. I just couldn't get those shots back."
Teammate Koby Holland, Dillon, MT, shot a slow-run score of 281 the day before, and a fast run of 270 on day six, finishing in 18th place.
On day 7, Matt Emmons made it a pair of U.S. golds by winning in men's prone. The University of Alaska-Fairbanks alumni came close to qualifying for the Sydney games four-years ago, when he was just 19 years old. "But," he said, "that was a blessing in disguise. I wasn't ready back then. I had the talent, but not enough experience. Now I am ready, I am experienced and knowledgeable enough to win in either event on any given day."
Emmons' experience paid off as he fought through the windy conditions and maintained a one-point lead over Germany's Christian Lusch. With a 599 going into the finals, Emmons shot a 104.3 to hold on to the top position in men's prone. Lusch hit a 702.2 total score for silver. Maj. Mike Anti, of the AMU, finished in 24th with a 591.
Earlier that day, on the 50-meter rifle range, Sarah Blakeslee of Vancouver, WA, and Morgan Hicks, Roy, WA, were stopped short in the qualifying round of women's three-position rifle. Hicks came in at 12th with a 577, while Blakeslee shot a 571 to finish 20th.
On day eight, skeet wrapped up with SFC Shawn Dulohery, of Lee's Summit, MO, shooting 25-straight in the finals to remain tied with three other men for the bronze. First-time Olympian Dulohery was forced into a shoot off for that enviable place on the medal stand. Dulohery hung in there through four miss-and-you're-out targets, but on his fifth he jumped the gun, allowing the target to fly untouched.
"It's empty to see that target flying whole through the air," Dulohery said. "You put so much into it and you want it so bad. I'm a high-anxiety person in the first place, it was hard to stay smooth in the shoot off."
Teammate and fellow AMU shooter SFC Todd Graves, Laurel, MI, finished his fourth Olympic Games early. He was ousted in the qualifying round, finishing tied for ninth with a 121. Graves was the bronze medallist in this event in Sydney.
Final Act
If there was climactic final act with all the elements, it took place on day eight. Anti took silver, not only shaking his string of bad finals, but finishing with the highest finals score of the group. Going into the finals in seventh place—six points out of first—Anti shot a 98.1 to overcome Christian Planer, of Austria, by three-tenths of a point for the silver medal. Anti had to overcome a detrimental mistake during the qualifiers—shooting 41 shots, instead of 40, docking him two points off his score—to garner his first Olympic medal.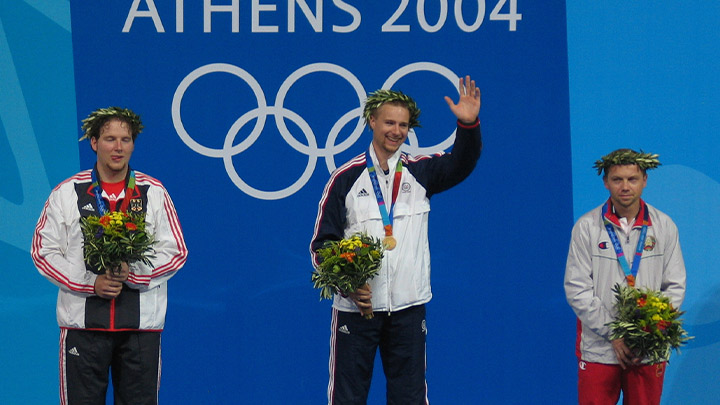 "Usually my finals end up costing me the medal," Anti said. "But after I was penalized those two points, I was so mad at myself, it may have actually been a blessing. I thought I had lost it and all I could concentrate on was making up that margin." Like Emmons, Anti also participated in the NRA's Marksmanship Program at a younger age.
Anti, along with his U.S. teammate, 23-year-old Emmons, both had a shot at the gold. Emmons fought through a two-point deficit in the finals to lead the competition by three points going into the final shot of the day. Emmons had just one shot to go until he would be walking off the line with his second gold medal of the 2004 Games, and instead ended up cross-firing at the next competitor's target, receiving a zero for his last shot.
"It is weird what the prospect of a medal will do to a person," Anti explained. "I mean it has happened to all of us. We have all cross-fired at some point. And you just have to leave it up to fate to when it happens—because it will. But for it to happen to Matt at these Games is devastating. We know Matt shot a gold medal performance. He is, by far, the best shooter I know. And to the shooting world, he proved himself the best shooter on the line." 
Emmons had initially thought that the target didn't register his shot. The officials, agreeing that this must have been the problem, told him to shoot again. That was, however, about the time the next competitor found an extra shot on his target—sinking the hopes of Emmons and the U.S. that two Americans would make the medal stand. 
Emmons explained, "That stuff happens. I haven't cross-fired for six or seven years. And I have only done it once or twice in my entire life. But, that was the only shot I didn't first look at the number. All I was worried about was calming myself. I don't know if I can make up for things in the past, but I am definitely looking forward to Bejing."
"Don't get me wrong, I love this silver medal," Anti said after it was all over. "But I probably would have been more excited to have heard the National Anthem and seen two American flags on the medal stand."
Olympic Roots
The Olympics were born when Zeus' guards held a footrace—or so some believe. Others claim their roots go back to a celebration of Zeus' victory over Cronus—his father—in a pitched battle to determine who would rule the world. The first modern-day Olympic Games took place in Athens, in 1896, and when they returned in 2004, 10,500 athletes and 201 National Olympic Committees were in attendance.
Media Watch
The 2004 Olympics attracted 21,500 members of the media, including 16,000 broadcasters and a viewing audience of nearly 4 billion people, worldwide.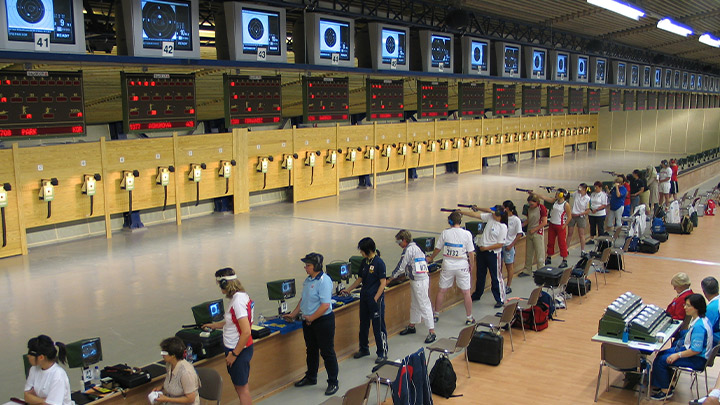 ---
Read more classic Shooting Sports USA articles: