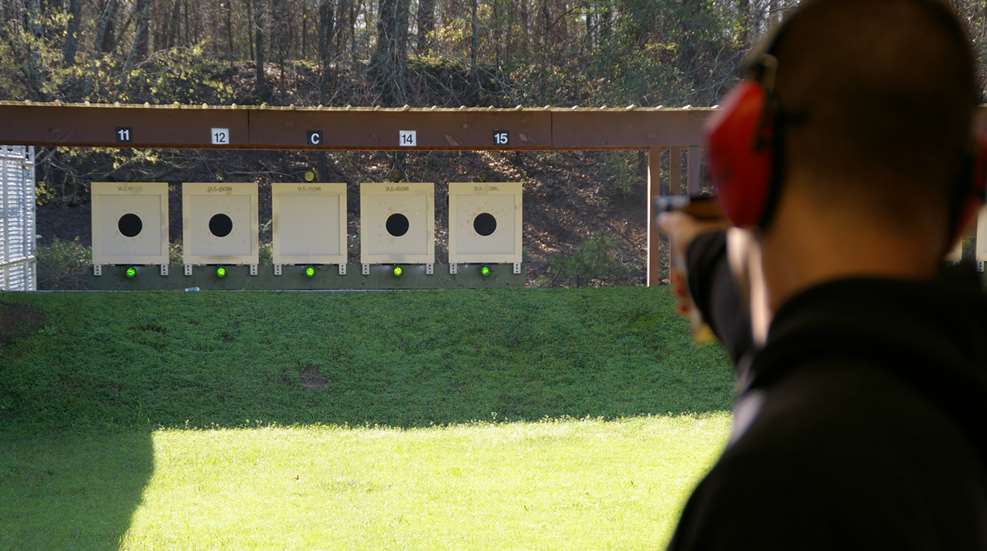 From the archives:
SSUSA
coverage of the 2009 NRA Intercollegiate Pistol Championships at Ft. Benning, GA, as chronicled by Chad Adams. As published in the June 2009 issue of
Shooting Sports USA.


Under Pressure: 2009 NRA Intercollegiate Pistol Championships

While most of the country basked in the NCAA's March Madness, collegiate athletes of a different sport gathered in Ft. Benning, GA, for the 2009 NRA Collegiate Pistol Championships. And while buzzer-beaters in the basketball tournament provide the signature drama for sports fans during March, for shooters, little could have matched what turned out to be an extremely competitive Championships, highlighted by dramatic finals, come-from-behind victories and dominating performances.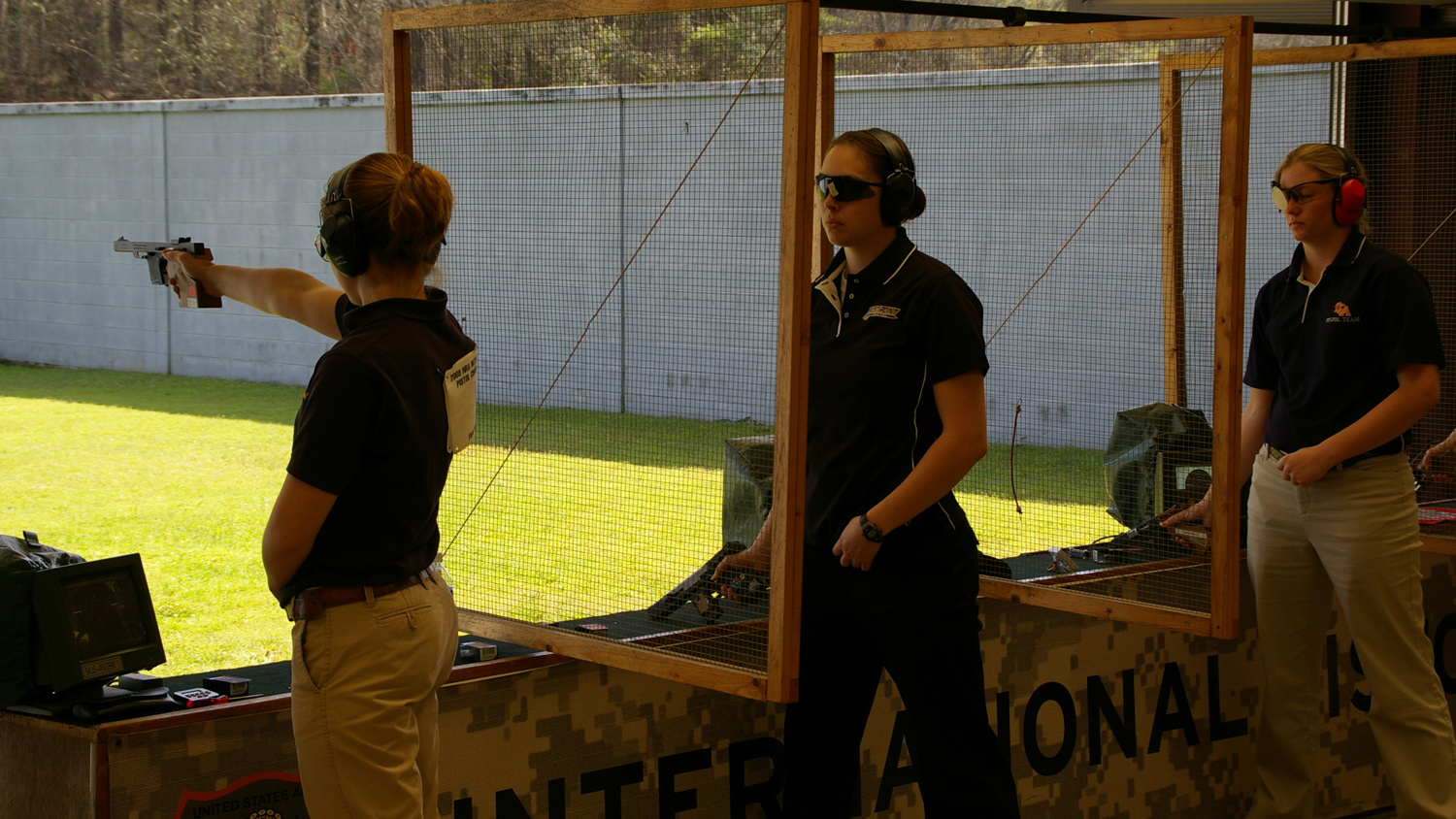 The Ohio State women's pistol team capped an undefeated season with their victory in the 29th annual event. Powered by first-place finishes in both Air and Sport, the Buckeyes topped second-place Navy by nine points. Led by Erin Meadows, Kelsey Imig and Lauren Brester, OSU won its fourth Team Aggregate title in 10 years, with previous championships coming in 2000, 2004 and 2005.
In the National Open Team Aggregate, the U.S. Military Academy turned in a dominating performance to win the overall title, beating second-place Naval Academy by 95 points, 6259-6164. The Cadets were led by a strong team performance in Standard Pistol, where USMA defeated second-place Ohio State 2144-2083.
"For us, it's all about the team," said USMA's Ryan Dowd. "We're all here for each other and coach, not ourselves."
Yet Dowd had a strong individual performance as well, winning the Standard Pistol Individual Championship by turning in an impressive eight-point victory over teammate Billie Hudson, 555-547.
"When I shot the match, I was really, really nervous," Dowd said. "It fueled me to be consistent. I always knew I could shoot a (5)50, but this was the first time I actually did it (in a match) But I was nervous; I thought I was going to pass out."
The highlight of this year's Championships was undoubtedly the Free Pistol finals. Going into the 10-shot finals, Air Force Academy's Brian Vickers, a favorite among competitors and who had been adopted as a shooter by the Coast Guard Academy team, led MIT's Andrew Sugaya and Fuzhou Hu by a single point.
The final itself had to be pushed back several hours due to an earlier malfunction on a target. That target happened to belong to Ohio State's Seth Berglee, the defending aggregate overall champion. Berglee was granted a re-shoot of his entire match, whereupon he qualified for the finals in seventh place. So by the time the finals kicked off hours later, anticipation had worked up into an audible buzz as the competitors approached the firing line.
And the competitors didn't disappoint. The 10-shot final saw five lead changes and at least twice as many shuffles between second and third place as Vickers and Sugaya answered each other shot after shot, coming up with 10+ scores when each competitor needed it. On the ninth shot, Vickers finally got the separation he needed, posting an 8.6 to Sagaya's 5.5, before finally topping Sugaya 605.60 to 599.50 for the Free Pistol Championship before an elated crowd of fellow competitors.
The Free Pistol title, along with consistent shooting throughout the Championships, gave Vickers just enough for an upset Open Aggregate Championship over defending champion Seth Berglee of Ohio State, 1771.4 to 1770.5.
The Free Pistol team title went to MIT, fueled by Sugaya and Hu finishing second and third, respectively. Greg Telian and Patrick Wu rounded out the scoring to give MIT a total of 1970, a 20-point victory over second-place U.S. Naval Academy.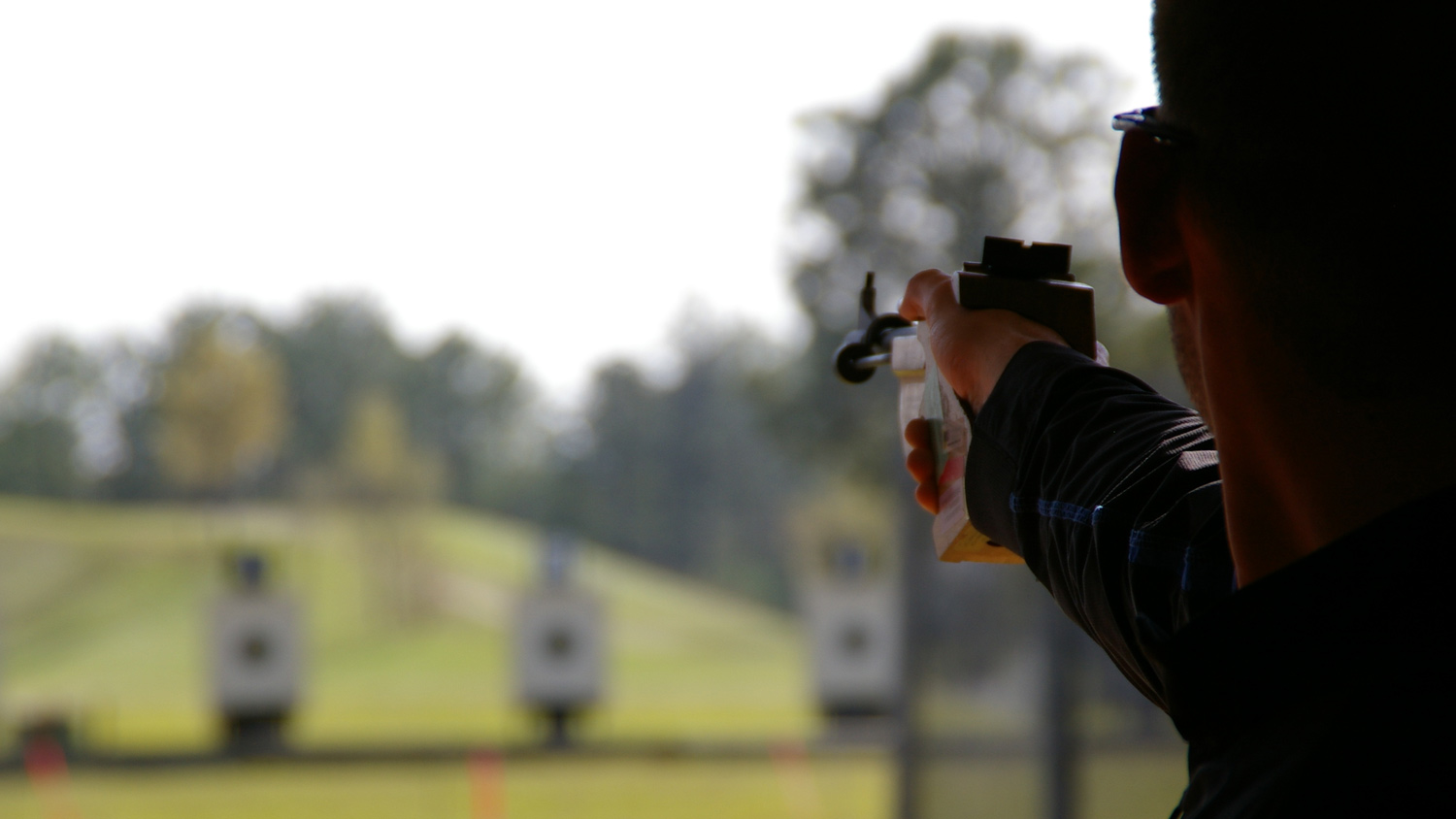 In Women's Air Pistol, Utah's Lindsey Daniels fought off a late charge by Ohio State's Kelsey Imig to hang on by a 0.4 point, 460.70 to 460.30. Daniels led by a point going into the final, and Imig actually posted the better score in the finals. But Daniels posted higher scores on the final two shots and was just able to escape with the narrow victory in a final that remained in doubt to the final shot.
"I definitely felt the pressure," said Utah's Daniels. "But I just wanted to shoot well. I didn't want to think about other people's scores."
Women's Sport Pistol featured yet another thrilling final as USMA's Kimberly Schultz overcame a three-point deficit in the finals to beat rival USNA's Ashley Asdal by one point, 651.40 to 650.40.
"We normally work better under pressure," Shultz said of the Army shooters. "For me personally, it's just a matter of overcoming any pressure, any fear. I refuse to lose; I refuse to settle."
The victory, along with a third place finish in Women's Air Pistol, propelled Schultz to the National Individual Women's Aggregate Champion. Schultz topped Navy's Asdal 1105.8 to 1096.7. Utah's Daniels finished third. However, it was the team title that Schultz talked about most at the end of the Championships.
"That's what we're raised on at West Point," said Shultz, speaking of the meaning of team to the Army shooters. "I think overall, we're all very competitive."
Also competitive is Ohio State's Seth Berglee. The defending Aggregate Champion and perennial All-American at both Montana State-Billings and OSU, struggled to find his rhythm early on during the championships. But Berglee recovered in time to win Open Air Pistol. Going into the final tied with Utah's Brad Collins, Berglee outlasted Collins 94.30 to 93.70 in the finals for a 649.3 to 648.7 victory.
In the ROTC Standard Pistol event, Utah's Kevin Peck topped Texas A&M's J.D. Webb by 9 points for the Championship. Utah's Joe Masini placed third, helping Utah edge past Texas A&M for the team title, 1932 to 1926.
See more: