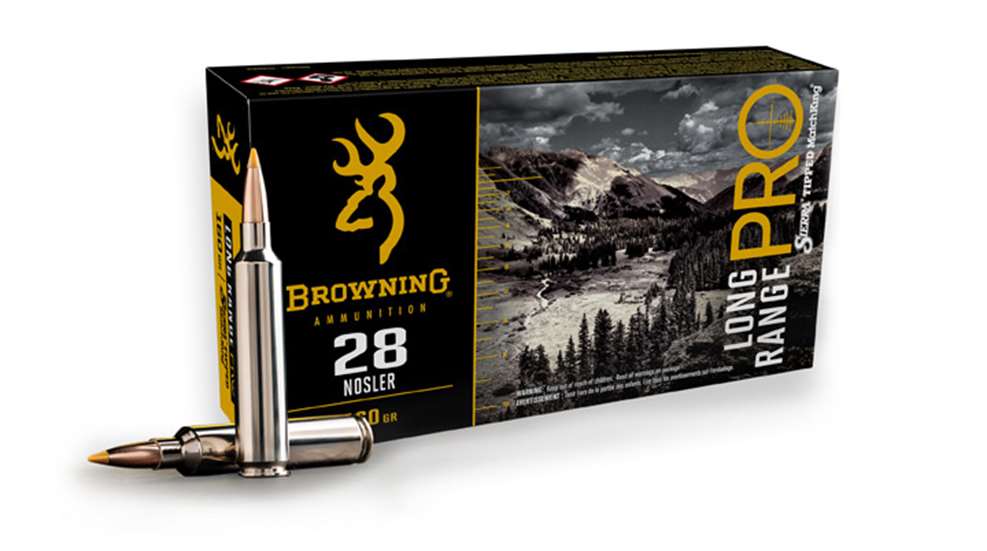 Browning Ammunition's Long Range Pro in 28 Nosler is available at retailers now. Browning will also be shipping its BXS Copper and BXC Controlled Expansion in 28 Nosler in the next few weeks. 
The Long Range Pro cartridge is loaded with a160-grain Sierra MatchKing bullet. A polymer tip and boat tail design provide high BC for accuracy and consistency. Muzzle velocity is 3,200 fps and the energy is 3,637 foot-pounds. A quick search online found a box of 20 rounds priced at $52.99 from MidwayUSA.
BXC Big Game has a bonded 155-grain bullet that is designed specifically for large, tough animals like elk or moose. An anodized aluminum tip improves BC, resulting in increased energy retention at longer ranges. This metal tip also helps drive through tough hide and bone. The gradually thickening jacket profile allows for a more controlled expansion, resulting in deeper penetration and ensuring maximum trauma to the vital areas. Muzzle velocity is 3,250 fps and the energy is 3,635 foot-pounds.
Finally, BXS Big Game has a polymer-tipped, solid-copper 139-grain projectile that works well for pigs to deer and even big game like elk. Copper is an inherently accurate bullet material that is also very tough and maintains nearly 100 percent of its bullet weight on impact. This results in greater retained weight for deeper penetration and consistent pass-throughs. Muzzle velocity is 3,350 fps and the energy is 3,463 foot-pounds.
Find a Browning ammunition dealer near you by visiting the company's website, which includes a handy dealer locator.
---
See more: 
Review: Browning Citori 725 Trap Max