by
posted on January 28, 2020
Support NRA Shooting Sports USA
DONATE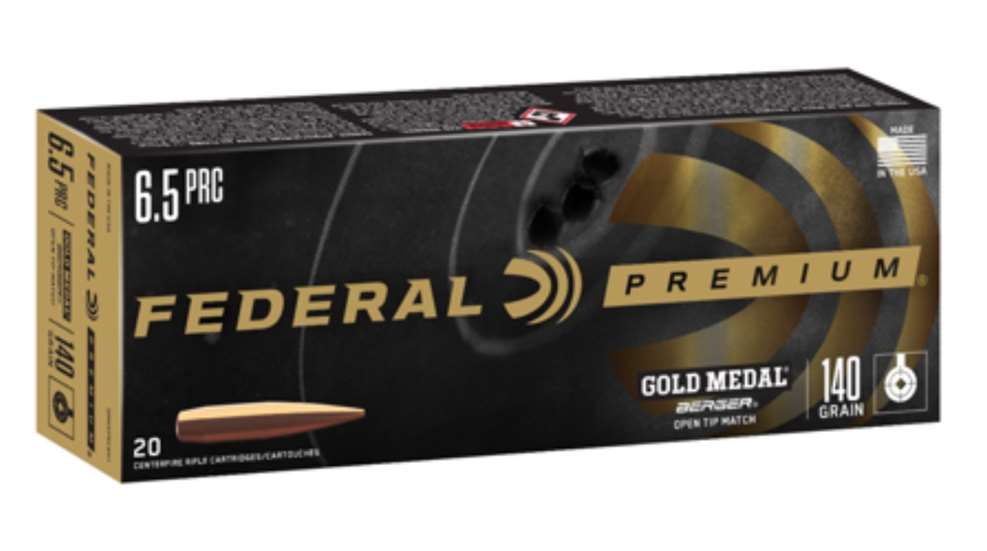 Federal Premium's line of Gold Medal rifle ammunition line now has a 6.5 PRC (Precision Rifle Cartridge) option. Debuting at SHOT Show 2020, the new Federal 6.5 PRC Gold Medal Berger Hybrid cartridge (MSRP: $35.99 per 20-round box) is loaded with high-BC 140-grain Berger Hybrid bullets, Federal brass, Gold Medal match primers and a specially formulated propellant.
Since its introduction by Hornady in 2017, 6.5 PRC has gained a stellar reputation with PRS (Precision Rifle Series) competitive shooters, as well as from the long-range community in general. It's based on the beltless .375 Ruger, but shortened and necked-down to hold a 6.5mm bullet. The 6.5 PRC is the popular 6.5 Creedmoor's big brother. It's ideal for precision long-range shooting, with super-high BC numbers and less wind drift and drop. Basically, the 6.5 PRC is one smoking fast cartridge that's also a flat shooter.
The Berger Hybrid bullet design features two different shapes within the nose. As the bearing surface ends, a tangent ogive begins—resulting in a bullet with less sensitivity to seating depth. Moving forward along the tangent portion, the bullet shape changes into a secant ogive, which is very efficient in the wind. Developed in conjunction with Bryan Litz, Berger's hybrid bullet design is a winner.
The new 6.5 PRC Gold Medal Berger Hybrid round is coming soon. The part number is GM65PRCBH1. To learn more, visit federalpremium.com.
---
See more SHOT Show 2020 coverage: