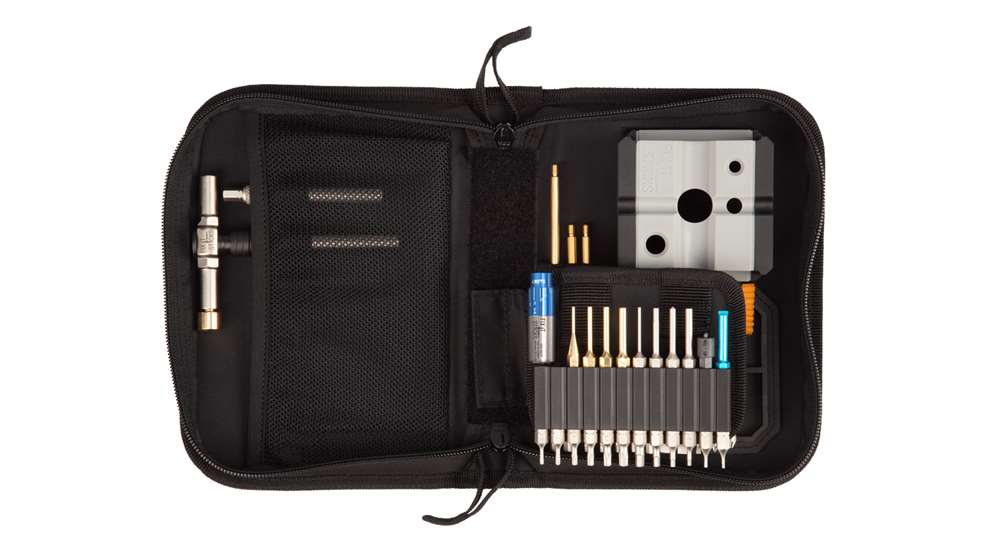 Fix It Sticks has introduced a new comprehensive tool set—that is also field-portable—called the Pistol Armorer's Toolkit.
More from Fix It Sticks: "Developed with input from gunsmiths, competitive shooters and optics manufacturers, the Pistol Armorer's Toolkit has an extensive array of the most useful tools, bits and a torque driver necessary to properly setup, maintain and accessorize a wide variety of handguns. The kit is capable enough to use on the bench, but portable enough to easily take to the range, out in the field, keep in a vehicle or ATV, etc."
The Pistol Armorer's Toolkit has handgun specific tools and components, such as a Magazine Base Plate Removable Tool for Glock, Sight tool for Glock, Channel Remover for Glock, Channel Installer for Glock and a 1911 Bushing Wrench. Other components include an the commonly needed hex bits and punches, an Aimpoint bit, brass hammerhead, armorer's block, magnetic tray to prevent losing small parts and a take-down brass cleaning rod. Additionally, a Fix It Sticks Ratchet T-Handle w/Locking Hex Drive and a Mini-All-In-One Torque limiter are included.
As for the soft carrying case, it features molded-in bit holders designed to hold any bit or accessory with a standard 1/4-inch Base (including Fix It Sticks Torque Limiters), along with any 8-32 threaded component.
The new Fix It Sticks Pistol Armorer's Toolkit has MSRP of $340 and can be found at store.fixitsticks.com.