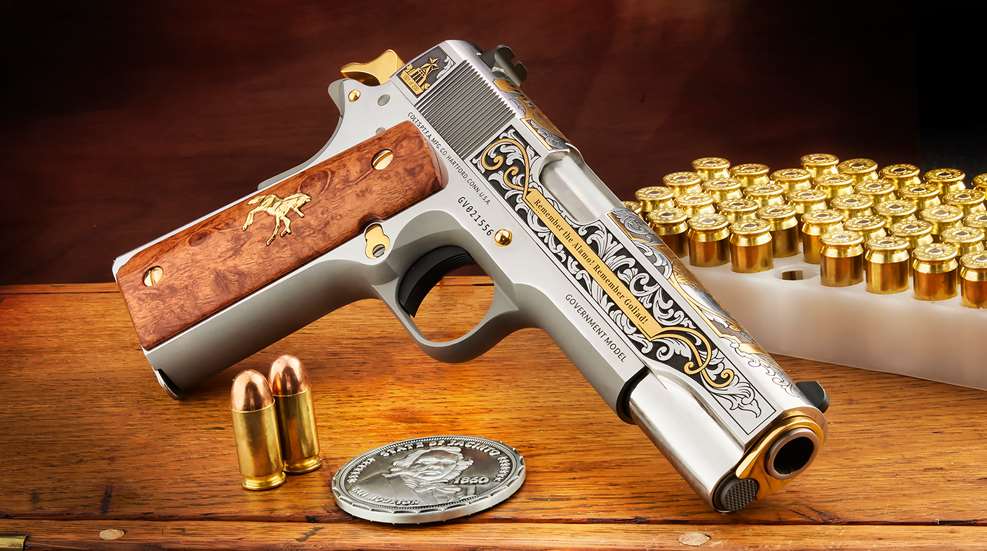 The first custom gun in the SK Customs Lost States of America Engravers series called "The Lost State of San Jacinto – Sam Houston" is shipping now. But act fast if interested, as there is only a limited inventory available of this 24-karat gold-engraved Colt 1911 pistol.
The Battle of San Jacinto, taking place in 1836 in what is now Harris County, Texas, was one of the most important battles of the Texas Revolution. This gun tells the story of General Sam Houston leading the Texian Army to victory against General Antonio Lopez de Santa Anna's Mexican Army.
While the battle lasted only 18 minutes, it changed the world, leading to the United States acquiring territory that would become the states of Texas, New Mexico, Nevada, Arizona, California and Utah, as well as parts of Oklahoma, Kansas, Colorado and Wyoming. It is one of the most decisive and consequential battles in the history of the United States and western civilization.
Details on each side of the pistol include a custom scroll pattern flowing to the top of the slide. On the left side of the gun, SK Customs has engraved this quote by General Sam Houston, "Texas has yet to learn submission to any oppression, come from what source it may." As for the right side, it quotes the Texian Army battle cry, "Remember the Alamo, Remember Goliad!" In addition, the coin and gun are sourced directly from partners in the Lone Star State.
On top of the slide is a portrait of General Sam Houston in front of the Monument of San Jacinto, while the rear of the slide is engraved with State Seal of Texas and "The Lost State of Jacinto." Also, Mesquite Burl grips that are native to Texas round out the feature set for the new pistol.
"With only a few of our custom Colt 1911s honoring General Sam Houston remaining, those that missed the launch can now purchase directly on our website," said Simon Khiabani, owner and founder of SK Customs.
The price for the "The Lost State of San Jacinto – Sam Houston" Colt 1911 pistol is $3,000. Additionally, next year SK Customs will release a sequel gun called "The Lost State of Franklin – John Sevier" to honor the founding father of Tennessee. Those who own the first in the series will have first rights on their matching limited-edition number on next year's gun and subsequent launches in this production series.
Learn more at skguns.com.