Springfield Armory's Hellcat Pro OSP with an extended 4.4-inch threaded barrel is now available in Desert FDE.
This new Hellcat Pro is a compact pistol chambered in 9 mm that offers 15+1 capacity with the included flush-fit magazine, along with 17+1 capacity with the included extended magazine. EDC-ready, the Hellcat Pro 9 mm boasts high capacity while still maintaining the ergonomic, slim profile of the original Hellcat pistol for concealability.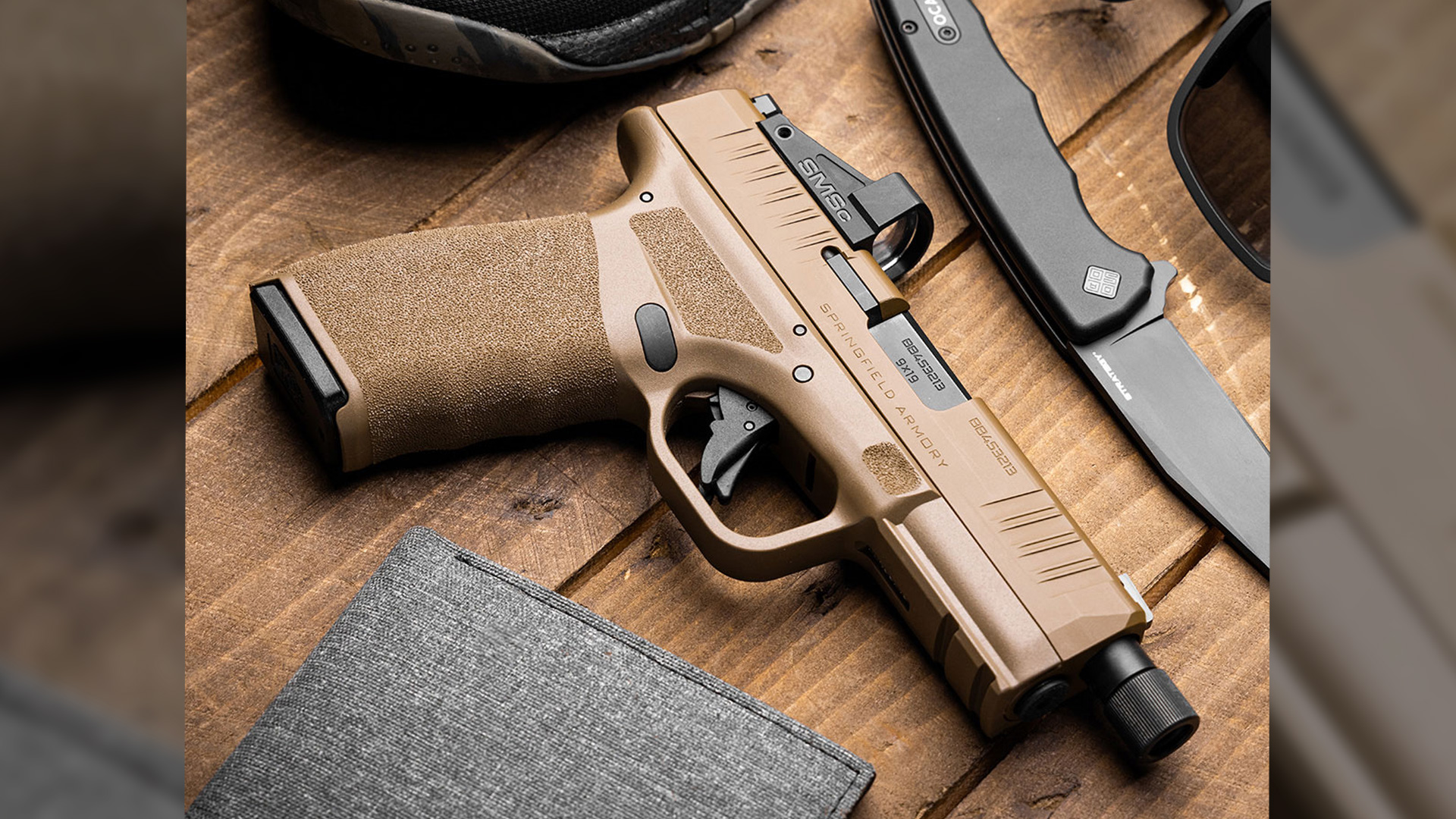 Similar the original, the barrel of the new Desert FDE Hellcat Pro OSP is made from hammer-forged steel with a black Melonite finish that sets off nicely against the Cerakote Desert FDE slide. Featuring a 1:10-inch twist, the barrel has .5x28 threading for accepting suppressors and muzzle devices.
Featuring an OSP configuration ("Optical Sight Pistol"), the Hellcat Pro OSP Threaded in Desert FDE has a slide milled with the Springfield Micro footprint. It is designed to direct mount small micro red-dot optics with the lowest mount possible. Backing up your choice of optic is a solid set of co-witnessing U-Dot sights, made up of a high visibility tritium and luminescent front sight and a Tactical Rack rear sight.
To mount the light or laser of your choice on the pistol, the Hellcat Pro OSP also sports a Picatinny rail on the dustcover portion of the frame. This longer section of rail provides users the flexibility to deploy accessories for multiple applications and conditions.
Weight of the Hellcat Pro OSP Threaded in Desert FDE is 22 ounces with the flush magazine and 22.4 ounces with the extended mag. Height is 4.8 inches (flush magazine) and 5.3 inches (extended mag). Overall length is 7.2 inches
As mentioned, the Hellcat Pro OSP Threaded in Desert FDE comes with one 15-round magazine and one 17-round magazine with a Desert FDE extended basepad, offering shooters an exceptional everyday carry pistol.
"The Hellcat Pro OSP has proven itself to be a highly capable EDC pistol that combines full-size pistol performance with class-leading concealability," Steve Kramer, Springfield Armory's vice president of marketing said. "With the new Desert FDE version of the Hellcat Pro OSP Threaded, shooters have an eye-catching and capable new option for their CCW needs."
MSRP is $710. Learn more at springfield-armory.com.