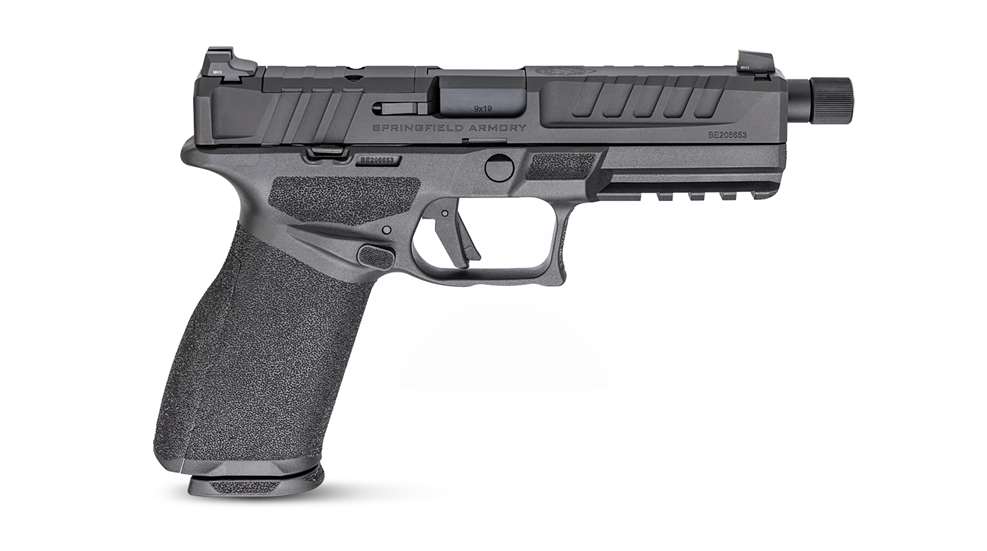 Springfield Armory's new Echelon 9 mm is a modern, striker-fired duty pistol with "a host of revolutionary patent-pending features."
A modular, highly adaptable handgun, the Echelon boasts superior ergonomics and is built to withstand harsh conditions.
The Echelon's all-new, patent-pending Central Operating Group (COG) is made with cutting-edge manufacturing techniques. The modular COG is an entirely self-contained and serialized stainless-steel chassis that is easily moved between available grip modules in seconds.
The COG can be installed in any Echelon grip module. The pistol comes standard with the medium grip module and three interchangeable backstraps, while small and large grip modules can be purchased separately. The three backstraps are designed to fit all three grip module sizes. In addition, all controls of the pistol are fully ambidextrous.
The Echelon's trigger harnesses the advantages of the COG to deliver superior performance. Entirely contained within the chassis, its critical components are machined from tool steel and highly polished for a clean take up, defined wall, crisp break and short, positive reset. Additionally, the Echelon is designed and tested to exceed SAAMI drop test parameters and sports a secondary sear design in the COG for an additional layer of safety.
Further adding to the Echelon's adaptability is the Variable Interface System (VIS), which uses patent-pending self-locking pins. As the mounting screws are torqued to spec, the pins exert lateral pressure on the optic's interior mounting surface to eliminate left and right movement. Plus, the pins can be positioned to fit the footprints of a wide range of popular optics, allowing for a direct-mount fit between the pistol's slide and optic.
The Echelon is offered with a choice of U-Dot tritium/luminescent or traditional three-dot tritium sights. The accuracy performance of the Echelon is ensured by the hammer-forged 4.5-inch barrel, while a 5.28-inch hammer-forged threaded barrel model is also available.
The Echelon's slide features four distinct engagement surfaces. A trench cut forward of the action gives shooters a natural index location for press checks and charging the firearm. The back of the slide is flared for positive purchase, while deep forward and rear serrations are carried through the corners for a firm grip from any angle.
The Echelon employs a newly developed magazine for rugged durability, hard use and reliable operation. Blacked out in an all-new scratch- and wear-resistant coating, the two magazines have a capacity of 17+1 in its flush fit configuration and 20+1 with the extended base pad installed. A reduced-capacity 10-round model is also available.
MSRP ranges from $679-$739, depending on model. Go to springfield-armory.com.