by
posted on September 27, 2018
Support NRA Shooting Sports USA
DONATE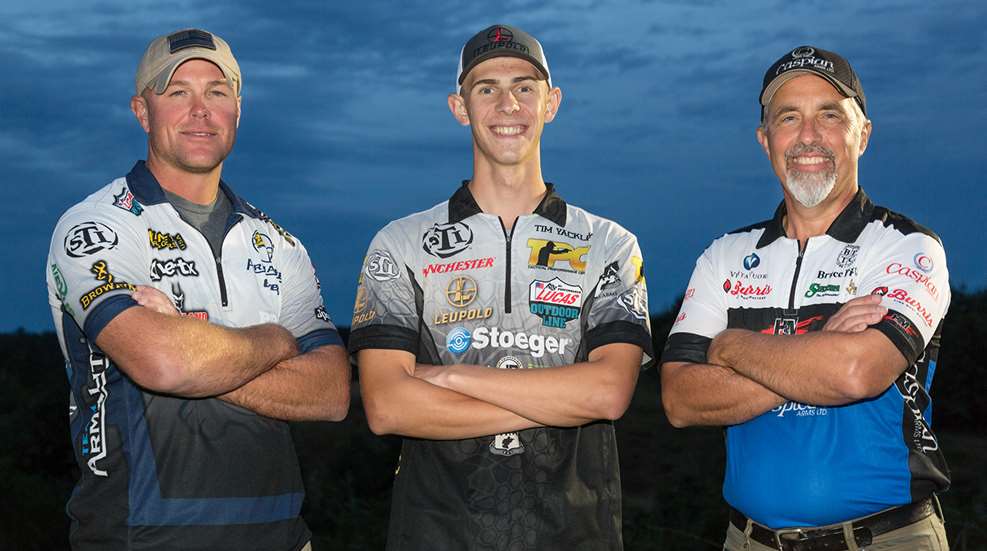 Above: The top three NRA WSC shooters this year: (l. to r.) second place Greg Jordan, match champion Tim Yackley and third place Bruce Piatt.

This year's fifth annual NRA World Shooting Championship (WSC), held at the sprawling Peacemaker National Training Center in West Virginia, saw a sold-out field, enthusiastic competition, and a historic win by 20-year old Tim Yackley. As a lucky observer of the events on the ground, I got a firsthand glimpse of exactly what makes this contest so popular, and drives competitors to bring their A-game to each and every stage.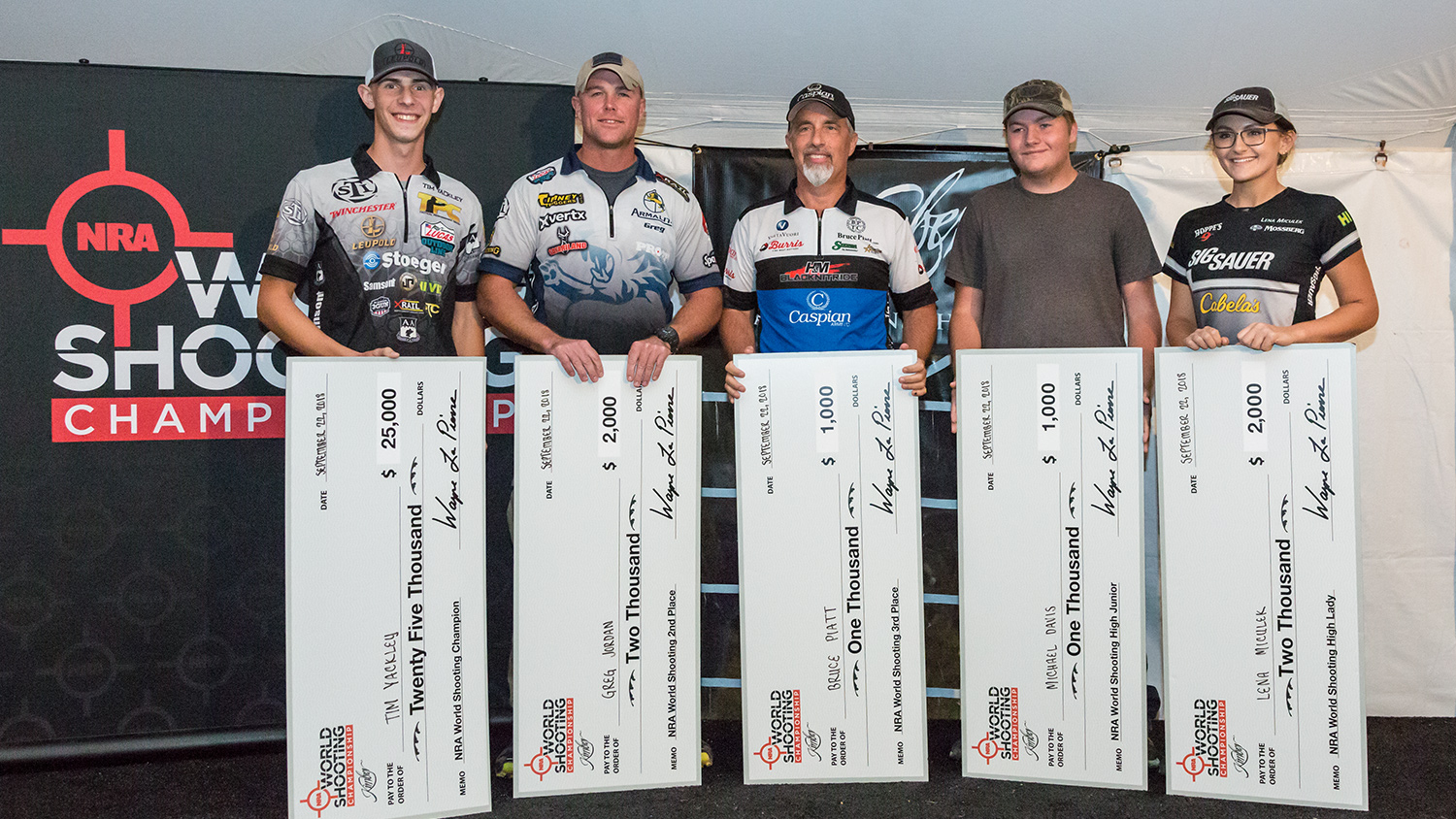 The first factor contributing to the uniqueness of this particular championship, is that the main match is comprised of 12 stages, as dissimilar as they are challenging. Their sole point of resemblance? None can be shot with one's own equipment. Each stage instead provides a standardized set of gear, to afford some level of parity to the competitors (who are divided up into classes of professional, amateur and staff). Should anyone have something of a sub-par stage, or simply a stage they wanted to shoot again, all competitors were issued one "mulligan" card, to use at their own discretion.

The first main stage this year was NRA America's Rifle Challenge. Though I hate to say this about the first stage covered, as it makes things somewhat anti-climactic, there is simply no way around it. This was one of my favorite stages, second only to Cowboy Action. A time plus-scored field course, with a mix of paper and frangible targets and a par time of 180 seconds, this stage was shot standing, kneeling, prone, around barricades, and in pretty much every other position you could imagine. That, really, was the inherent beauty of this stage. It put on display the plethora of strategies one can use in running the same exact course. Some competitors stopped right out of the gate and shot the first two targets, before moving on to the targets only accessible by shooting under the barricade, then finally progressed to the kick-down-popper to activate the swinger. Others moved to the second position from the get-go, and just engaged the first two targets from there. One competitor even reported that his strategy changed mid-round, when he discovered it more convenient to hit the first two on the move, rather than shooting from an established position. This made America's Rifle Challenge far and away the most exciting event to watch, as the only point of commonality between runs was that they all used an I.O. M215 KeyMod, shooting Global Ordnance 5.56mm.

Stage 2 was the ever-popular 3-Gun discipline, put on this year by Strategic Armory Corps, Rio Ammunition, Federal Premium, Nexus and Vortex. The stage began by firing upon a number of steel reactive targets with a Mossberg JM Pro Series, using Rio 12-gauge shot, followed by an engagement of paper targets with an ArmaLite M-15 Competition, after which the competitor would pick up a Canik TP9SF pistol and march forward, ringing steel to the left, right and straight as he or she went along. If you're reading this page, I can almost guarantee you at least know what 3-Gun is. This is more than I can say for some people I saw shoot the course. That however, is another aspect of what really makes these World Championships just so fun. There is nowhere else you can go and see rank amateurs, who may be versed in just one or two of the present disciplines, going head to head with professionals on the professional's home turf. Sure, they have no chance of matching one of the Miculeks' scorching runs, or scoring across the board with the dogged consistency of the estimable Mr. Yackley, but that doesn't make it any less fun. In fact, according to one young competitor, Charlie Jones, it adds a whole new level, as one gets to see exactly how one measures up against the experts, on the self-same course, with identical equipment, regardless of one's own skill level. I don't know about you, but that's a pretty neat experience in my book.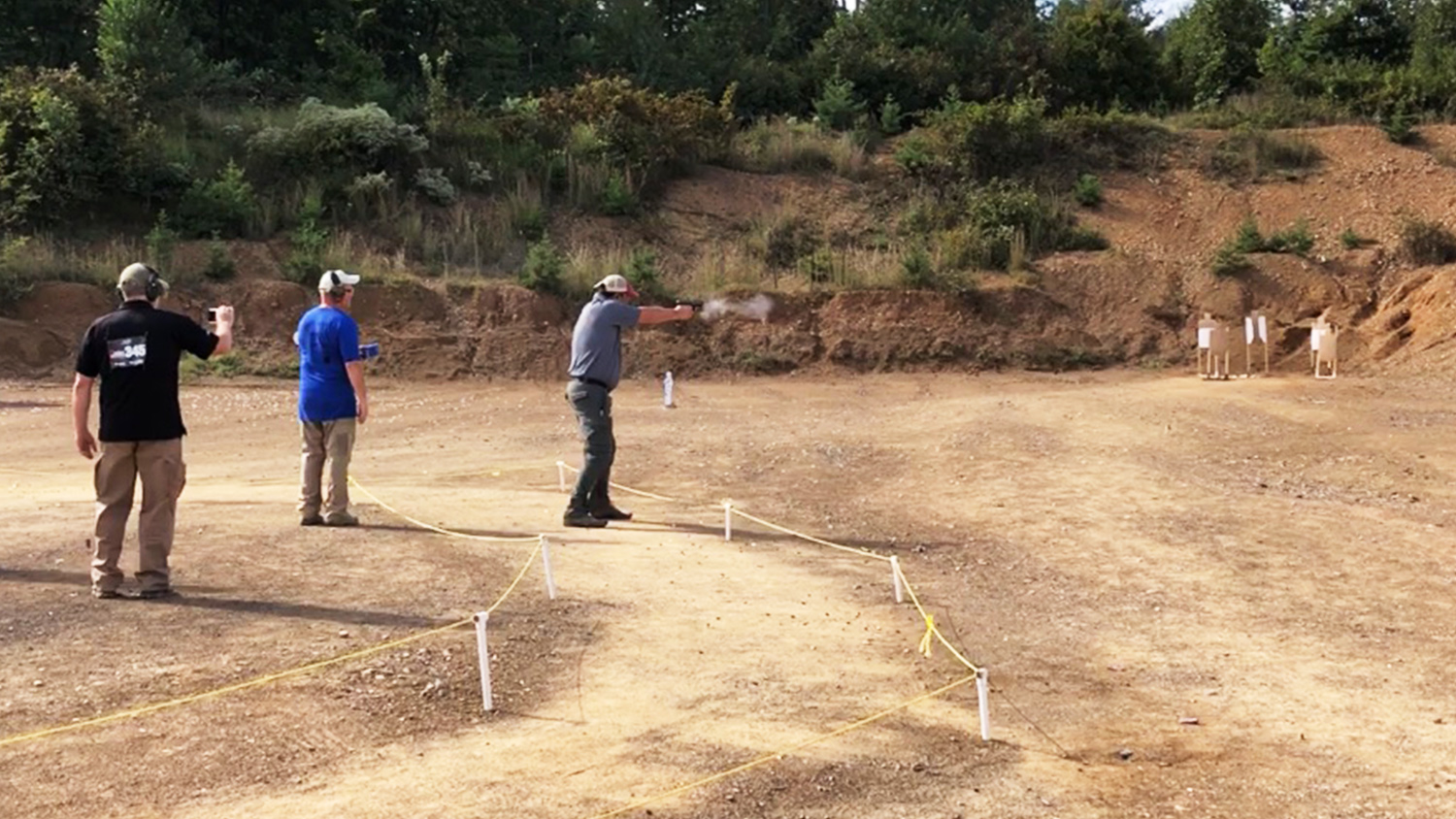 Stage 3, NRA Precision Pistol. This is one of those categories that you've either skipped the whole rest of the article to read, or that you're most likely skipping past. The granddaddy of all modern pistol competition, bullseye's popularity has waned slightly in recent years, with flashier offerings attracting more attention from the younger crowd. Nonetheless, its importance remains, particularly here where it makes up a solid twelfth of one's score.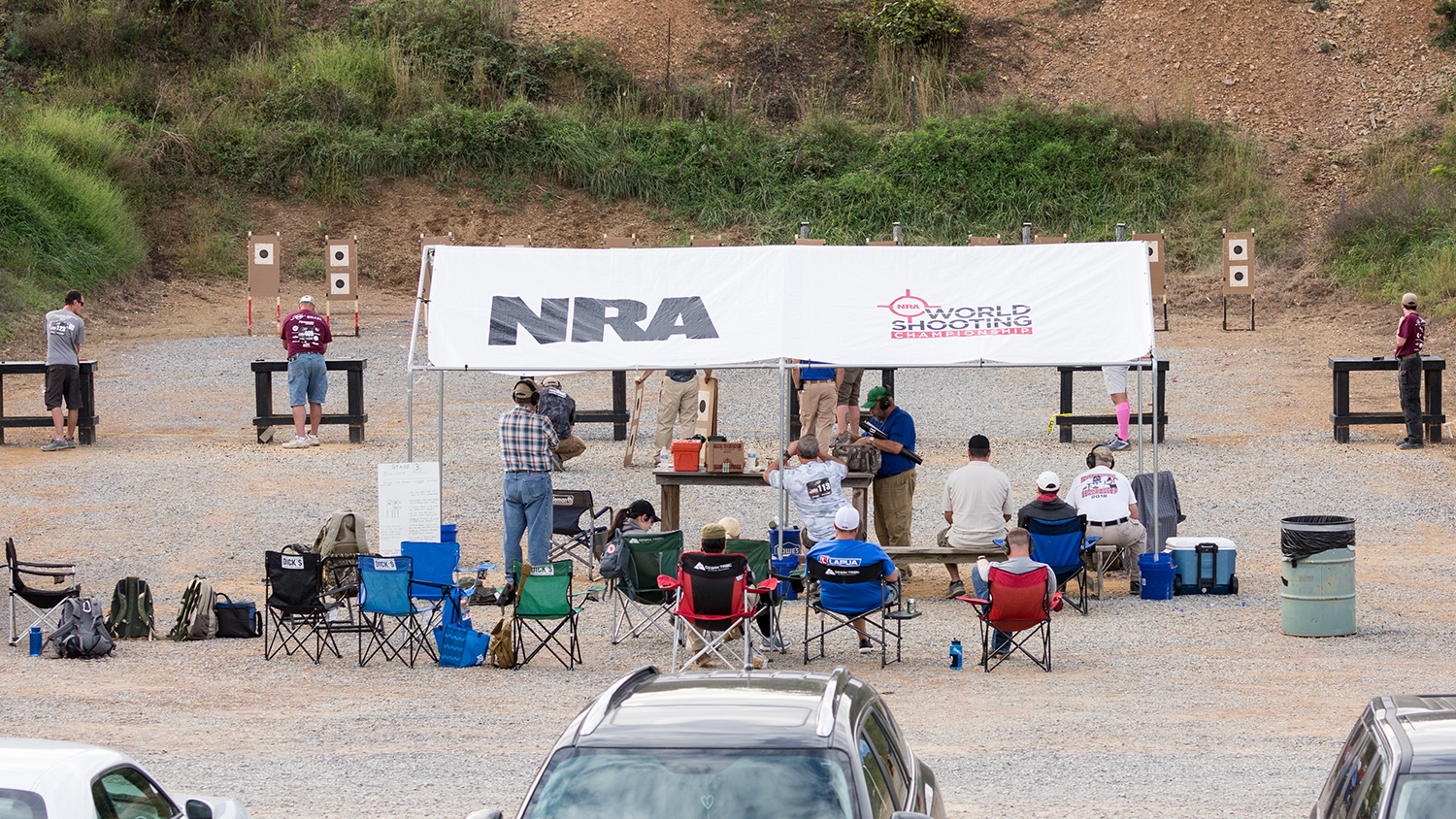 Shot at 25 yards with a Kimber 1911 Custom Covert, using Federal .45 ACP 230-grain FMJ, competitors got two minutes to fire three sighter shots, five minutes to fire the first 10 scored rounds, a several minute break, then five more minutes to fire the second 10. After watching competitors in some of the faster paced, less precise events, the best way I can sum up the NRA World Shooting Championship's rendition of bullseye is in the words of an unnamed competitor I overheard at the firing line: "It's all about relaxation."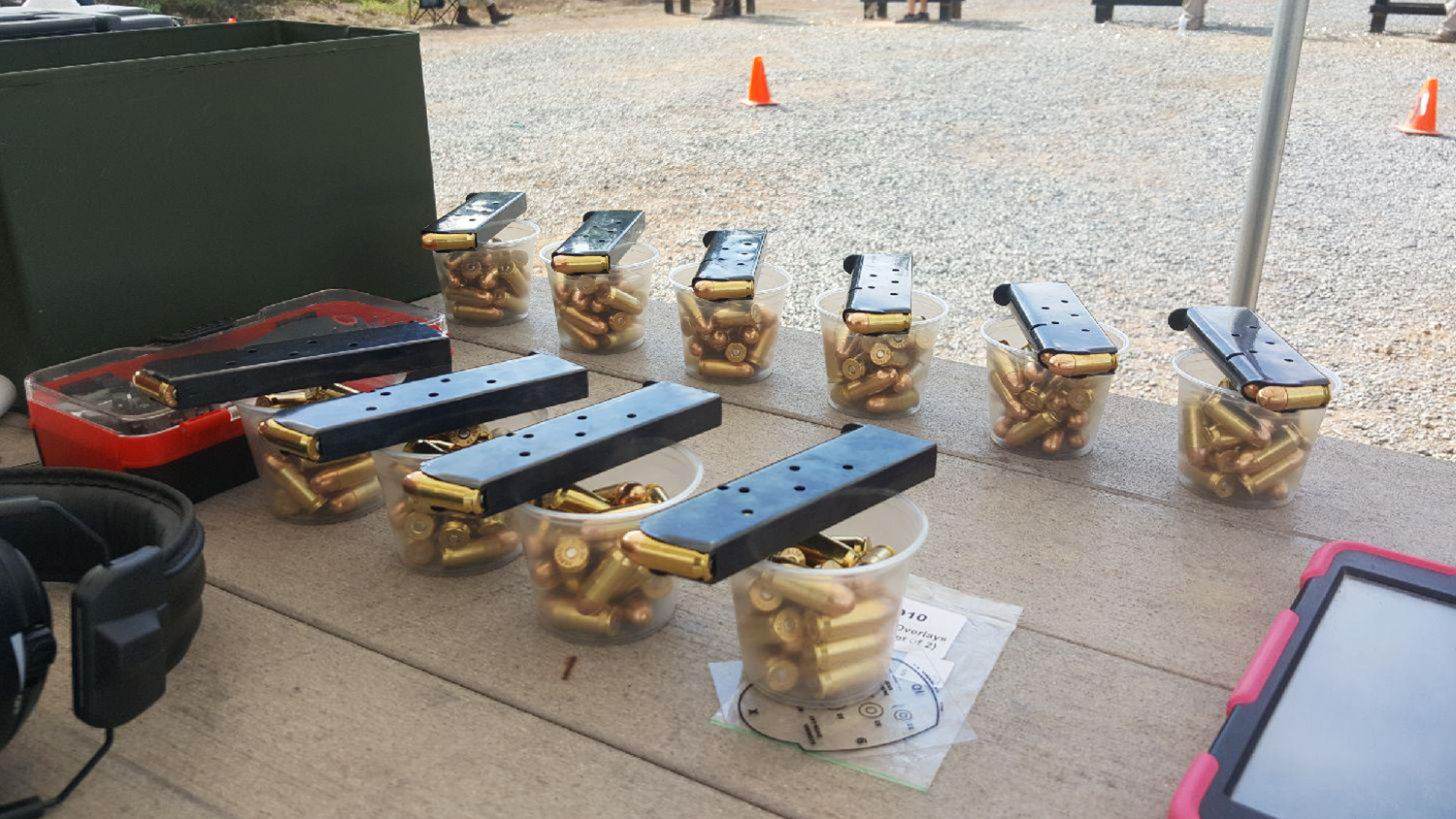 The Bianchi Cup Falling Plates are no joke. Stage 4 saw competitors running a series of six plates twice at 20 yards, and twice at 25, with SIG Sauer P329 X-Five Full-Size pistols. Like a slightly less exacting version of bullseye, but with the added challenge of having to push your gun from target to target, Action Pistol Plate Rack competitions are fun, tedious, and rewarding all in one. While few competitors cleaned the stage, the look of satisfaction had when even a single plate was forced to drop is more than words can adequately describe.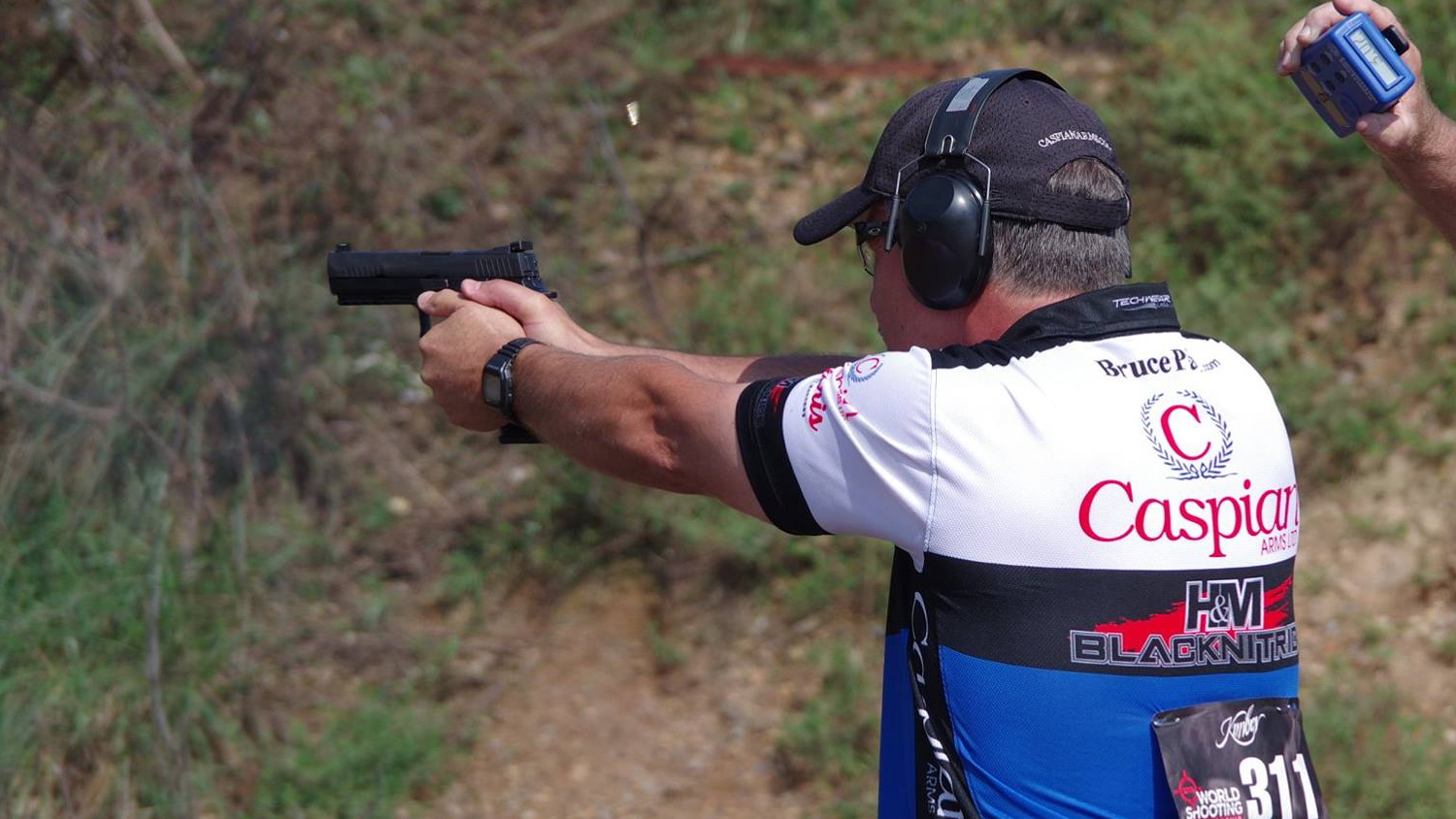 Stage 5's USPSA round, put on by Canik, who donated several of their Canik TP9SFx pistols for use in the match, was a real crowd pleaser, and also one of the stages where I had the pleasure of watching some of the top competitors run the course. After a seemingly endless period for inspection, the competitors proved just why they had taken so long to gauge the lay of things, running the course at a speed that would have prompted your humble author to send a few rounds through the barricades, instead of into the targets.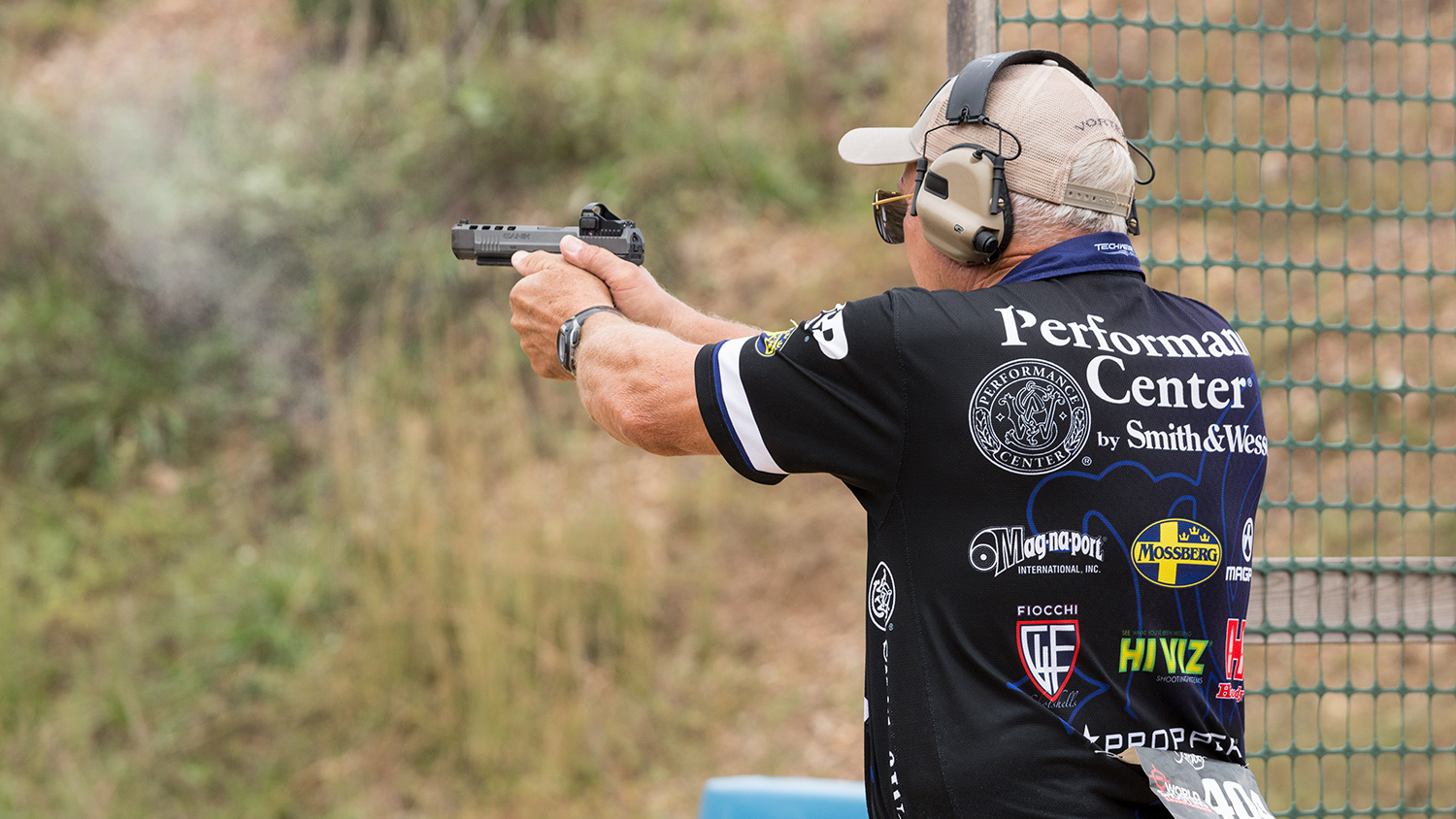 Maybe my grandfather sat me through one too many John Wayne movies during my childhood, or my teenaged-self practiced Clint Eastwood's famous border-roll 1300 too many times with my replica Griswold, but I will forever have a soft spot in my heart for Cowboy Action Shooting. As such, I spent an inordinate amount of my day enamored with the top-notch wheel and levergun-handling I encountered at Stage 6. Though slightly disappointed there was no coach-gun present (despite this being my first NRA WSC, I understand there had been one in years past), this stage was still by far the most entertaining.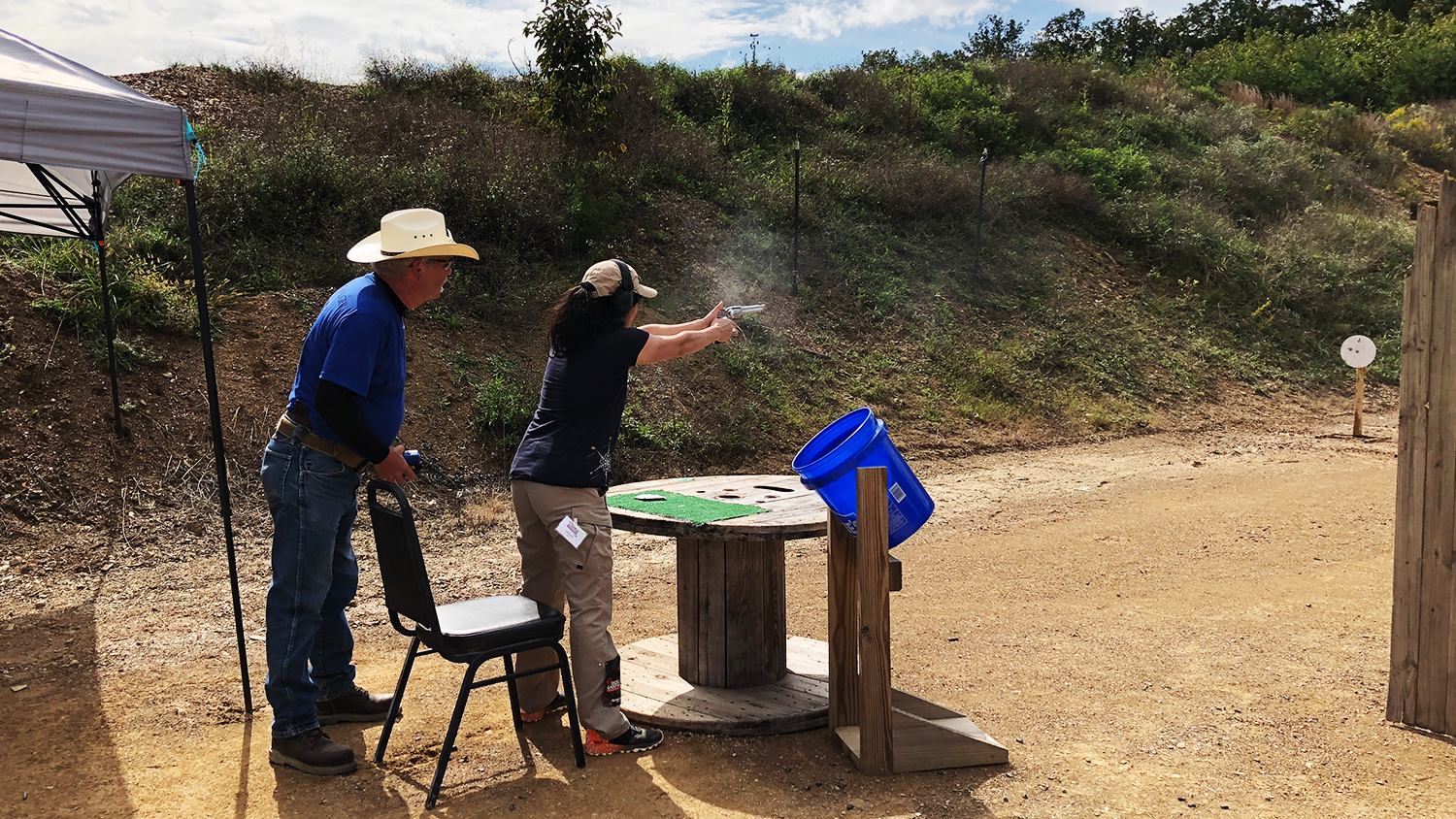 The shooters started out seated at a poker table, holding Wild Bill Hickok's deadman's hand. At the buzzer, they threw down the cards, picked up a nearby Ruger Vaquero, and shot (either seated or standing, dealer's choice) six steelies scattered in front of them. Once empty, the shooter scrambled to a nearby doorway, and unloaded six shots from a Henry Big Boy Classic into five steel silhouettes. Finally, that station done, they put down the Big Boy and made one more rightward dash, picking up another Ruger Vaquero to finish off six more steels. Upon completion, the Stetson-wearing R.O.'s always led the crowd in a rousing "yee-haw" for the shooter. All this made for a quite a good time, and for once, my opinion seems to be in the majority. According to one of the R.O.'s, who himself sported a drop-leg style gunfighter holster, over 50 "mulligans" had been used on Stage 6 alone, by folks who just had to run the course again. Though I don't know for certain, I believe this was the highest number of mulligans used at a single stage over the 3-day contest period.

One interesting factor most probably did not consider about this stage, was the action of the guns, and people's unfamiliarity with their operation. I cannot count how many times I saw people accidentally half cock the single-action revolver, leading to a missed round, then have to click though a number of empty chambers to get their last shot out. Just another random variable in an event chock-full of them.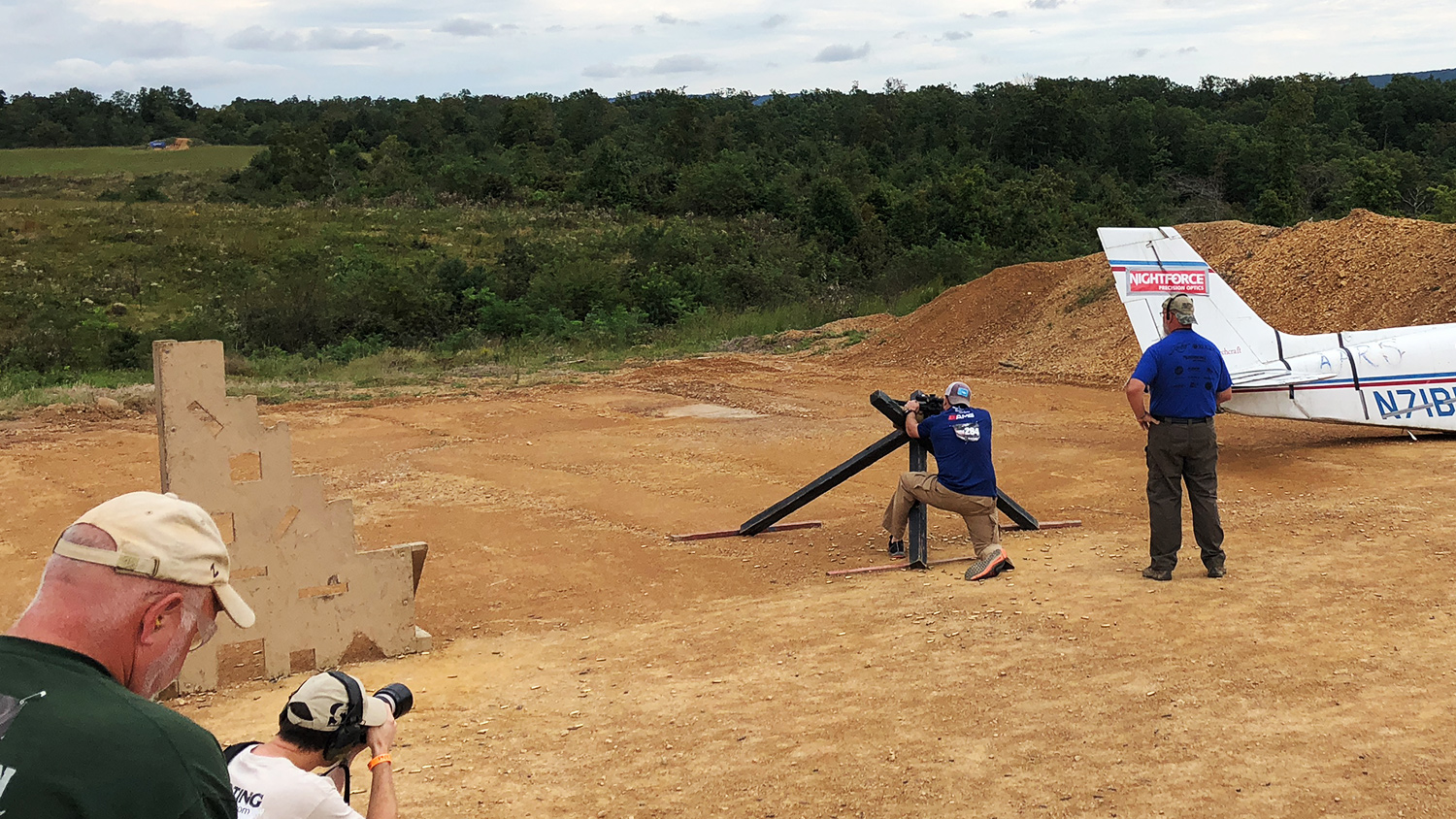 As you can probably tell by the preceding deluge of verbiage, this author got pretty caught up in Cowboy Action—in fact, a little too caught up. As such, I didn't leave myself time to visit stages 7 or 8 (I was not tackling them chronologically), so we will here have to move on to Stage 9, NRA Silhouette. This was, arguably, the hardest match of the day, as despite being shot at 490 yards, the match was fired with an S&W M&P 15 Sport II, with a Bushnell Forge 3-18x50mm optic, shooting Federal .223 Rem. Not exactly a setup custom-made for such a distance. Despite this handicap, many capable shooters, sitting in the traditional position, were delivering hits, sometimes even strings of them―which really speaks to the caliber of marksmanship that the NRA World Shooting Championships draws.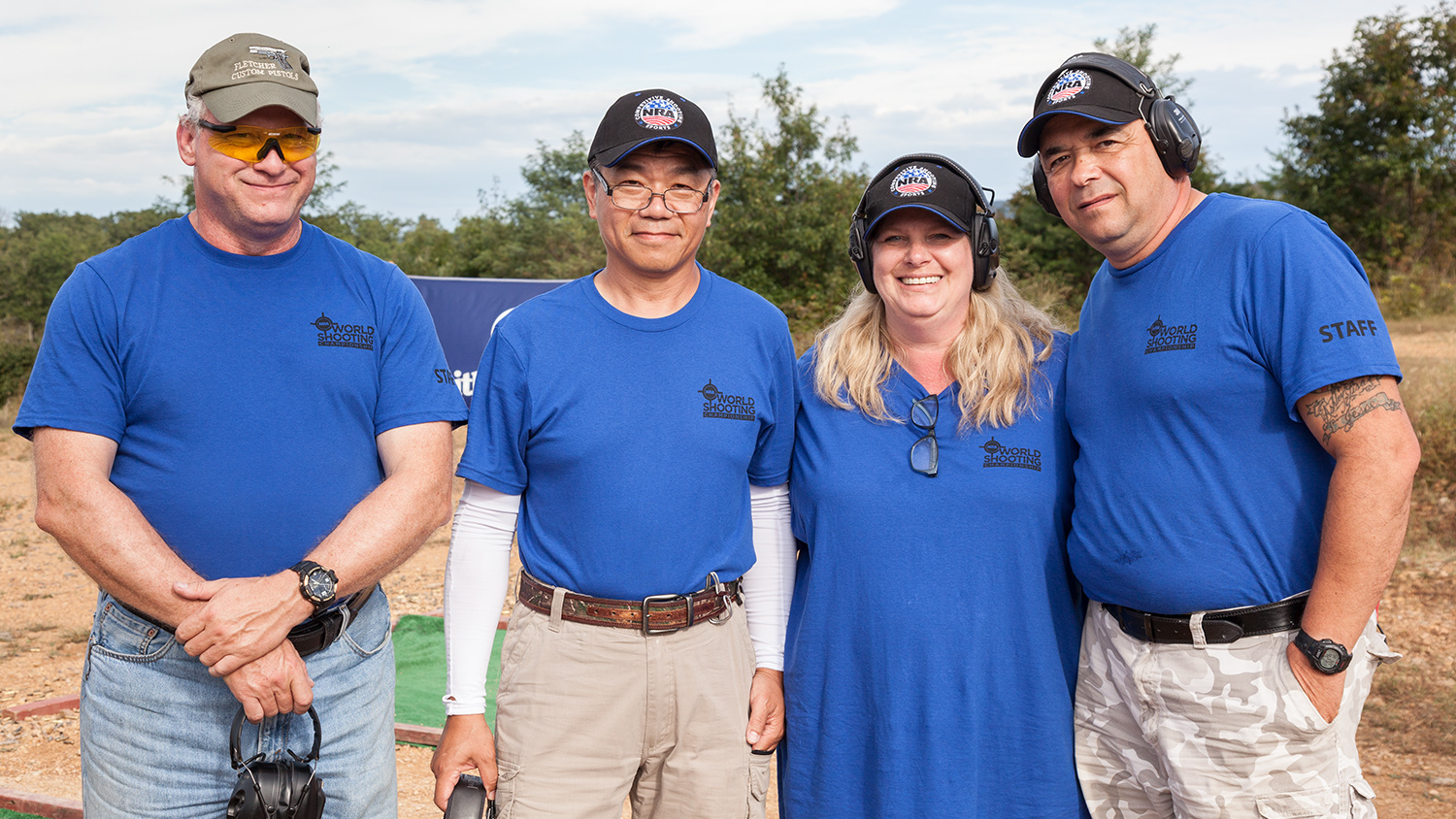 Here on Stage 9, I also got the opportunity to chat with a crew of volunteers, whose tireless efforts helped make this year's World Shooting Championships possible. Exhausted after almost a full week of hard labor, but clearly enjoying themselves, the 4-person crew remarked affably on the camaraderie and fun afforded by the shooting sports, and the shooting sports community. Despite hailing from a variety of states: New Jersey, Pennsylvania and Virginia, they all found commonality partaking in one of their favorite hobbies. We hope to see them back next year!

Stage 10, put on by Mossberg and Rio Ammunition, with Crazy Quail supplying the throwers, offered competitors the chance to shoot 6-Stand Sporting Clays. Watching bullseye masters, tactical titans and wingshooters alike try to knock the tiny spinning discs out of the air provided yet another big win for spectators, who were still only having half as much fun as those on the firing line. The course of fire consisted of a report pair of clays, followed by a true pairs of clays, after which all competitors would move up a station, until they had worked their way through all six. According to Crazy Quail founder Barry Bourdage, this stage was all about strategy. Shoot the right clay first, and your muzzle would not have to track very far to nab the second one. Shoot the wrong initial clay, and you were in for quite a swing. To make things even more difficult, the Mossberg International Silver Reserve II Super Sport Over Unders were choked to modified and full, and had no recoil pads. You could definitely see the tinge of pain in some shoulders by the end of the stage.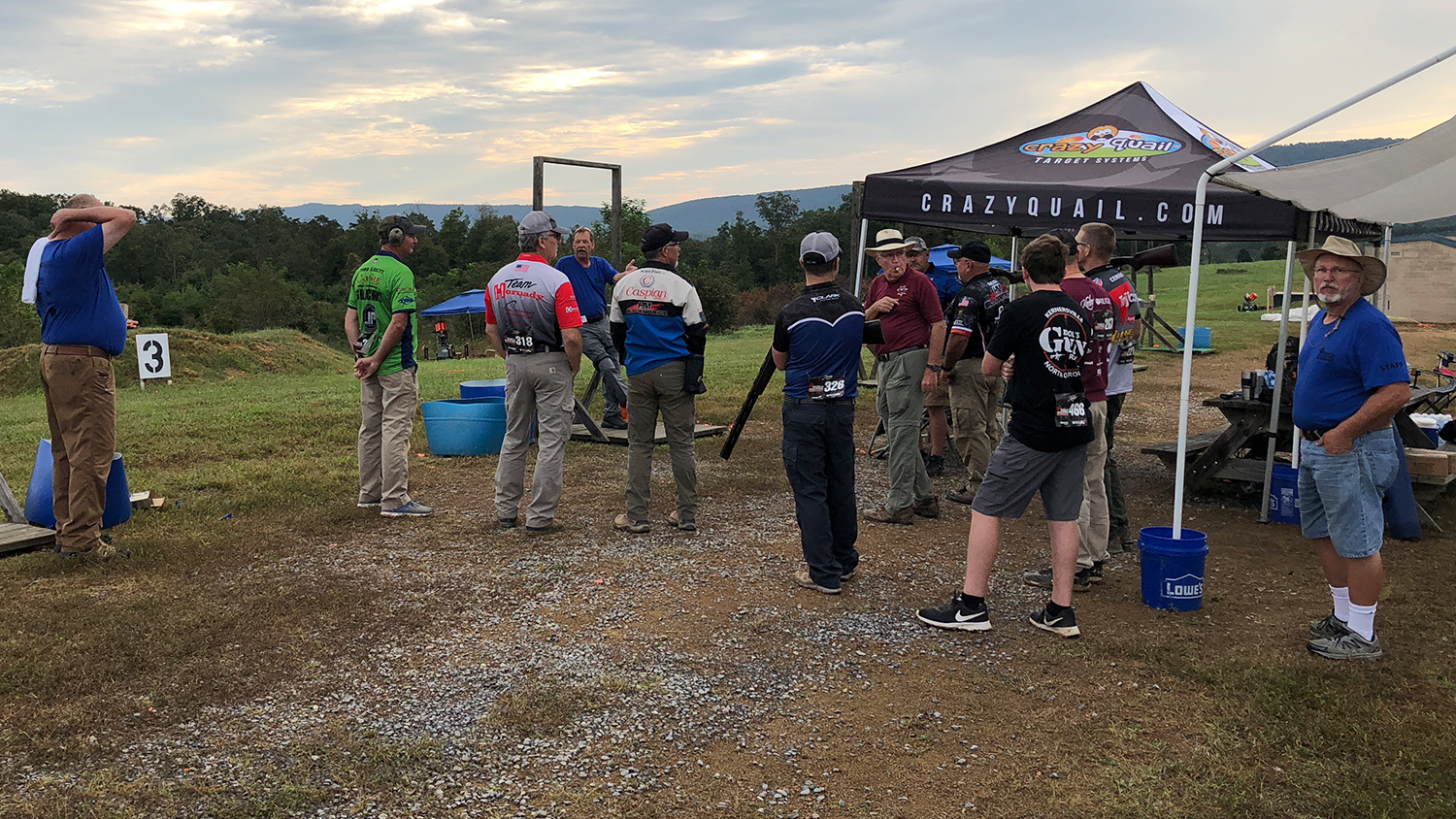 Stage 11 stuck with the scattergun theme, though this time competitors were shooting Trap Sporting Clays. There were again six stations, with competitors shooting a report and true pair from each, using the same shotguns as before. Well known-gunwriter (and SSUSA author), Dick Jones, was kind enough to give me a quote here, in which he imparted some wisdom regarding the stage. Mr. Jones relayed, "Its all about adaptability, because no one would ever choose to use a modified and a full choke. You just have to make the best of it." Let me tell you, make the best out of it he did, as did his grandson Charlie, even though the latter reported that the shotguns "kicked like mules."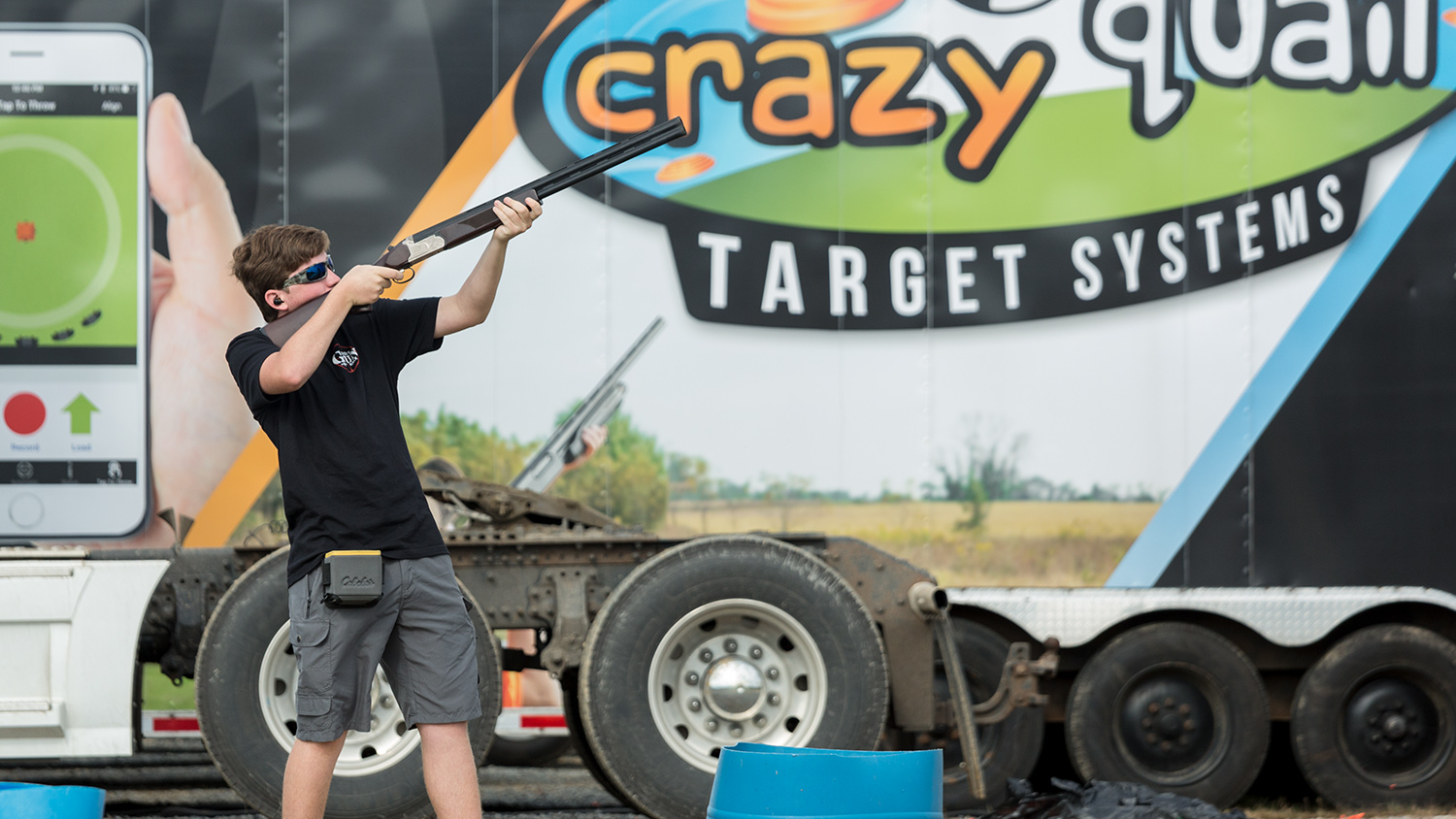 Last but not least, we come to Stage 12. New to the WSC this year, Stage 12 provided a unique challenge, in the form of a warm-weather Biathlon. Competitors started about 40 feet away from the firing line, then at the buzzer had to hoist two ammo cans and walk (or run, there was a 180 second time limit, after all) about 30 feet, drop the cans in a designated zone, then approach the line of fire. The targets were falling steel, targeted with Magnum Research MLR22ATs, equipped with Bushnell CQTS 2.0 Elite Tactical optics, and firing CQI .22 LR Standard Velocity ammunition. Competitors had 10 shots to clean five, 4-inch plates standing, and 10 shots to clean five, 2-inch plates while prone. Every missed shot incurred a 30-second penalty. Talk about difficult! I only saw one person clean the whole thing while I was there, (though one other gentleman did come close with nine hits).

Though I'd love to say that what precedes is a total, in-depth description of the 2018 WSC (sans two stages), the reality is there was much, much more I simply don't have the space to report here. From five exciting side matches, to the spirit of camaraderie evident between all competitors, to the revelry at the awards ceremony and banquet the final night (a BBQ dinner with delicious food provided by the NRA, by the way), the 2018 NRA World Shooting Championships really set itself in a class of its own. Make sure you don't miss it next year, and join us at the 2019 NRA World Shooting Championship to take part in all the fun yourself.