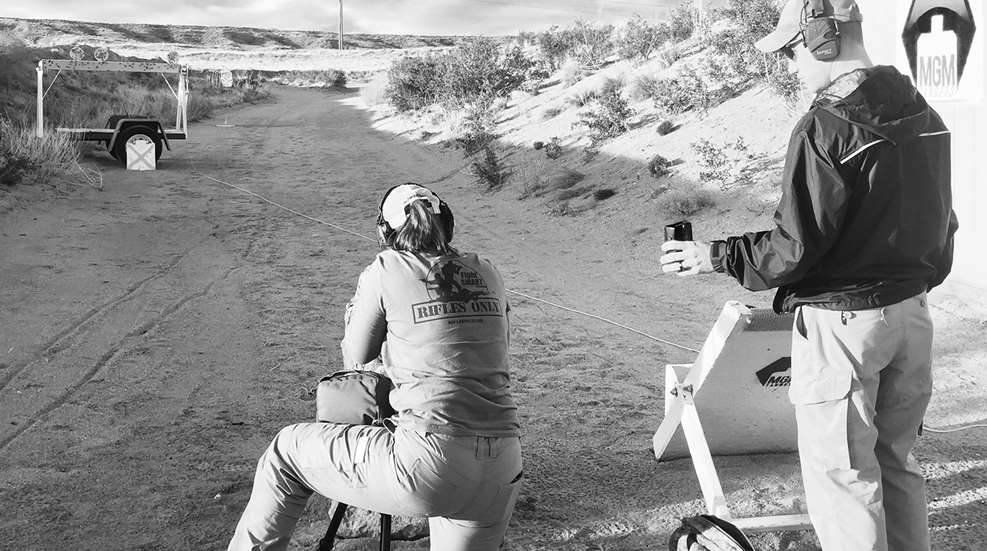 Above: Regina Milkovich competing at a PRS match in New Mexico in April. Photo by Paul Reid.

Team Timney's Regina Milkovich had quite a victory at the 2016 NorCal Tactical Bolt Rifle Challenge. Milkovich made history by being the first woman shooter to win a major Precision Rifle Series (PRS) match. The match was held on April 22-24 at the Sacramento Valley Shooting Center located in Sacramento, CA. Regina's winning score was 1298-2X.

"Gina has been the top female shooter in the PRS series since its inception," said Tommy Thacker, professional competitive shooter and Timney's shooting sports ambassador. He added, "I am not surprised at all that she won the overall title. Her dedication to the art of fine shooting is simply amazing."

Regina was kind enough to talk to SSUSA about her recent accomplishment.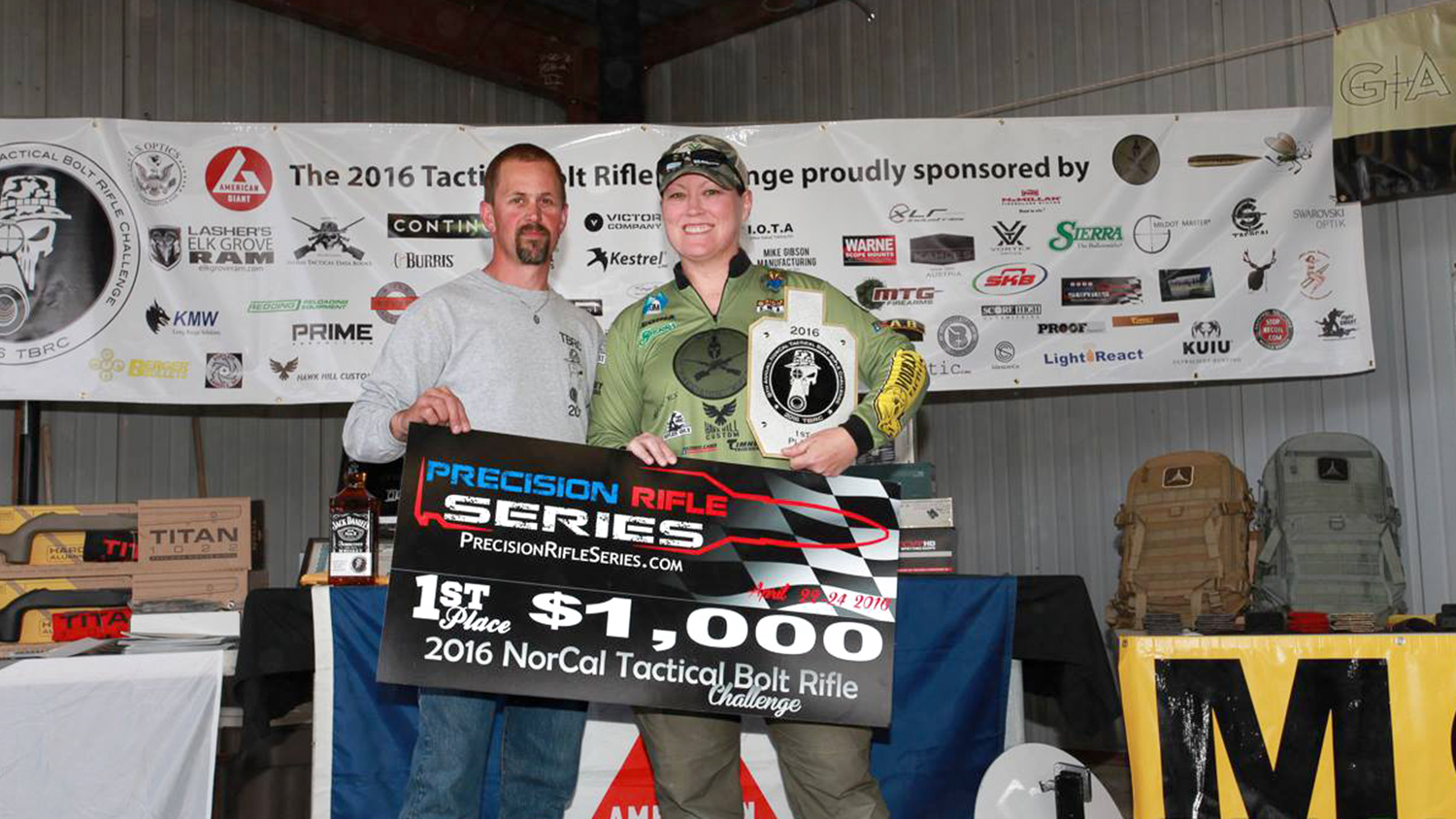 SSUSA: The first big PRS match you competed in was in 2010 … it must feel amazing to be the first woman to win a PRS match at NorCal. Did this victory feel different than previous wins?

Definitely, I was overwhelmed by all the responses. I've won smaller one-day matches in Arizona, Nevada, and Texas, but nothing on the scale of a national-level PRS match. Plus, smaller one-day matches just don't have the same stress or difficulty of an event like NorCal. Having missed first place at Rifles Only in February by only one point, I went to NorCal feeling confident I had the ability to win, which is a change in my usual mindset prior to a PRS competition. Another huge difference was that my phone blew up for about 72 hours with congratulatory text messages and phone calls. That's never happened to me before. I was excited and happy to win, but it took a full week for it all to sink in.
SSUSA: What kind of guns and ammunition did you use at the NorCal TBRC?
My competition rifle is built on a Defiance Deviant Tactical action chambered in 6 mm XC by Marc Soulie at Spartan Precision Rifles. I use a Timney Triggers left-handed Calvin Elite flat trigger, medium Palma Hawk Hill Custom barrel, Blast Tamer muzzle brake, and a Vortex Razor Gen II scope with the EBR-2c reticle. I used a Manners Composite T4A stock at this match that was modified by Mr. Joe Ducos to fit my hand better (he built the palm swell out about an inch) but recently switched over to McMillan Group International stocks. I reload all of my ammunition myself. I use Sierra/DTAC bullets, Hodgdon 4350 powder, Norma 6XC brass, and CCI 200 large rifle primers. My reloading component sponsor is Butch's Reloading.
SSUSA: Is that what you normally use for PRS matches?
I shoot 6XC for a majority of the PRS competitions. Sometimes, it really depends on the match though. Rifles Only hosts a caliber specific match once a year. For that competition, I've brought my .308. Since it's so much fun to shoot, I've used it for lots of local matches as well. My .308 is almost identical to my 6 mm's except it has an American Precision Arms Fat Bastard muzzle brake on the end of the barrel.
SSUSA: Did you have a best/worst stage at the match?
The movers were my best stages! I cleaned all three of the stages with movers which was really exciting for me. Movers are traditionally a weak area for those of us who don't have the ability to practice on them. NorCal had two paper movers: a 100-yard mover engaged off a low sawhorse, and a 200-yard mover engaged off the top of a spool. The third mover was a steel target at 425 yards. All of the competitors had to use a KUIU backpack as the front support instead of a bipod. I went 10 for 10 on that stage in under 31 seconds. I'm sure I had a couple of rough stages because there's no way to get through a two-day match without at least one you wish you could reshoot, but overall I felt like I shot consistently.
SSUSA: What is your favorite part of PRS competition?
My favorite part of any competition is always seeing friends—whether they're competitors or range staff. There's always laughter and joking. It's hard to take yourself too seriously when you have the equivalent of ten siblings jokingly teasing you for making a bad wind call or for taking the last shot on a know-your-limits rack and missing thereby losing your points for the stage.
SSUSA: How did you first get started in competitive shooting?
My husband Tim shoots a few other disciplines and asked me if there were any I might like to try. 3-Gun, IPSC, and IDPA seemed too intimidating to me after watching a few larger matches Tim competed in. He asked me to help as a spotter at the first Tactical Precision Rifle Challenge in February 2009 which is the PRS competition that my local club hosts every year. I didn't know what I was doing, but the competitors were welcoming and I was very impressed that they could hit targets four football fields away. I told him precision rifle looked like as sport I could get into if we could find a rifle for me to try it out.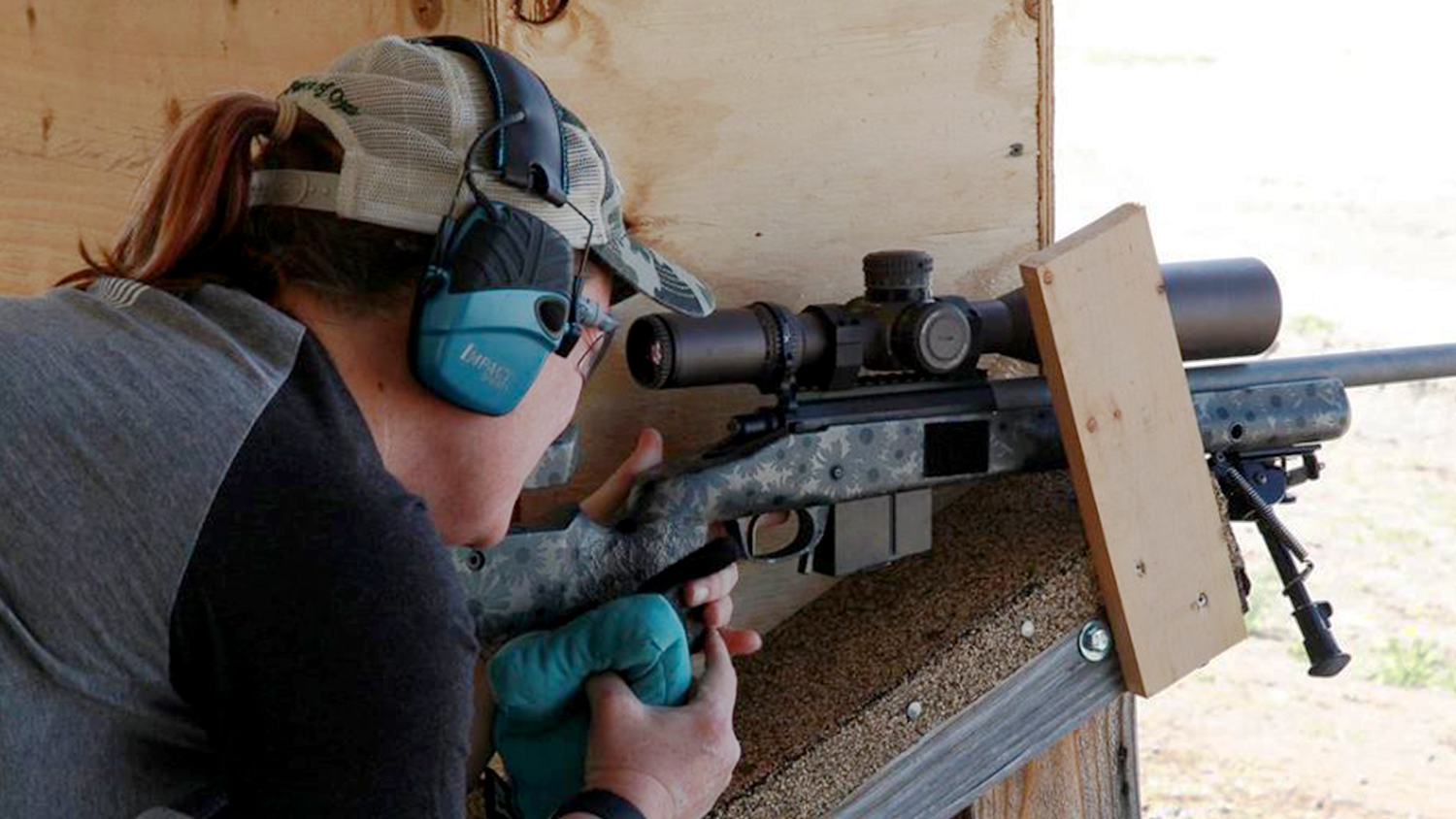 In October of 2009 we found a used left-handed Remington 700 in .223 for me. A couple of weeks later, Tim took me to the range and showed me how to handle my new rifle. He went over firearms safety rules, how to clear malfunctions, how to properly get behind the rifle, etc. and then told me I was shooting a match the next day. I think that it was a wise way to instruct me, because I didn't have time to develop fear.
SSUSA: What other disciplines do you compete in?
More precision rifle matches have been adding pistol to their course of fire, so I've been practicing with my pistol quite a bit more than in the past. I've shot some of the local steel matches with a couple of different 9 mm's and I participate in the Gunsite Alumni Shoot every October which is predominately pistol. Other than a couple of Silhouette matches or an F-Class practice session, I stick pretty close to tactical precision rifle.
SSUSA: Who are your current sponsors?
Spartan Precision Rifles, Defiance Machine, Vortex Optics, McMillan Group International, Voodoo Tactical, Rifles Only, Hawk Hill Custom, Timney Triggers, Butch's Reloading, Original SWAT Boots, Patriot Cases, WieBad, Short Action Precision, Storm Tactical Databooks, Sierra Bullets, MGM Targets, and LightReact.
SSUSA thanks Regina Milkovich for her time, please check out her website at aparallaxfreelife.net.

All photos by CONX Media unless otherwise noted.