The 56th annual Daisy National BB Gun Championship wrapped up the evening of Sunday, July 9, after crowning the new BB Gun national champions in individual and team competition.
The Daisy National BB Gun Championship features teams of youth shooters, ranging from ages eight to 15, who travel to Rogers, Ark., each year to compete in this five-meter, four-position match.
This year, teams from 15 states competed at the Daisy Nationals in Arkansas, with some traveling from as far away as Oregon and Virginia.
Each team at the Daisy BB Gun Nationals consists of five members, plus up to two alternates. Each team member shoots 10 shots each in standing, sitting, kneeling and prone positions at a 10-ring target, and with each position worth 100 points. Each bullseye—about the size of a BB—is worth 10 points. Additionally, each competitor must take a 100-question written test prior to the match, which makes up the last possible 100 points added to their final score. There have been years when those test scores were the difference between a gold or a silver medal.
Teams are formed through the National 4-H Shooting Sports program, VFWs and American Legion Posts, youth religious organizations, the NRA and others—but anyone can start a team. Daisy also provides a 10-hour classroom curriculum that must be completed before anyone can even touch a BB gun. This curriculum provides plenty of gun safety and knowledge to prepare young competitive shooters for the BB Gun Nationals.
The three days of competition that comprise the Daisy Nationals are a shining star in the shooting sports. The company works overtime to make sure the event is much more than just a tournament. "To really understand the impact and emotions of this event, you really need to attend it," Daisy Public Relations Director Lawrence Taylor said.
As in all competitive shooting events, at the Daisy Nationals everyone can be involved. As far as the boys against the girls, it's the girls that have been coming out on top—the last two individual champions were girls. In addition, two of the top three medal winners this year were girls. Plus, at the Daisy Nationals there are divisions to fit every need. There's the 10-Meter Air Rifle match for youth who have aged out of BB Gun, along with an alternate division and a champion division. (Youth must sit out a year after shooting as a team member, and they shoot in the champion division to give others the opportunity to be on a team.)
Winning the team gold medal this year with a score of 2397-98X was Pierce Red of Georgia, with Coach David Turner and team members Laney Herrin, Greyson Christmas, Lilah Hall, Gabby Herrin and Devan Turner.
The runner-up in the team aggregate with a score of 2387-72X was Roberts County Shooting Sports of South Dakota, with Coach Lori Braaten and team members Clara Iverson, Taylor Lick, Jaden Lick, Cheyenne Braaten and Tyler Heinje.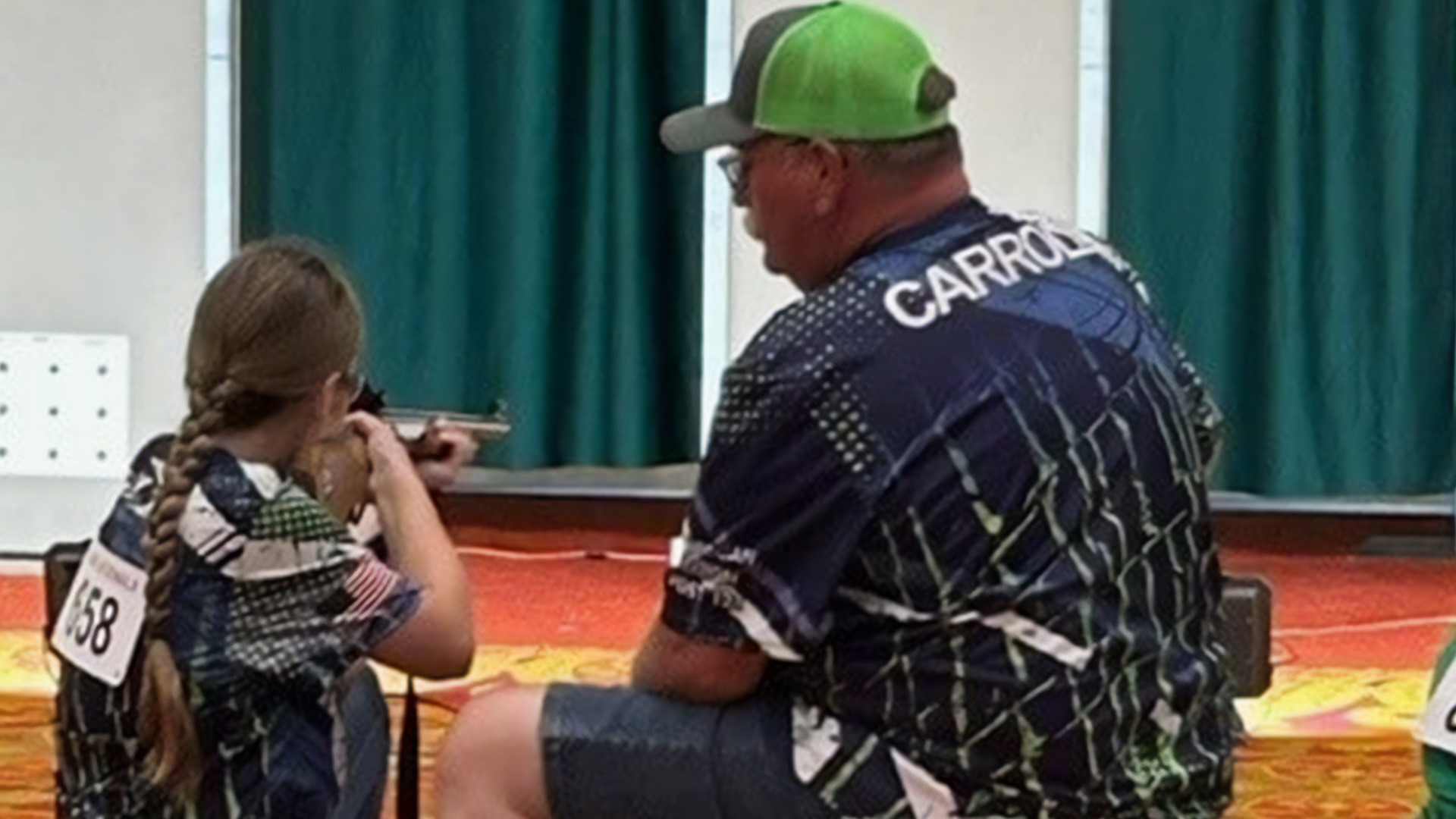 Rounding out the top three in the team aggregate was the Walton County BB Gun team of Georgia with 2381-76X. Coached by Jamie Goitia, the team members were Caleb Phelts, Maddie Glaze, Morgan Abercrombie, Skyler Everett and Megan Abercrombie.
It was a member of the Pierce Red team hailing from Georgia that ascended to the top of the individual leaderboard. Securing the gold medal in the individual aggregate was Laney Herrin, who walked away from the competition with a score of 488-26X, a full three points ahead of the runner-up, fellow Pierce Red team member Greyson Christmas. In third place was Roberts County's Clara Iverson, who posted a score of 484-15X.
2023 Daisy BB Gun Nationals Leaderboard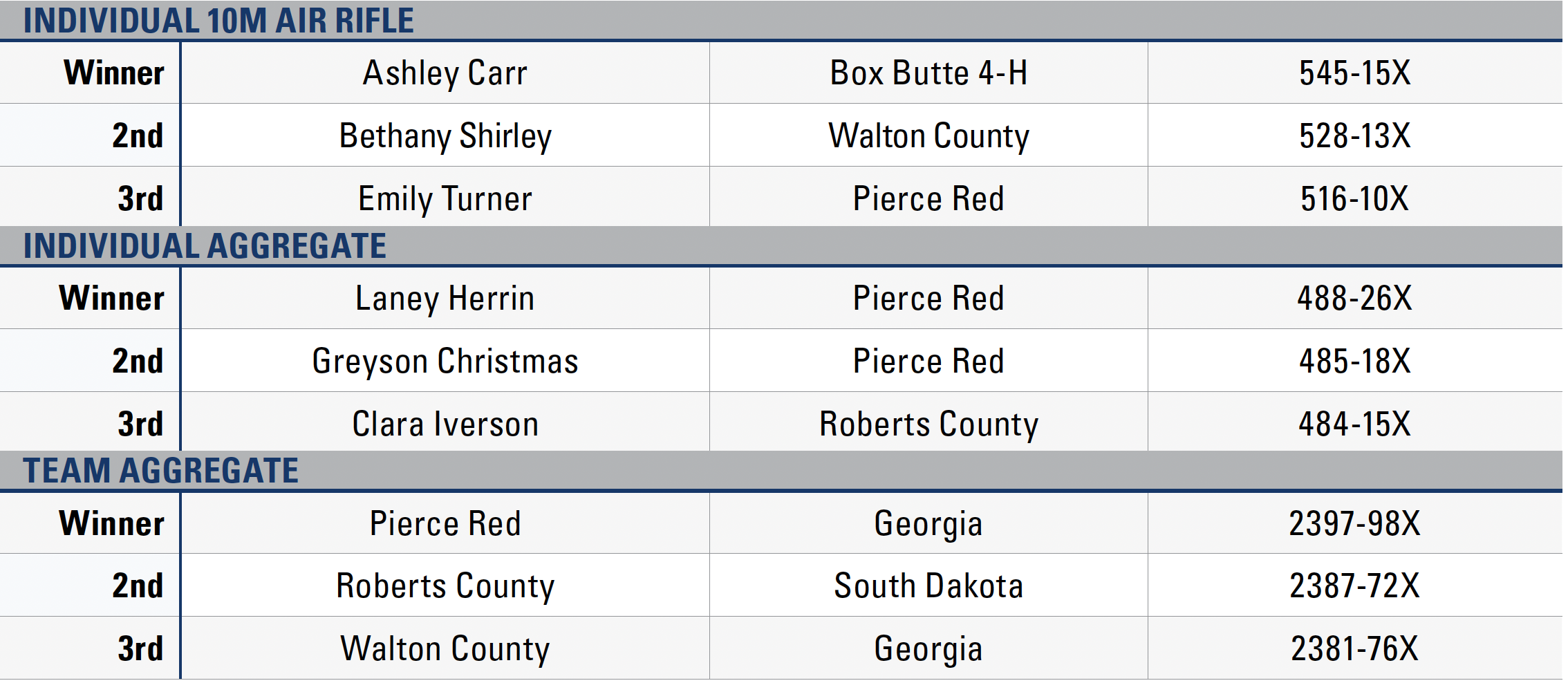 You can view the full results of the 2023 Daisy BB Gun Nationals at orionresults.com.
BB Gun Competition and Academics
The Daisy BB Gun Program is making a difference. "Every year I hear from parents or coaches that little Johnny wasn't focused or was having problems at school before he started the BB Program," Daisy Chief Executive Officer Keith Higginbotham said. "Then after a few months he's improving his focus and doing better in school. This program teaches so many things—how to control your breathing, your focus, mental toughness—and it illustrates that with practice you can improve and master anything." Learn more at daisy.com.