Another USPSA Area 7 Championship is in the books. We have some new winners and a lot of familiar faces at top the top of the divisions. Open, Limited, Production, Carry Optics, PCC and the newest division, Limited Optics, attracted many shooters.
The 2022 USPSA Open national champion Aaron Eddins topped all competitors on his way to the Open championship. In Limited, Joseph Sauerland edged out John Browning by 0.056 percent, while Mason Lane topped the Production division ahead of his wife Kaylee, who took second. Carry Optics was won by Scott Rader, while Alecia Russell finished on top in the Carry Optics Lady category. The Pistol Caliber Carbine division champion is David Jiang. The new Limited Optics division had 19 competitors, with Shane Coley leading the way.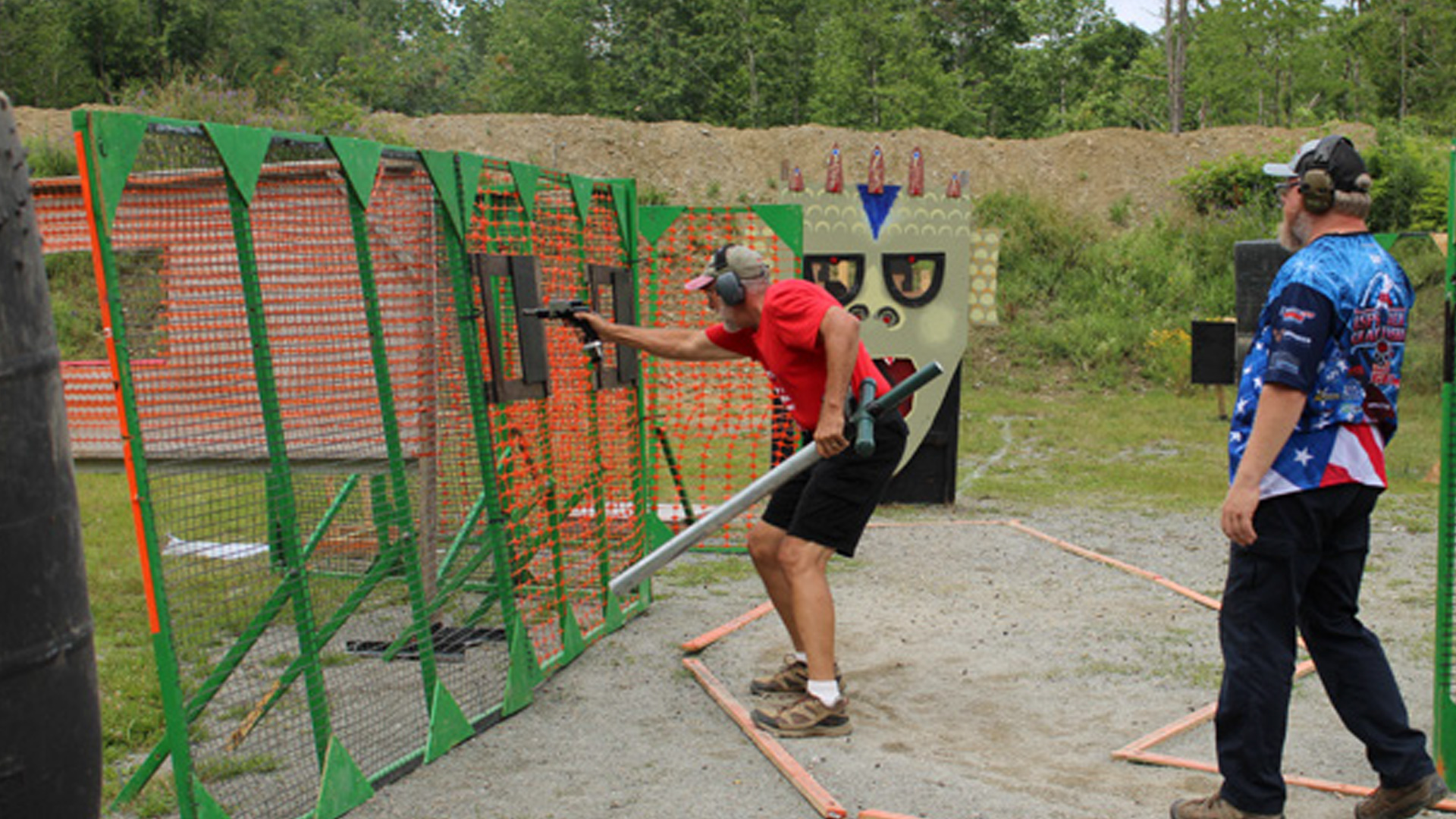 For the staff shoot on Friday, the weather was glorious with the sun shinning down on us for the day. Saturday was also a great day with a "what's that" shower sometime mid-morning. Sunday started with a gentle summer shower, which progressed in short time to a full-blown downpour—we were well soaked by 9:00 a.m. It should be noted that once the last shot was fired, and the last target stand put away, the sun came back out for the ride home.
The match had some speed shoots and short courses and a number of long courses with multiple avenues to tackle the stages. Stages such as "Steelin' Time," "I Hate Clams" and "It Takes Moxie," which had Maine's Moxie soft drink on hand for shooters to sample, and "Dragons Revenge," where shooters had to carry a sword to the end of the stage to stab the dragon's tongue to activate a swinging target to shoot. This stage was designed by the Harvard Action Shooters. Finishing off the match were "John Wicked Speed," "Oh No I Missed That One!" and "Catchin' My Breath," the latter being a 12-round short course.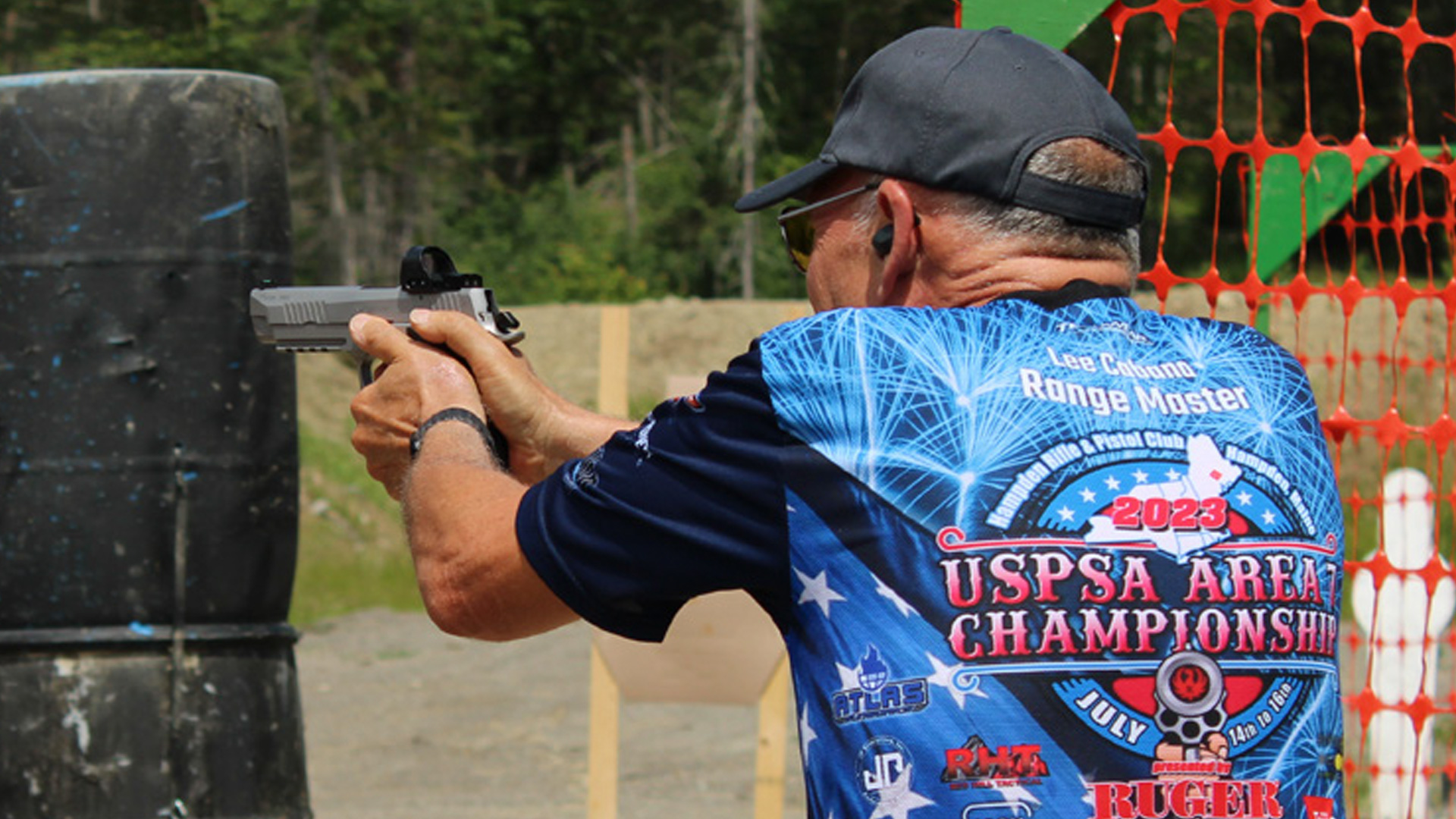 The class winners were Open B, Area 7 director, Frank Rizzi, Carry Optics A, Kyle Narkum, Carry Optics B, Ian Kent Funtilon and Carry Optics C, Josh Holmes. Top Category finishers were Open Senior, Raymond Lopes, Carry Optics Lady, Alecia Russell, and Carry Optics Senior, John Lohlum.
Finally, I would like to thank title sponsor Ruger and all of our sponsors for their support. Just about every competitor took home a door prize. The 2023 sponsors were Ruger, Atlas Gunworks, Blue Bullets, C-More Sights, DeCot Sport Glasses, Dillon Precision, Ear Safety Systems, Evolution Gun Works, Glock, Go Fast Don't Suck, HD Gold, JP Enterprises, Maine Military Supply, Mantis X, Red Hill Tactical, SIG Sauer, Slippery Bullets, Springer Precision, Starline Brass, Taurus, Techwear USA, Trident Armory, Trijicon, Vortex and XS Sights. Your generosity and graciousness is noticed and appreciated.
Article from the September/October 2023 issue of USPSA's magazine.