With my background in conventional high power, I'm always interested in developments in long range shooting and recently it seems long range shooting is experiencing a groundswell of interest. Of course, depending on your background, the definition of long range shooting varies. To the average shooter, any shot beyond 400 yards is a long shot. As an NRA high power competitor, long range was anything fired at 800 to 1000 yards with 600 yards being considered medium range.

My last year as a serious competitor was almost 20 years ago—I was one of the last guys I knew who was still shooting a M1A .308. I was a High Master and Distinguished Rifleman and won two 1000 yard regional service rifle championships during my time and saw no reason to change horses. Obviously, I'm not one to chase a fad—but it's impossible to ignore the interest in the 6.5 Creedmoor.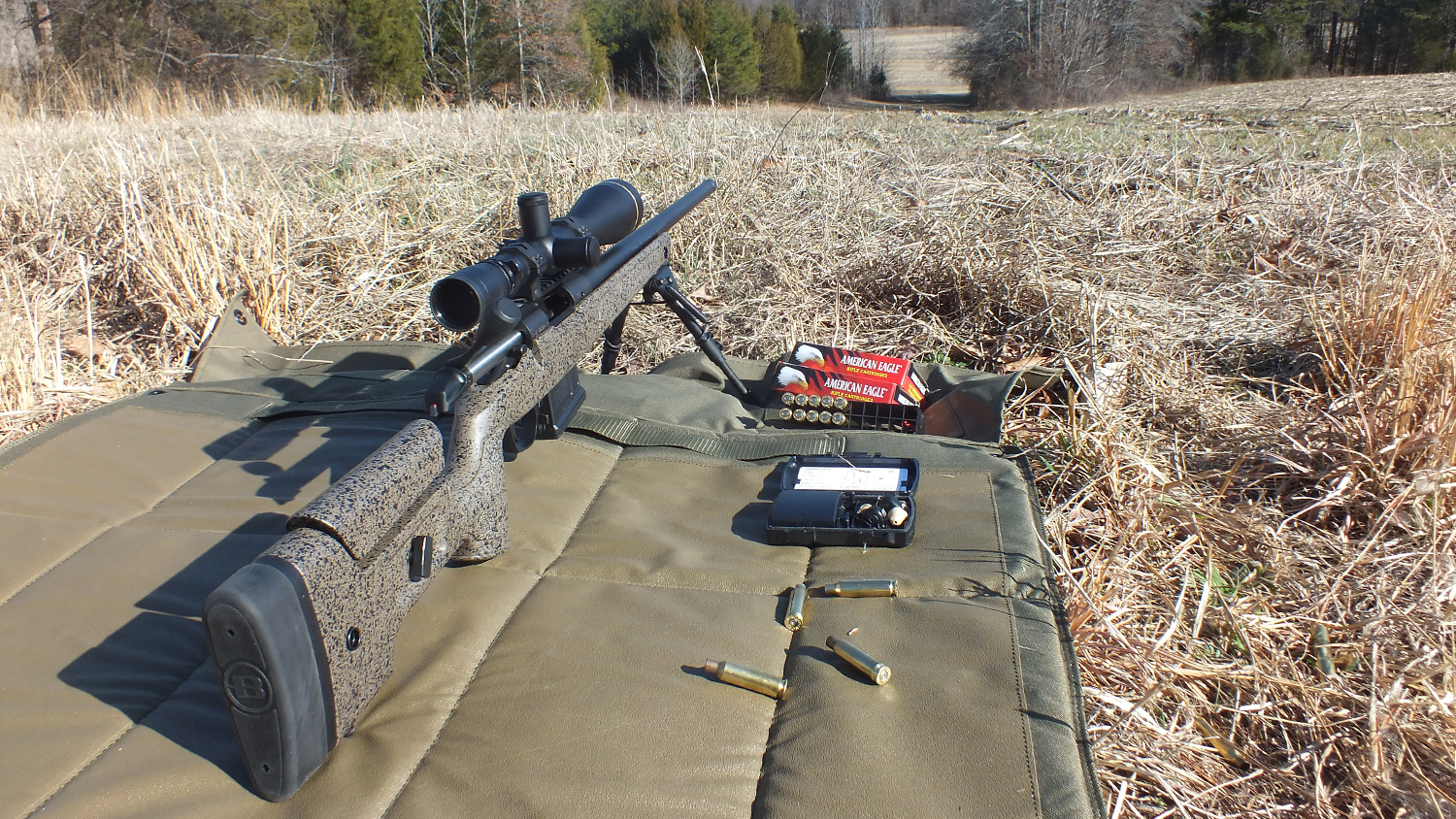 There's probably never been a cartridge that's caught on quicker and become as firmly established as the 6.5 Creedmoor. Developed just thirteen years ago and born from a discussion at the NRA National Matches, it's become the iconic caliber for precision long range shooting. The reasons are obvious. The 6.5 Creedmoor will feed full length seated bullets with an extremely high ballistic coefficient through short magazines. It has reasonable barrel life and the high ballistic efficiency of the available quality projectiles allows it to maintain velocity at extended ranges. The relatively low recoil normally allows the shooter to stay on target after the shot, allowing him to see impact if dust occurs. All this makes it very attractive to anyone shooting at ranges where the effects of bullet drop and wind deflection are a big issue.

What makes long range so intriguing is the number of factors beyond the simple aspects of marksmanship. At shorter ranges, proper sighting, hold, and trigger management provide exacting results without other calculations required. In long range shooting, other factors become increasingly important as the distance increases, placing an additional burden of awareness on the shooter.

This increasing level of interest has generated a fast growing niche in the firearms market related to rifles and optics capable of long range performance. While most long range shooting is recreational, there's a growing interest in adding the challenge of long range shots to hunting.

Bergara, a company well known for its high quality barrels, has introduced a rifle designed to meet that need in an affordable package—the B-14 HMR. The result is a rifle capable of long range performance right out of the box and equipped with features that make long range shooting more practical.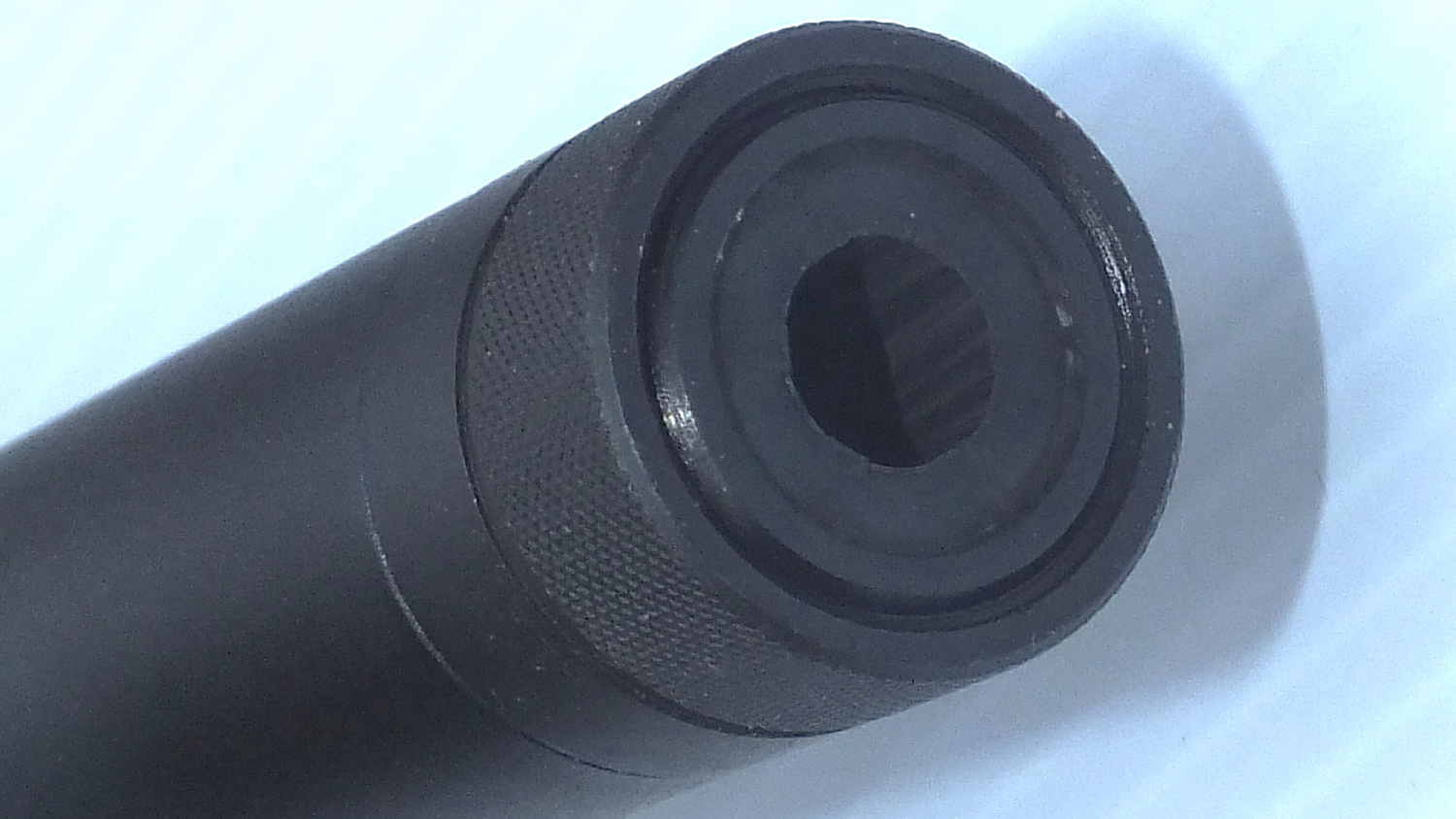 Available in the traditional .308 Winchester and the new-kid-on-the-block 6.5 Creedmoor, I chose the 6.5 Creedmoor version. The HMR sports a full length floating 22-inch barrel in 6.5 and 20-inch in .308 Winchester. I'd have preferred a longer 26-inch barrel in both calibers, but shorter barrels seem to be the current trend. Rifling twists are 8-1 and 10-1, respectively. Both are threaded 5/8-24 to allow use of a suppressor or muzzle brake. The molded stock features a mini-chassis for a more reliable and consistent fit and has a spacer adjustable length of pull and an adjustable cheekpiece.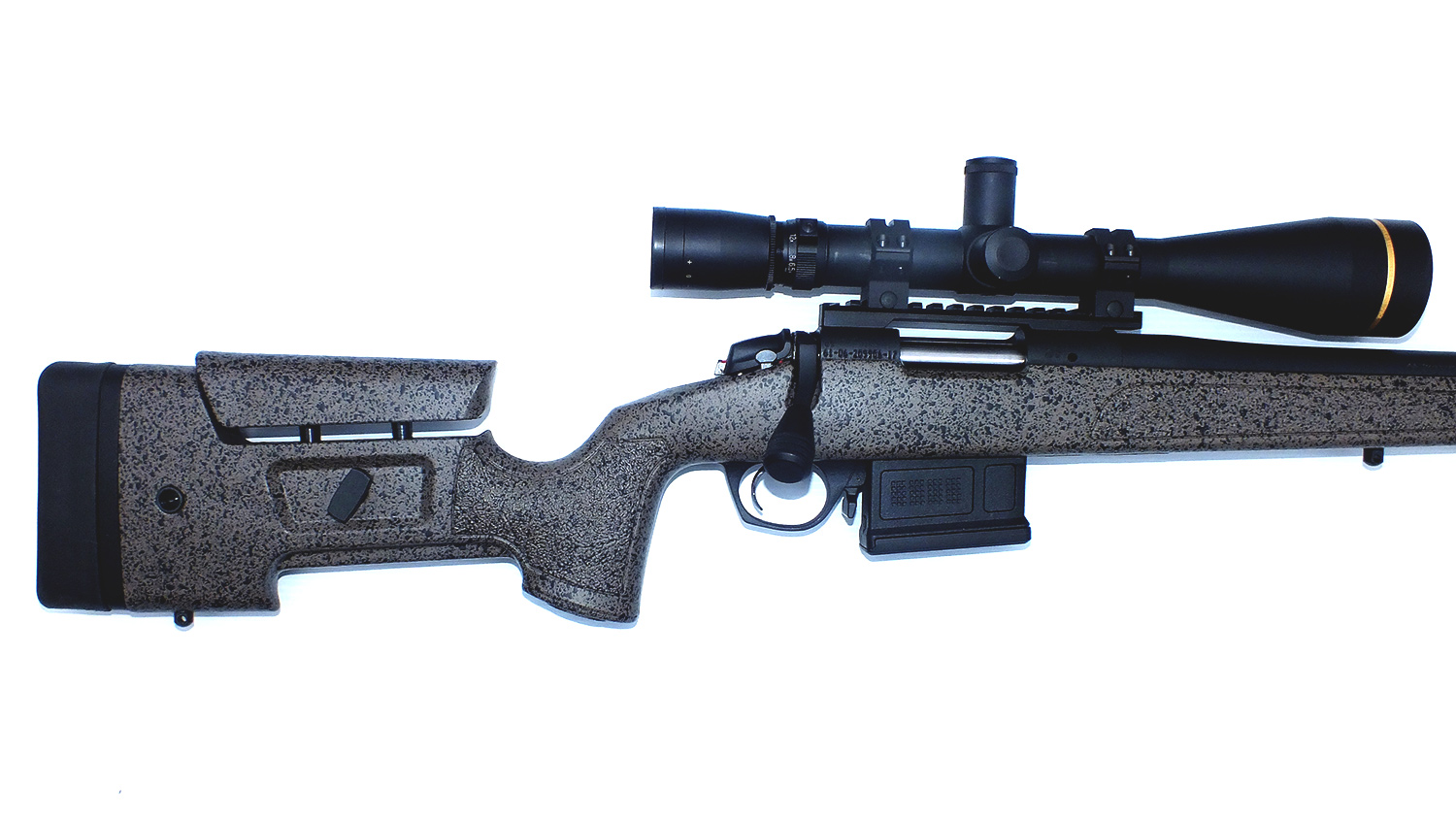 The stock's design is reminiscent of the McMillan prone stocks that were so popular with long ranges shooters when I was shooting high power. It will work equally well for right or left handed shooters and has both standard sling swivels on the bottom and QD flush cup swivel mounts on both sides of the stock and fore end. The stock is finished in a Dark Earth color with and an attractive black splatter finish that adds texture.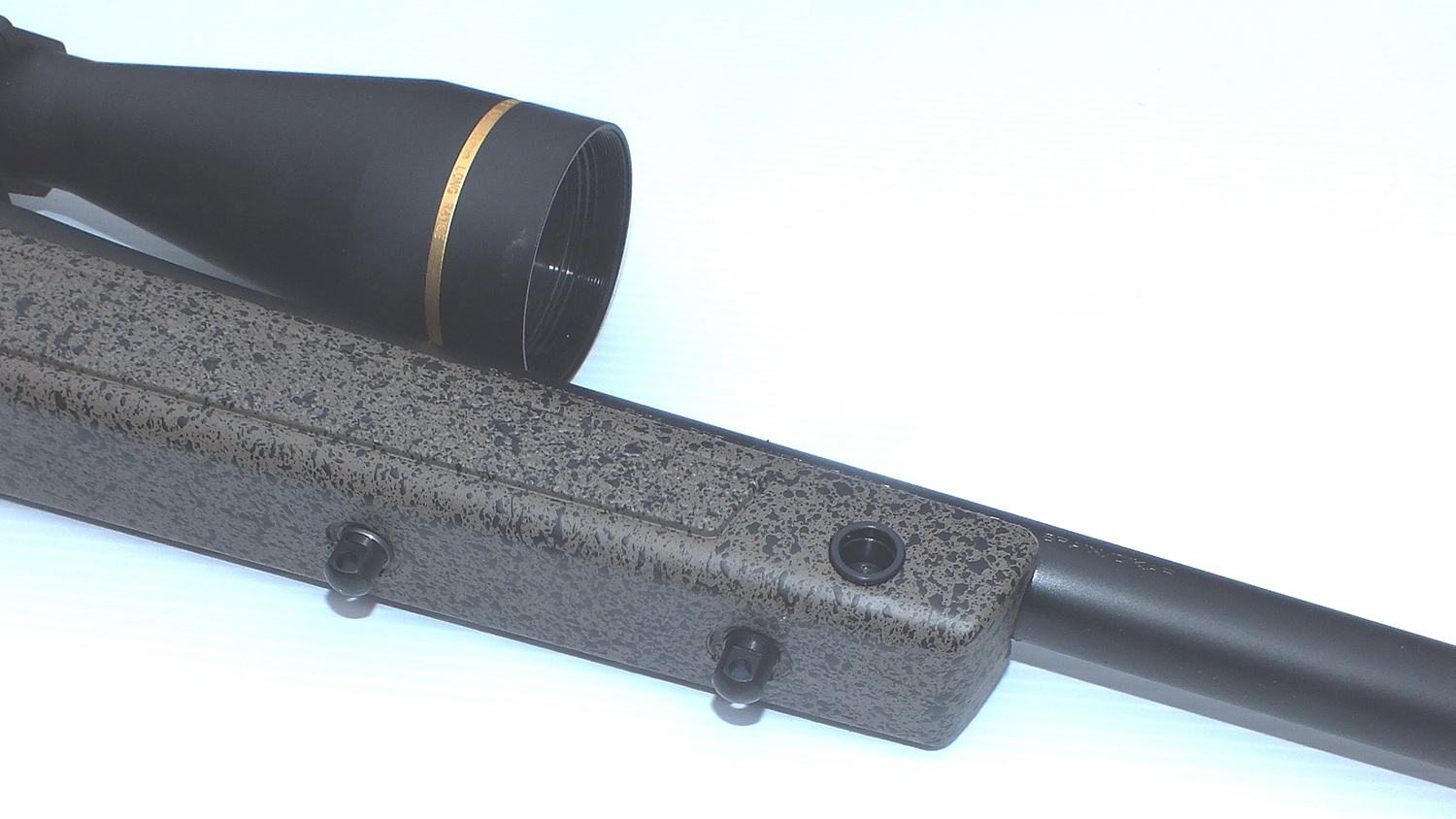 The action and barrel are mated in the traditional method rather than the popular barrel nut system. The two-piece, two-lugged, bolt operates almost as smoothly as an old across-the-course rifle. The bolt handle is extended with a knurled knob for fast operation. It uses Accuracy International-style single-stack magazines and an M14 style magazine release. As delivered, my test gun's trigger broke at just under three pounds—crisp but with a bit of backlash that I'd likely adjust out. It uses standard Remington 700 scope bases, allowing a lot of latitude in scope mounting options. Weight is 9.25 pounds.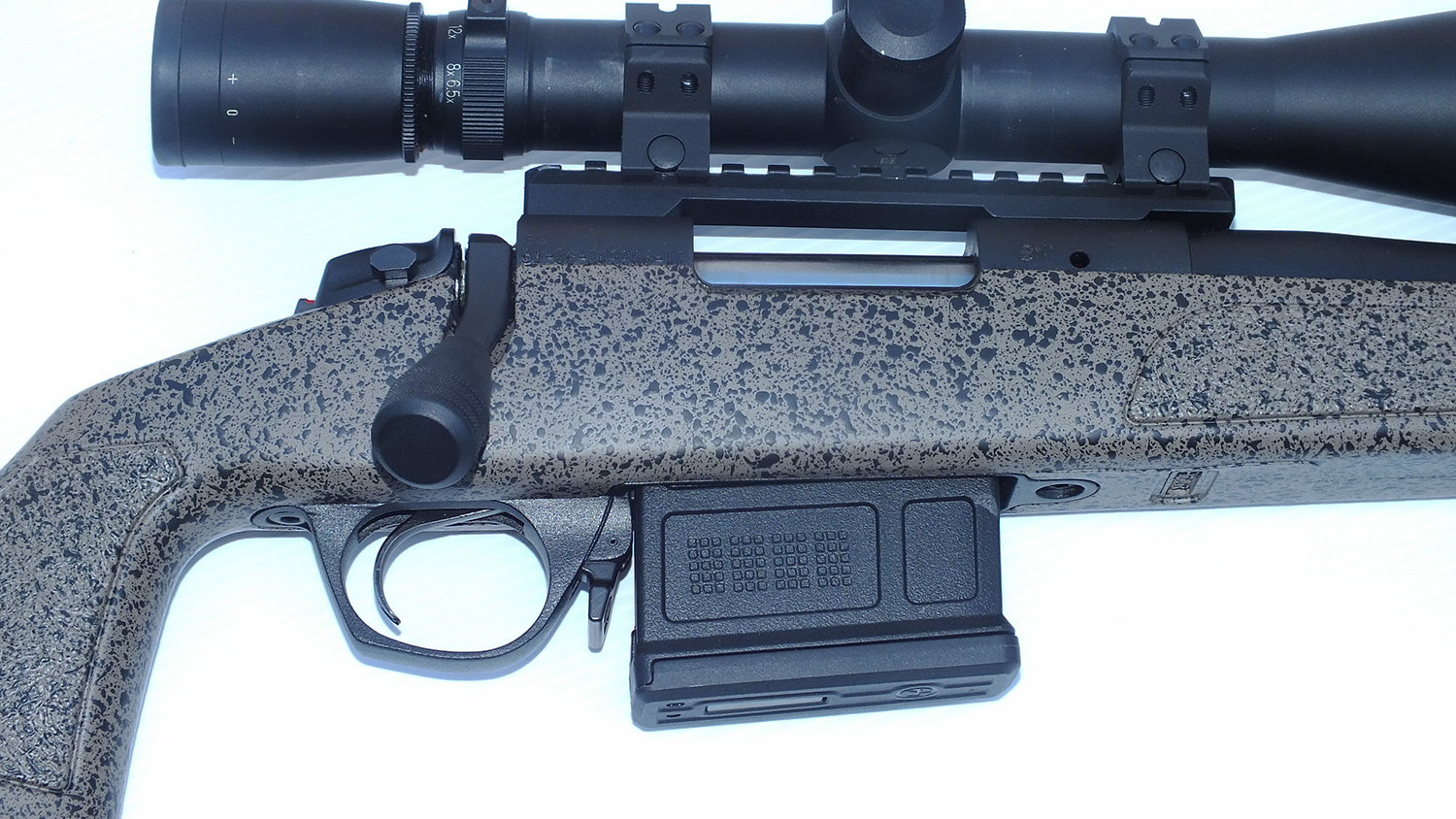 For testing, I used a 6.5-20 Leupold scope and a Talley 20 MOA base with Weaver rings. I tested with five different loads, three match loads and two hunting loads. Accuracy testing was done with a bipod and rear bag on a bench and followed up with some positions likely to be encountered in a precision rifle competition. Recoil was pleasantly light and the stock worked well in both prone and varied shooting positions to be expected in a precision rifle match.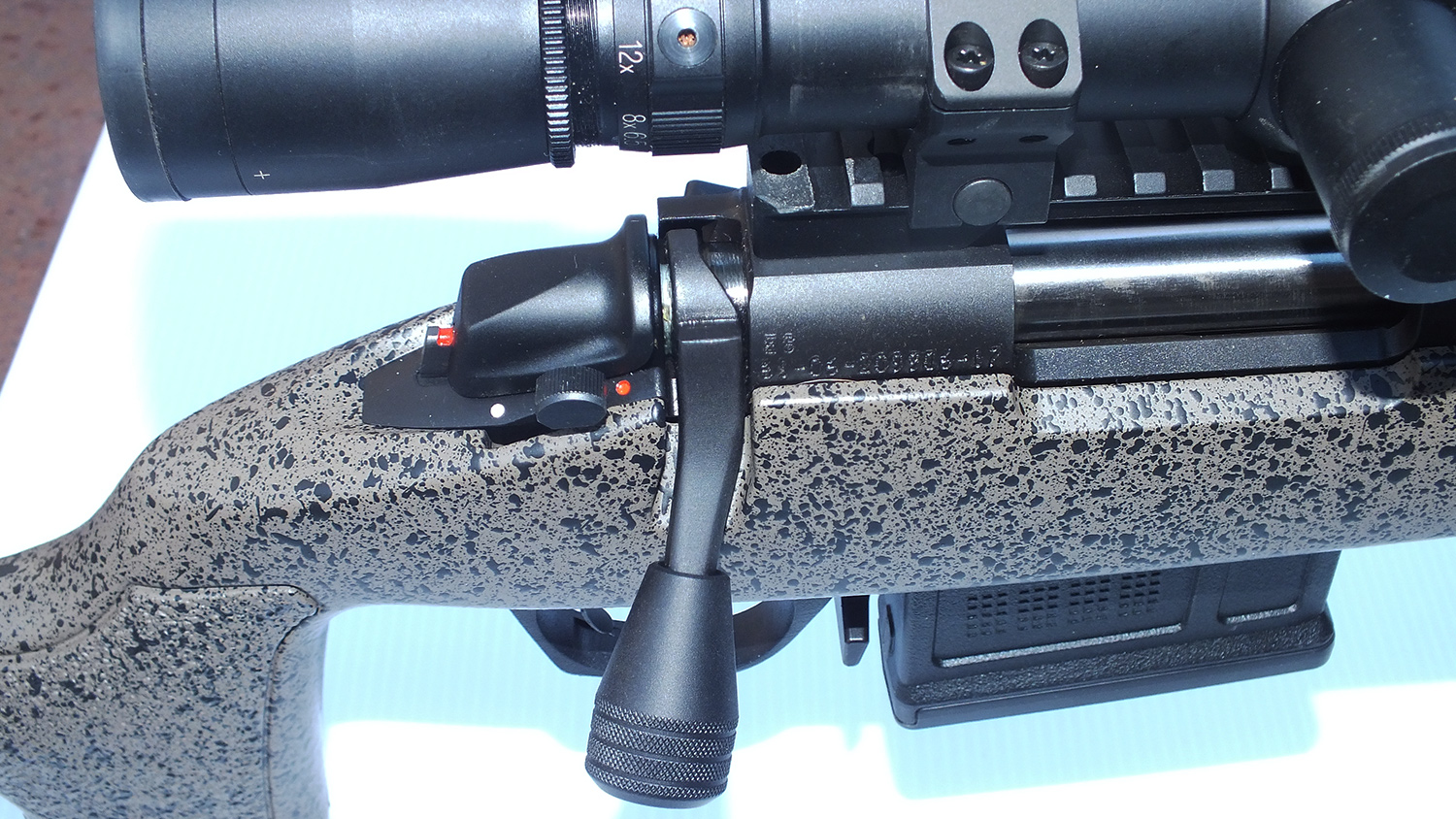 At 11.5 pounds with the scope attached, the weight was reasonable for a fixed position hunting rifle as well as a competition rifle to be humped around a multi-stage match. Bolt operation was smooth and certainly workable for shooting fast follow up shots but I did experience sporadic ejection problems that reduced as more rounds went through the rifle. In my first testing session the rounds extracted but failed to clear the ejection port in ejection.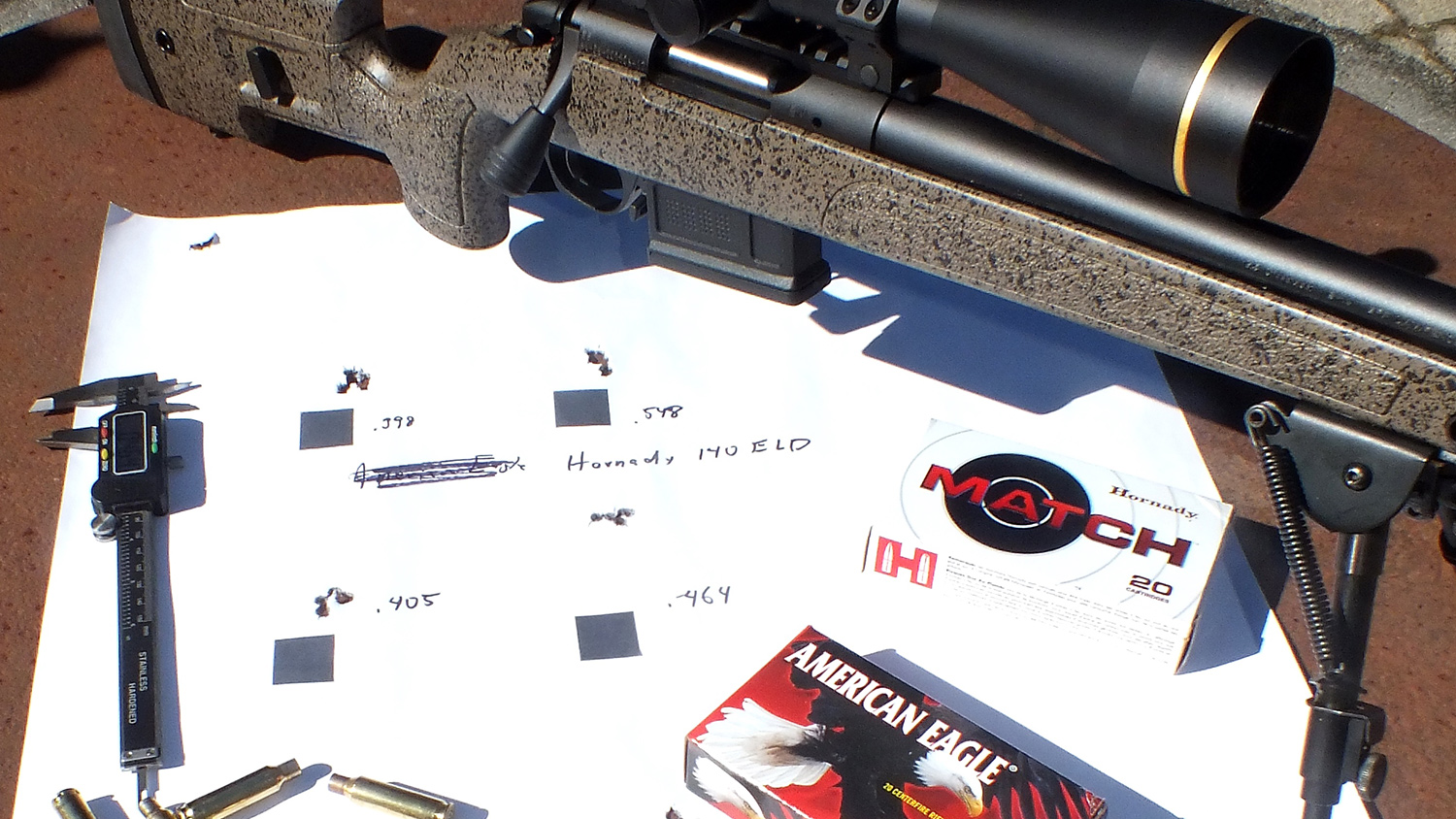 My best groups came from American Eagle 140-grain Open Tip Match with my best group measuring 0.405-inch and averaging 0.486-inch at 100 yards. Hornady 140 ELD Match did as well, measuring 0.343-inch for the best group and averaging 0.518-inch for five groups each. Results were remarkably consistent. I also tested two hunting loads, Federal 140-grain Fusion and Federal Premium 130-grain Hybrid OTM, both averaging a bit under MOA. Surprisingly, the HMR didn't like the Hornady 143-grain ELD–X load that I've heard yields great results.

The B-14 HMR starts at $1150—quite reasonable for a rifle with competition features and would be a great starting point for a shooter who wants to get into precision rifle competition. It's a happy coincidence that it also liked the most economical ammunition I tested best.