Leupold stepped up its game in the scoped Service Rifle-optic category offering its new VX-4.5HD 1-4.5x24mm Service Rifle scope ($1,819.99; Leupold.com) to high-power competitors.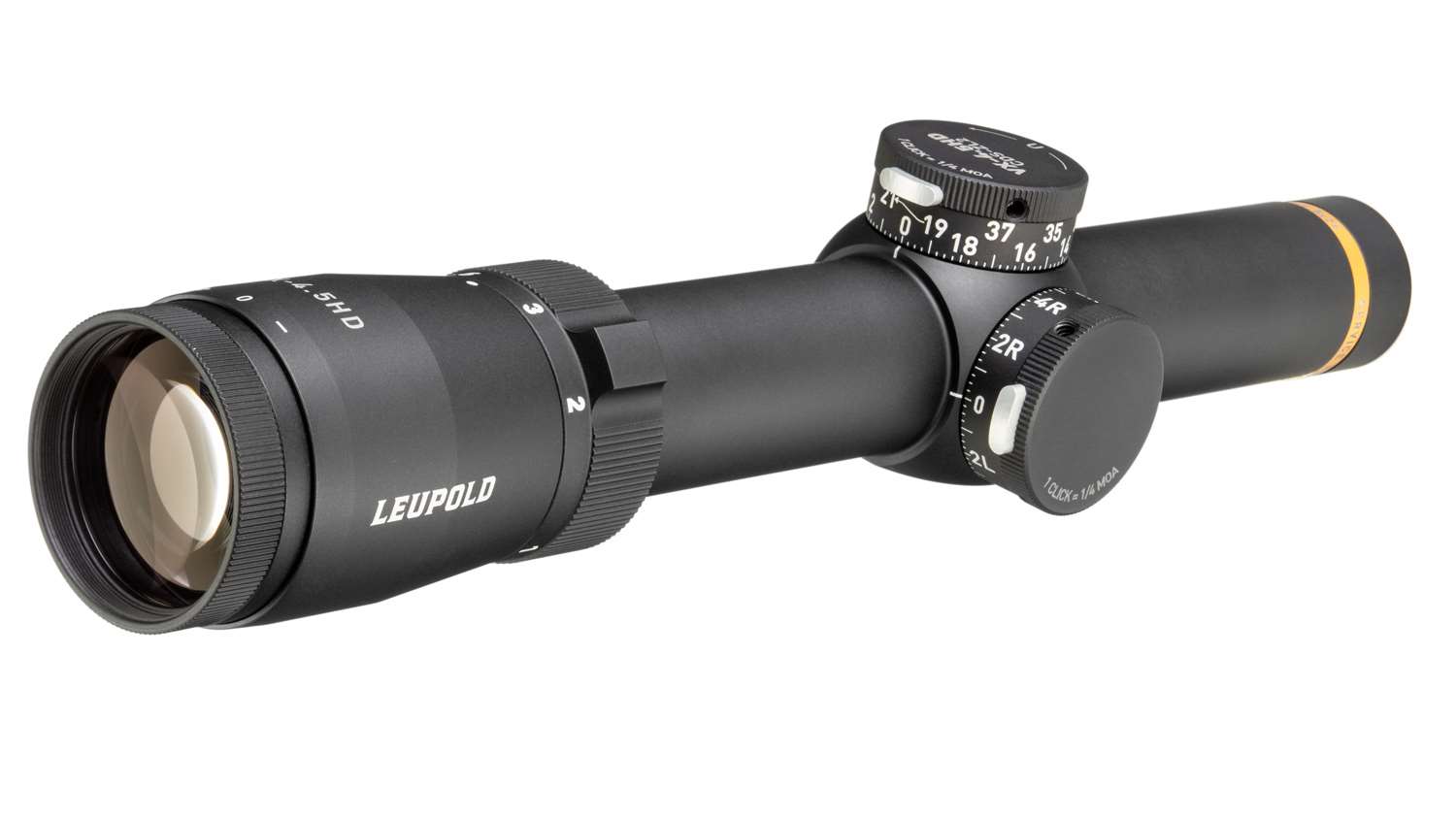 Scoped rifles became legal for use in NRA and CMP competition in 2016. Per the rules, these optics are limited to commercially available products with a maximum magnification of 4.5x. The scopes are employed for shooting matches at 200, 300 and 600 yards as well as reduced-course matches with the bulls presenting 6 MOA diameter black centers. At first, scope manufacturers began to field specialty optics designed specifically for this discipline cautiously even as competitors enthusiastically adopted every commercial and custom-shop experiment available. Manufacturers are beginning to catch up to demand with several new models appearing on the market.

The VX-4.5HD represents Leupold's factory-supplied (as opposed to custom shop) entry into the high-power optics fray. The scope borrows heavily from the successful VX6 line with a new reticle specifically tailored for bullseye shooting. Key features for the optic include a second focal plane optical design, 1-4.5x variable power, fixed parallax (focus set at 175 yards via collimator), ¼-minute clicks, zero-stopping turret knobs and premium glass. There are two variants of the scope. One has a FireDot reticle with illumination and the other has a circle-post reticle with no illumination.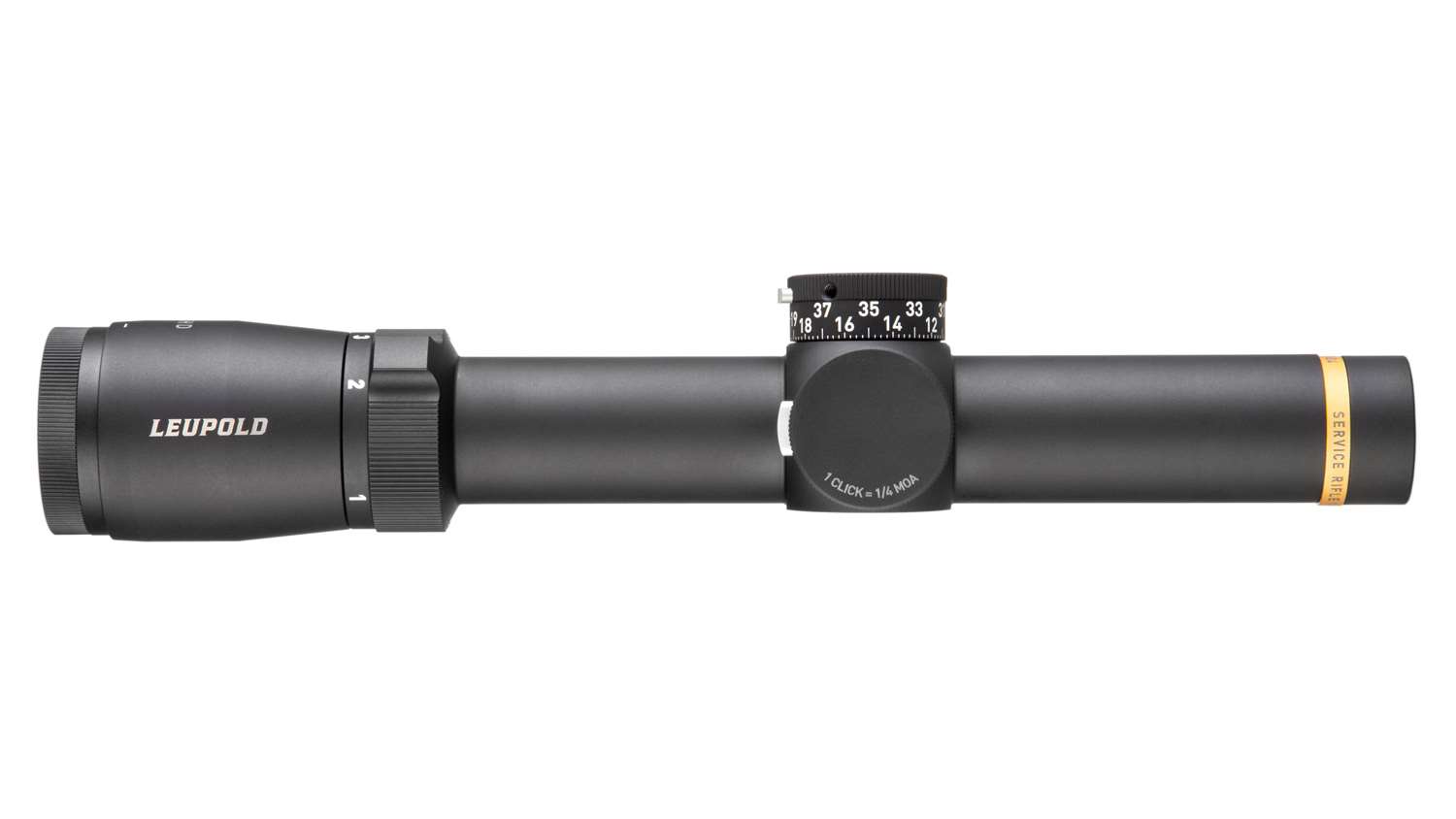 We reviewed the circle-post version of the VX-4.5HD. The scope was mounted using a White Oak Armament 0.5-inch extended rail riser. These are good because the rail is scalloped to ensure clearing the ocular bells of scopes even when mounted low. Leupold QRW2 low height 30mm rings that deliver 0.820-inch height were used. This gave the optic a near-perfect height of 1.320 inches above an AR-15's Picatinny rail. The scope is mounted well forward on the gun so that you get perfect head height with solid cheek pressure with proper eye relief while your nose is touching the charging handle.

Reticle
The VX-4.5HD utilizes an 8 MOA diameter circle with a post center, 7.73 MOA inside diameter per Leupold. (Factory personnel were interviewed for this article.)

The circle is sized so that if you hold a line of white around the bullseye the shots will go into the 10-ring. The post allows you to use a finer hold on the center in the X-ring much like a crosshair. The overall presentation looks similar to the front sight of an H&K G3 series rifle. This pattern of a circular reticle first appeared in 2016 and has been adopted by various scope makers over time. The most recent renditions including the VX-4.5HD deliver a tight spacing of around 1 MOA of margin around the black.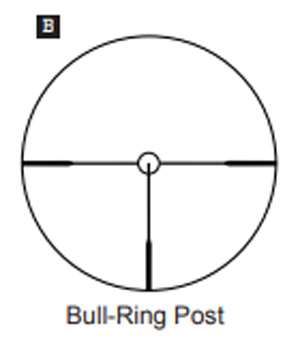 I've found using the circle in offhand is best, followed by the post in rapid sitting and rapid prone, and a combination of the two in slow prone. The VX-4.5HD drove exactly this way. The width of the reticle combined with the light gathering power of the optic does result in some wash out of the image on brighter days. This common problem is best remedied by installing a scope cap with a hole over the objective lens. I used a Ray-Vin cap. The 30mm scope body means you can use any of the scope caps that are commonly available for this purpose. I liked the post because it gets less in the way of the target than a crosshair. However, I would not consider it to be a particular advantage over any crosshair. What I thought was fun while driving it was letting my brain drop back into iron-sight habits—looking at my sight picture like it was a 0.050-inch front pin as if I had youthful eyes again.

Tracking
Tracking performance of the VX-4.5HD was flawless. I performed a 20-round box test at 200 yards dialing 10 MOA between each shot and the thing delivered a perfect box. I did make each dial change gruffly. There was no need to over dial or come back one with this scope. My impression is that as long as one does not allow the lubricant to coagulate inside the scope by exercising it regularly, you can dial like an iron sight. The come-ups at each yard line were true to my National Match ammunition combination of 77-grain Sierra MatchKings loaded magazine length for short line and 80-grain MatchKings loaded 15/1000ths-inch off the lands for 600 yards.

Turrets
The turrets of the VX-4.5HD proved to be a mixed bag in use. The turret design for these scopes uses a captive tunnel limiter that constrains movement.

The elevation turret is two rotations over a hard-bottom zero stop. While this is plenty of elevation range to come up, the first thing you notice is that there is no way to under dial below the zero marker of the turret knob. Anyone who has shot at different ranges knows that we have to make slight changes for altitude, temperature and pressure—as well as changing ammunition.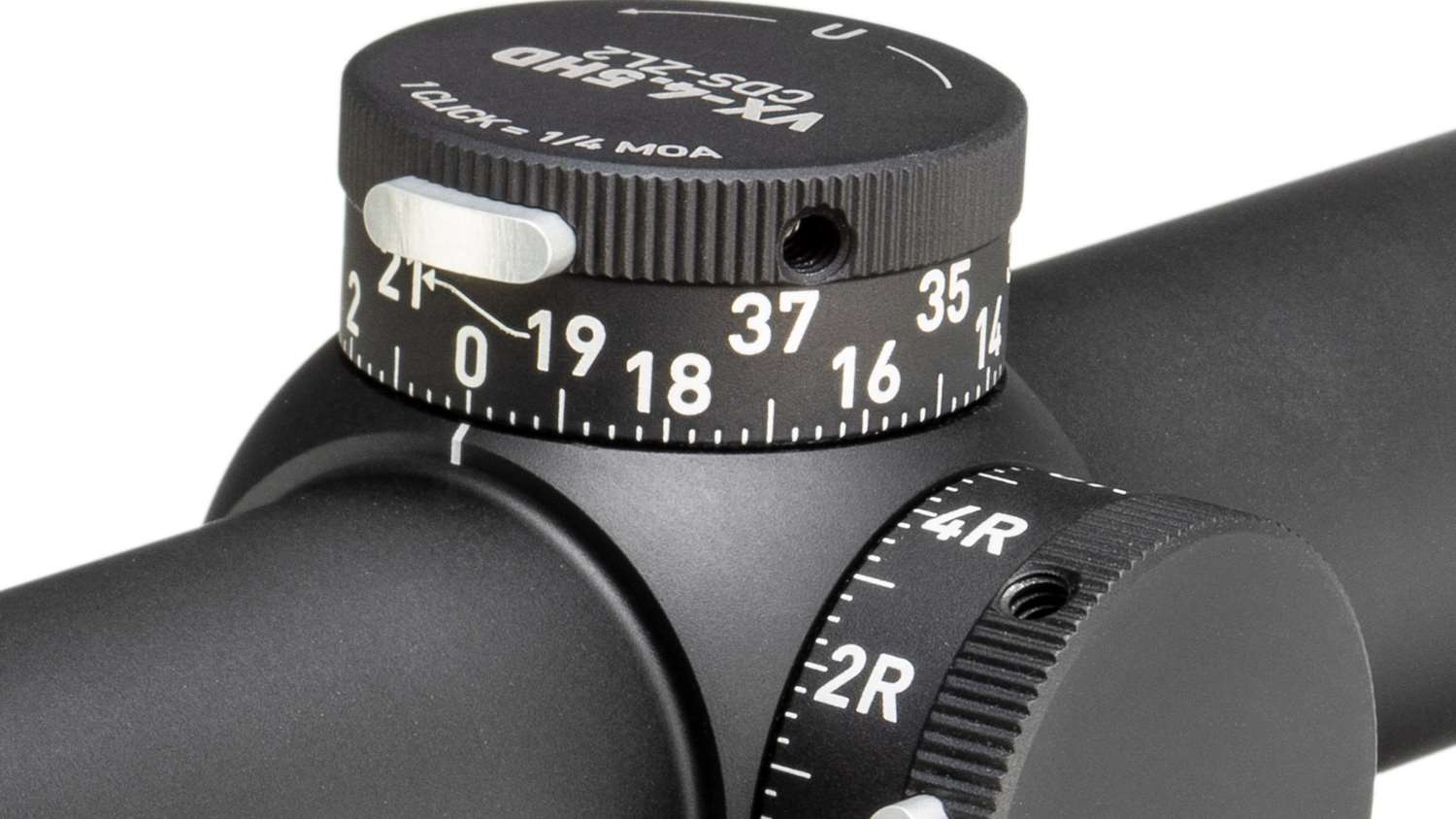 There are a number of strategies to cope with this and the one I wound up choosing was to treat the elevation turret as if it was on A2 iron-sight elevation turret. Basically, it's like counting clicks. I zeroed the gun at 200 yards and set the turret to 5 minutes up from the bottom of the travel range. Like an A2 iron sight, that gives you under dial range to shoot 100-yard reduced-course matches and the ability to shift slightly for environmental conditions. I then counted come-ups for 300 and 600 yards from that 5 MOA on the dial position. It's a very workable solution for XTC shooting.

The windage knob limiter is around one-half rotation giving you a maximum of 8 MOA of adjustment range from your no-wind zero. On the plus side, it has a locking detent that lets you know when you are crossing your no-wind zero point. On the not-so-good side, 8 MOA of windage adjustment range is cutting it too close. I have two 77-grain loads using different bullets that resonate my barrel producing three minutes of difference in impact point. It's common for spin drift of a bullet to move a minute or two over at distance. Even more common to shoot different bullets at short line and long line. Additionally, I've seen wind conditions at 600 yards on ranges where you start with seven minutes of wind on the gun. With the current design of the VX-4.5HD's windage knob, you'd have to break out a hex key to reset the turret for bullet/range conditions. What you really need is about a full rotation of travel range to either side of the no-wind lock detent providing maybe 15 MOA of travel to each side once the scope is set up. A free rotating windage knob can be used; however, I like the VX-4.5HD's hard travel limit that makes it impossible to accidentally be a rotation off.

Parallax Performance
As noted previously, the VX-4.5HD is a fixed-parallax optic. Leupold engineers stated that they set the focus at 175 yards using a collimator at the factory. Non-scientific eye-bounce tests suggest no movement dwell anywhere between that distance and 100 yards further out. That's because of the difference in individual eyes—no one adjusted the ocular for reticle clarity before performing their tests. Leupold's factory specs are on point regarding where parallax is set.

My eyes felt the greatest ease shooting it at 200 yards with particularly good clarity in rapid sitting. Unfortunately, that's not where I want maximum optical clarity to be. My preference is to see best shooting 300-yard rapid-prone because that's where seeing deep into the smaller rings to dig into the X is needed most. The target rings at 200 yards are generously large and you want to focus on the reticle more in offhand so a slightly fuzzier image works better. The fix for this is to once again install a front lens cap with a hole in it. The narrowing objective aperture increases depth of field and lets you see deeper into the rings at 300 yards.

Also, 600 yards is farther from 175 yards than 300 yards when it comes to any scope tolerating your head moving around the eye box. Given this sensitivity, the scope performed best in testing when a centering disk was placed at the ocular. These disks have a hole that acts like an aperture rear sight to help improve head/eye alignment in the optical path. I recommend one for any fixed-parallax optic that isn't set for 300 yards.

Driving the VX-4.5HD Across-the-Course, I wanted to see how the VX-4.5HD would perform on its own. I removed the front cap with a hole and the rear centering disk then fired an 800-yard aggregate with it.

Offhand is fun with the Leupold because of its 8 MOA circle reticle. Getting runs of 10s works well using the sight-focus method which lets your reflexes fire the gun when the wobble settles the circle with a line of white around the bull. I got into a little trouble trying to put the post in the center of the target in the second half of the string. Circle surrounding circle seems to work best.

Having a scope with a parallax focus set at 175 yards really shines in Rapid Sitting. I could see the target clearly and was able to focus on putting the post on the X with ease. The scope was pretty much head position indifferent. Quite fun.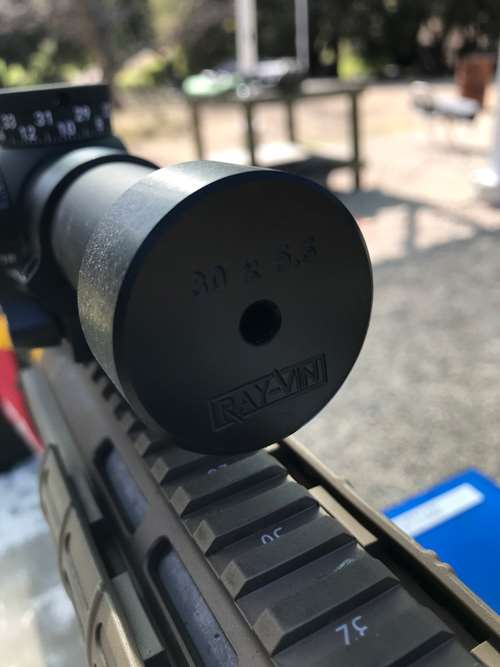 Rapid Prone was a see-the-target-pretty-easily run. Focus here was entirely on putting the post on the X. The windage turret dialed with very positive click feel. I never felt the zero-crossing locking button engage because my finger was pressing it. The focus was a little fuzzy and it would have been nice to have the scope cap with a hole on the front end.

Slow Prone was an exercise in staying ahead of switching winds—watching for elevation pocketing was the name of the day. Basically, you are not going to let that round leave the barrel unless the sight picture looks right. 600 yards is 425 yards away from a 175-yard parallax focus—so head position is critical. A little too much or too little cheek pressure on the stock causes elevation pocketing. You have to stay ahead of the windage. The Leupold did exhibit a little bit of pocketing if you did not pay attention to getting cheek-pressure balance the same every time. For those last few points to clean the target, it's not the most ideal use of mental energy that you can use to look at the mirage. Slow prone is mental energy management. The use of a centering disk in the ocular to aid in alignment is a good idea for 600 yards with this scope, as it is with all fixed-parallax optics.

Overall
There is a lot to like about the Leupold. Slap an aperture cap on the front objective and a clear centering disk on the rear ocular and you will do quite well with it. It would be nice to have a windage knob that went a full rotation instead of half. Don't sweat the parallax-focus distance setting. Instead, concentrate on mounting the scope at the right height and eye relief and building consistent positions.