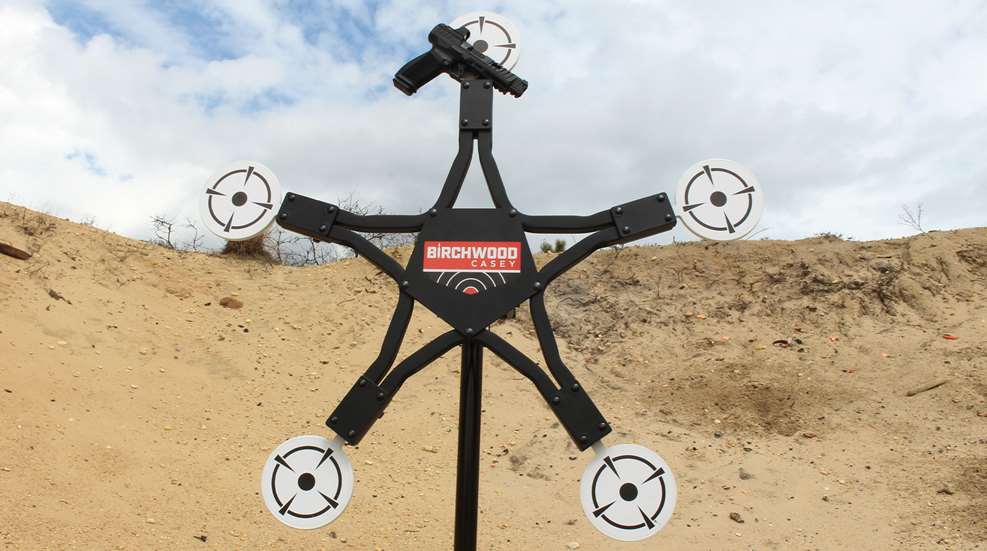 Nearly every competitive shooter remembers the frustration they encountered while engaging a Texas Star for the first time. Bulky in nature and usually expensive, this elusive target system doesn't allow for many practice opportunities, and most shooters are figuratively thrown to the wolves the first time they have to clean one. Naturally, having a unit on the market that is portable and affordable would combat this problem, and this year Birchwood Casey brings us just that. Dubbed the Texas Plinking Star, this target kit makes setting up a Texas Star at the range as effortless as hanging a piece of steel.
My experience with the Birchwood Casey Texas Plinking Star began with tripping over a diminutive package left on my porch. Understanding that the package would be compact, I wasn't expecting it to arrive in a box smaller than a typical rifle case.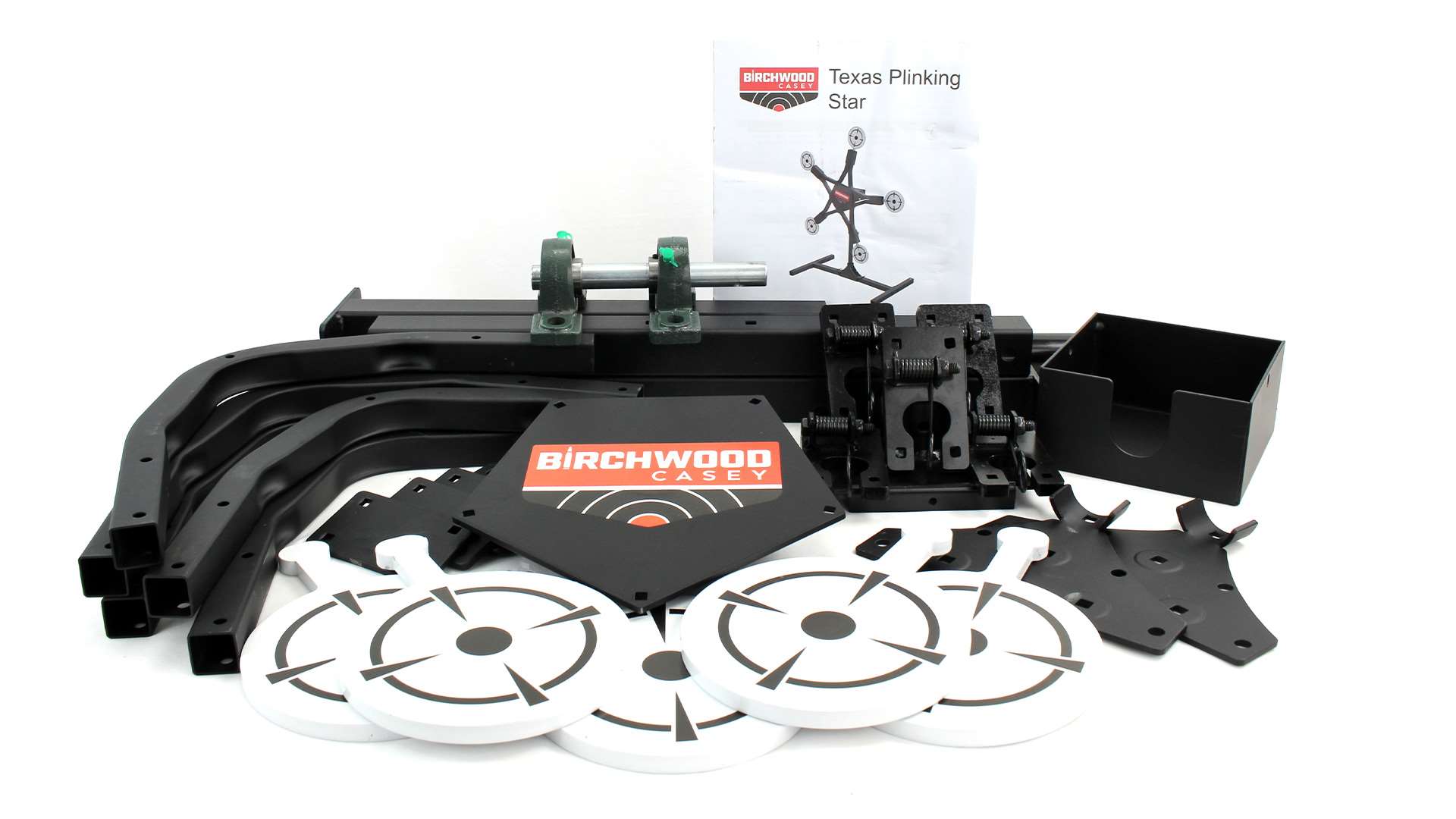 I had mixed feelings about the small package. Even in my compact vehicle, transporting it to the range was not going to be an issue, but on the other hand I had some work ahead of me in the assembly department. Tossing the box under my arm, I headed to my basement and recruited the help of my darling wife, who did her best not to roll her eyes at me. Together, we were able to put the Texas Plinking Star together in one hour and 15 minutes, with the lion's share of that time going to locking down nuts and bolts. The process can be completed without a partner, but it is nice to have a second person swinging a ratchet with you.
Once completed, we were left with two main assemblies, the base and the target head. These parts are integrated with a series of clevis pins—eliminating the requirement for any tools from here on in.
The target head is built with two greaseable bearings, allowing for maintenance and to ensure that the star has that signature glide that cannot resist even the slightest unbalancing. Protecting the Texas Plinking Star from the elements is a mild steel housing situated neatly behind the center plate and adorned with the Birchwood Casey logo. This plate is a bit thicker than the housing and will resist non-magnum handgun fire, but it is made of softer steel that is not intended to be struck. The same style of plating is used on the end of each arm to protect the retention spring assemblies holding the paddles in place. These paddles are made of AR 500 steel and are impervious to handgun and rifle rounds. However, being that the rest of that target cannot take misplaced rifle fire, Birchwood doesn't recommend use outside of center-fire handgun marksmanship.
As for the base, it's a simple pipe mounted to a pair of folding legs that is the embodiment of the phrase "beauty in simplicity." This design takes up hardly any space at all, particularly when stowed away in the closed position.
Although lining up parts and tightening hardware is fun, what I really wanted to do was shoot this thing. I packed the entire setup, including the five target paddles, into the trunk of a Hyundai Accent (one of the smallest vehicles on the market) and headed to the range to test it out.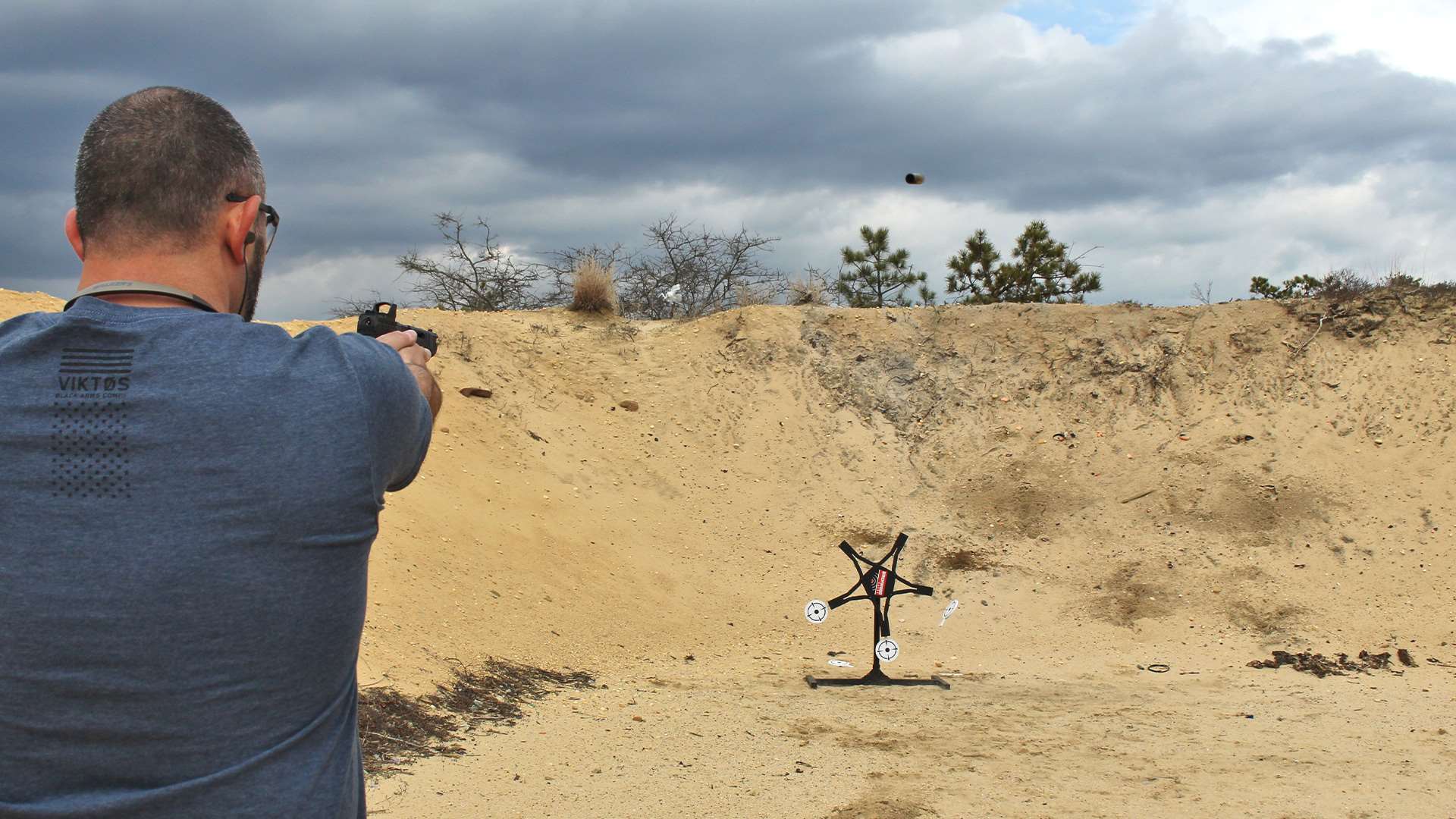 My plan was simple: Run a 9 mm match pistol to see if the Texas Plinking Star moved and responded correctly, and also see if the plates fell reliably. After this test, I would also check if it had any rimfire applications and if so, to what extent. Starting with the Canik Rival 9 mm pistol, I engaged the target 10 times, and can report 100-percent reliability from a distance of 12 yards. Each paddle fell, no matter where it was struck, and the target moved the instant they detached.
I engaged the star with the "top then rock" method, where a shooter knocks off the highest plate and then waits on one side for the plates to rock into place. I also employed the "zig-zag" method, which can be faster if you can pull it off. During both instances, I was able to apply the same cadence as I would on a commercial target and didn't experience any noticeable difference.
Moving onto the Taurus TX22 .22 LR pistol, I can confirm that the Texas Plinking Star is not suitable for rimfire use. Although a good edge hit would typically knock the plate off, it wasn't reliable enough to say one should purchase this target if rimfire shooting is their intention. However, that can likely be adjusted by working with the spring tension, subbing in lighter plates, or some combination of the two. It is also only fair to mention that the use of a rimfire rifle might be enough to make them fall more reliably, but I declined to work that into this test.
Overall, I was extraordinarily satisfied with what Birchwood Casey has put on the table. The Texas Plinking Star is a simple solution to becoming more familiar with how Texas Star targets rotate. Best of all, it has an MSRP of only $349.99, and if you search around you can expect to pay about $240 for one; which is pretty easy to swallow for a reactive steel target. As for improvements, I would love to see a second-generation model that upgrades the metal armor plates to AR 500 steel, as it's not tough to hit these as they spin. Arguably this might even earn the entire system its "rifle-rated" badge and increase its value further. In the meantime, this is going to be a hit for anybody looking to cut down their time on this old standby as well as those that want to experiment with different techniques.
For more information, visit birchwoodcasey.com.