The shooting sports have changed, so isn't it fair to reason that the tools we use to score them should as well? After watching countless arguments erupt because a Range Safety Officer wasn't close enough to catch the last shot, or seemingly endless episodes where I found myself scrambling for a replacement nine-volt battery out in the middle of nowhere, I knew it was only a matter of time before a better shot timer arrived. That day came last year, when renowned shooting electronics expert Kestrel Ballistics announced that it was teaming up with champion shooter Doug Koenig to develop the KST1000 shot timer.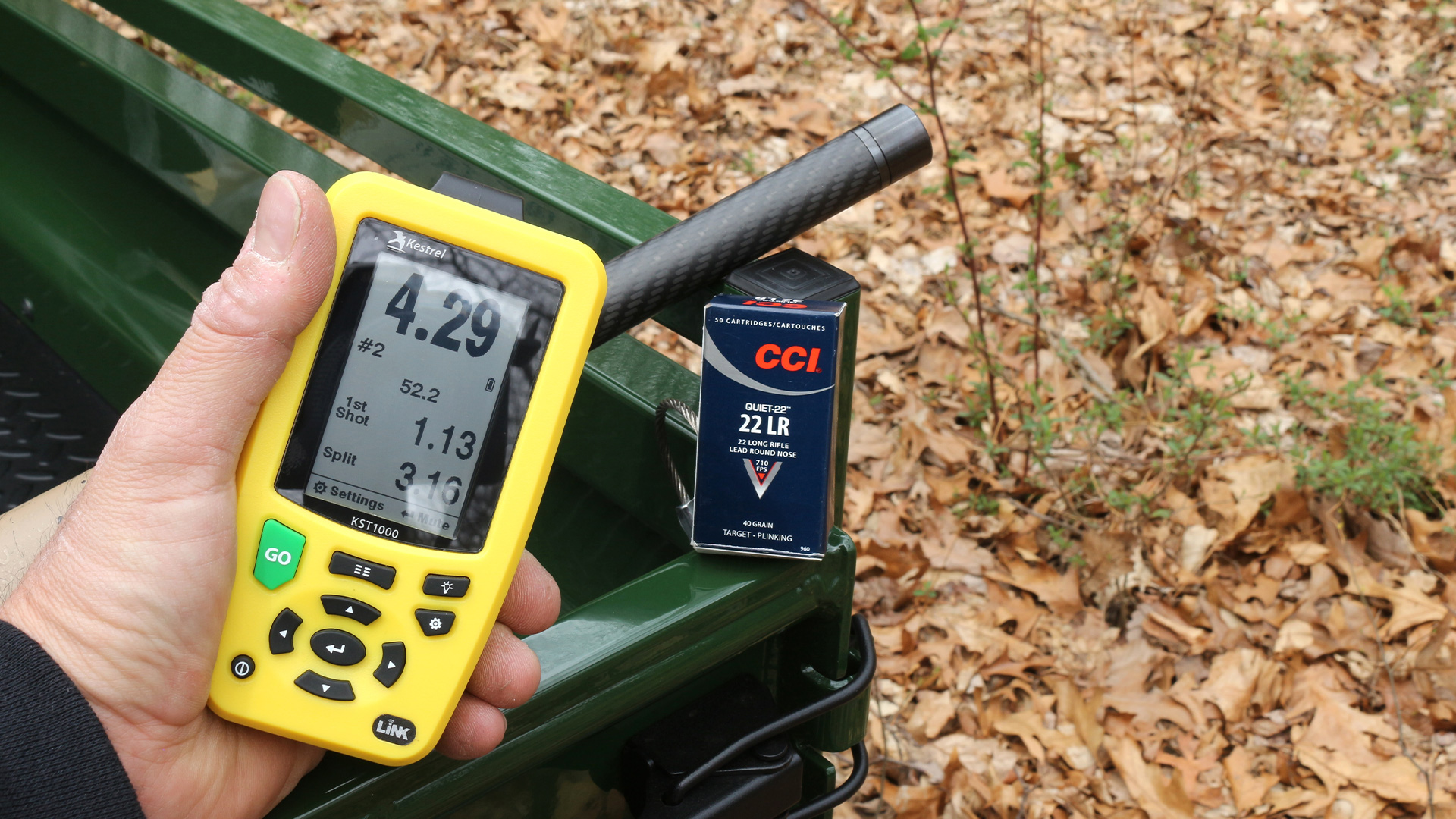 By collecting feedback from top competitive shooters, the company claimed that the new timer would be better suited for modern matches. Sadly, this news came amidst a worldwide component shortage. I jumped for joy when a unit became available in 2023 for evaluation, and I loved what I found.
After opening the box, the first thing I noticed was it's built to the same standard as Kestrel's wind meters, which have a reputation for being nearly bomb-proof. To date, most other timers that I've handled had a thin, chintzy feeling to them. My range bag is an abyss full of jagged steel and lead. Lesser-built products simply don't survive the interstate journey, or even the short offroad jog they take in the back of my side-by-side for long. Additionally, should I need to toss the device to say, redirect a muzzle, it's nice to know that it's going to continue to work for the rest of the day.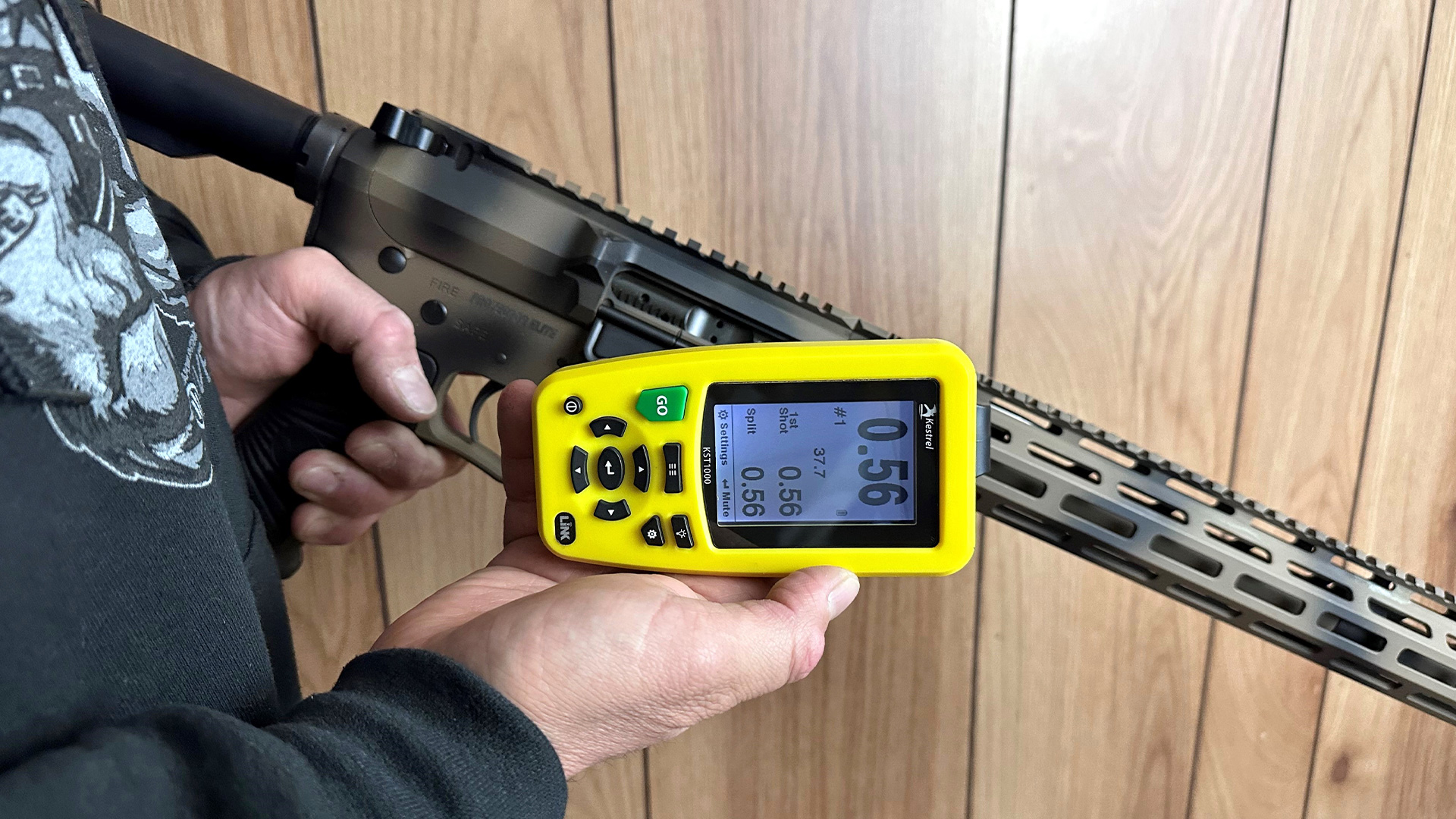 The KST1000 has dual displays which greatly increase its usability. The top display allows you to clip it on your belt and view your shot count, split, and first shot time without having to break a firing grip. Pulling it from your belt allows you to view the side screen, which provides a slightly more comprehensive breakdown of the shot string. This enlarged display also keeps Range Officers honest, as squad mates and scorers can easily view it from a distance. Flipping it over, I was able to access the battery compartment by sliding the locking mechanism to the side to install the included CR123A batteries. Now, if it were 10 years ago, I would have griped that these cells are hard to find. However, today the CR123A has surpassed the nine-volt battery in popularity, so finding a pair in a pinch is just as easy, if not easier, than those old square ones. After all, more competitive shooters are likely to have a flashlight on them than a smoke detector.
With the unit now energized, I hit the power button and then the "GO" key. I don't have many regrets in life, but sounding this buzzer in my basement indeed makes the list. I didn't have a decibel meter handy for this test, but the re-activation of my tinnitus tells me that we are surely over 100 dB. Luckily, the KST1000 has three volume settings, with the lowest one being hearing-safe. This is also useful for dry fire at home, which was a major consideration in the development of this device.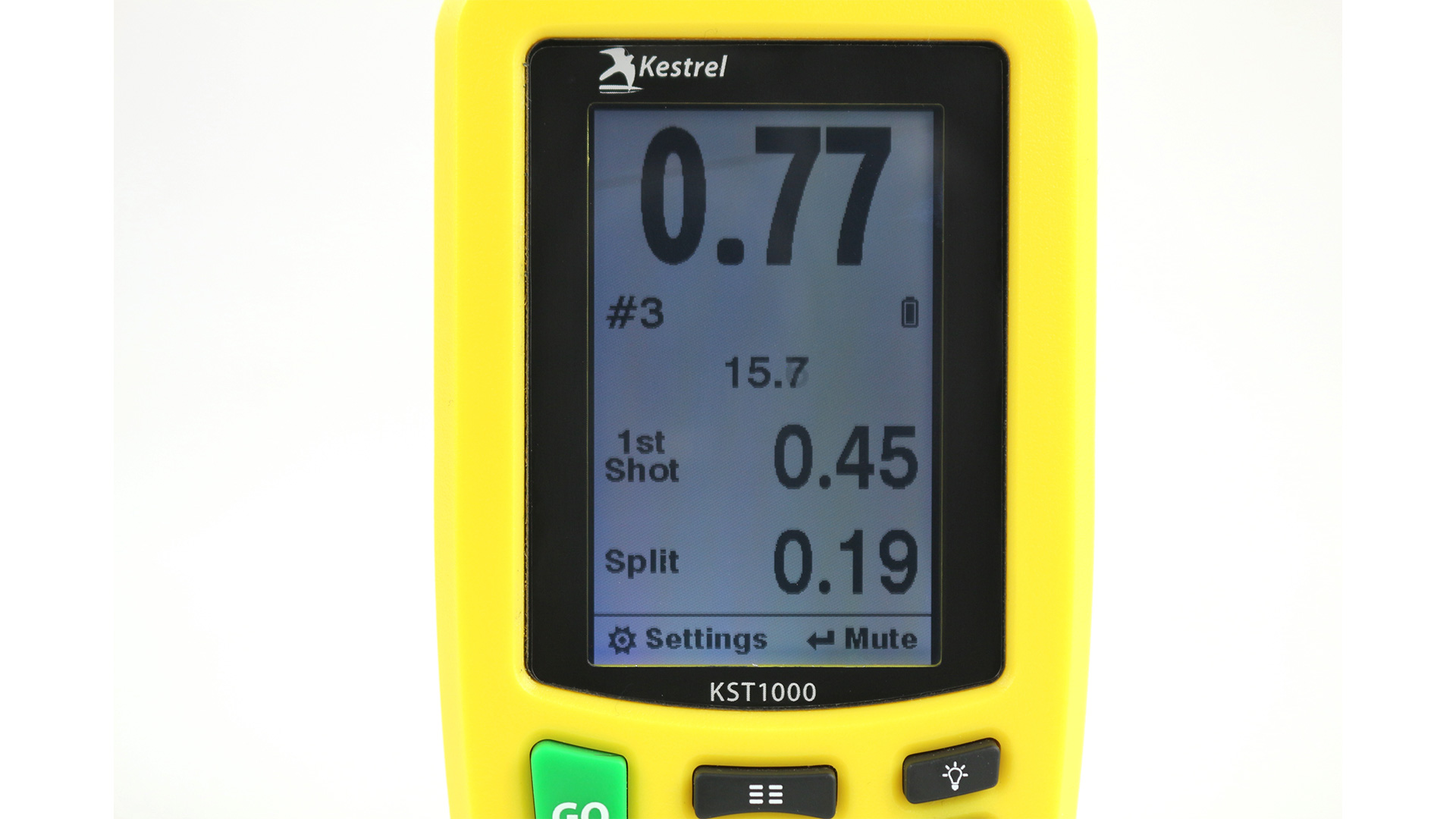 Scrolling through the settings, it was obvious that Kestrel and Koenig wanted this to be as customizable as possible, and it was done in a way that maintained a high level of user-friendliness. A single settings button takes you to a single menu, eliminating the chance of getting lost in a sea of screens. At the top is the option to select one of five presets. This allows you to recall any set of tweaks you've decided work best for your current firearm and environment. Moving down, there are six pre-built sensitivity settings: Rifle, Pistol, 22LR, Suppressed, Suppressed 22 and Dry Fire. Note the distinction, as most manufacturers would likely combine the "Suppressed" setting with the "22 LR" setting. This demonstrates the precision of the microphone in spades. Furthermore, there are three custom settings that can adjust echo time, par buzz and buzzer mute, for guns that might be quieter than the KST1000's buzzer (and shooters with lightning-quick draw times). Below you will find adjustments such as start delay, par time and device diagnostics. In addition, there is a Bluetooth setting for connecting with the Kestrel Link app. Consider this a bridge to future enhancements and functionality.
An intuitive device, I was field testing the KST1000 the same morning. Devices that pick up gunshots aren't big news, but devices that pick up "clicks" grab my attention. To that end, I picked up an AR-15, ensured it was unloaded, and did some work in the "Dry Fire" mode. Obviously, I wanted to see if it would register the hammer dropping, which it did, but to my surprise, it didn't pick up the cycling of the action, just so long as I didn't slam it home. I confirmed the test with a Beretta 92 clone, and it got the same result.
Taking it outside, I switched it to rifle and pistol and tried both firearms with standard centerfire ammunition for in their respective modes. Even from 20 yards away, the KST1000 registered the entire shot string, telling me that it'll catch reports—as long as the Range Safety Officer is virtually anywhere in the pit with you. I finalized my test by stressing the device with CCI Quiet 22 out of a full-length barrel from the same distance. Before doing so, I switched to the "22LR" setting, and as intended, it recorded each shot.
The Kestrel KST1000 is versatile, and built by shooters, for shooters. Each mode worked as intended, and it can quickly be adapted to whatever competitive or training scenario you throw at it. Aside from a superb suite of internal options, external features like a sealed battery compartment, oversized belt clip and on-demand backlighting make it convenient to use. After working with it, I promptly assigned my current shot timer to backup duty with the understanding that this may be the last shot timer I ever need. Well, at least until they add another division. Price is $299. Go to kestrelballistics.com.