When you're breaking clays, nothing ruins a hot streak such as having to stop and refill the machine (more formally known as the trap). To combat this problem there have been many designs centering around a rotating magazine. However, these are usually too cumbersome and expensive to be practical outside of a professional institute looking to turn a profit. Well, what about the average Joe Shooter with a bit of land that wants some professional-level practice? For this market, Champion Range and Target offers the EasyBird Auto-Feed 6-Packer.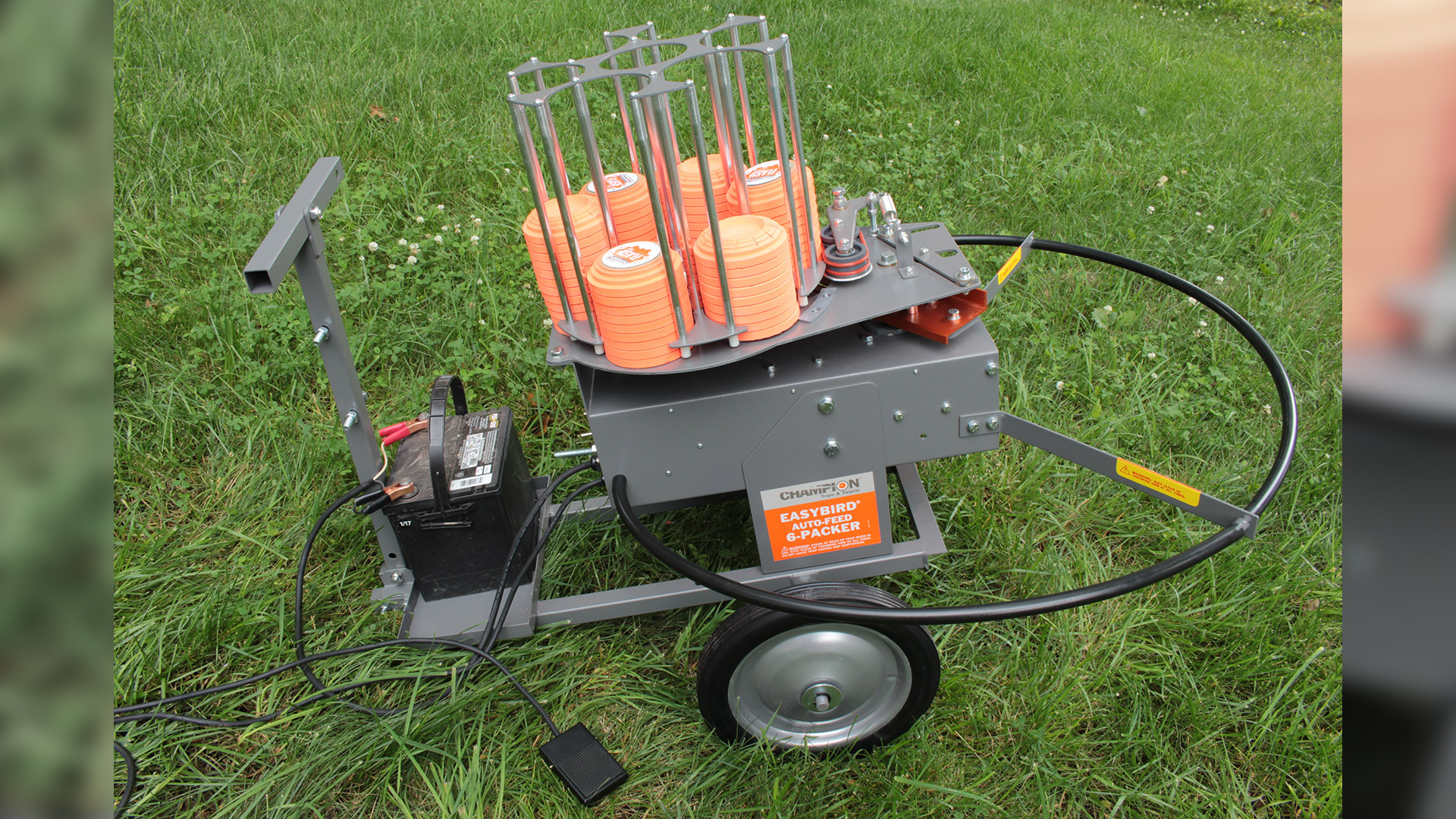 I have been a longtime advocate of Champion target throwers after a previous thrower from another well-known brand bit the dust, and I was met with customer service that essentially went to the tune of, "Wait, you're an instructor? Then you should be able to figure it out." Well, I did eventually figure it out after checking reviews and the troubleshooting page, which had more than a dozen known issues. So, when a new Champion 6-Packer (MSRP: $1,245.96) showed up at my doorstep, I was excited to test it.
The ownership experience began with a bit of assembly. I can't fault that, because packing products into a tight rectangular box substantially helps to lower the final price. The assembly process took me about three hours, but it wasn't too difficult. Actually, I've put together Ikea furniture that was more complicated. I was in a good rhythm up until it was time to assemble the magazine. For starters, it took forever to put together. Misunderstanding the instructions, I attached the bottom plate backward, so I had to re-do half of the assembly.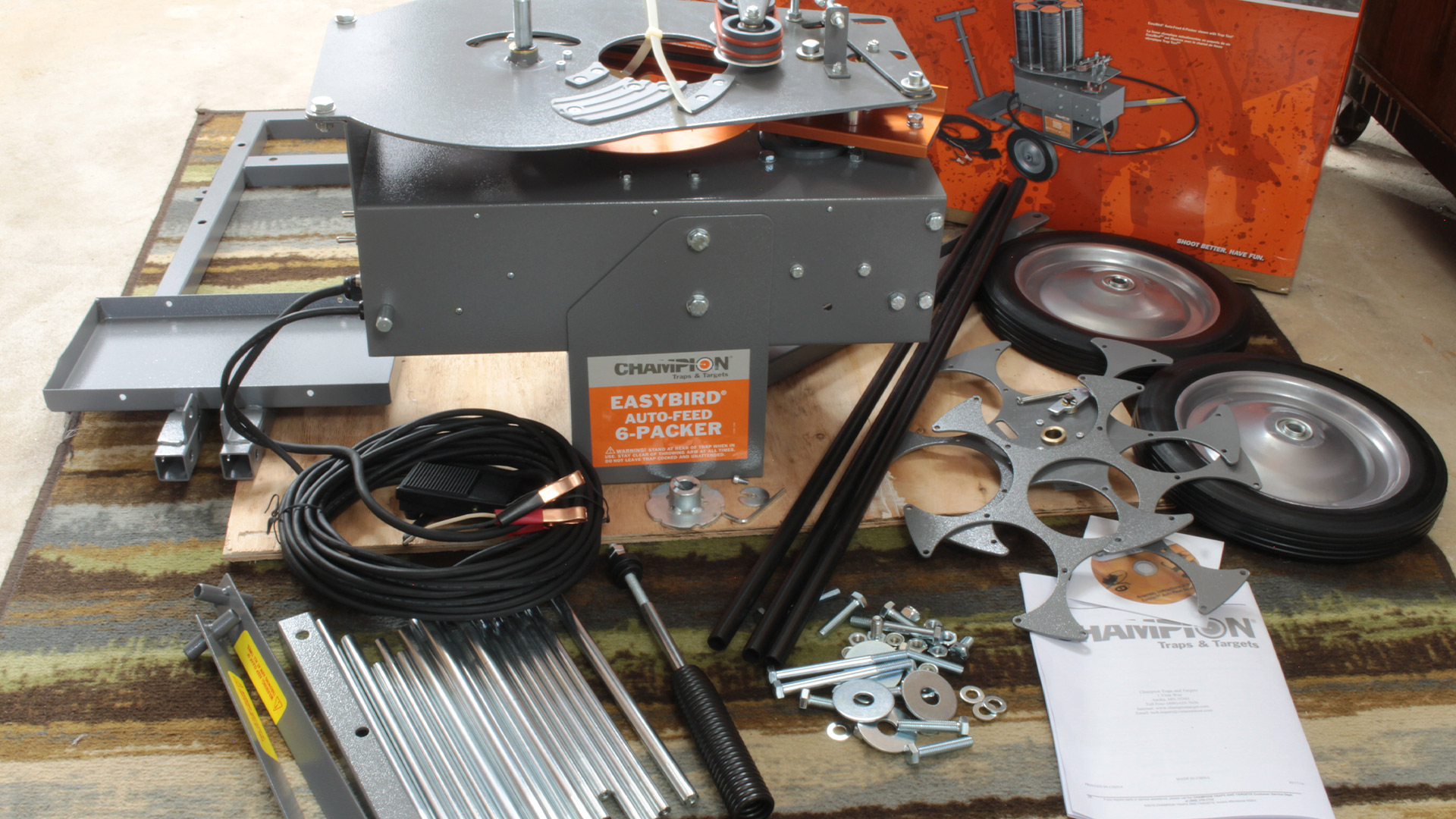 Part of the assembly process includes mounting the unit to its included trailer. Although it can be wheeled around easily by hand, the handle can also be connected to a golf cart or an ATV. Built with mobility in mind, the trailer can be removed, and the 6-Packer can be mounted to a permanent fixture. After thinking it over, I realized that it would be pretty fun to mount it to a gas-powered golf cart. If the range is configured correctly, a driver from elevated terrain behind the firing line could drive back and forth tossing clays. This would take sporting clays to an entirely different level, while at the same time provide a constant, rechargeable 12-volt power source to the thrower from the cart's starting battery. As I envisioned myself doing donuts in an golf cart while screaming "Murica!" and launching clays. Before I knew it, I was looking down at a fully assembled professional-grade electronic trap. All that was left to do was gather a bunch of friends and hit the range.

Transporting the thrower is easiest with a pickup or SUV. To pack it into a sedan, we had to remove the magazine and the trailer, but this required only the removal of two bolts and a hex screw, so it's not unrealistic. For power, we grabbed the cheapest 12-volt car battery we could find, ignoring the manufacturer's deep-cycle battery recommendation. The reasoning behind this is a deep-cycle battery can better withstand constant charging and discharging, but if you keep your sessions short, you can get many serviceable years out of a basic $50 car battery. This has been our experience with all of Champion's clay throwers, we've even used 12-volt jumper boxes when we knew we were only going to be shooting for an hour or so. Our range day lasted six hours, and the little battery lasted through it all without any signs of giving up. On the subject of batteries, I like the fact that the trailer had a spot for one. I never understood the sense of putting wheels on something, only to have to unhook the battery and carry it with the other hand.

After loading all six chambers of the magazine, we found it can hold 154 targets. That's six games of trap, plus four oopsies. The 50-foot cord was just long enough to stretch out to the official ATA location of 16 yards from the shooter. If you are looking to completely recreate an official trap field, you can add the oscillator, which duplicates the full 45-degree variance from shot to shot. After getting into our initial positions, we spent the rest of our afternoon tossing clays for each other using. The foot pedal was used as a hand-held button, and we also tried throwing and shooting our own targets to great success. A word of advice—if you plan on using the foot pedal on loose terrain, be sure to put it down on something solid to keep it from getting filled with debris.
We launched 154 clays with just one hiccup, but that was due to a broken clay jamming up the works. We remedied this by pressing the button again and letting the machine do its thing. We used both Champion Flash Clays and Winchester White Flyers in the machine and didn't have feeding or flying issues with either brand. We also measured an average throwing distance of 68 yards by launching 10 consecutive clays and just letting them land. We were happy with this, especially since that wasn't with the mainspring adjusted to its maximum setting—yet.

Today the 6-Packer sits in my basement, awaiting its next range day or NRA Shotgun Course at Renaissance Firearms Instruction. While we appreciate it for the large classes where we are throwing clays for a crowd, someone with a small shed and a nice piece of land is going to get the most use out of it. Addtionally, it's a great purchase for clubs looking to start trap sessions, because it's priced reasonably enough not to impact dues. At the time of this writing, it's on Amazon for $1,291.94 (free shipping), which isn't unrealistic, considering many of us pay that much (or more) for some shotguns. At the end of the day, it's not a lot of money for a few friends to chip in for weekend clay sessions. But once that happens...it's going to be hard to get them to leave.
About Champion
Champion Target began in 1974, producing clay targets as a division of the Federal Cartridge Company. The plant is located in Richmond, Ind., close to supplies of petroleum, pitch and limestone—the main ingredients of clay targets. The target-building machines were built locally and are still in use today. Stored in large silos at the plant, the pitch and limestone are weighed to make the correct composition, because the targets have to be strong enough to survive being thrown from machines, yet fragile enough to break if they are hit by three or so pellets.
In 2004, Champion Target was renamed Champion Traps and Targets. Trap-throwing machines and paper targets were later added into the Champion brand. By 2017, Champion had rebranded itself as Champion Range and Target, reflecting the shift to building clay throwers. New shooting accessories are introduced by Champion every year. Learn more at championtarget.com.
---
Read more: Results: 2020 NRA Southwest Trap Championship, ATA Southwestern Grand