by
Chris Christian, Field Editor
posted on January 11, 2021
Support NRA Shooting Sports USA
DONATE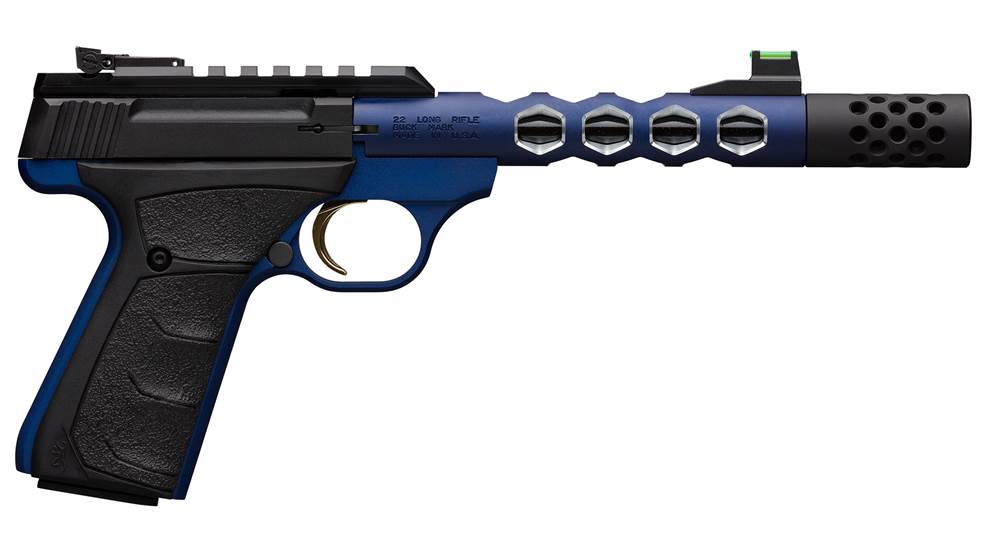 Around the 1985-86 timeframe, Browning discontinued its Challenger rimfire pistol line and introduced the Buck Mark series. That line has since grown to over 20 models and covers a wide spectrum from plinking, small game hunting, to competition pistols. However, the newest Buck Mark model, the limited edition Plus Vision, is not only the most stylish model in the line—but also offers enhanced competition features.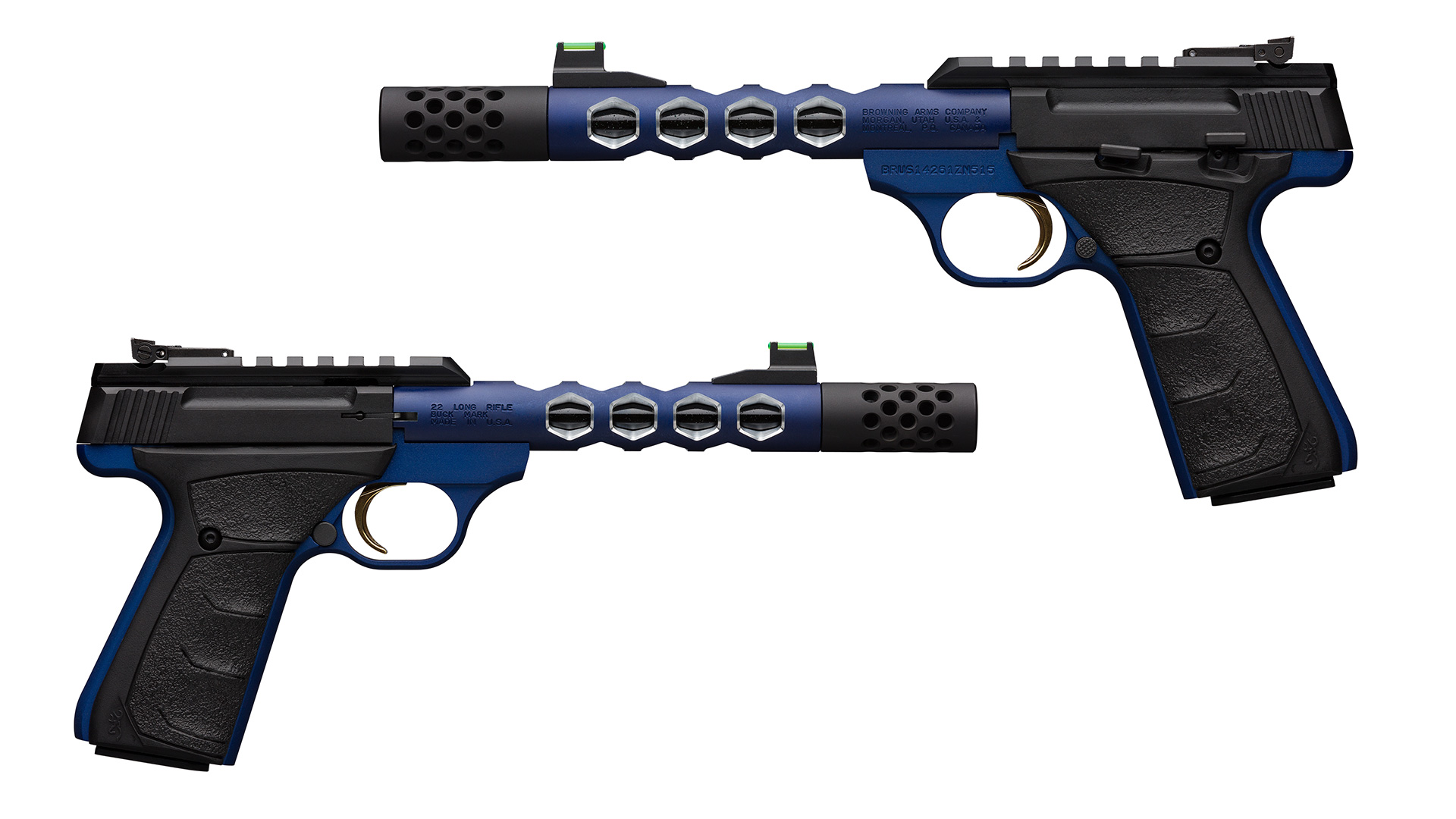 The Gun
Like the rest of the Buck Mark series, the Plus Vision ($719.99, Browning.com) is a blowback-operated, .22 LR pistol built on a CNC machined 7075-T6 aluminum alloy receiver. It features a left-side manual thumb safety and slide release, with a magazine safety that prevents the gun from firing if a magazine is not inserted. The Buck Mark models use 10-round, single-stack magazines.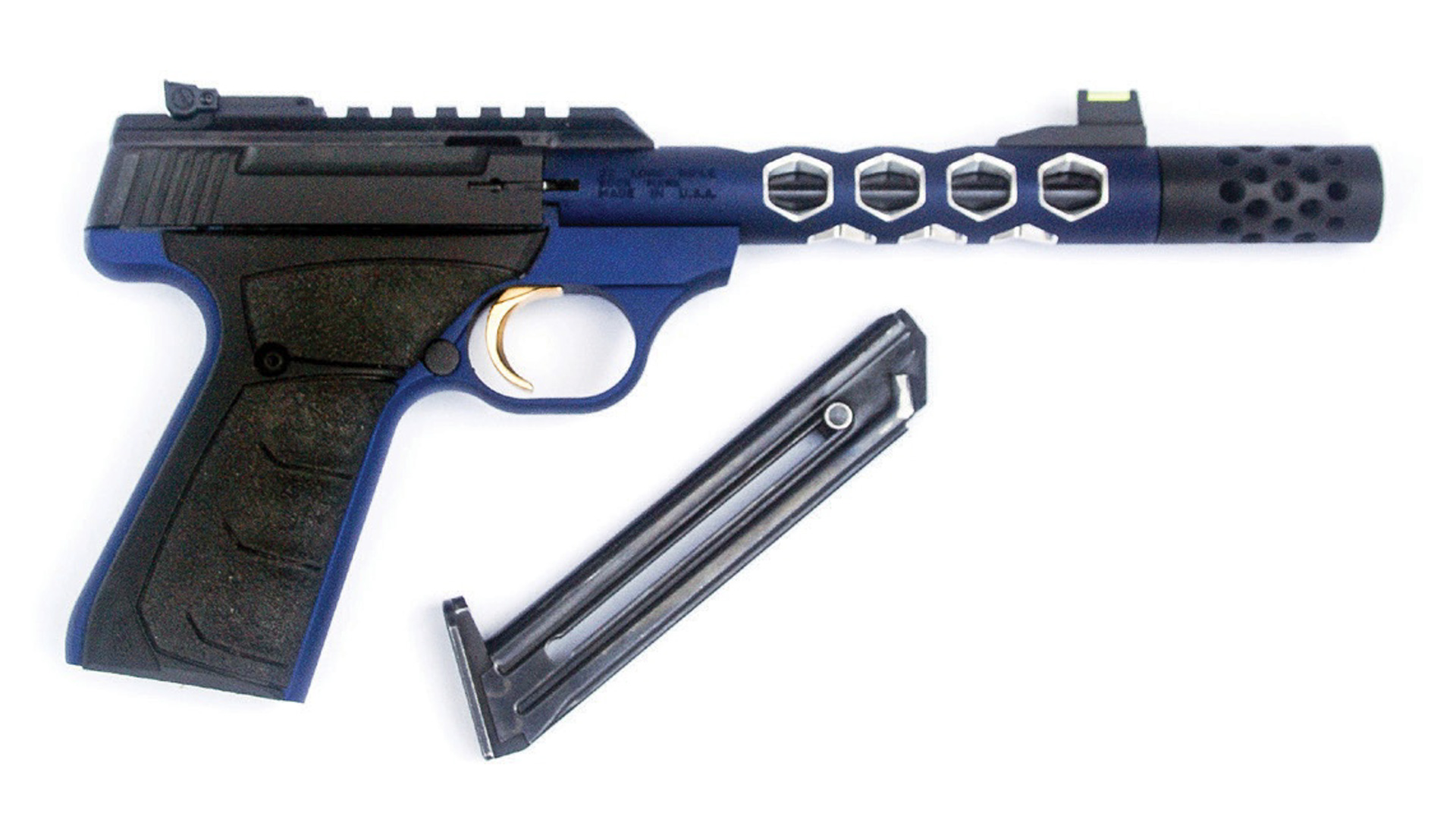 Differing from the rest of the Buck Mark line is a lightweight, 5.9-inch suppressor-ready steel barrel encased in a cut-out alloy barrel shroud to reduce weight. A two-inch muzzle brake is installed on the standard 1/2x28 suppressor-threaded barrel. The resulting appearance is quite stylish and definitely catches the eye. With the muzzle brake installed, the overall length is 11.5 inches. Maximum width is 1.25 inches, with a height of 5.35 inches and an empty weight of 27 ounces. Grip panels are UFX overmolded black rubber with ambidextrous thumb cut-outs. The front and rear grip straps are smooth.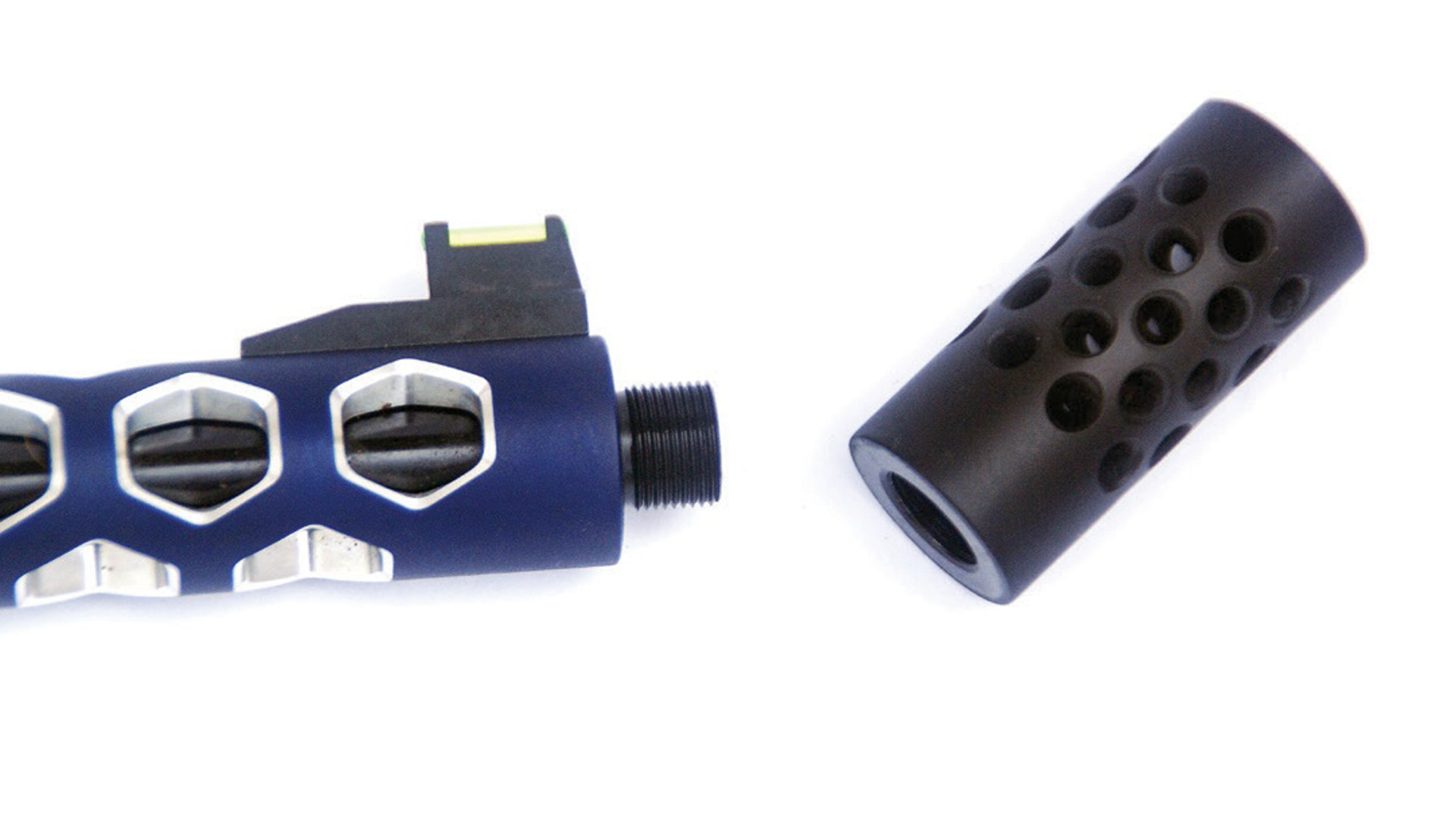 Factory-installed sight options allow for iron or optical use. Iron sights consist of a removable TRUGLO/Marble front ramp with an easily replaceable 0.075 fiber-optic rod. Green was supplied, but any color can be installed. The rear sight is a white-outline, click-adjustable model and is recessed into the rear portion of a 2.25-inch, 6-slot section of Picatinny rail that makes it easy to mount optical sights.

Three Plus Vision variations are available, with either a red, black or blue finished frame and barrel shroud. The shroud cutouts differ slightly between models, but the other specifications remain the same. All ship with two 10-round round magazines and a pistol rug.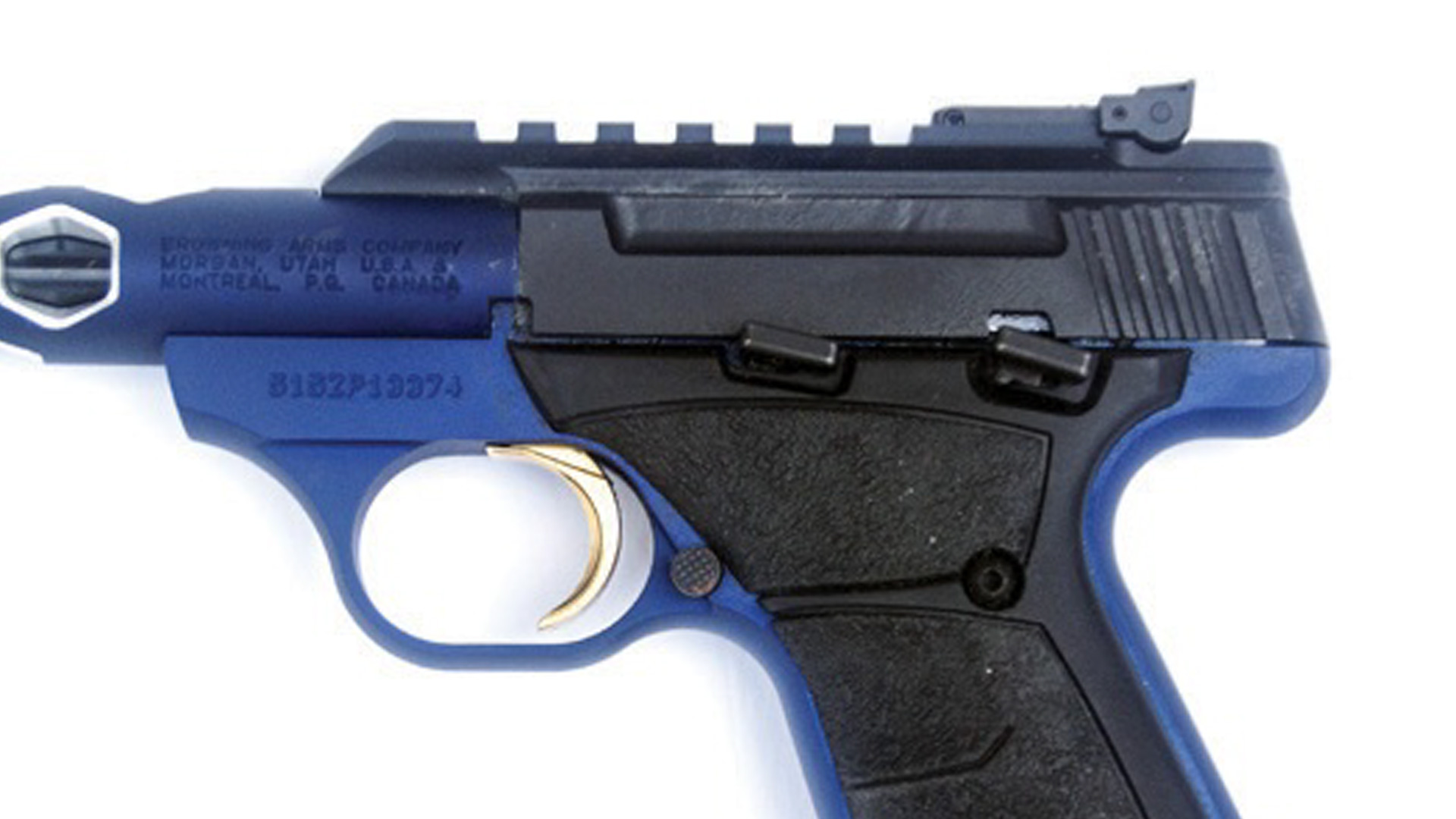 At the Range
From the box, I ran a dry patch through the barrel and added light lube to obvious bearing points. Dry-firing was next to get used to the trigger. There was an infinitesimal amount of take-up, a slight bit of creep followed by the break.
Next, I measured the trigger pull on my Lyman digital trigger-pull gauge. Five measurements varied between 4 pounds, 13 ounces and 5 pounds, 7 ounces. I didn't really feel that during the dry-fire sessions, so I ran another 15 measurements, and the variation remained. One could call the "average" trigger pull weight a bit over five pounds. That's more than many competitive shooters want, but there are many aftermarket trigger kits for the Buck Mark. Tandemkross is one supplier, and I have been impressed with their products in the past.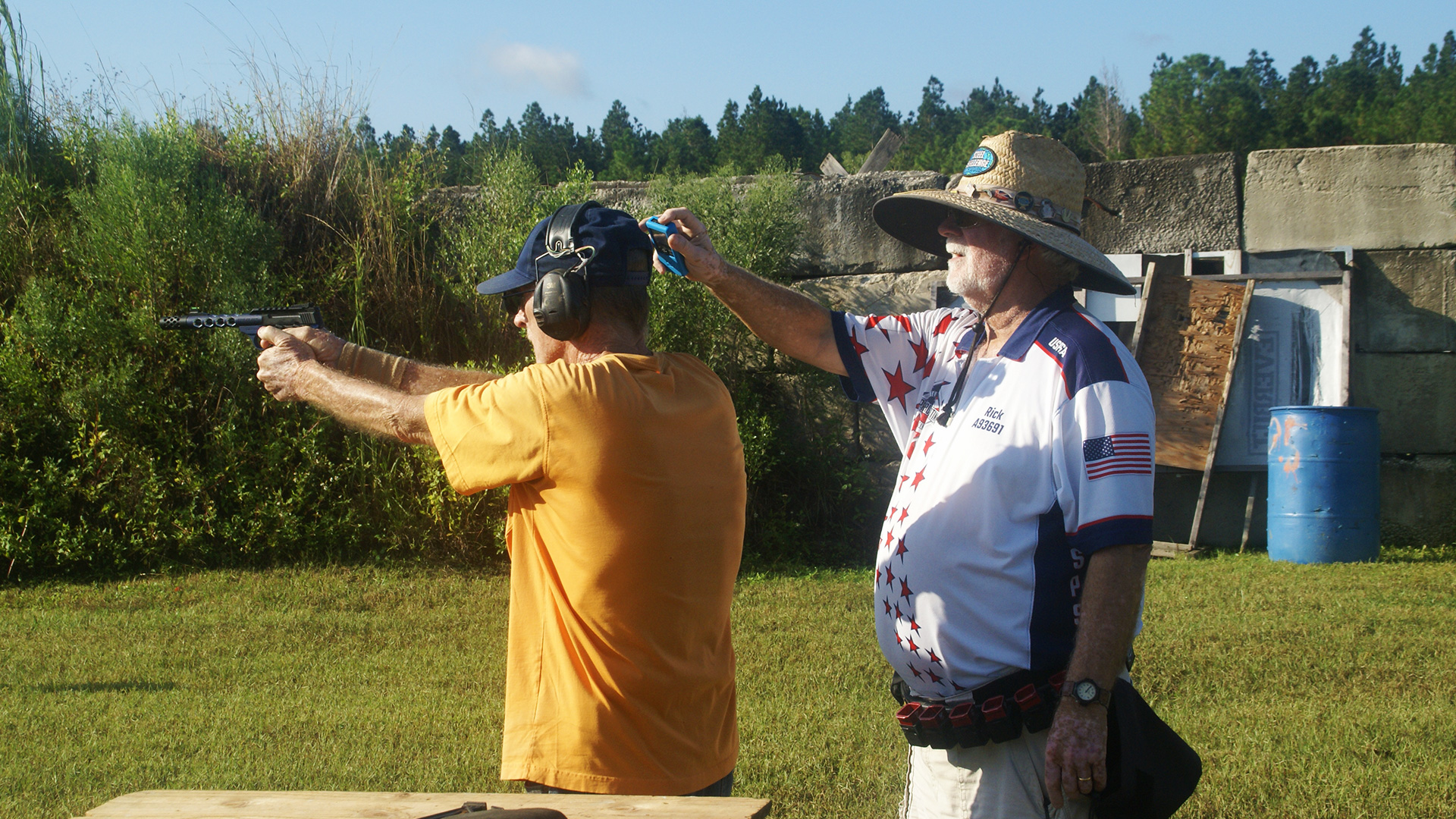 Assembling test loads was complicated by the current ammunition crunch. It wasn't so much what I wanted to shoot, but what I had available. I prefer standard-velocity .22 LR for pistols. Yet I was out of my go-to CCI Standard Velocity and Federal Gold Medal Target loads that had gotten me to Steel Challenge A Class in RFPO and RFPI. And they were unavailable. The only standard-velocity ammunition I had on hand was Aguila 40-grain LRN Target Competition.
What remained were the high-speed loads that I favor for rimfire rifle. They consisted of CCI Mini-Mag 36-grain HP, Federal American Eagle 40-grain lead and Federal Hunter Match 40-grain HP. A visit to my local gun shop found four boxes of CCI Blazer 40-grain LRN, and I snapped them up. I never used this high-speed load before, but given the circumstances, I grabbed what I could get.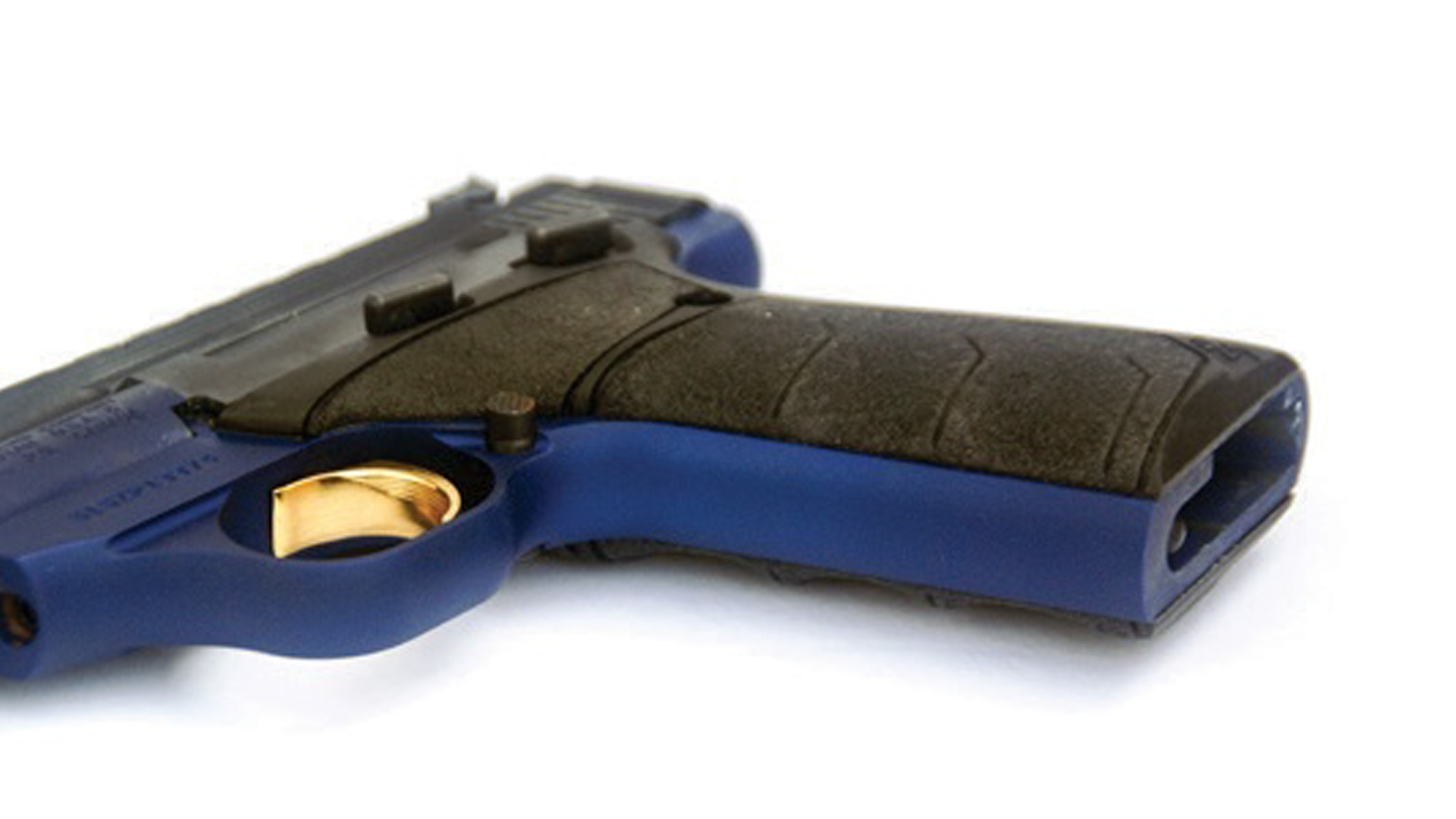 On my range, I zeroed the gun from a sandbag rest at 25 yards with the always reliable Mini-Mag. The gun was a few inches low and right, but the adjustable rear sight got it centered before the 10-round mag was empty. Following that, I set up several of my white cut-out targets to run transition drills from 20 yards.
Browning had provided additional magazines to give me enough to shoot a Steel Challenge match as a part of this test review, so I cycled all of them with the various loads. The magazines loaded easily to their stated 10-round capacity and functioned perfectly. Although the grips had initially looked a bit skimpy, I found that once I got both hands wrapped around them, they provided a very solid and positive grip. I have average-sized hands, and they placed the pad of my trigger finger right on the center of the trigger. The sights were impressive. The big front fiber-optic dot and the wide white-outline rear resulted in a quick and positive sight picture.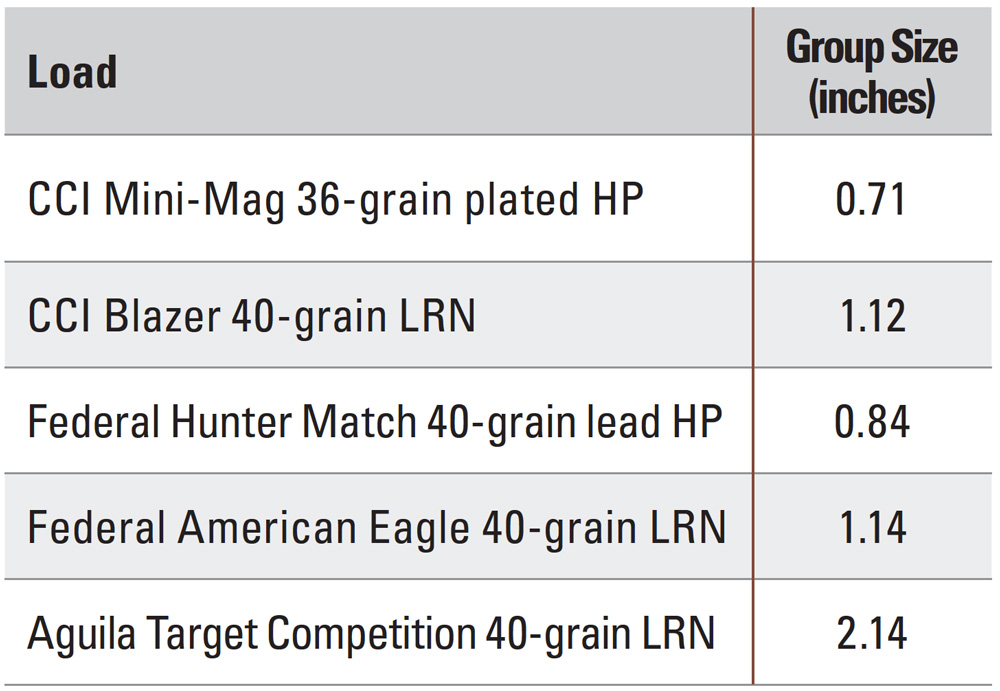 I ran about 160 rounds on the targets. The grip angle pointed a bit higher than my guns, and the trigger was heavier than the 2.5-pound pulls on my match pistols. But the positive grip and sight picture let me get comfortable with the Plus Vision.
Accuracy testing was next. I wanted more precision than the iron sights offered, so I installed a SIG Romeo3 Max with a 3-MOA dot. The accompanying accuracy chart shows the gun has more than enough accuracy with quality ammunition.
There were over 220 rounds through the gun by this point. The only malfunctions were four failures to eject with the Aguila load from the 40 rounds I fired of it. A six-stage Steel Challenge match was next, and I decided to shoot it with the iron sights in RFPI. The gun got a quick cleaning, and I cobbled together enough CCI Blazer and Federal Hunter Match to get me through it.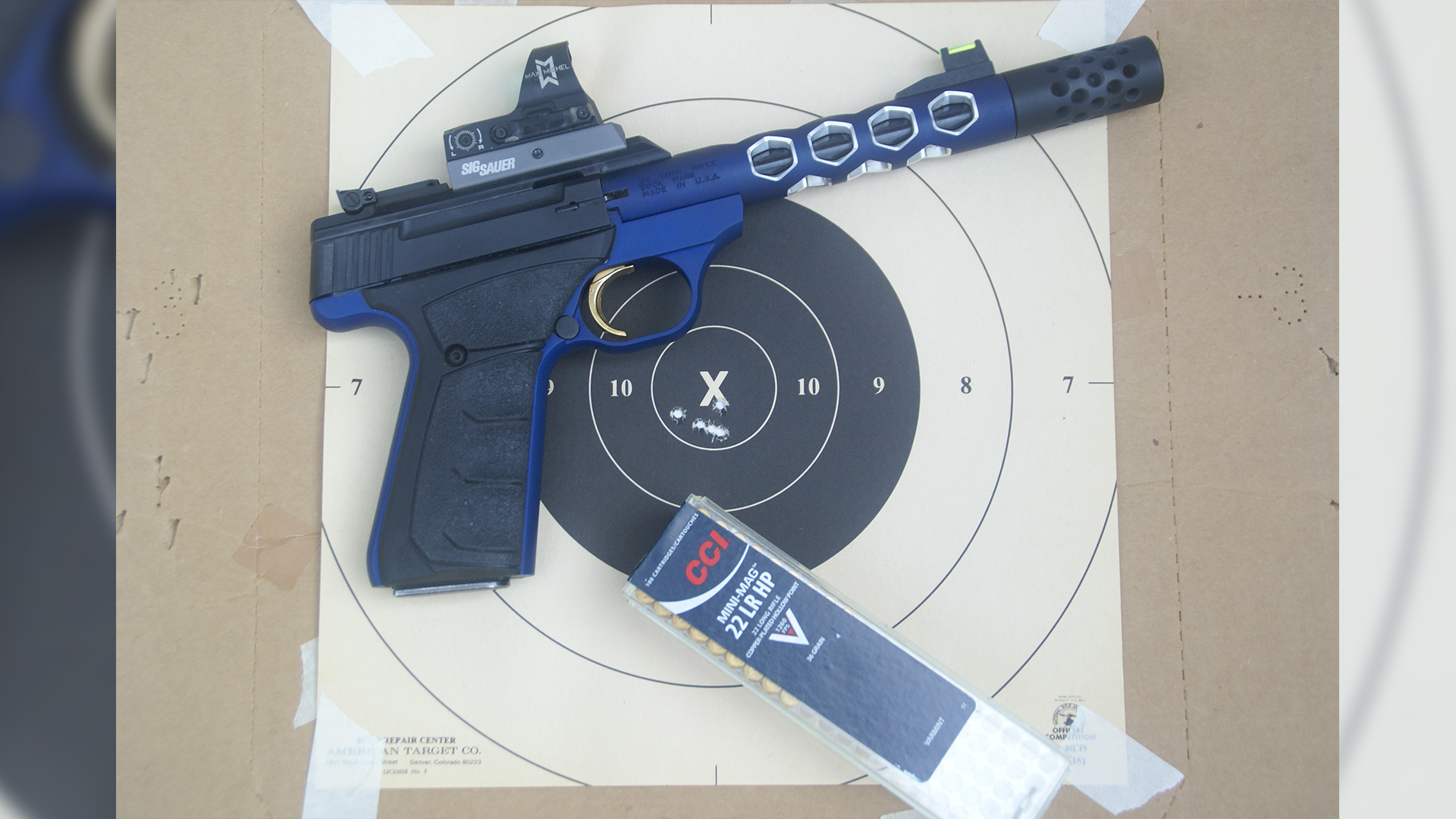 The gun ran flawlessly through the 150-plus rounds with no malfunctions. I didn't set the world on fire. But even with the heavier trigger pull and different grip angle, the impressive sight picture and positive grip got me within 0.06 seconds of one A Class peak time, and within 0.5 seconds on two others.
This stylish new addition to the Buck Mark line needs only a trigger tweak to be a serious competition gun.
---
Read more:
Surviving The Ammo Shortage