The Henning Group is a U.S. firearms manufacturer and international distributor located at the base of the Rocky Mountains in Longmont, Colo. Behind the company is champion IPSC and USPSA shooter Henning Wallgren, who was doing the splits on action-shooting stages many years before some newer competitive shooters were crawling. The shop started in 2006 and has continued to increase its product line since. Wallgren was semi-retired for a while, but can now be found shooting not only his local club matches but many Sectional, Area and recently the USPSA Nationals. He knows what competitive shooters need and has developed many accessories for the USPSA market.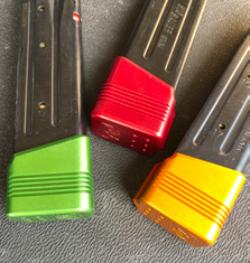 With the explosive growth of Carry Optics, Wallgren was paying attention and developed basepads to maximize the capacity with factory magazines. I like simple—I don't like to modify something to make it work. Rather, I want to buy it, stick it on something and go. The P320 Magazine Extension Kit (MSRP: $39.95) will take a factory SIG 17-round magazine, add an additional six rounds and fit the USPSA gauge for Carry Optics. No modifications necessary—the kit comes with basepad, spring and follower. Pop off the factory pad, pull the spring and follower, replace with the supplied spring and follower, compress it and slide the new extended basepad on and you have a 23-round reloaded function magazine ready to go. The supplied Grams follow kit needs no modifications to make it a 23-round reloadable magazine. You can start now with 23+1 rounds in your Carry Optics gun with no fear of your filed-on, whacked-on kitchen table mag is going to make it through a stage. These basepads are available for Glock, SIG, CZ, Tanfoglio and Dan Wesson pistols, with more models to come.
Cleaning magazines during a match can be a chore, especially if you have to use tools. Henning basepads are easy to depress the retaining pin, slide off, clean and pop back together with no tools. There are no small springs or screws to lose at the safe table, either.
The company website also has standard basepads for Production guns or even everyday carry guns. There are several sights, grip panels, trigger parts, mounts, springs and upgrade kits available. Visit the Henning Group website for a complete list.
Article from the November/December 2020 issue of USPSA's FrontSight magazine.
---
Read more:
USPSA Adds 3 New Classifier Stages