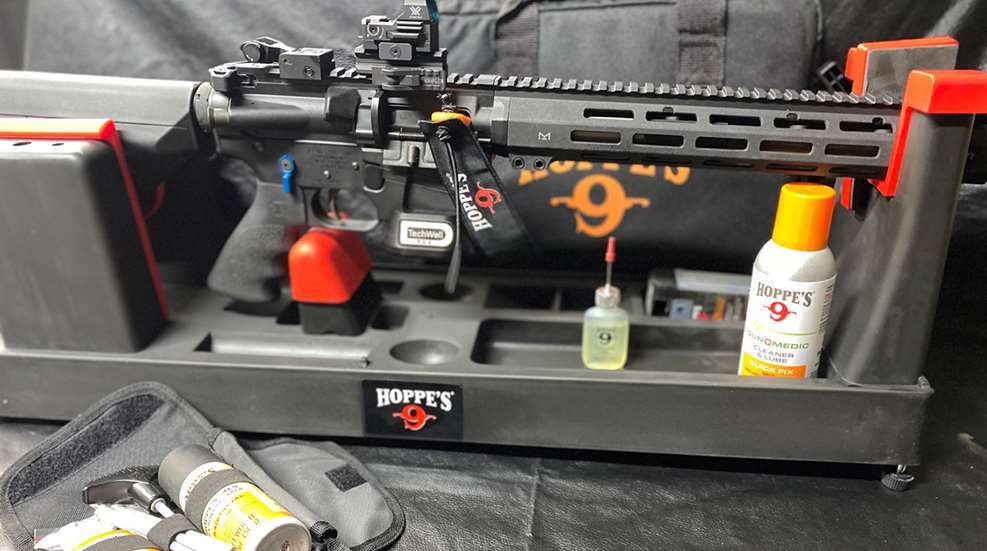 For the last few years, competitors at all USPSA Nationals, Area Matches and most Level II events have been greeted by a selection of Hoppe's Cleaning Products at match safe areas. This is the result of an agreement that Hoppe's entered into with USPSA and Steel Challenge to be the Official Firearms Cleaning Products of USPSA.
This has been a great partnership—competitors can use Hoppe's products if needed during matches. But, you are not always at matches that have the products at safe tables or after a range practice session. Or, you may want to carry something for more detailed cleaning than what you can do at a safe table during a match. Not to fear, because Hoppe's has you covered.
Universal Field Cleaning Kit
This is something that I carried in my range bag for years, replenishing it when needed. I eventually left this somewhere on a range and could not ever find its replacement. Eliza Graves, the senior brand marketing manager of shooting accessories for Vista Outdoors (the parent company for Hoppe's, Bushnell, RCBS, Butler Creek and Champion Targets) was asking me if there were any products I would like to review. I told her about my misplaced kit and she said, "The Universal Kit? Yeah, that is a best-seller but I think I have one." Not only is Eliza one of the best partners we work with, but she constantly amazes me with things like this. I know that when she says, "Yeah, let me see what we can do," that it is already a done deal.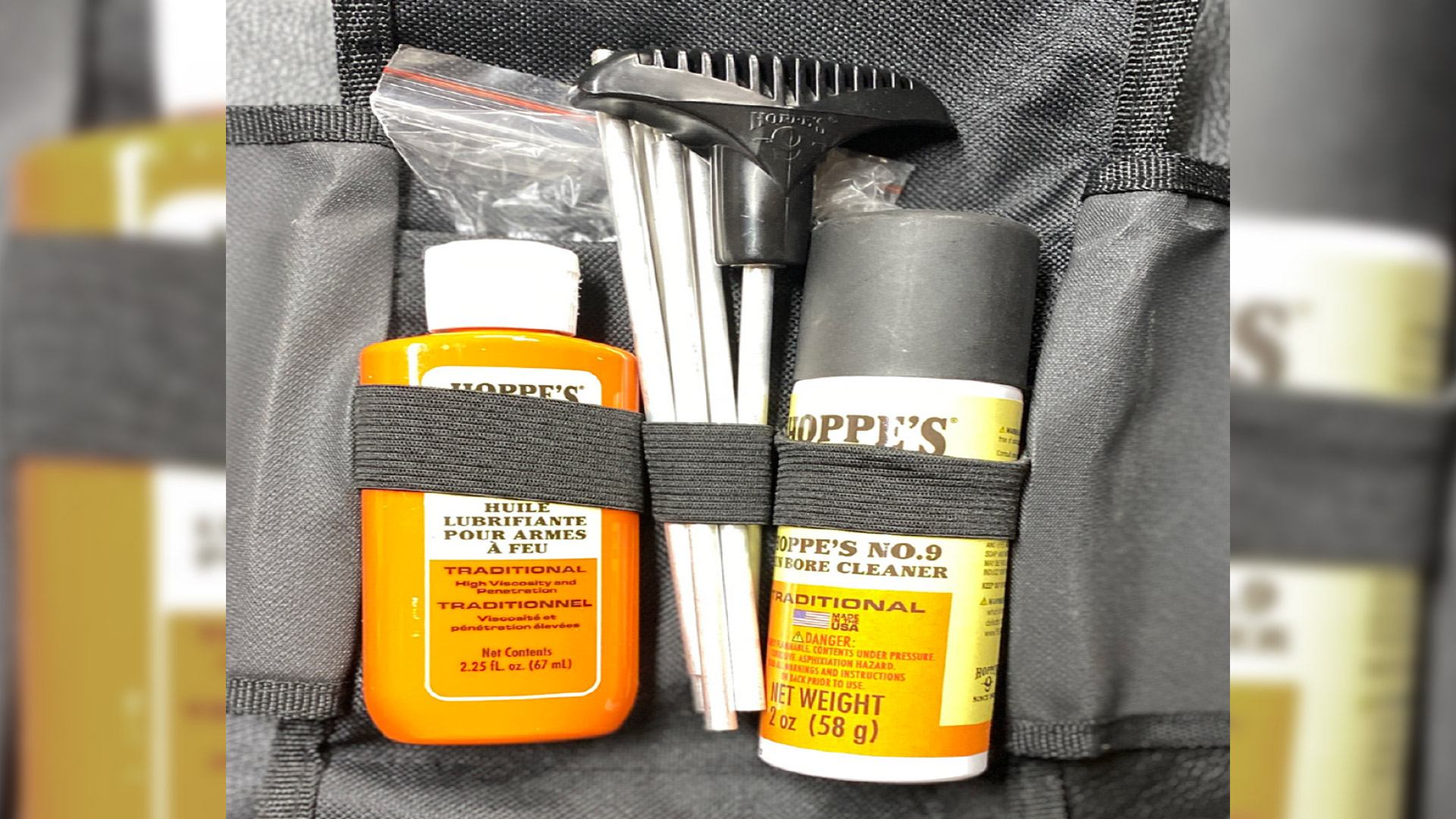 The Universal Field kit comes in a rugged soft-sided case that is the right size for any range bag. This compact kit is perfect for carrying the essentials for pistols, rifles and shotguns. It comes with:
Hoppe's No. 9 aerosol
Hoppe's lubricating oil
Rod, adaptor and slotted ends
Cleaning patches

This small kit can also be attached to a belt. The cleaning rod is unique with a ball-bearing swivel handle. The oil, aerosol and rods are held in place with bands and the cleaning patches tuck away in an inner pocket. This is a great addition to any range bag. MSRP $32.95.
Range Cleaning Kit
A great companion piece to the Universal Field Kit is the Range Cleaning Kit with advanced mat. There are times when you may need to do a more thorough cleaning at the range and have to break your firearm down. Having a mat where you can make sure all the small, easy-to-lose parts can sit instead of the top of a safe table is important. The Hoppe's Range Cleaning kit with mat gives you a clean, useful space to work from. The mat is ideal for doing detailed disassembly and field cleaning your firearms. The work surface is oil and solvent resistant, and there are magnets in the upper corner to keep the smart parts contained. This is great when dealing with the little optics screws. Plus, there are several elastic tool pockets to hold all the brushes and picks included with this kit. There are slip pockets and zippered parts pockets as well. In addition, the mat folds together with Velcro straps and stores away in a rugged range bag.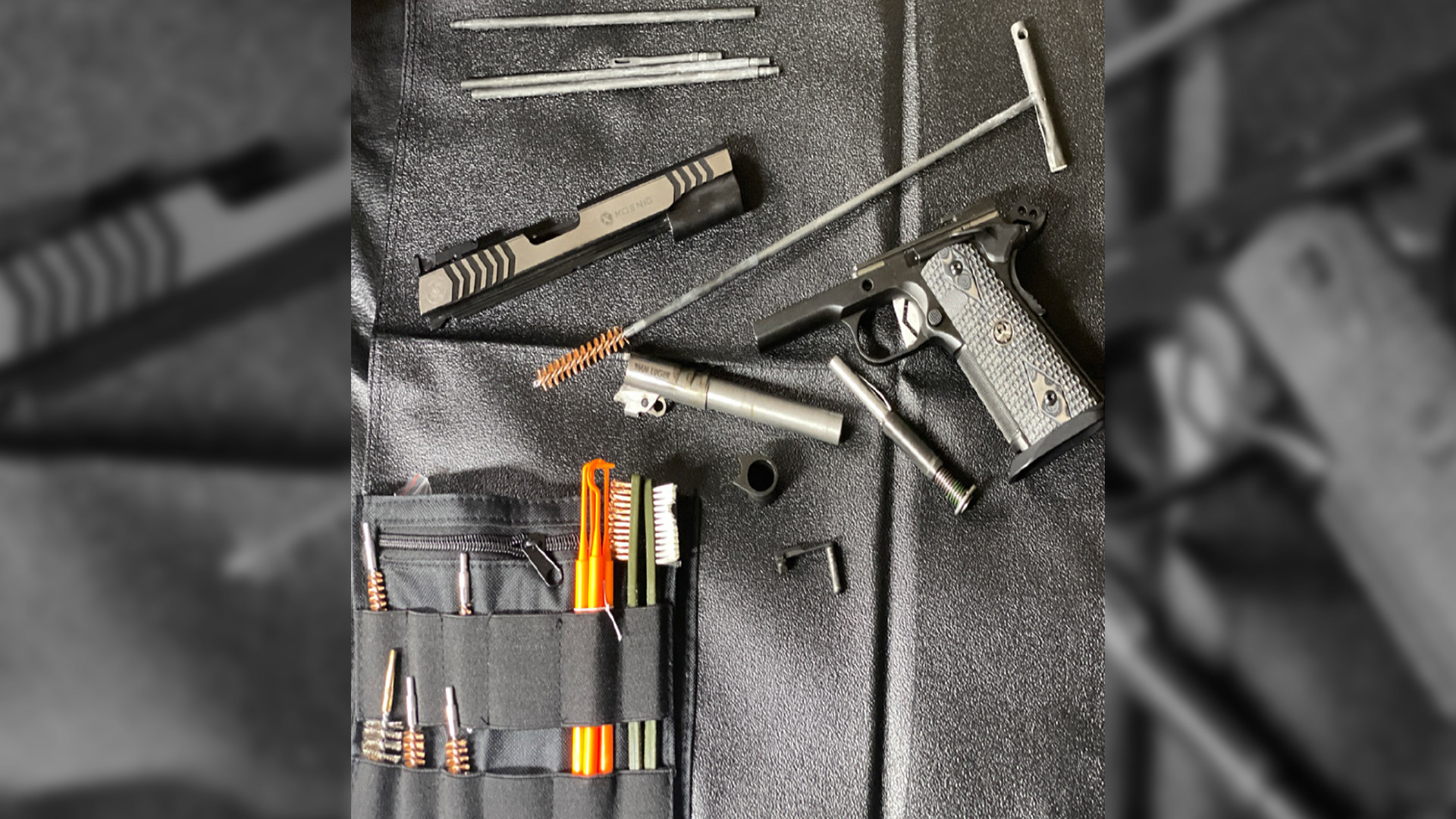 The mat measures 23½ x 19½ inches and folds down to 10 x11½ inches. There is a multi-section cleaning rod with .223 Rem., .22 LR, 9 mm, 40/10, .30 and .45 ACP phosphor bronze brushes. There are cleaning patches, cleaning picks and phosphor and nylon utility brushes included in the kit. The mat is nice enough to have just for your work bench at home when detailing and stripping your firearms. MSRP $50.95
Gun Vise
I am not a rifle or shotgun guy, but I do have them. When it comes to rifles, especially PCCs and rimfire, I always seem to be changing out optics. Some of that is because of testing out new ones for reviews or just changing things up, trying out different MOAs or window sizes. But I never had a solid piece of equipment to hold them in place while I did this. I will admit to having more than one rifle fall off a bench. Good thing I have heavy rubber mats on the garage floor. I have looked at different offerings before, but they were usually expensive.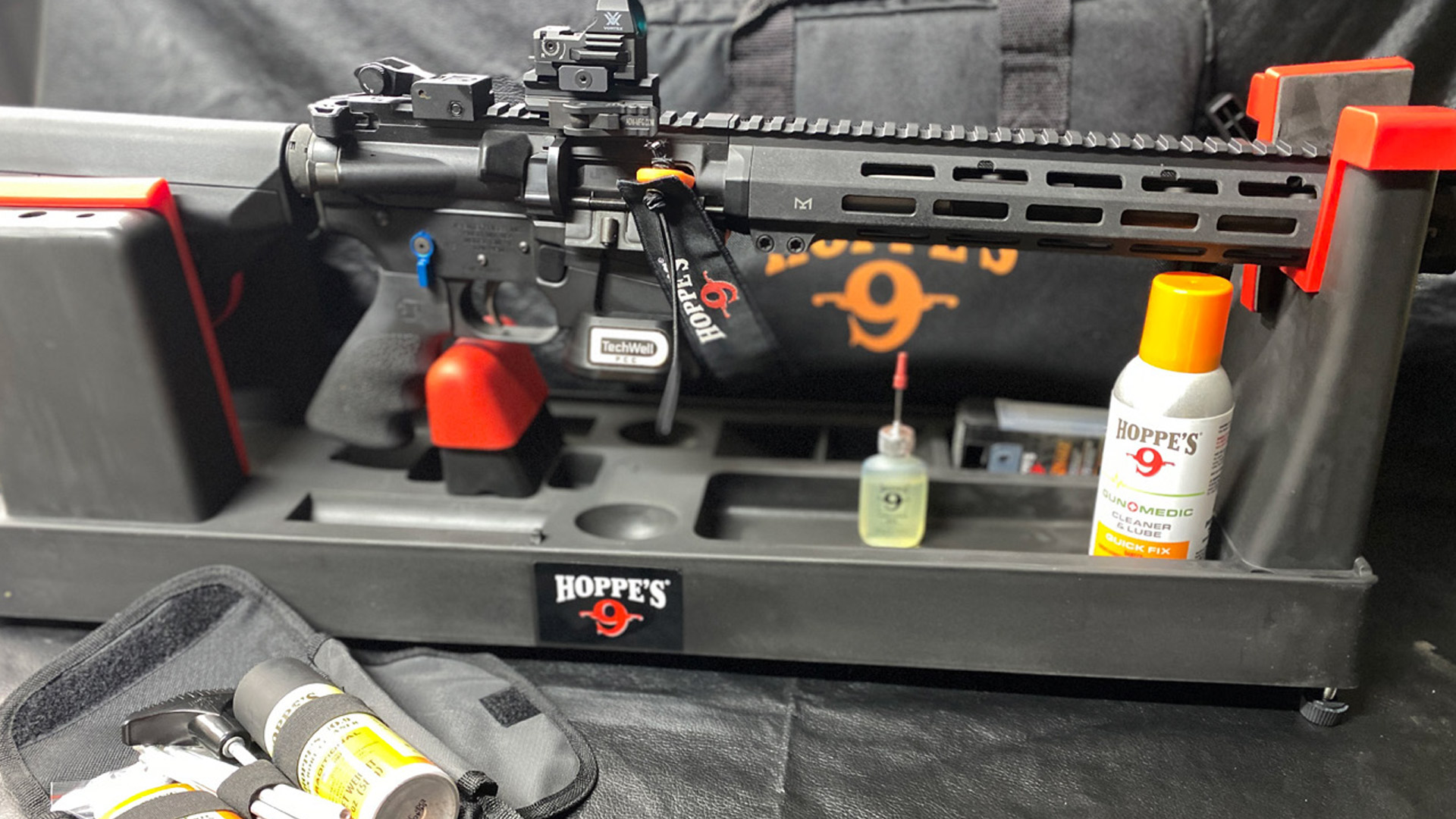 Hoppe's introduced the new Gun Vise earlier this year and it is affordable at $61.45. This has been a great additional to my bench top. With the front and rear locking supports of this vise I am able to easily get a rifle or shotgun securely set up to work on. The vise is made out of a durable chemical-resistant polymer and the parts that hold your firearm in place will not leave any scratches. There is also a multi-position grip support to add to securely holding your firearm. The base also offers multiple compartments and slots to hold the Hoppe's cleaning and lubricant products and tools.
The knobs are easy to adjust and there are adjustable feet to make sure the vise is level. The unit is solid, but lightweight with the polymer construction and doesn't take up too much space.
If you are looking to get yourself set up for the range, and for your workbench here are three products that for less than $150 will make cleaning and working on your firearms easier. I am not going to say more enjoyable, because we are talking about cleaning guns here, but it sure is nice to have the right stuff that is well made, will last and keeps you organized, especially the small parts, when doing this task.
Use the code HOPDPSA at the Hoppe's website for a 20-percent discount on your order at checkout.
Article from the July/August 2021 issue of USPSA's magazine. All photos by Jake Martens.
---
Read more: 
Hoppe's No. 9 Goes Back To Classic Glass Bottle