SIG Sauer's new P322 pistol marks the company's official entry the rimfire market, intended to introduce the brand to a different segment of shooters, namely families, new shooters and those for whom SIG was previously out of reach. Retailing at $419.99, this .22 Long Rifle semi-automatic pistol has something others in its category don't—a 20+1 capacity.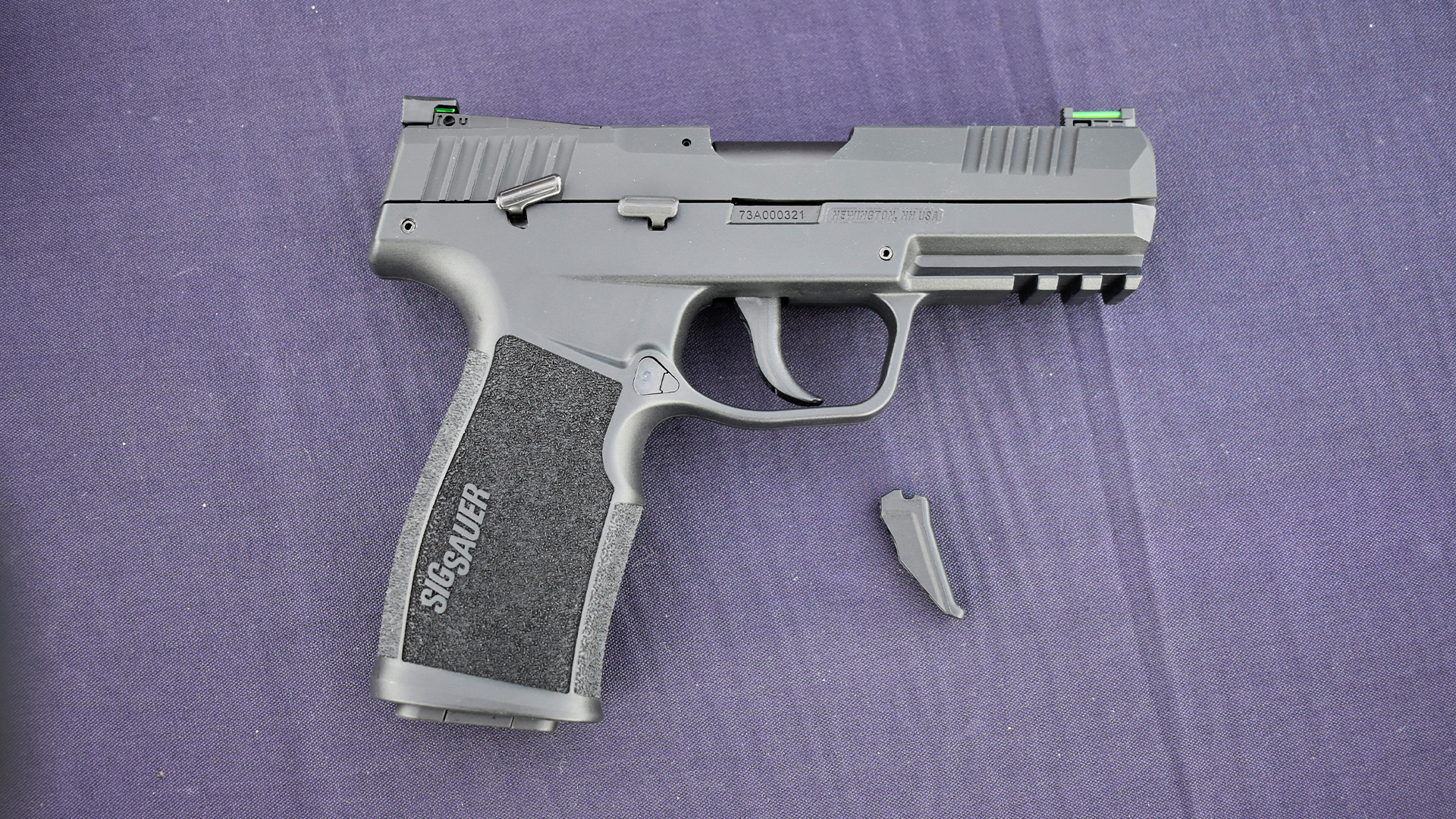 The P322 also comes equipped with adjustable fiber-optic sights, modular trigger, chamber flag specifically designed for dry-firing, a pair of 20-round magazines, magazine loader and is also optics- and suppressor-ready. That's a lot of gun for the price without sacrificing the quality you expect from SIG Sauer.
Made in the United States with nearly two years of development and testing, the P322 is designed to run with any ammunition you can find—even bulk ammunition. Before you ask, the P322 is not a rimfire version of the P320. Some of the dimensions are the same, but the lengths are different as well as the sight radius. The P322 will have its own holsters; it will not fit P320 holsters. Rimfire clones, for lack of a better word, of full-size guns have popped up in recent years. Some are used as concealed carry or competition trainers. Rimfire ammunition, even in current times, is still less expensive than center-fire. Rimfire is also just fun. It's not as loud, there's little recoil and you don't need to stress about collecting brass to reload.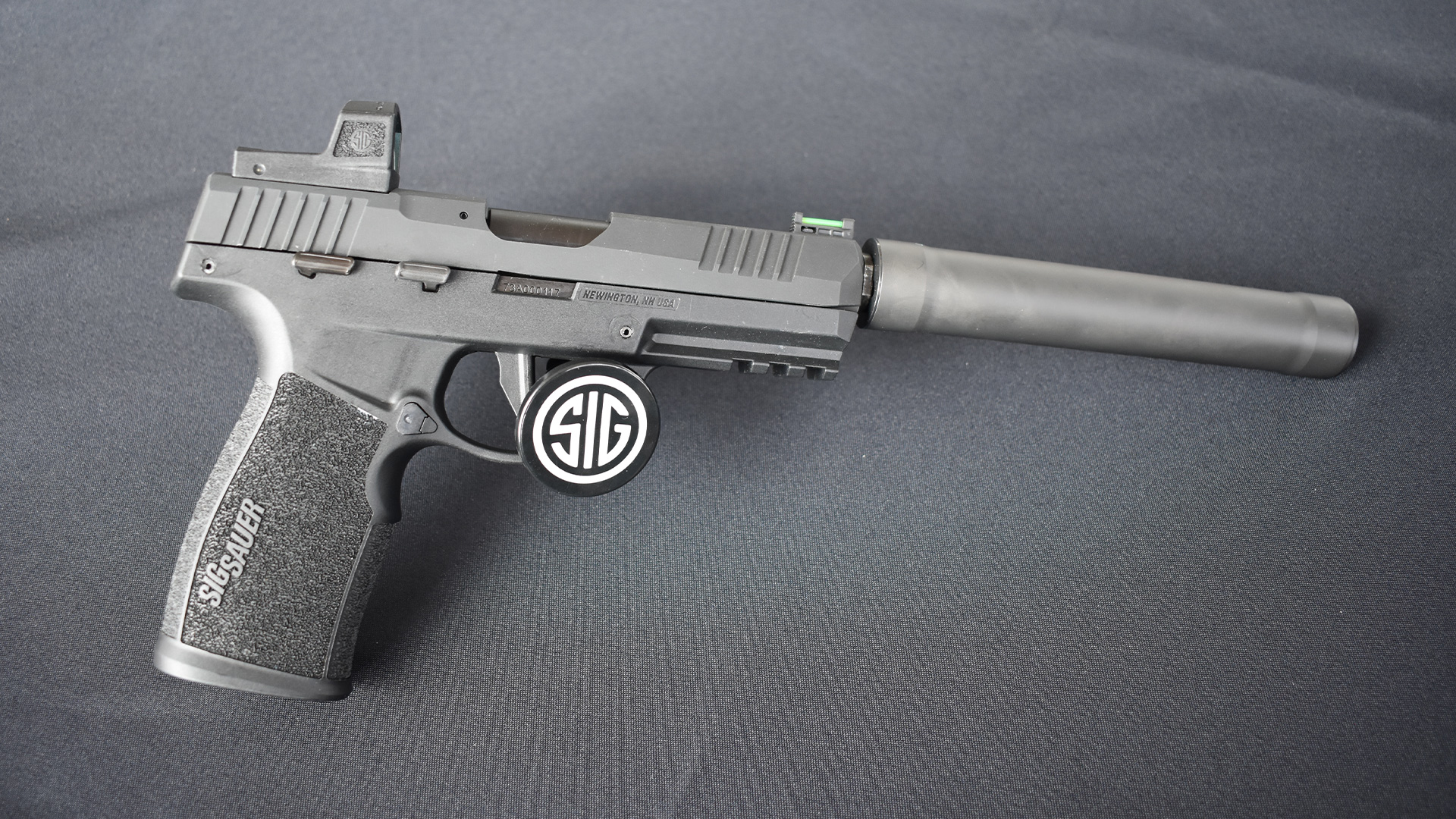 This new single-action pistol has an alloy slide, stainless steel frame, polymer grip and an enclosed hammer. The company chose this design as exploration revealed it was most reliable with less than stellar ammunition. According to SIG Sauer, the gun was tested with 11 types of ammunition both with and without a suppressor. The mean stoppage rate was more than 1,000 rounds. The P322 also exceeded the 5,000-round dry-fire test and has yet to reach its limit.
Weighing 17.1 ounces, the P322 is light. Filling the 20-round magazine adds some weight. Comfortable and easy to hold, I fired through a series of Steel Challenge stages as part of a friendly competition during the event. No, I didn't win—not even close. Shooting Steel Challenge was a new experience for me and an excellent way to test a new gun.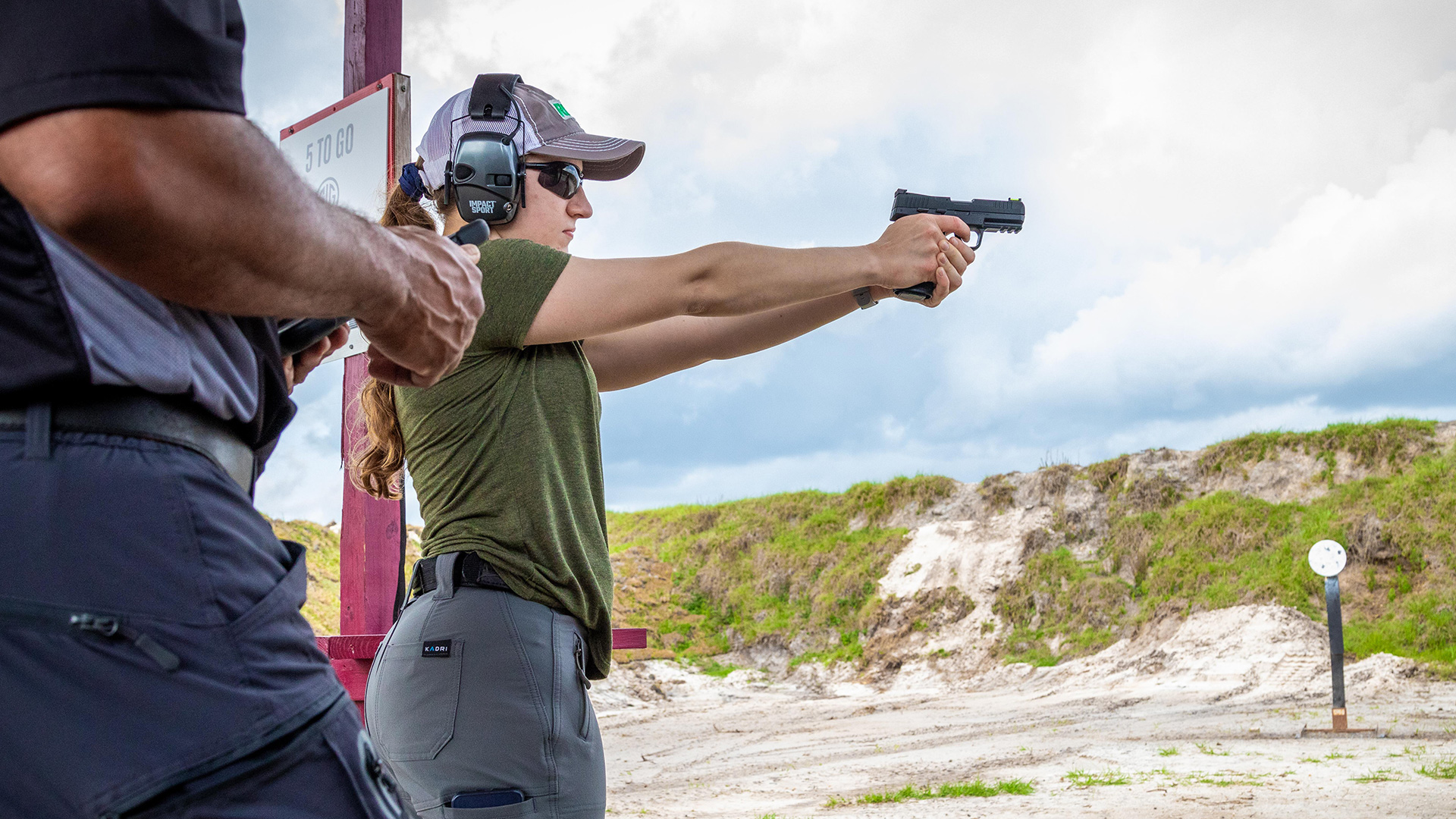 The fiber-optic sights were clear and easy to pick up when I was focused on one target. Moving between targets, I struggled to decide whether to focus on the target or the front sight. Years of rife shooting has taught me to focus on the front sight—to let the target go blurry. I soon realized switching from sights to target to target to sights back to target was a lot of work. It also ate up a lot of time. When I didn't think, I performed better.
SIG Sauer Team Captain Max Michel answered my questions while learning about the competition style and how to best approach it. Each stage had a box to stand in. I stepped in without much thought. Michel pointed out I needed to make sure I could swing from target to target to target without having to twist or strain in any direction. I also learned a lot just by watching. Before each stage he would go through the firing motions, already having decided which target to shoot first before the buzzer sounded. His motions were also smooth and deliberate. I imagine watching me move between targets was like watching the jerky motions of a claw machine game.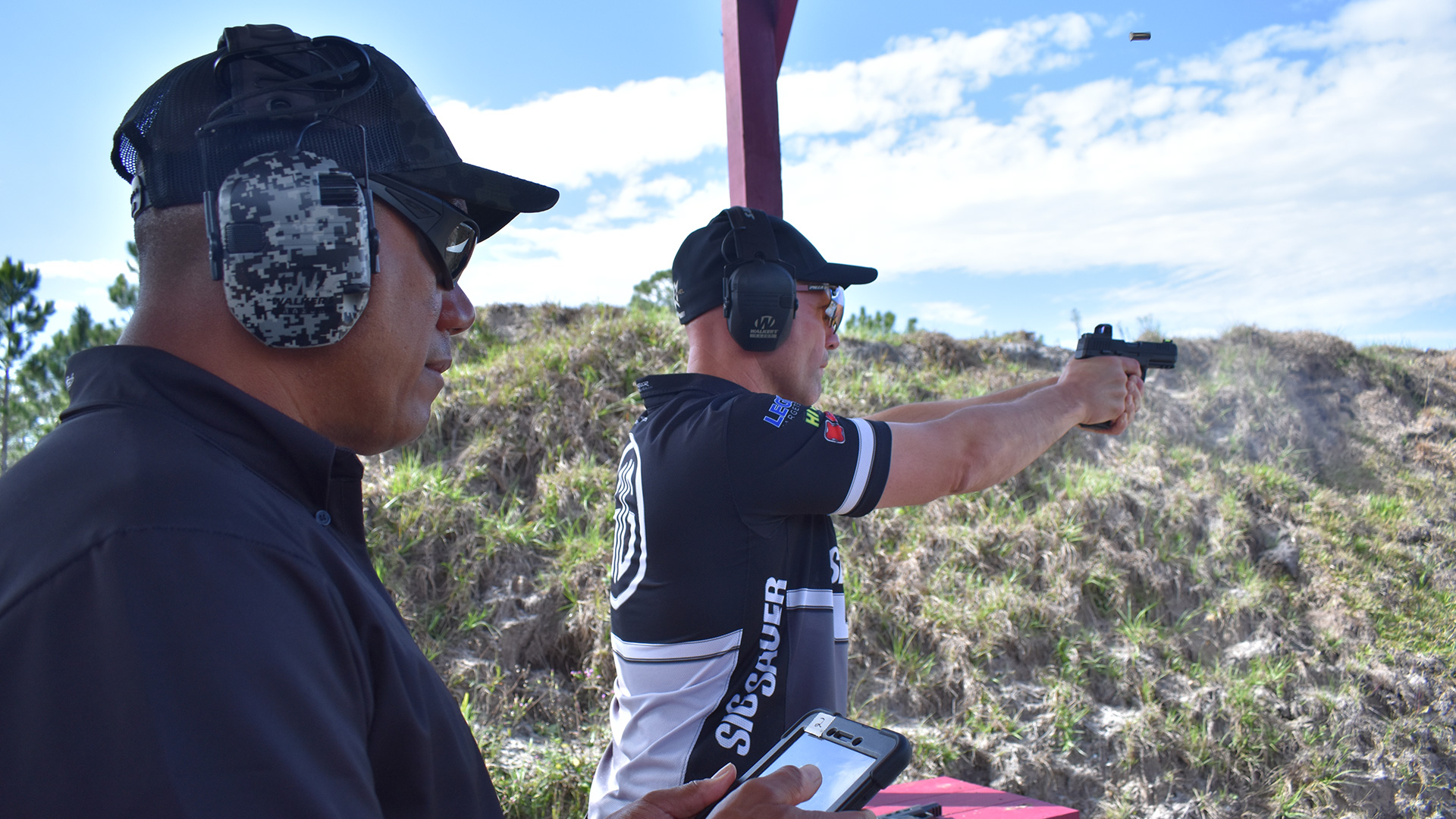 For those unfamiliar with Steel Challenge, each stage has a series of—you guessed it—steel targets. Some were rectangular, others were round. The goal was to shoot one round per target on each of the plates, in whatever order I wanted, as long as I hit the stop plate, marked in red, last. Each shooter would complete this stage five times. Times were recorded by an automatic timer and tallied on a tablet. Time penalties were added for missing targets or shooting the stop plate out of turn. It didn't matter where you hit the plates, just that you hit them. Solid performances by Max Michel and other Team SIG shooters highlighted the gun's potential. I didn't do terribly for my first time, and improved significantly by the end. The point of this match wasn't to compete against others, though that was fun too, it was to really get to know the P322.
The P322's greatest value for most will be as an entry-level gun for new shooters, along with newcomers to competition. The option to add a red dot is key. Though I enjoy shooting iron sights, my performance would have been better with a red-dot optic. The focus switching would have been eliminated. I appreciated the 20-round magazines, doing tactical reloads between stages so as to not run out of the CCI MiniMag ammunition we all took turns loading into magazines. We had no limit or penalty for number of shots fired. When loading the magazines, the first 18 rounds went in smoothly, the last two required the aid of the magazine loader. (SIG Sauer has 25-round magazines available for purchase. Smaller capacity mags for restrictive states are also in the works.) This gun also has a 1913 Picatinny rail, ideal for mounting a MantisX system.
Takedown is easy. Ensure the gun is clear, remove the magazine and pull the trigger. Turn the takedown lever until it is vertical then rack the slide back and up. It will come off in your hand. Do the reverse to reassemble. The four-inch barrel is fixed. Besides the trigger shoe, this gun is not modular. It's not intended to be poked and prodded and altered, it's meant to be shot and introduce people to shooting sports, firearms in general and the SIG Sauer brand. This doesn't mean if you are an experienced shooter, you shouldn't take a closer look at this new offering.
SIG really made this gun for everyone, with fully ambidextrous controls, a choice of a flat or curved trigger shoe (both are included) and easy-to-grip cocking serrations. The alloy slide is smooth and easy to pull back. Those who struggle with most handguns due to arthritis and similar issues should be able to operate this gun.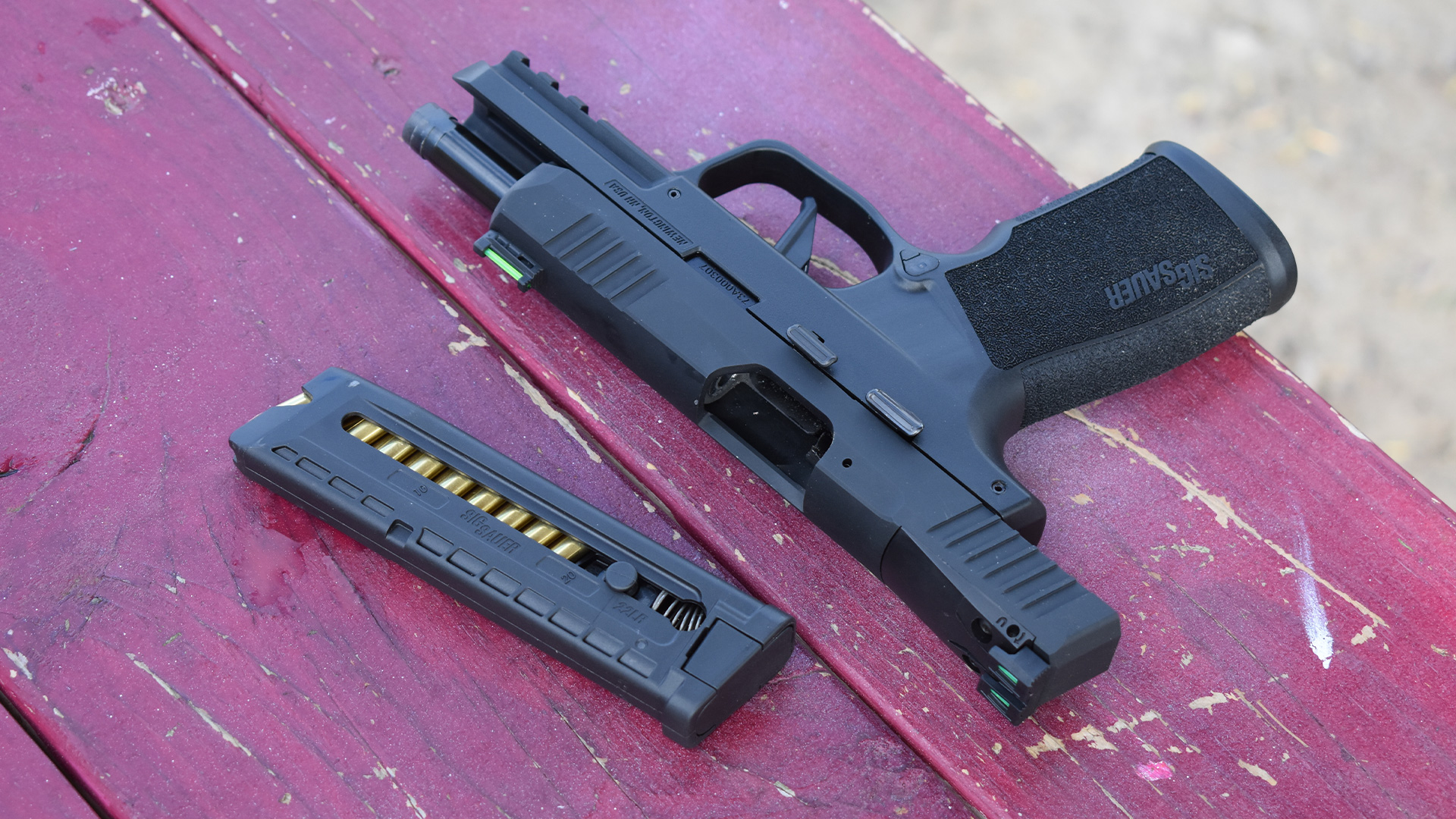 Highlighting the 20+1 capacity, SIG Sauer has listed 21 reasons to love the P322: "Twenty-one-round capacity, 25-round capacity with extended magazine, optic ready, threaded barrel, 1913 rail, made in U.S.A., manual safety, SAO enclosed hammer, ambi controls, adjustable rear sight, fiberoptic front sight, flat and curved triggers, two magazines included, low-cost training, easy takedown, ergonomic design, stainless steel frame, aluminum slide, cocking serrations, integrated magwell and included magazine loader."
I love this gun and its impressive list of features. No matter your experience level, the P322 has something for you. Learn more at sigsauer.com.