Above: Sisters Emma (left) and Aliya (right) both competed at the 2017 Camp Perry Open—Emma's first real competition.

The bond between sisters is powerful. Songs, movies and even real-life narratives of sisterly strength have been told time and time again. And at a small air gun match in Ohio, another story played out that proved the undeniable and deep connection between siblings can show up anywhere.
Emma Butt, 10, was one of the youngest competitors at the 2017 Camp Perry Open—her very first competition. Having only been involved in competitive shooting for a little over two months at the time of the CMP match, Emma chose to compete in air pistol after a, well, small detail kept her from the rifling side of the range. "I wanted to do rifle, but they said I was too tiny to do it, so Dad said I could do pistol," Emma said. "I was like 'Okay, I'll try it out!' And I actually really like doing pistol."

A smile came to her face as she explained one reason why she likes pistol over rifle, saying, "There's not as much to carry. A tiny case—that's it." Because of her petite stature, Emma uses a weighted sling to help her reach the proper height to fire safely onto the target. Although she was uneasy about competing in her first competition, she brought something along with her that helped calm her nerves—her sister, Aliya.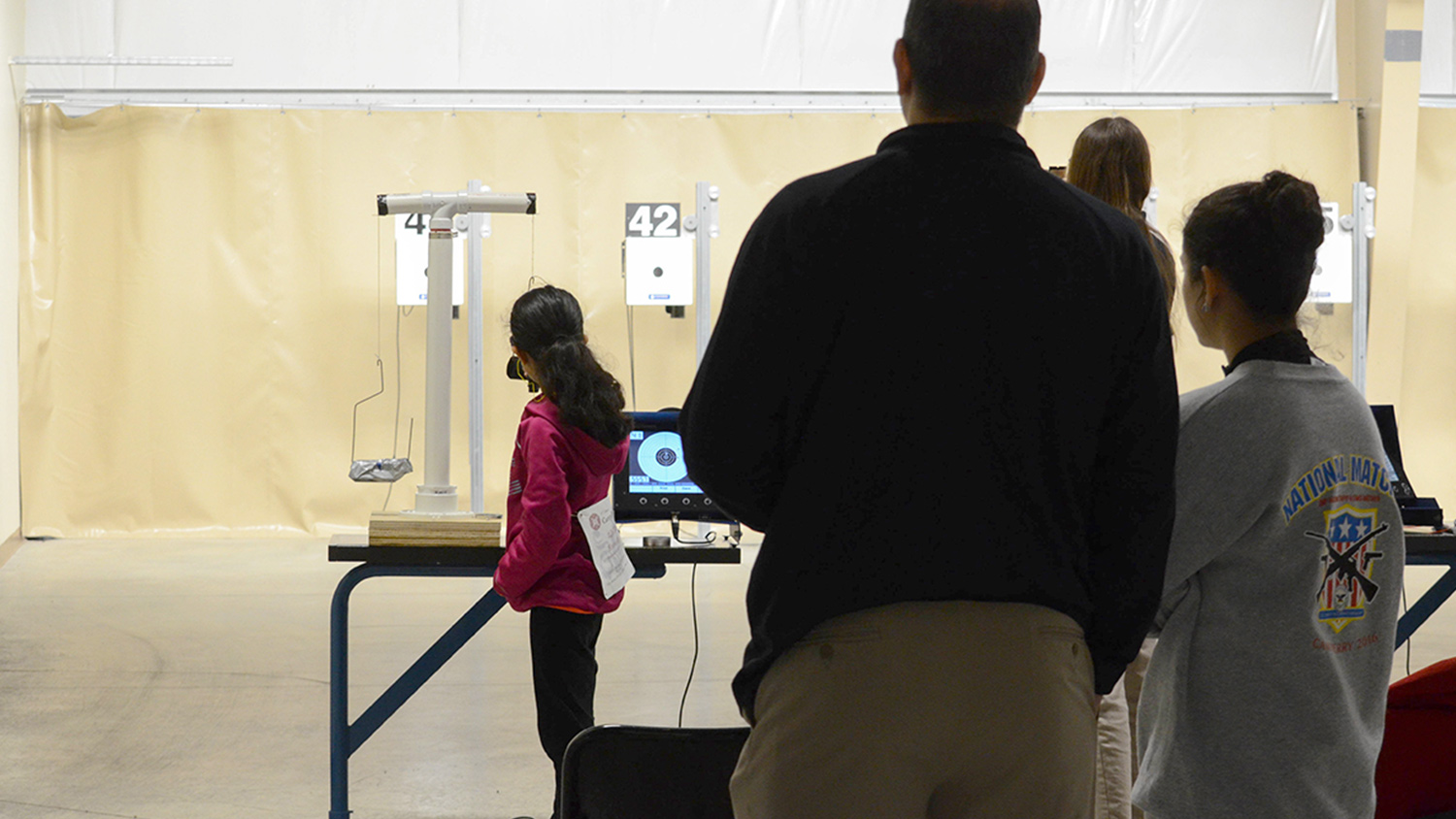 During the match, 15-year-old Aliya stood far enough behind Emma to stay out of her vision, but close enough to keep an eye on her. When Emma would come off of the line, she looked right to Aliya for guidance. Aliya said, "I know that coaches can be tough on her, so I'll just tell her, 'Emma, you're 10-years-old. Girl, nobody's going to be looking at you. You don't have to be nervous about the whole competition.'"

She added, "It's kind of just support for her. I'm not a pistol shooter, so I can't tell her what to work on, but I can just say, 'You're doing great to me! I could never do something like that!'" Though Emma loves having her sister's support, she admits she doesn't really like when her family watches her compete—it only adds to the anxiety. As it turns out, she's not the only Butt athlete who feels that way. "I don't let her watch me, so she doesn't let me watch her," said Aliya, who is an air rifle competitor. "I don't let my father watch me either. I don't want them seeing any bad shots!"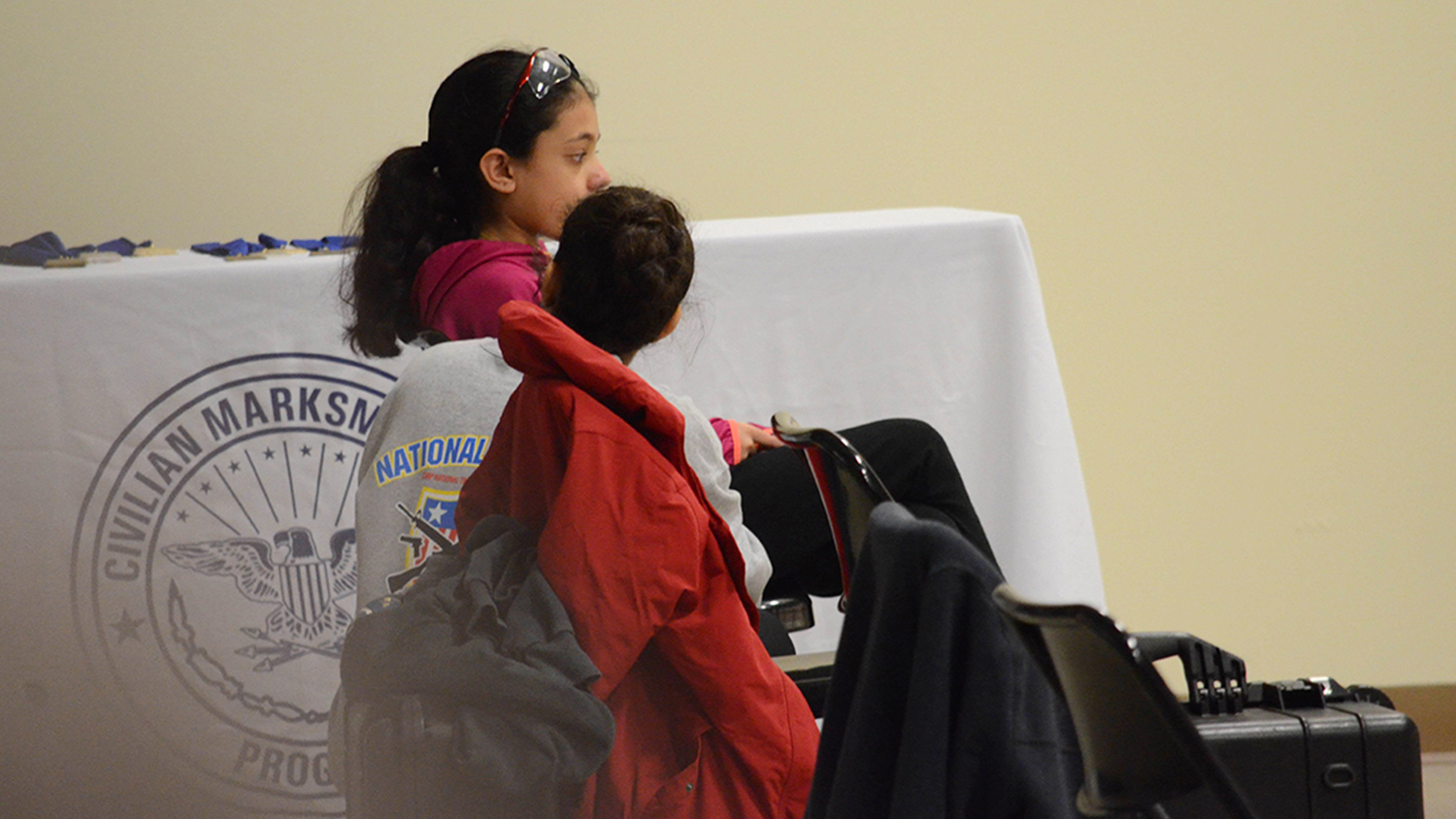 Their dad, Basit Butt (who, accordingly, doesn't like when his daughters watch him compete), was shooting pistol at the same time as Emma at his first Camp Perry Open. A competitor at the the girls' Maspenock Rod and Gun Club in Milford, MA, Aliya says her father is the one she credits for getting her so involved in competitive shooting. "He's the one who was more excited when I first started, wanting to go to the club. I wasn't even as excited as he was," she said. "He was like, 'One of my girls is shooting! This is great!' He kind of had to coax my mom into it, but he's always with me on all of my trips."

There are four girls in the Butt family, and each has her own nickname. The girls' older sister has been branded "Big Butt," while Aliya has earned the name "Middle Butt" and Emma is deemed "Little Butt." Their baby sister has appropriately been coined "Baby Butt."

"If your last name is 'Butt,' you've got to put it to good use, you know?" Aliya said with a laugh. In fact, she embraces her name and doesn't mind being the "Butt" of jokes. She even tried to get her last name stitched in the, uh, corresponding spot of her precision pants. But, unfortunately, it didn't happen.

"Such a wasted opportunity!" she joked.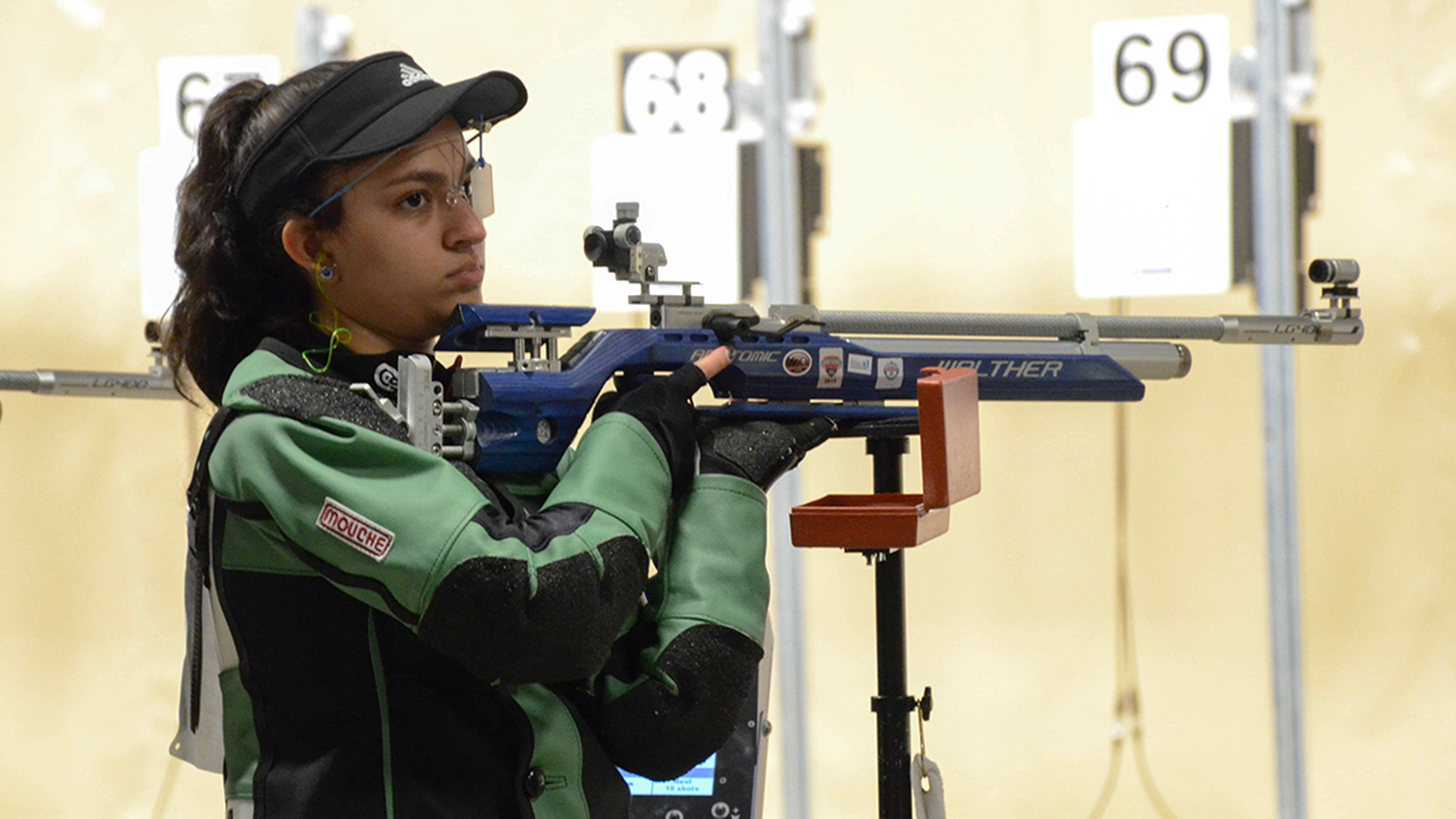 Aliya has been to Camp Perry five times, her most recent visit marked by her third Camp Perry Open, where she finished the highest out of her Maspenock teammates and a respectable 26th place finish overall, among a field of over 160 adult and junior rifle competitors. When it comes to marksmanship, Emma has a lot to look up to in her sister. Aliya began her career in 7th grade after taking a safety course and falling in love with firearms. Wanting to get more involved in shooting sports, she found a local junior team and quickly joined.

"Nobody else knew that rifle shooting was a sport," she said. "People always think, 'Oh, you're a girl. You can't do that.' But I prove everyone wrong, and that's really fun to do." Actually, being a female competitor in a co-ed sport fuels Aliya to work even harder. She feels that standing as an independent young woman with her rifle makes her more resilient—and, of course, it's just cool.

"I feel like it kind of makes you [look tougher]" she joked. "The guys in my class will ask, 'Do you want to go air softing with us?' And then another kid will go, 'No, she'll beat us all!'" She added, "It's really good because almost everyone I know is really supportive of it, so it's really cool."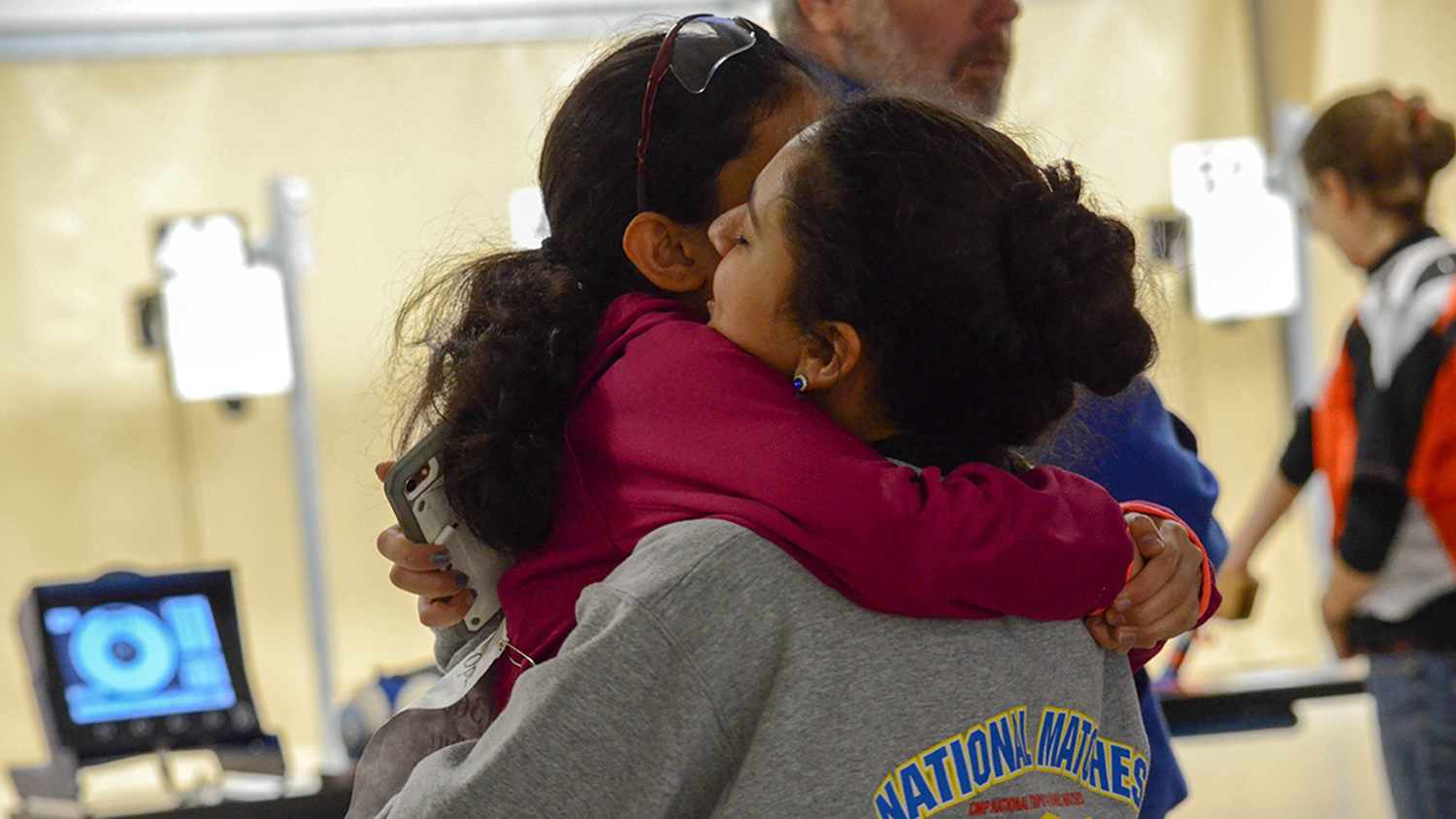 In 2015 and 2016, Aliya and a few of her Maspenock Rod and Gun Club teammates traveled to USA Shooting's National Junior Olympics in Colorado. She has emerged as a natural leader on the team, which was easily seen at Camp Perry as she anxiously kept her attention on Emma, who stood firmly on the firing line knowing her sister was nearby. Once Emma took her final shot at the Camp Perry Open, she came off of the line with palpable relief to be finished with her first match. She was quickly snatched up by Aliya who tightly wind her arms around her sister and held her close—a touching embrace that sparked others in the crowd to smile right along with them.

"It was so much fun," Emma said. "I definitely want to come back." Looking to the future, Aliya aspires to shoot in college, potentially for a school like Ohio State that has a top medical program to propel her other ambition of a career in anesthesiology. "But I really want to make the 2020 Olympics. That's the goal." As for Emma, she plans to keep on competing—looking up to receive tips from her dad and the continued encouragement of her older sister. "I just like shooting the pistol, in general," Emma said. "I just really like it. It's fun." And, of course, Aliya will be behind her, helping her out every step of the way.

"She's my little one," Aliya said. "We've got each other's back."