by
Evan Brune, Associate Editor, Shooting Illustrated
posted on August 14, 2019
Support NRA Shooting Sports USA
DONATE
Even with the increased consistency of today's match-grade factory rounds, there are still an incredible number of reasons for serious shooters to load their own ammunition. From developing tailored match loads to your precision rifle to shaving costs off bulk training ammunition to handcrafting obsolete rounds for antique guns, most of today's enthusiast crowd can find value in having a reloading setup on-hand. However, aside from the initial costs needed for a solid reloading setup, there's one other important variable that many don't address—space.
More people live in cities today than ever before. In 2010, the United States Census recorded that 80.7 percent of the U.S. population resided in urban areas, where space constraints are a fact of life among apartment, condominium and townhome dwellers. Recent housing trends also indicate that even the average size of single-family homes is on the decline, with new construction of houses and multi-unit dwellings showing a decrease in average square-footage from 2017-2018.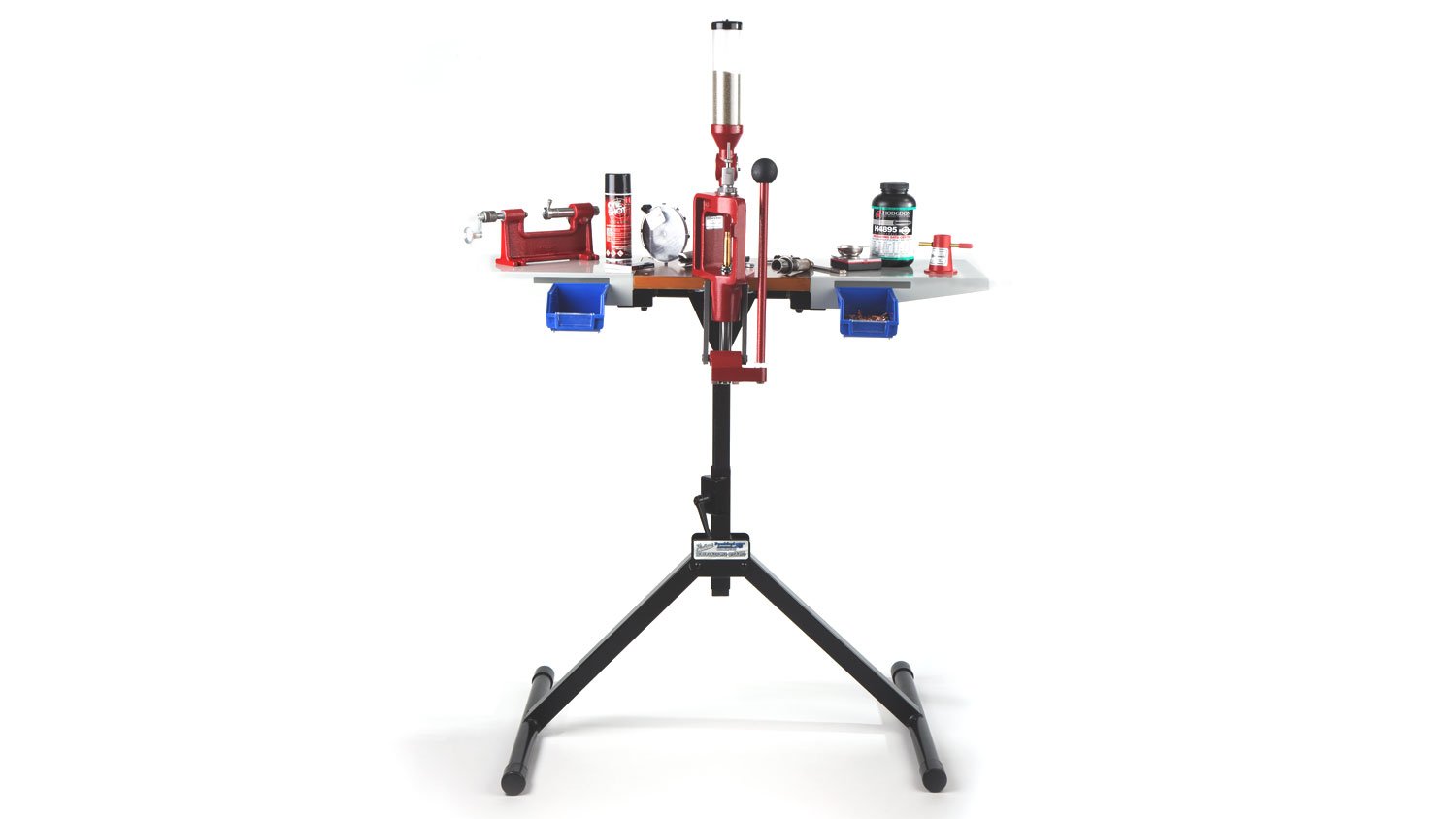 Millennials make up the latest home-buying generation and are also an important target market for the firearm industry, as they represent the next wave of enthusiasts to join in purchasing firearms, ammo and accessories for recreational shooting. As these younger shooters join competition and training circles, the benefits of reloaded ammunition become more evident, particularly in cost-savings when using bulk components. However, the common conception of a reloading bench is one that doesn't fit the realities of many living situations today. Take me, for example.
I'm a Millennial who likes guns, particularly older guns that don't fire ready-made ammunition sitting on a shelf at Walmart. I also have rifles that I'd like to tailor loads for specifically, so that I can see what they're capable of when fed with fine-tuned ammunition that works best with that gun's chamber and barrel. To enjoy these older guns, as well as see how precisely my rifles are capable of shooting, it's necessary to have a reloading setup that allows me to develop the rounds I need to keep my old guns alive.
I live in a smaller space in a multi-unit building with less than 1,000 square-feet. This reality is at odds with what might be considered typical reloading setups, which are often pictured on large workbenches fit for single-family properties with exterior structures, like pole barns, workshops or garages. There's a bit of a bias in the handloading community and marketplace, as it's definitely geared toward a crowd that has more space than most Millennials or even potential newcomers have to devote to such an operation—not to mention the added costs.
I first began tackling the issue of space-constrained reloading several years back, developing rifle and pistol loads on a Lee Breech Lock Hand Press Kit. For those looking for a truly minimalist reloading option, it's hard to go wrong with such a setup. But there are limitations with a hand press, as it doesn't give you as much leverage, versatility or strength as a bench-mounted press. Not to mention that working with a hand press is about as slow as reloading gets, outside of using hand tools. I eventually graduated to the point where I needed to form my own brass to feed an 1887 Mk. II Martini-Henry, and there was no way I'd be able to do the work needed on a hand press, so the search for a simple bench setup for a single-stage press began.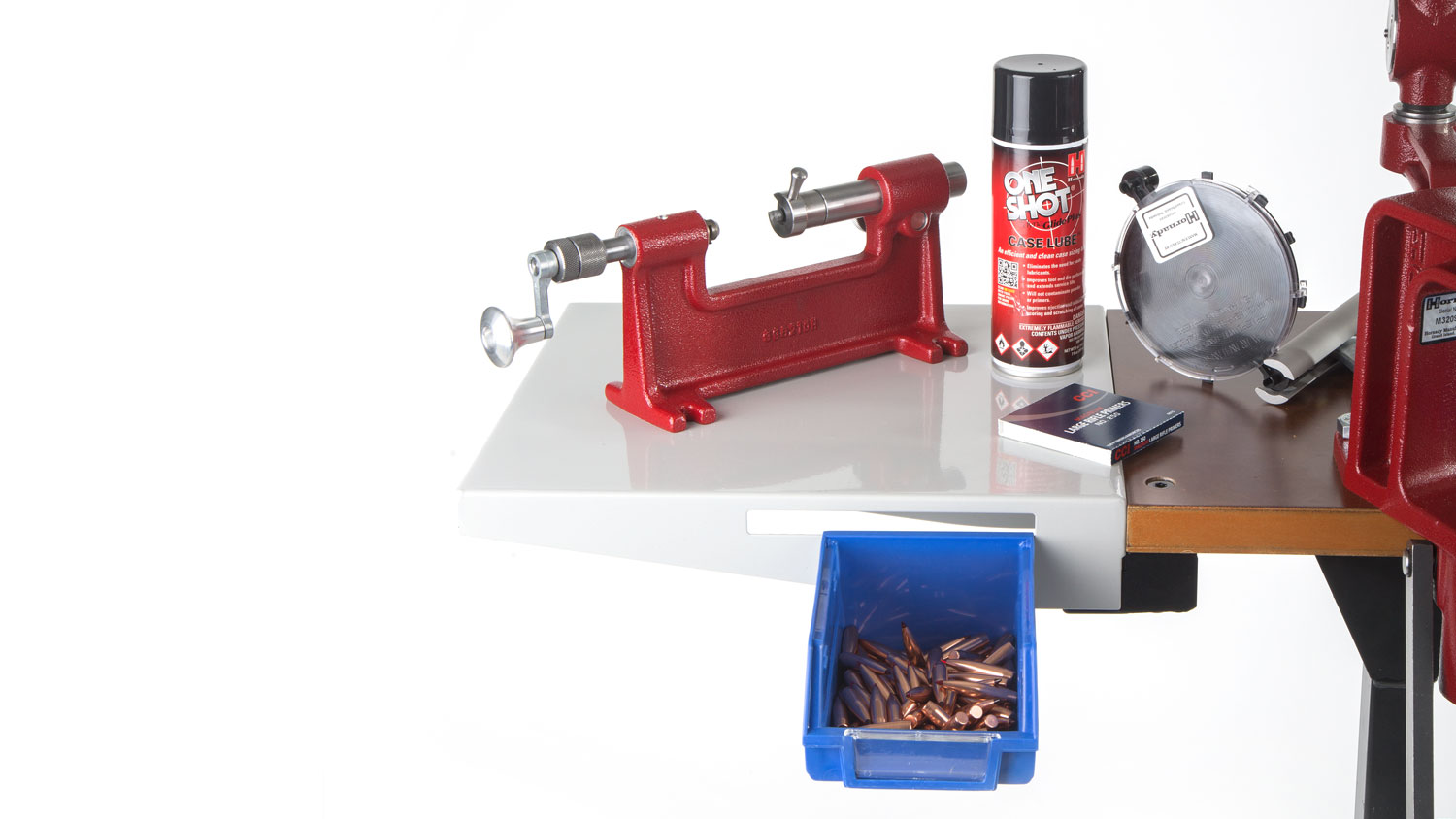 Striking a balance between compactness and usability turned out to be quite a chore, as I found during my search for the right reloading setup. Of course, there are countless forum threads and articles online discussing budget-based methods for setting up a handloading rig, but none of them seemed to really address the space aspect. Sure, I could find an old desk on Marketplace to bolt a press onto, but that still didn't help me with the fact that I don't have room for a permanent reloading bench. Other suggestions included a do-it-yourself option that involved modifying a Black & Decker Workmate bench, which is certainly an option for those inclined. However, for about the same price as a modified general-purpose Workmate bench, Frankford Arsenal offers its Platinum Series Reloading Stand, which provides much more space for reloading tools, as well as plenty of mounting space for a press and powder measure.
Each Frankford Arsenal reloading stand features two T-shaped legs that jut out from each side of the bench top at what looks to be almost a 45-degree angle, providing a wide base for extra stability. The center column of the bench is a piece of square-tube steel that's adjustable for height, so you can set the bench top at whatever level is needed for comfort during extended periods at the bench. That alone is a huge bonus over fixed-top benches and desks.
At each side of the mounting surface, which is made from some form of composite laminate measuring 1-inch thick, there are two stamped-steel work surfaces that fold down when not in use and can even be removed entirely, should you prefer. On either side of these metal shelves, cut-outs allow for the use of two included side bins for more storage, and Frankford sells spare bins for the kit if you want to make use of all four slots at once. When not in use, both legs fold along the central support column, and the side shelves fold inward, which allows the entire unit to be stored easily inside a closet.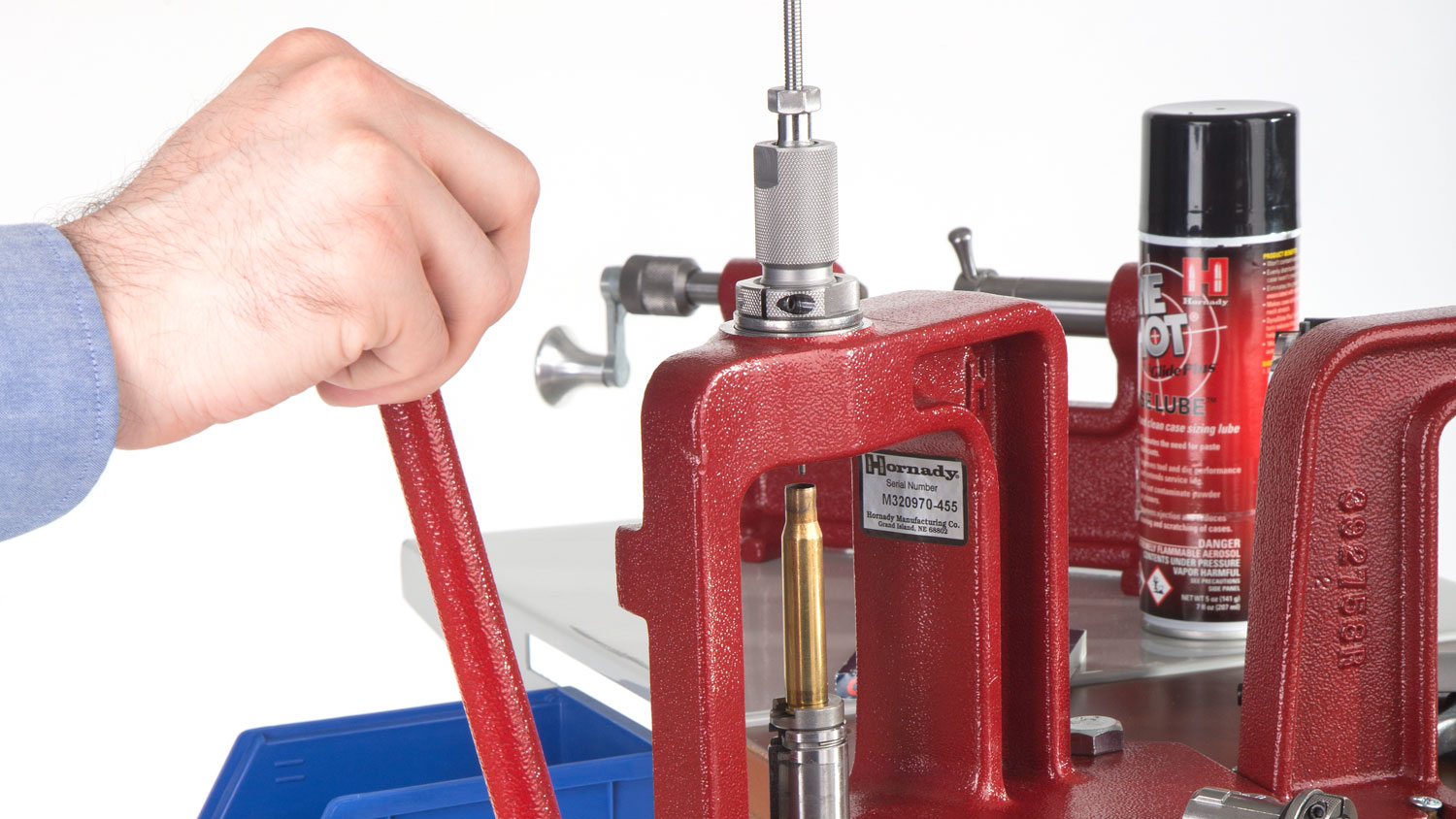 Now that I had my bench, it came time to decide what press to put on top of it. Those who are clued into the reloading world know that there are a number of highly rated presses on the market from the likes of Dillon, Lee Precision, Hornady, Lyman, RCBS, Frankford Arsenal and Redding. Though each press has its list of potential pros and cons that are debated over endlessly among handloading enthusiasts, you can't really go wrong with any of them. Getting a complete starter kit is advantageous for beginners, since it'll provide most everything needed to get rolling on reloads without your needing to dive into time-consuming research into which tools to get for what parts of the process. Though many companies have some kind of starting kit tailored toward newbies, Hornady in particular makes an outstanding all-around option in its Lock 'N' Load Classic Kit.
Everything you need to start reloading is contained inside the Classic Kit, including a Classic Cast single-stage press, powder measure, electronic scale, priming tool, chamfering-and-deburring tool and more. Of course, there are tools available that make aspects of the reloading process easier and quicker than what's included in this kit, but for a complete beginners kit that costs less than $300, it's a good starting point. Plus, none of the options in this kit take up an enormous amount of room, so this minimalist kit can handle add-ons as a reloader's experience grows.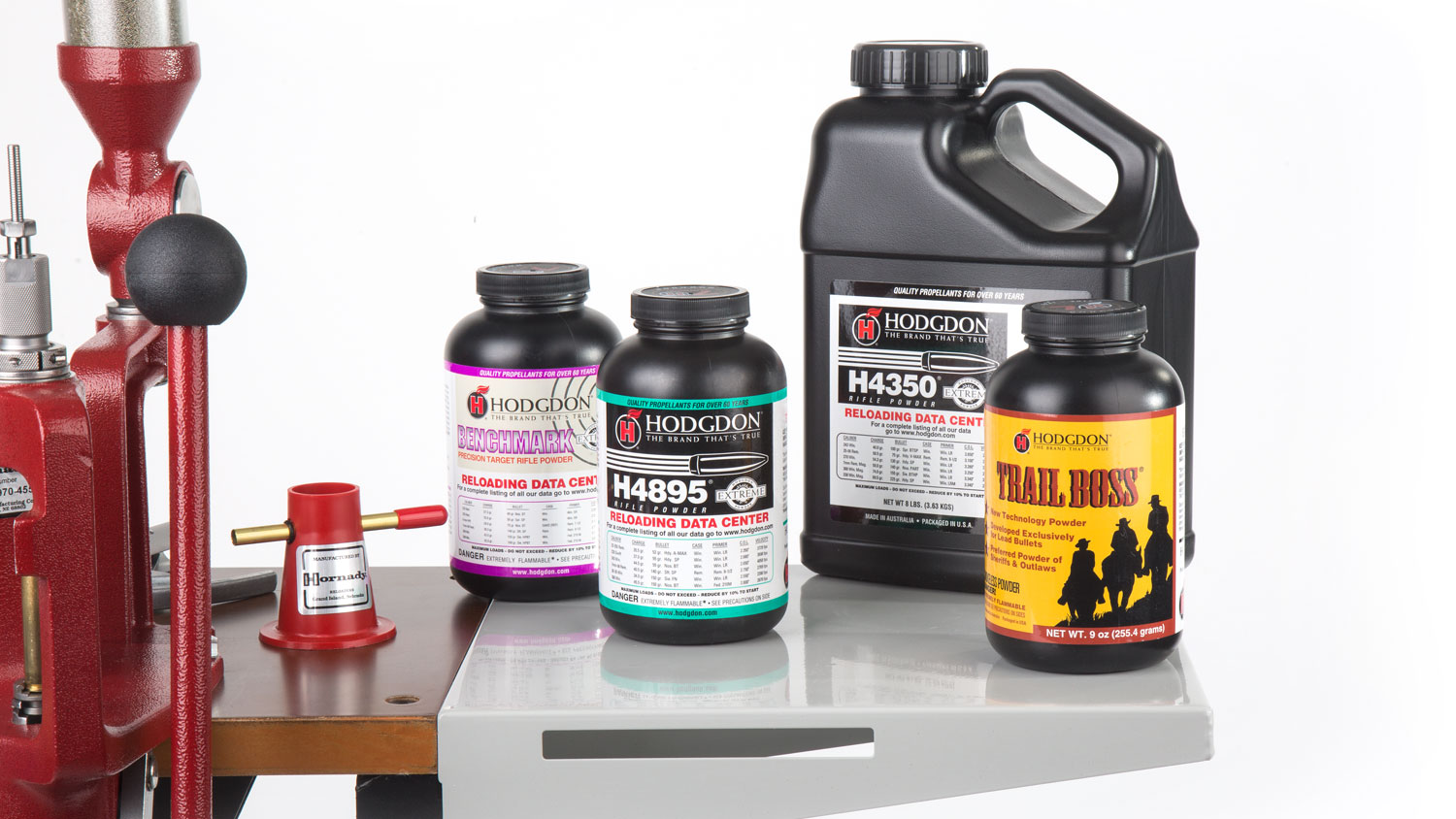 Mounting the Hornady Classic Cast press to the Frankford Arsenal reloading bench took just a few minutes. Those who choose to build a similar setup will need a drill to bore holes through the bench surface, along with a couple of correctly sized bolts and corresponding nuts to secure the bench into place. Once I secured the press to one side of the bench, I mounted the included Hornady powder measure so it would face the opposite side of the Frankford stand, allowing me to measure powder and fill cases on one side and operate the press on the other side. Even with the press and powder measure on the bench, there's still plenty of work space, thanks to the foldable side panels that offer room for a case-trimmer, chamfering-and-deburring tool, electronic scale and any other tool you might need while at the bench.
Though Frankford describes its Platinum Series Reloading Stand as "extremely rigid," be aware that there's a bit of flex from the bench, particularly when you're doing work like resizing or forming cases. It's not a huge deal, but it bothered me enough that I cut two small lengths of 2x2 so that it could fit just underneath the front and rear edges of the laminate mounting surface. I also picked up some flat rubber gaskets and cut them to fit on either side of my DIY stabilizing rods to prevent marring my floor and the underside of the reloading stand, and this setup has worked so far in providing a rigid work surface.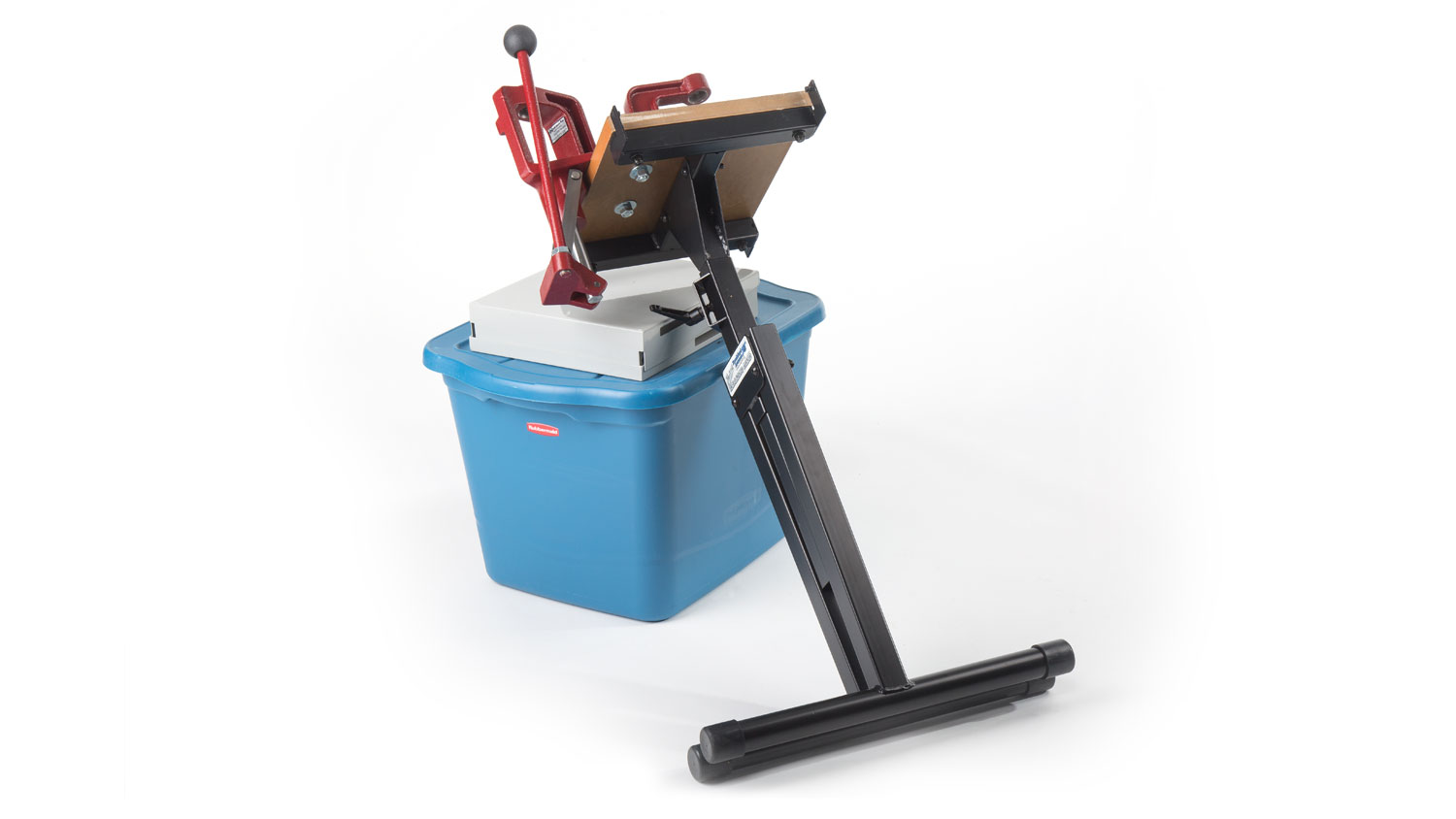 Though it isn't as stable as a full-on workshop bench, I'm impressed with the usability and compactness of this setup, as it does the work I need it to do without taking up too much space in my limited apartment. Like all hobbies, handloading can give you a serious case of the "wants" when it comes to tools that streamline your process. I've begun my own little collection, and I stash these added extras in a small box next to my folded-up stand. Yet another reason it works perfectly as a compact reloading setup for my own small corner of the world.
Photos by Peter Fountain.
---
See more: