Starline Brass has recently introduced cartridge cases for the .32 Auto. The .32 Auto has been chambered in numerous handguns throughout the world and adopted by many government agencies.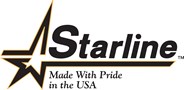 The .32 Auto, also known as the .32 ACP, and as the 7.65mm Browning in Europe, was designed for use in small frame semi-auto pistols. Its semi-rimmed design allows use in some revolvers. This light and compact caliber has recently gained popularity as a round for precision/bullseye competition in the Pardini pistol.

Starline has added the .32 Auto as a part of their ongoing effort to meet the growing demand for their superior reloading products.The .32 Auto is the latest addition to their expanding product line, which now exceeds 80 calibers. This match quality brass will be equally suited in defense loads in your daily carry gun, or with target loads in your target pistol. Starline's new .32 Auto cartridge brass is available in 500 and 1000 piece quantities.

To help novices, Starline offers a YouTube video series with helpful reloading tips. Focused primarily on pistol cartridges, these short videos can help anyone get started with metallic cartridge reloading. If you load pistol rounds on a progressive press, these videos can be particularly helpful. The on-camera host is Hunter Pilant, son of Carroll Pilant of Sierra Bullets.

Starline is a family owned business that prides itself on producing the highest quality brass cases available. Starline's unique manufacturing process and commitment to their employees has distinguished them from the competition for over 30 years.

To view the .32 Auto and order factory direct online, visit www.starlinebrass.com/32Auto.