Tammy Delano (Rome, NY) finished in 17th place today in R2 (Women's 10m Air Rifle Standing SH1) at the 2016 Paralympic Games in Rio de Janeiro, Brazil. It was her Paralympic Games debut at the Olympic Shooting Center after winning a R2 bronze medal at the International Paralympic Committee (IPC) Shooting World Cup in Fort Benning, GA, last November. She called today's match in Rio, "the hardest thing (she's) ever done—that's just the mental part of it."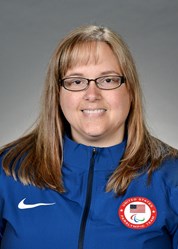 "I couldn't get my hold to be steady so I was overholding and I guess I just kind of panicked a bit," she said. "When I ran out of time, I couldn't overhold anymore and just had to let the shots go and they were fine. I definitely need to work on that. I just need to trust my process, trust my hold and just trust myself that I know what I'm doing!"

Overholding can be defined as "continuing to hold past the prime of your hold, before executing the shot," wrote rifle coach and USA Shooting Chief Executive Officer Dave Johnson in a 2009 story in USA Shooting News. "The prime of your hold can be when you are at your most stable; all your body systems are at their best window to produce a good shot within the movement you have."

Delano started out the match slow and struggled for the first 10 shots, but by the end of the match, Delano finished strong; shooting 10-shot strings that would have placed her among the athletes who qualified for the Finals.

"This definitely helped prepare me for Tokyo [Paralympic Games] so I don't get these kinds of feelings when I'm in the first even again," she said.

Veronika Vadovicova of Slovakia won gold in R2, setting a Paralympic Finals Record of 207.8. 2012 Paralympic Games gold medalist Cuiping Zhang of China won silver and Yaping Yan of China won bronze.

Delano will also compete in the R3 (Mixed 10m Air Rifle Prone SH1) event on Saturday along with her U.S. teammate John Joss (U.S. Army Marksmanship Unit/Corsicana, TX).

Taking to the firing line tomorrow will be the pistol shooters of the U.S. Paralympic Team in the P1 (Men's 10m Air Pistol SH1) and P2 (Women's 10m Air Pistol SH1) events. Marco DeLaRosa (San Antonio, TX) is the lone member of the Team to win an IPC World Cup medal (silver) in the P1 during his IPC Shooting World Cup debut in Szczecin, Poland. Though his teammates Shaun Tichenor (U.S. Army Marksmanship Unit/Brainerd, MN) and Michael Tagliapietra (Fond du Lac, WI) have made IPC World Cup appearances, DeLaRosa is the only athlete with a World Cup medal in Air Pistol. They'll face tough competition from Oleskii Denysiuk of Ukraine who has five IPC World Cup medals in P1 alone. South Korea holds the Finals World Record, the Qualification World Record and his home to the World Champion and Paralympic Games champion—look for these athletes to fill much of the podium as well.

Follow all results from the shooting events of the 2016 Paralympic Games at https://www.rio2016.com/en/paralympics/shooting.

Article and photos courtesy of USA Shooting.