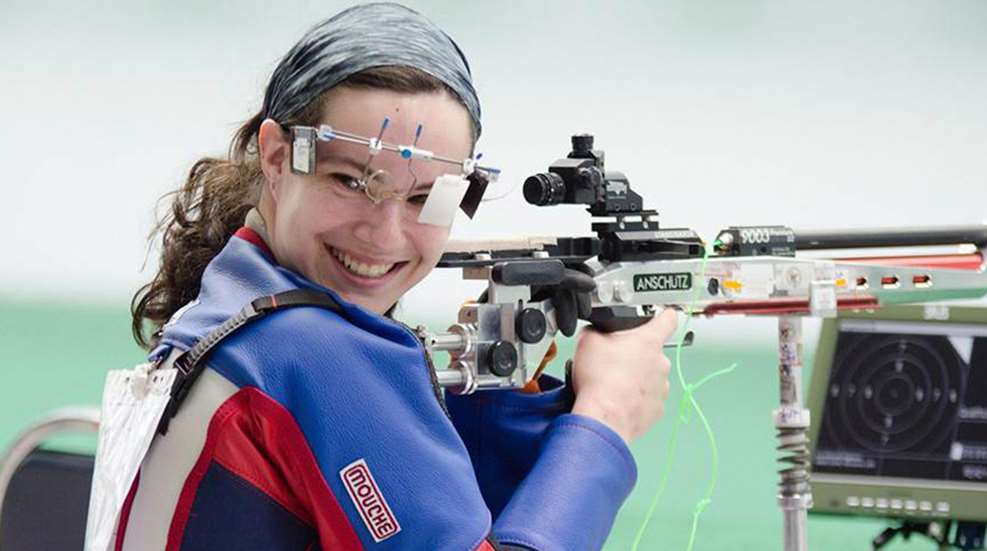 McKenna Dahl of Arlington, WA, made history last month when she became the first woman to win a Paralympic medal in shooting for the United States, when she won the bronze in the R5 (Mixed 10m Air Rifle Prone SH2) event at the Centro Nacional de Tiro Esportivo in Rio de Janeiro, Brazil.

Dahl was the youngest at age 20, and also the only woman from a field of eight that qualified for the Finals. She finished in third place with a score of 635.4. In the Finals, the top eight shooters from qualification all start at zero. Dahl lead early from the start of the Finals match, staying in the top three during the tight contest.
When it came to the elimination shot for the bronze medal position (the 18th shot of the match), Dahl was in second place and shot a 10.3. The then third place athlete—Geunsoo Kim of South Korea—shot a 10.8 to move ahead of Dahl—claiming the bronze medal.

"It's overwhelming!" said Dahl. "I knew about half way through the Final that I was in contention for a medal and I was probably going to succeed in doing so. A lot of it was really just shot process and breathing, keeping everything together and doing what I needed to do."

During her pre-event training (PET), Dahl noted some issues with her rifle's sights and did a complete replacement of her sights in the middle of the hour-long training session.

"I had some issues with my sights sticking early on and about half way through the PET, they started sticking again so Armando [Ayala, Paralympic Assistant Coach] had brought a new sight and we changed it out. I named it 'Aaron' to get to know it better and become comfortable with it. I had a date with Aaron that day and it went pretty well!" she laughed.

Dahl's medal win marks the first U.S. Paralympic Games medal in shooting since Dan Jordan won silver in men's three-position rifle in 2004. Roger Withrow—the only U.S. Paralympic Games gold medal winner in shooting—winning the Air Rifle Prone event in 1984.