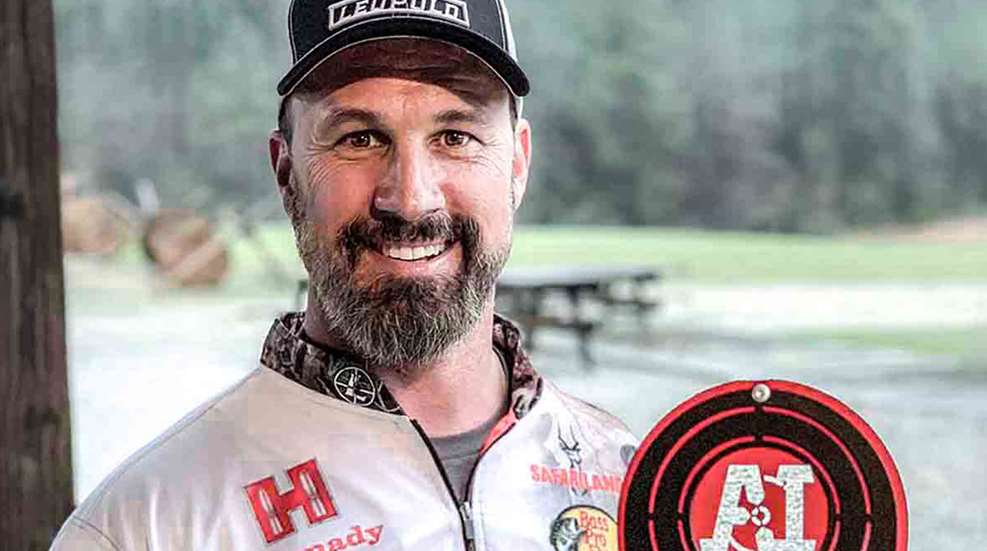 A lot has happened in Doug Koenig's world over the past year since we last chatted after his big move to Ruger as the company's new team captain. For starters, he's been tearing it up in the Precision Rifle Series (PRS) Production class in 2019, with multiple class victories already under his belt—including at highly competitive matches like the Accuracy International Long-Range Classic in Baker, FL.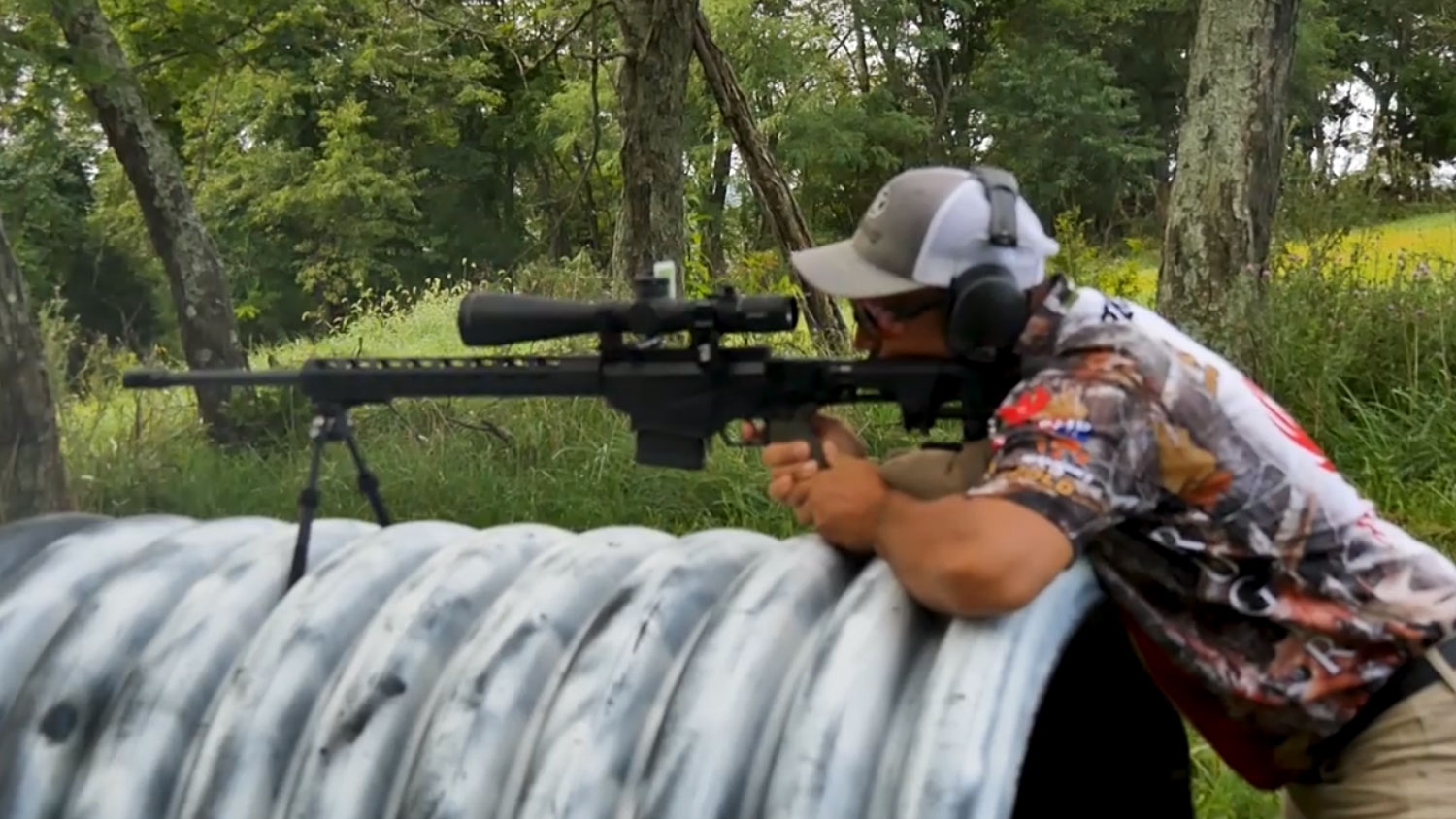 It gets better: Koenig notched a top 20 overall finish at the 2019 MPA Spring Shootout in Blakely, GA, with a final score of 173 and a time of 58.89. Perhaps most impressive of all, he finished 13th overall at the WAR Rifle Shootout in Mount Victoria, MD, with a final score of 128.00 and a time of 58.51. To put this in perspective, the next highest Production shooter at the WAR Rifle Shootout finished 74th overall. Keep in mind that Koenig is doing all this using a rig that is a fraction of the cost of what most PRS shooters are using.

I caught up with Koenig at the 2019 NRA Annual Meetings and Exhibits in Indianapolis this past April to talk about his year thus far, as well as his plans for the future.
Precision Rifle
Deciding on the Ruger Precision Rifle chambered in 6mm Creedmoor as his firearm of choice, Koenig dove headfirst into the PRS Production class. But, to meet PRS Production class rules, a gun and optic combination have limits of $2,000 each, giving a total of $4,000. This eliminates say, using a $1,500 rifle and a $2,500 optic. To stay within the rules, Koenig uses a Leupold VX-3i LRP 6.5-20x50mm scope. His setup comes in at about $2,000, which is well within the limits. This eye-opening fact should prove encouraging to prospective PRS shooters that are on the fence about joining in the fun of PRS because they are afraid of the cost.
Koenig typically runs his Leupold scope at 16x to 18x, depending on the size of the target and the distance. He can easily see his impacts through the optic without having to come off.


For ammunition, Koenig uses a factory load, Hornady's 6mm Creedmoor 108-grain ELD Match.
Similar to IDPA and USPSA, PRS has shooters moving in and out of position and being efficient with time, along with accuracy aspects. You can tell the kind of enthusiasm that Koenig has about PRS when you see the large smile when talking to him about it.
"I started shooting the Precision Rifle Series a little over a year ago and I really love it. It's an addictive sport that suits my personality and skill set."
Koenig notes that there aren't many shooters in PRS Production class. However, lack of competition isn't what drew him to it. We all know he has a competitive drive. The big reason is he wants more people to participate in PRS shooting (or any shooting sport for that matter). Koenig wants everyone to know that with a reasonably priced rig like his, they can still be competitive in PRS Production class, even against other shooters using gear valued north of $10,000. There is plenty of room for more shooters in the sport.
"It's pretty economical to get into PRS when you shoot Production class. You can use your hunting rifle if you want, with whatever optic you already have, and still hit a lot of targets. It's a lot of fun, and there are so many matches."
PRS is a trigger-control and accuracy game that Koenig is thrilled to learn. He is happy about his progress thus far in the sport.
"PRS fits what I want to do at this point in my shooting career. I'm having a really good time with it."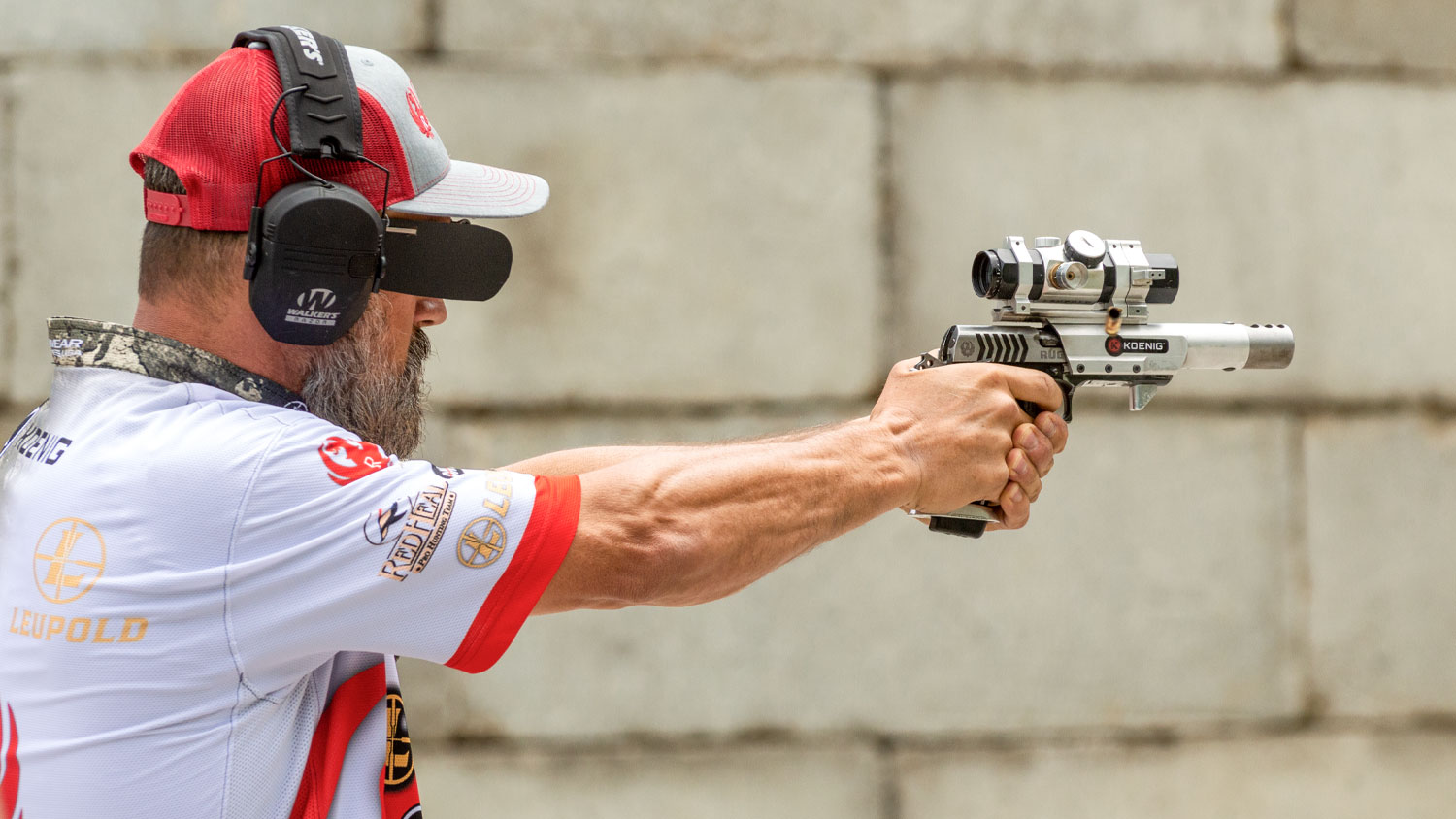 He is also quick to point out this isn't done competing with the action sports that he is traditionally known for. Koenig wants to keep learning more about the
nuances
of PRS.

"Not that I don't love the other matches, but I've done that for 30 years. [PRS] is a whole new opportunity to learn. I'm learning the game, I always want to learn. That's part of the excitement."
Earlier this year, Koenig still managed to outshoot a previous high score he set while in his 30s at the 2019 U.S. Steel Nationals.
"I shot my personal best score ever at the U.S. Steel Nationals, a better score than past years that I won it. I'm pretty proud of that."
New Ammo Line
Koenig has collaborated with Hornady to create his own small line of ammunition. Called "Doug Koenig Ammunition," as to be expected, the focus is on accuracy. At launch, Koenig says 9mm and 38 Super match loads will be available, similar to what he uses. Koenig has been working for the past few years developing the load. Hornady's contribution is a custom bullet. Available for purchase in the near future, Koenig says he wanted the new ammo to be perfect. Anybody who knows him is aware that he means business when it comes to performance and accuracy.
"My new ammo is not going to be the fastest or most powerful—but I can assure you it will be one of the most-accurate rounds you will ever shoot."
Koenig says that a faster, more-powerful defense load is also in the works.
"This isn't going to be clunker ammo … this is high-performance ammo for those seeking accuracy."
Chamber-View
We first brought you the story of Koenig taking over Chamber-View back in 2017. Although chamber flags are ubiquitous at ranges as gun-safety implements, Chamber-View offers a better alternative made of blaze orange silicone that keeps dirt and dust out of chambers. Koenig is especially passionate about the Chamber-View product for use with hunters. His belief is that since it keeps debris out, hunters will be more apt to use them. Visit DougKoenig.com.
---
See more:
Accuracy International Long-Range Classic