This article was originally published in the October 2012 issue of 
Shooting Sports USA
.


This story begins over a decade ago when my wife handed me a videocassette, saying: "I saw this and thought you might like it." It was
Quigley Down Under
. I had never seen it. Tom Selleck . . . a neat looking rifle . . . "Looks good. Thanks!" I said. Little did I know of the events that would follow.
Those of you who have seen the movie can pretty much guess what's coming next. (The few who haven't seen it should scamper off and view it immediately.) Tom Selleck plays a Wyoming cowboy, Matthew Quigley, who has been hired by an Australian rancher looking for "the world's finest long range rifle shot." A few minutes into the film, Quigley, who has traveled three months by boat to get to Australia, meets his employer for the first time. Wanting to confirm that Quigley is indeed a superb marksman, the rancher instructs one of the ranch hands to grab a wooden bucket and ride out toward a knoll until he is instructed to stop. He finally places the bucket atop the knoll where it is just barely visible. Quigley attaches the tang vernier sight to his Sharps 45-110, eyeballs the weathervane on the roof, watches the wind drift some sand from his fingers, makes a couple of tweaks to the vernier sight, and clobbers the bucket three times in succession with the heavy rounds from his Sharps.
When I saw that scene, I was thunderstruck. A little voice inside me said, "That's soooooo cool! I wanna do that!" But immediately, I could see there were problems. I didn't have a Sharps 45-110, and even if I did, being a shrewd judge of human nature, I figured the neighbors would react badly to me cutting loose with a Sharps in the side yard. Then Roger Clouser, writing in
Precision Shooting,
postulated that Quigley was shooting at a 17¾ inch bucket at 550 yards. Okay, I thought, but what about scaling everything down to one tenth and shooting at a 1.75 inch bucket at 55 yards with an air rifle?
I wrote several articles about the quest for "My Quigley Shot." Then, years ago, I got a call from Ed Schultz at Crosman Corporation, asking: "Could we please have 'the recipe' for the bucket shot?" They wanted to include it as part of the first Northeastern Regional Field Target Championships. "Of course," I said.
And that brings us to July 6, 2012, where scores of air gunners gathered for three days of shooting fun at Crosman Corporation during the third annual Northeast Regional Field Target Championships. More than 40 competitors entered the Quigley Bucket Challenge. The temperature was in the 90s under bright skies, and the assembled shooters were pouring down bottled water to stay hydrated.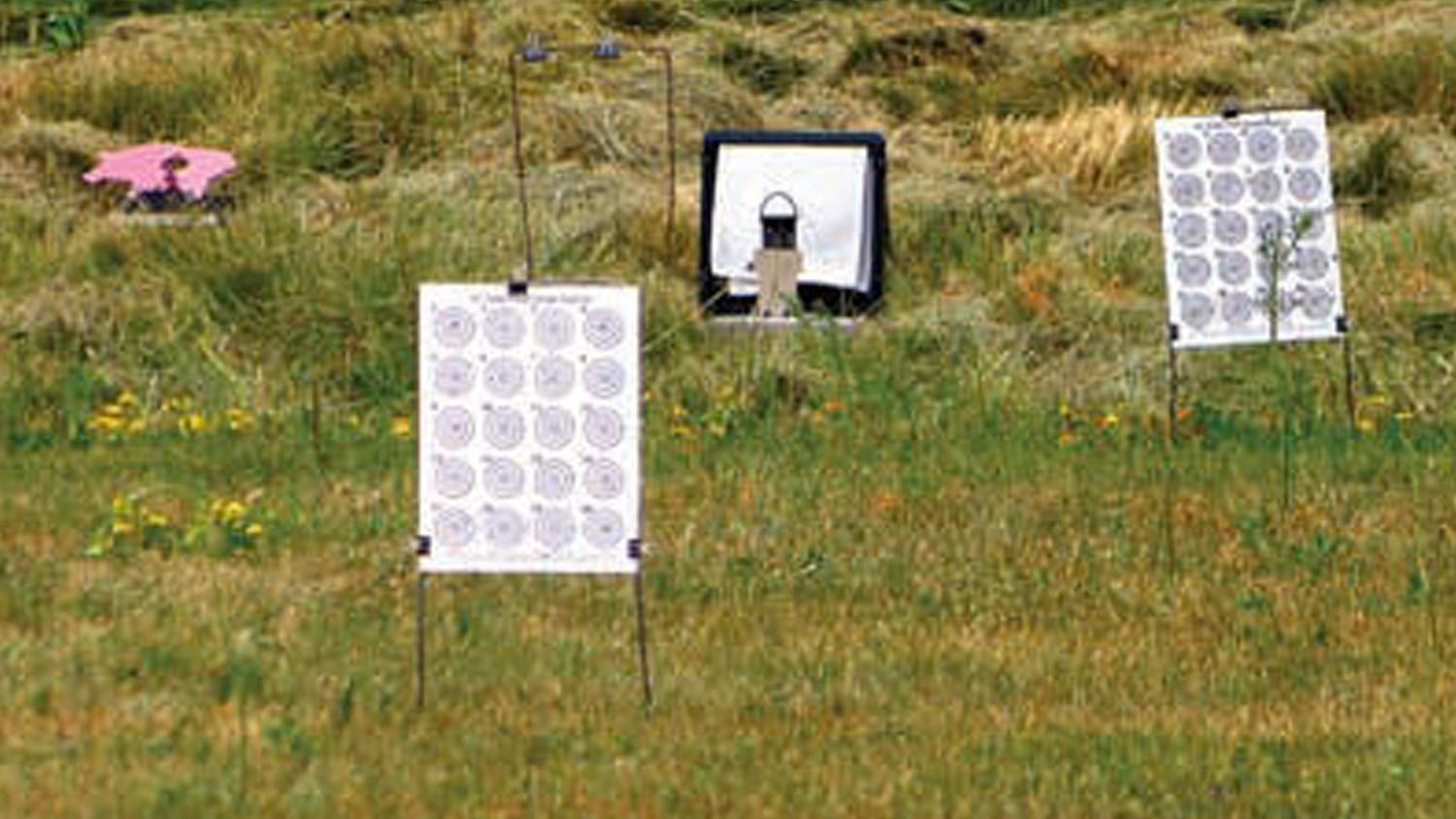 The start of the Quigley match was delayed because the air gun that Crosman had prepared for the challenge misbehaved. At this point, Chris Helm graciously offered the use of his modified Crosman Challenger, tricked out with the Kimber rear peep sight and Lyman match front sight, for use by all competitors in the Quigley match. At the end of round one, during which each competitor took five shots at the 1.75 inch bucket 55 yards away, only eight shooters had each hit the bucket once. As one competitor quipped, "The rest of the world was tied for second place."
Since no one hit the bucket twice in the first round, a second round, seven-way shoot-out was held. Competitors got three shots each at the bucket, and three shooters scored one knock-down each. This necessitated a third round shoot-out between 15-year-old A.J. Stewart, 18-year-old Dillon Schissler and seasoned citizen Richard Bassett.
In the end, Bassett convincingly shut down the younger shooters by hitting the bucket twice in a row. He walked away with the bragging rights for the Quigley Bucket Challenge, a Crosman 1720T pistol and Benjamin 90 cubic inch air tank.