In Sir Arthur Conan Doyle's 1894 book The Memoirs of Sherlock Holmes, Dr. Watson opined while observing his good friend Sherlock Holmes, "… that pistol practice should be distinctly an open-air pastime; and when Holmes, in one of his queer humors, would sit in an arm-chair with his hair trigger and a hundred Boxer cartridges, and proceed to adorn the opposite wall with a patriotic V. R. done in bullet-pocks, I felt strongly that neither the atmosphere nor the appearance of our room was improved by it."
In the late Victorian era, Holmes' hair trigger was most likely a Webley British Bull Dog revolver. His box of Boxer cartridges most certainly came from England's most prominent ammunition manufacturer—Eley.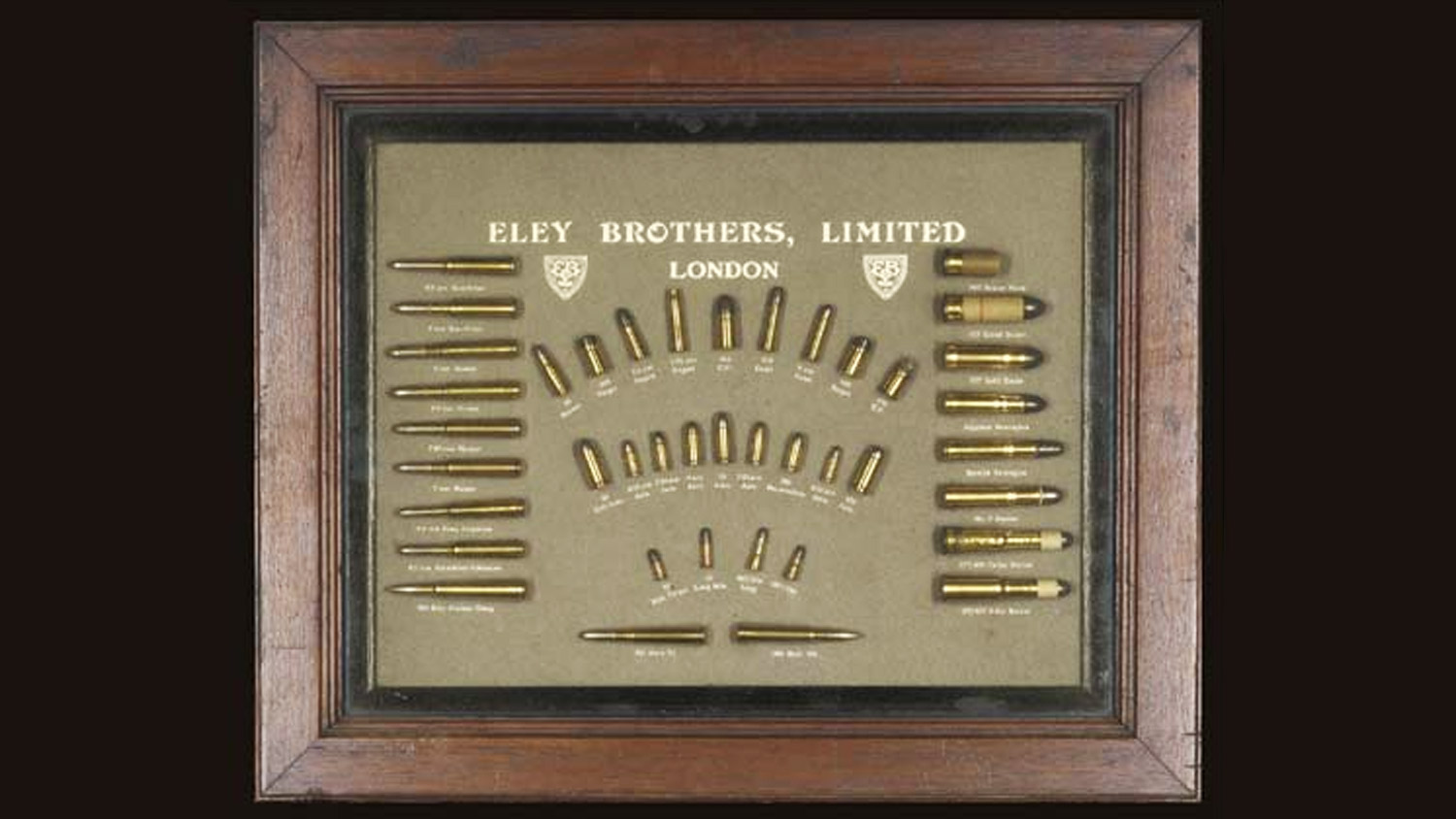 The Beginning
Some 30-odd years before Holmes took pot shots at the wall, brothers Charles and William Eley established an ammunition factory on Tile Kiln Lane, London. It quickly grew—both in size and reputation—that it became a key supplier to the Confederacy during the American Civil War. Around the same time, its first .22 rimfire cartridges were produced.
During the years between the two World Wars, Eley merged with Nobel and Kynoch to form Imperial Chemical Industries (ICI) which produced All-Range, a .22 rimfire competition cartridge, in an attempt to make a dent in a market dominated by U.S. companies. However, World War II put a stop to any research and development on improving All-Range. When smallbore competition resumed in Britain in 1946, Eley had little choice but to begin production of All-Range where it left off. That left British shooters who were unable to get U.S. ammunition at a severe disadvantage. U.S. products averaged about 1050 fps, while All-Range's velocity was 1180 fps, making it very susceptible to wind.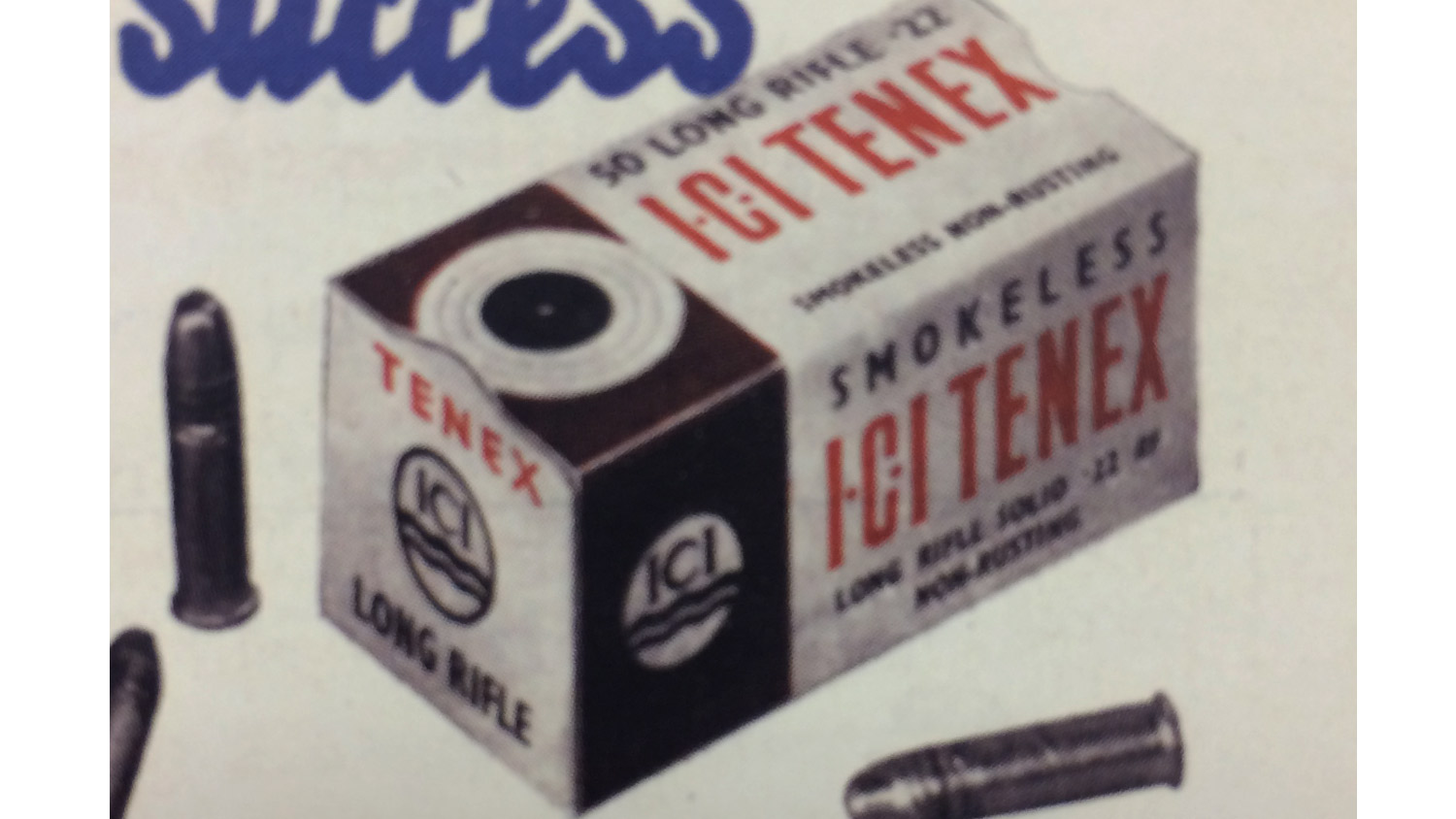 At the time, ICI sponsored a rifle club which had a stable of fine British shooters. It was not too successful though, having to use All-Range while other clubs were free to use U.S. products. This came to a head at the 1949 National Small-bore Rifle Association's (NSRA) Scottish Meeting when Arthur Skinner, an ICI employee (but not a member of the ICI Club) shot a very rare 300x300. He was congratulated by ICI Ammunition Director J.B. Nevitt, who asked what ammunition he used. Nevitt was less than happy to find out the clean score was produced by Western Supermatch Mark II. Soon afterwards. Skinner was both a member of the ICI shooting team and heavily involved with the development of competition .22 ammunition. 
Over the next two years, Skinner concentrated on designing production machinery and the facilities to house them. A major change was development of a wet styphnate priming compound and the machinery to spin it into the cartridge case rim. This was followed by research into finding an appropriate propellent. However, in an economy still recovering from war, circumstances dictated that a readily available supply of surplus military powder was obtained and reprocessed. While this was less than ideal, economics dictated that it would have to do for the time being.

With the new ammunition to debut at the NSRA's 1951 Scottish Meeting, a name was needed. U.S. ammunition came in boxes with confidence inspiring names like Peters "Tack Hole" and "Dewar Match," Remington produced "Palma Match," Winchester had "Precision" and "EZXS," and finally Western "Super Match." Eley needed something more emphatic. Arthur Traies, the shooting promotion officer, came up with it—Tenex.
Tenex did well in Scotland, winning the Class A aggregate as well as the Daily Mail and Daily Telegraph Trophies. Eley management was cautiously jubilant awaiting the results of the Bisley Meeting a month later. They were overjoyed when the major events, the Earl Roberts British Championship and the Bisley Grand Aggregate, were won by Tenex, marking the first time that ICI ammunition had won either event.
Lones Wigger's Favorite Ammunition
Despite its success Tenex was still new. Until the mid -960s, when U.S. manufacturers began to back out of the match ammunition business, it shared the spotlight with U.S. ammunition. Tenex grew in popularity and soon became the gold standard for smallbore competitive ammunition. Much of its popularity was due to its use by the legendary Lones Wigger who built his shooting sports career on Tenex. The only exceptions are when he was using RWS in the 1964 Olympics, and a short period when the patriotic rifleman backed the U.S.-made Federal match cartridge. Such was Wigger's influence, it was said that if he won the national championship wearing bib overalls and a straw hat, the shelves of clothing stores in Port Clinton would be stripped bare of those items by morning. The same may be said of Wigger and Tenex. It is a rare photograph taken at a shooting match where he is not prominently displaying the Eley logo on hat or shirt.

By way of improvement, ICI's Nobel Division developed Acurex powder to replace the reprocessed military surplus powder. After six Eley employees were killed in an explosion in 1973, the company focused on developing a new primer compound. The development of Eleyprime, a dry priming compound in 1979, as well as special tooling for injection of it in each cartridge case in a tightly controlled and evenly distributed amount, contributed to increased employee safety. Not only that, it was a major improvement in the quality of the ammunition.
Eleyprime wasn't the only change for Tenex in 1979. The familiar 50-round cardboard box, "Pasteboard" Eley, was replaced by the now ubiquitous plastic box, which also serves as a convenient loading block. Quite the innovation at the time, it too has evolved from a simple tray and cover, held in place by a label, to a more secure sliding tray whose label displays lot number and velocity. (See the evolution of Tenex packaging from "Pasteboard" Eley to the newest plastic slide drawer box in the photo at the top of this article.)
Being British, Eley management was probably not aware of Satchel Paige, Hall of Fame pitcher and philosopher, whose Six Rules for a Happy Life included, "Don't look back, someone may be gaining on you." By the late 1990s, a look back might have helped as Tenex was losing market share. One serious challenger was Dynamit Nobel's R50. Other competitors were the Russians—who were manufacturing small amounts of Olymp (Olimp) rimfire ammunition for its world class shooters and those lucky few who had both the contacts and rubles to get it—as well as Federal's Gold Medal Ultra Match, Finland's Lapua and Italy's Fiocchi.

Next Generation
Feeling the pressure, Eley marshaled its formidable technical and engineering expertise to improve Tenex performance. In March 2001, 50 years after its introduction, Eley unveiled the newest iteration of its flagship product. Gone was the traditional round nose bullet, replaced by a wad cutter shape lubricated with Eley's proprietary beeswax tallow formula. Cases featured a new crimping, and powder was measured electronically for consistency. To showcase the new cartridge Eley doubled down on Arthur Traies' Tenex—touting it as Tenex Ultimate EPS, the EPS standing for Eley Priming System.
Tenex approaches its 70th birthday with an enviable reputation. It has been used to win 125 Olympic medals since 1964, not to mention countless medals at World Championships and regional games, numerous U.S. championships, and even more NRA Regionals and Sectionals.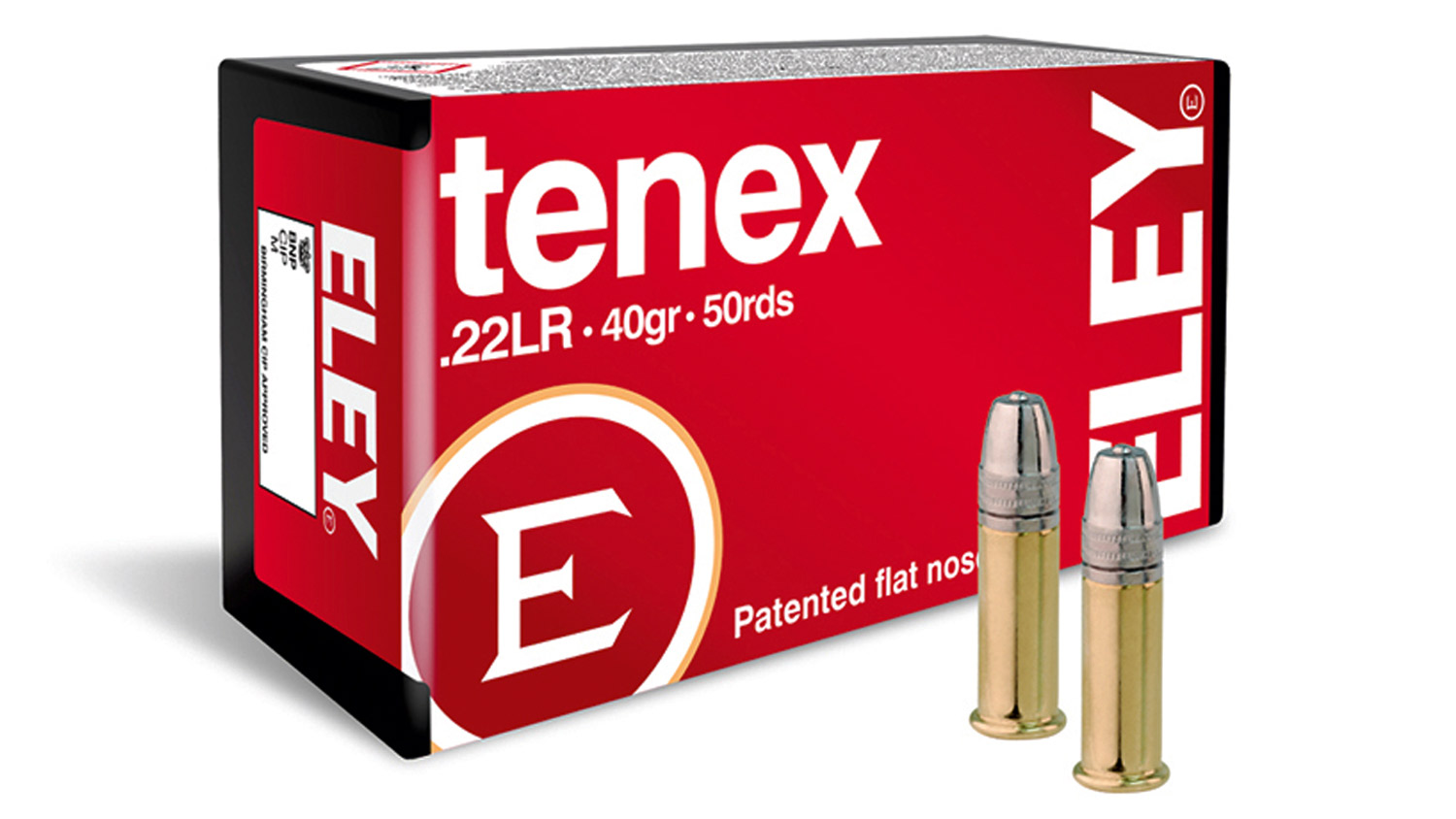 And today, just perhaps, a modern-day Sherlock Holmes might unlimber his Westlake Britarms .22 Long Pistol, one of the few pistols still allowed a subject of the Crown, reel a target down range at his shooting club, and with a couple of boxes of Tenex, adorn it with a patriotic E. R. II. (The royal cypher of Queen Elizabeth II.)
---
See more: