2015 has been a great year for Ginny Thrasher, this year's NRA Smallbore Metric 3-Position Champion, winning the competition with a score of 2305-81X.

Regarding the NRA Smallbore Championships in Bristol, Indiana, Thrasher told me:

"It has been very gratifying for me to spend the last three years competing in the sport I love, the NRA runs a great match with very dedicated staff. My dad and I road trip together to the championship and have a great time. Every year I have attended I have achieved more than the last."

From left: 2015 NRA Smallbore Metric 3-Position Champion Ginny Thrasher and Conventional 3-Position Champion Elizabeth Gratz pose for a photo at this year's awards ceremony. Thrasher also placed 2nd in the Conventional 3-Position Championship, just three points shy of Gratz's score of 2386-148X. The duo will be teammates this fall at intercollegiate rifle competition powerhouse West Virginia University.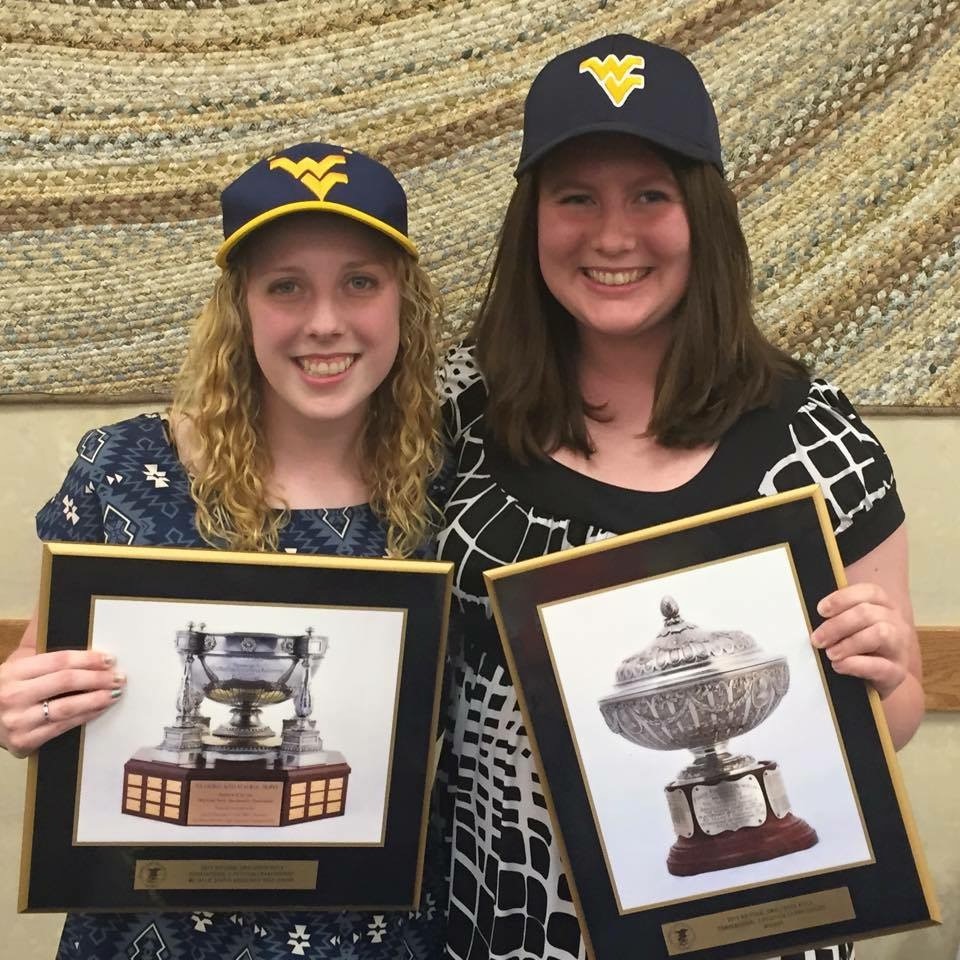 Earlier this year, Thrasher signed with WVU, and in 2015 the young competitor has enjoyed increased presence on the international shooting stage. The Mountaineer Rifle Team won both the NCAA Rifle and NRA Rifle Club Championship earlier this year.

In a few weeks, Ginny will represent USA Shooting at the World Cup in Azerbaijan. Immediately after that she will be headed to Morgantown, West Virginia for her freshman year at WVU. Ginny was kind enough to answer a few questions about this year's Smallbore Championship, how she got into competitive shooting and her plans for the future.

SSUSA: What gun were you shooting at Bristol this year?

GT: A Feinwerkbrau Model 2700 Super Match light. I am not the tallest person at five-foot one, so it's a perfect gun for my size. I really like the feel of the rifle, and it has great grips.

For ammo, I used Eley black and Eley tenex. I wear a Kurt Thune custom shooting jacket, it gives me extra stability and support, especially critical to me during standing. I will get a new shooting suit at WVU outfitted in blue and gold.

SSUSA: You won the NRA 3-Position Championship by 35 points. Did you do anything different in your training this year?

GT: Since I knew I was going to WVU in the fall, I knew I wanted to train harder. So I trained 5 days a week, about 2-3 hours a day in both smallbore and air rifle. My training helped me earn a spot on the World Cup team in Munich, Germany as an alternate. Prior to that match I trained even harder than I ever had in my life. My results were great in Munich, and I credit it to the increased training. Support from my family and coaches has been phenomenal. Thanks to their help I have been able to increase my training time, leading to great results in matches.

SSUSA: What got you into shooting competitively?

GT: In 8th grade, my grandpa took the kids in my family hunting. Usually, grandpa only took the boys out on this trip. I wanted to be the first female grandchild in my family to go hunting with grandpa. My grandpa agreed and so I got my wish. Even better, I shot my first deer not long after taking an NRA hunter safety class.

In August of my freshman year I shot a 3-position match and fell in love with it. I had recently moved to Virginia, so I tried out for the West Springfield Varsity Rifle Team immediately. I was Team Captain for three out of four years.

SSUSA: Did you ever have a shooting mentor?

GT: I have had a lot of great coaches, most notably Oscar Starz and Bucky Sills. Oscar and Bucky have been with me since the very first day I have been shooting. Without them opening the range early for me every morning, offering a sympathetic shoulder, etc. I would have never made it to the level of competition I am at now.

SSUSA: Why did you choose West Virginia University for school?

GT: The WVU rifle team has really good personality, and it is only four hours away from my home. Jon Hammond is one of the best rifle coaches in the country, and WVU has an international flavor. I train with some of the best competitive shooters in not just the nation, but the world. I won't be as nervous competing in future international events since I will have learned from other international shooters.

A big thank you to Ginny Thrasher for taking the time to talk to SSUSA. You can view the complete 2015 NRA Smallbore Championship results here.