Vortex Optics will be the official optics sponsor of USPSA for the 2022 competition season. Vortex has stepped up in a big way and will be sponsoring all eight of the USPSA Area Championship events, along with the USPSA Nationals and the World Speed Shooting Championship later this year. Vortex will also be the awards banquet sponsor for the USPSA Multi-Gun Nationals and the Carry Optics Nationals events.
Ever since Jerry Barnhart stuck a red-dot scope on his pistol and won a World Shoot and USPSA Nationals more than 30 years ago, competitive shooting has seen an increase in the use of optics on pistols. This is nothing new in Bianchi Cup and Steel Challenge, as the top competitors have been using red dots for more than 30 years as well. Law enforcement and the military transitioned to optics on rifles many years ago, because of the ease of training a person with a dot compared to irons. They also saw better results with their hits, too.
Outside of competitive shooting, however, civilian, law enforcement and military shooters have been slow to adapt to optics on handguns. A lot of that has to do with reliability, and handguns having to be modified to accept an optic. But, the firearms have changed, and many pistols coming out are now optics-ready or have a model that is.
Looking back at the activities reported for USPSA, we can see the trend starting to spike. In 2018, Carry Optics and Open were 25.4 percent of the activities that year, and if you add in PCC it is 37.2 percent. By 2019, it jumped to 31.5 percent for Carry Optics and Open, and 44.5 percent with PCC. In 2020, Carry Optics was 24 percent and Open was 16.2 percent totaling 40.2 percent, and PCC increased to 53.1 percent.
At the end of 2021, Carry Optics took over as the most popular division, which had previously been Limited. As for the reported activities, 30.8 percent were in Carry Optics and 17.34 percent in Open for 48.14 percent; with PCC, that jumps to 60.4 percent. The 13 divisions of Steel Challenge have six that are optics-based. In 2020 that was 66.58 percent, and in 2021 it rose to 71.4 percent of the results.
The optics are better and the guns are coming optics-ready or even with sights mounted. Plates are available, and you no longer have to send your gun to get cut for an optic. So it makes sense for a company like Vortex Optics to make a huge commitment to the shooting sports.
Vortex Optics is more than just an optics company, it is a people-centric company that builds optics, accessories and apparel. What do I mean by that? Well just that, everything Vortex does is for people. Customers, potential customers and their employees come first.
You hear about companies that say these things, but most of the time this is just lip service that makes for a great company motto. That is not what I experienced when I had a chance to visit Vortex Optics headquarters in Barneveld, Wisconsin. I have been on several "corporate tours" while in this role, and many more back in my retail days. You can get a feel for a company's culture just by the atmosphere of the room and how people are working.
When you walk into the main entrance, you are greeted with the Vortex showroom that is open to the public Monday through Friday, where you can buy optics, accessories and gear after you have checked out all the demos, which is nice. However, what I noticed was the customer service and sales departments were located right behind the showroom.
There are no walls, no glass dividers or doors for the Vortex staff to sit behind. The cubicles are short, and everyone is visible to everyone else, including the customers. For everyone I spoke with and interacted with there, the philosophy of "What's important to you is what's important to us" was clearly on display.
This has been the Hamilton family's vision since being founded in 1986 by Dan and Margie Hamilton. Vortex is an American-owned, veteran-owned, family-owned and operated business that set out to change how business is done by putting customers at the center of everything. Sons Joe, Dave, Sam and Jimmy have continued on with that mission. While walking through the building, you can feel the pride of the military background the family has with all of the images of fighter jets and military aircraft lining the walls. When passing by one of the indoor ranges, one of the owners was out sending some rounds downrange that afternoon.
There are some offices and meeting areas with doors, obviously that is needed to get certain things done, but even those areas are wide open. The break areas, meeting areas and even the coffee station areas have libraries in each one of them. Not just "management" books, but many based on the aspects of working within a team—for the employees as much for guests and customers to take and read. The goal is to have everyone working together and understanding not just the philosophy, but how to execute on it.
Once you work your way past the sales and customer service area, you enter into the production area. I can't give too many details away, other than every single thing that can go into making optics has been taken into consideration—everything from the temperature of the floor, to the air quality and how the machines are set up—has been painstakingly thought out.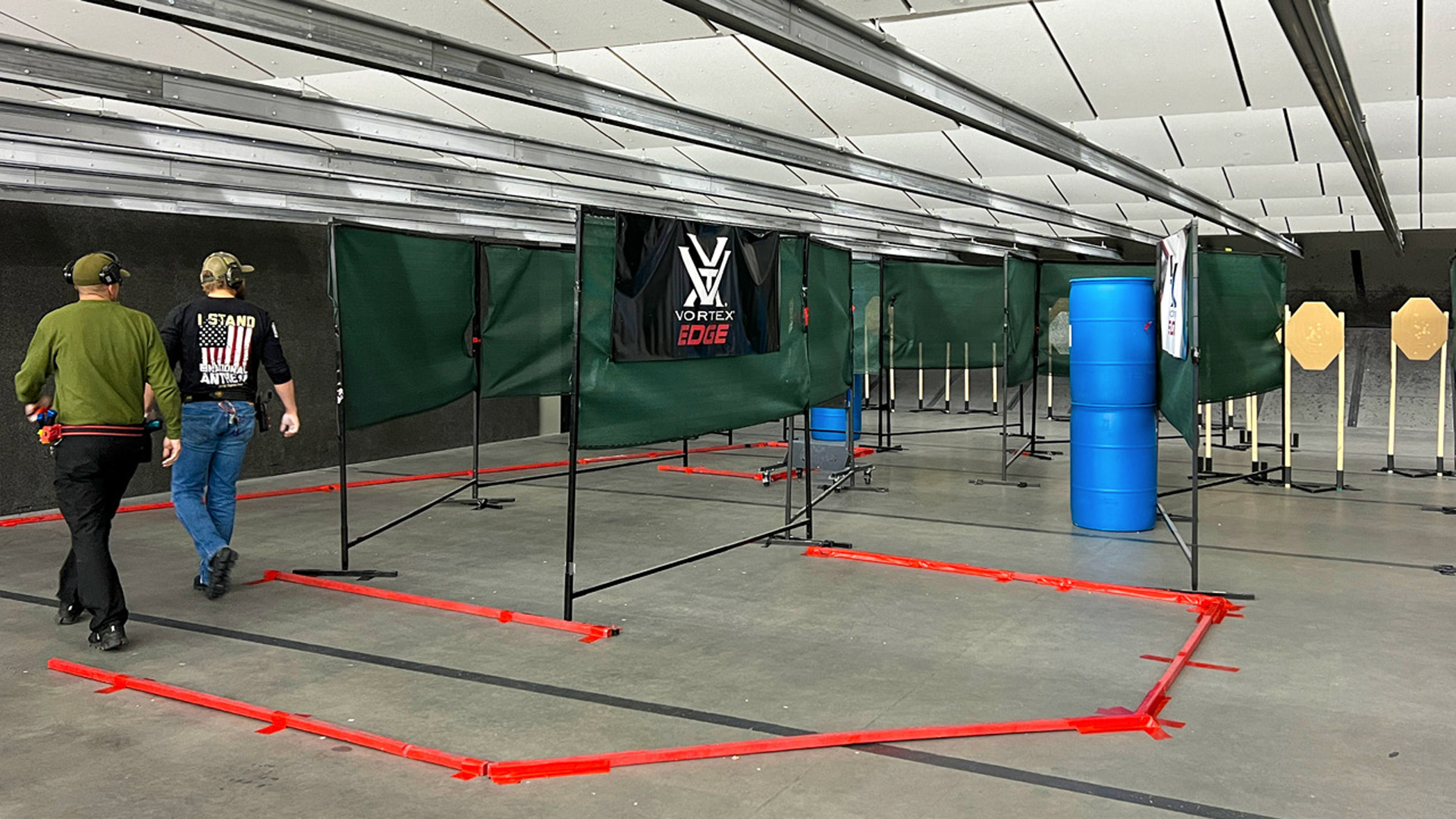 Vortex is known for its VIP Lifetime Warranty and the solid service the company provide for the oops, the drops, the breaks and when a product might fail. That department and area of the building has three goals. One is to get your product either fixed or replaced as soon as possible to get you back on the range, on the hunt or on your gun that may be your defensive firearm. Two is to educate you on your product, making sure you have the right tool for the right job and how it works. And three is to find out how something failed or broke. Sometimes that is obvious, such as your binoculars didn't like a 75-foot drop out of your tree stand.
When something breaks, though, they want to know why, and that is where Kellen Beauchesne comes in. I got to meet Kellen as we worked our way through the factory floor and to check out his area. The room that he has set up, according to Kellen, is to eliminate the warranty department. It is where he tortures optics—not just dropping them or freezing them, but smacking them with a hammer or the many other things he does to make them fail. He is charged with figuring out the life cycle of the products, when they go out of zero, when the electronics might fail, even when the glass starts to powderize from the beating he puts them through. There were all kinds of different methods at his disposal to ensure that with each new generation of products, they continue to improve.
Next, we went upstairs where the marketing department is located, and if you follow the Vortex Nation media, you will see many familiar faces, as well as some familiar dogs. Back downstairs, we headed over to the Vortex Edge, but not before looking next door where Vortex is already building another production and warehouse facility. The company understands where the industry is going and are already making plans for expansion.
Sitting to the left of the main building is Vortex Edge, where the indoor range facility is located, as well as classrooms, shoot house and simulator room. There are 100-, 50- and 25-yard ranges. The 100-yard indoor range is one of only a few in the country and the only one in the Midwest. Vortex Edge is a fully equipped training facility with a staff of instructors drawn from law enforcement, military and competition. Vortex Edge offers introductory classes for carbine and pistol, with a long-range course coming soon. There are several other offerings that build off each other, with Levels One, Two and Three classes for pistol, carbine and long range.
There are a plenty of other classes such as Home Defense and Everyday Ready, along with an Introduction to USPSA Competition course. That class is followed up on day two with the local Level One club match with Kellen as Match Director. He brings his twisted engineering mind over, with stages that have been well received. I shot the February match and it was tough, but fun.
Wrapping up the visit, I returned to the Vortex showroom and grabbed some of the new company apparel. The socks and the hat are great. From scopes, red dots, binoculars, mounts and all the accessories, as well as apparel and training—Vortex has you covered. It is great to have a partner like Vortex supporting all of the USPSA Nationals, Area Championship and others this year.
To find out more, go to vortexoptics.com.
Article from the March/April 2022 issue of USPSA's magazine.