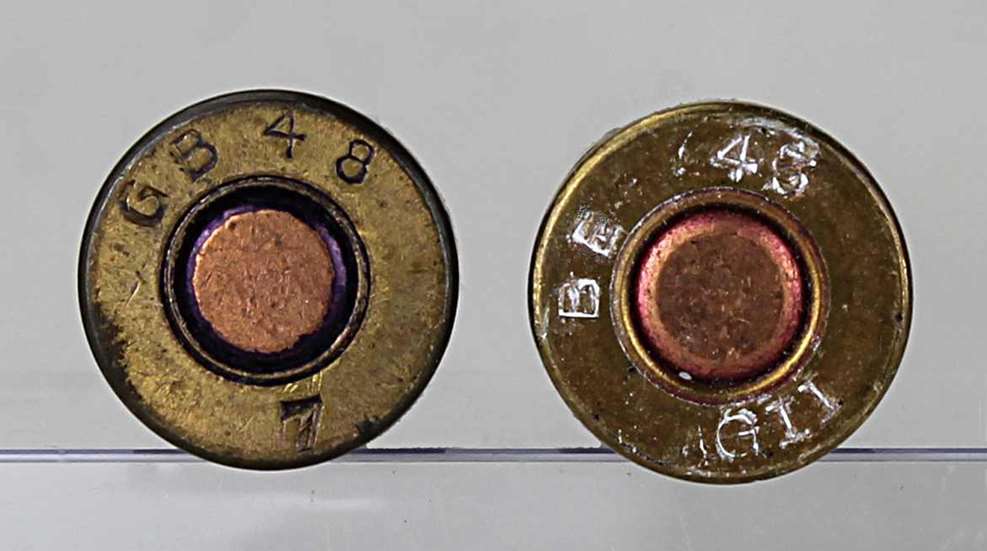 As with all milsurp ammunition, we must know more than just the type of cartridge we intend to shoot; as military cartridges were and are routinely loaded with tracer, incendiary and sometimes even explosive projectiles. These all pose obvious hazards, including armor piercing ammo, which have been blamed for sparking wildfires and thus in many places is illegal to shoot.
In the accompanying photo at the top of this article, the headstamp on the
.303 British
case on the left tells us it was manufactured in 1948 ("48") at the Greenwood and Batley ("GB") facility in England, and that the projectile is the MK VII ball round ("7"). The cartridge on the right is a G2 tracer round ("GII") from the Royal Ordnance Factory, Blackpole, Worcester ("BE"), England, in 1943 ("43").
More correctly, manufacture of the cartridge
cases
occurred at these facilities, but "filling" (as the British call it) of the cases with propellant occurred at different locales, probably due to concerns with accidents and sabotage—as well as for dispersing manufacture to mitigate losses from enemy bombings. Therefore, BE cases received their cordite at Swynnerton, and the Abbey Wood and Farnham facilities filled the GB cases.
Information on these headstamps came from the
Carpetbagger Aviation Museum
in Harrington, United Kingdom. The museum opened in 1993 to honor Americans of the 801st/492nd Bomb Group, which carried out Operation Carpetbagger to supply resistance fighters in Occupied Europe during World War II. The museum also has an extensive ID list of cartridge headstamps used by the U.S. during that war.
More articles from SSUSA Field Editor Art Merrill: