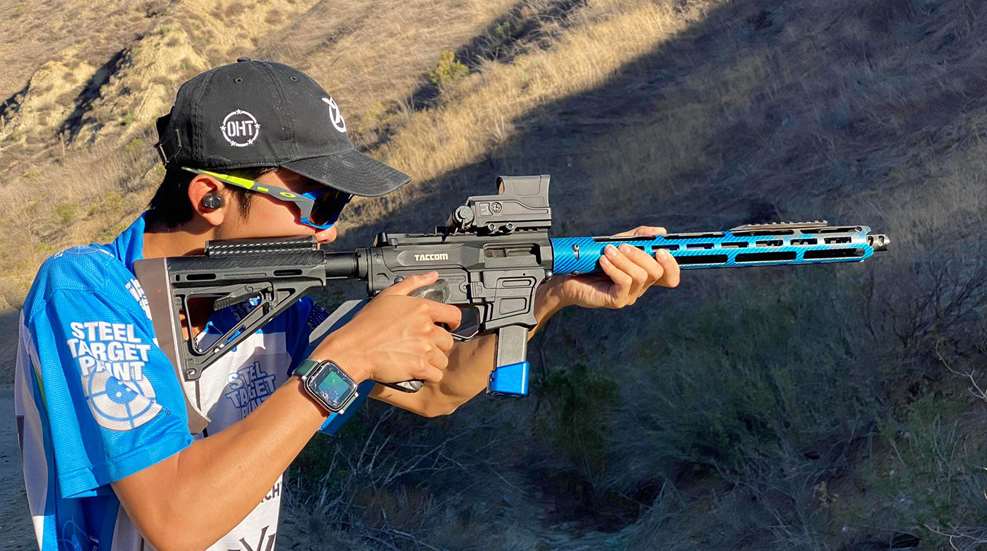 Last year, Kenshiro (Ken) Nagata became the youngest shooter ever to become a World Speed Shooting Champion after winning the Pistol Caliber Carbine Optics title with a record setting run. A Steel Challenge Grand Master in six divisions, he's also the first shooter in the discipline to achieve a peak time under 50 seconds. Find out what Nagata keeps in his range bag.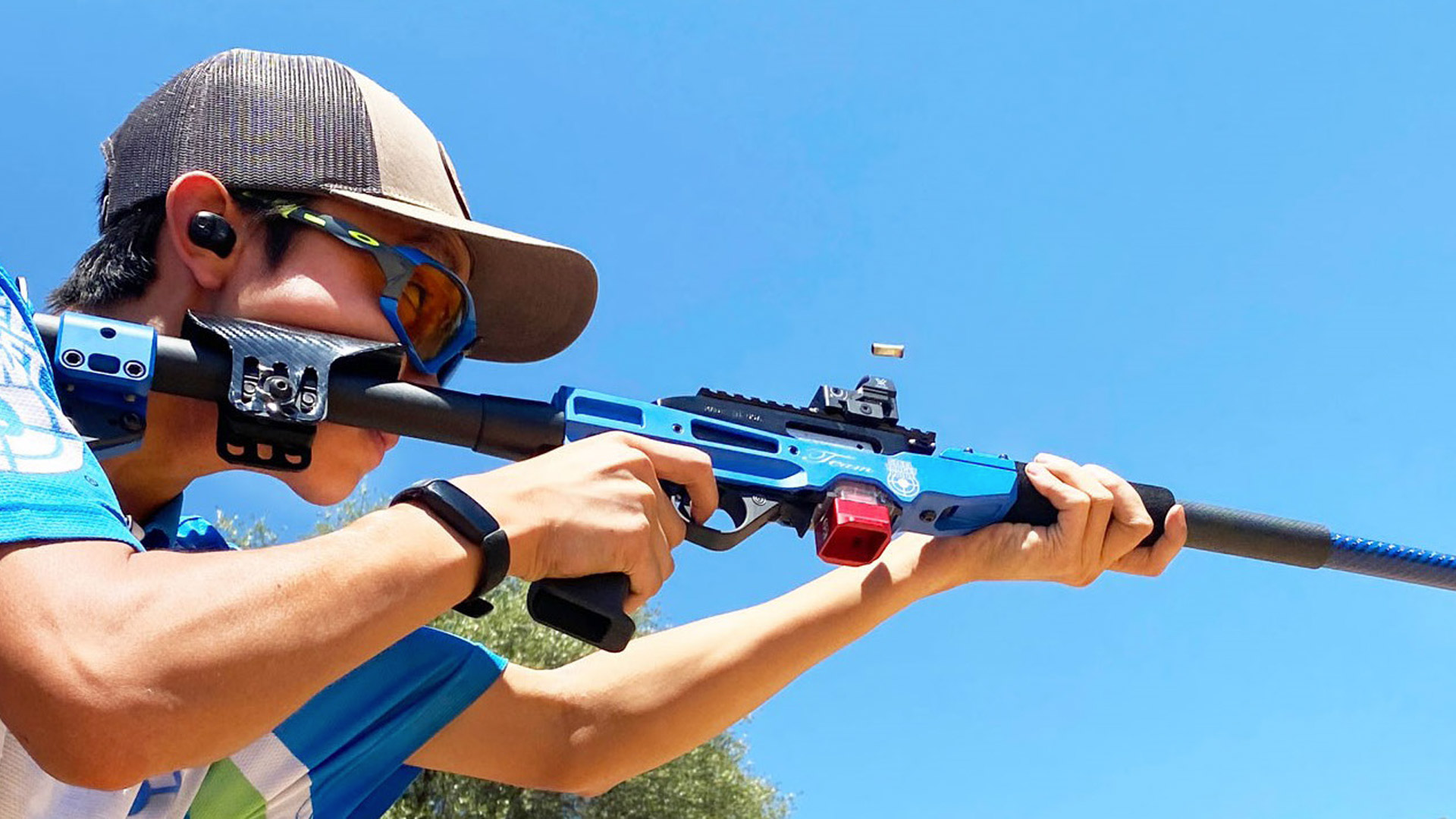 What are your first memories of handling a firearm?
At six years old, I shot an AMT Custom Shop 10/22. My dad wanted me to experience shooting it so I could dip my toes into the idea of shooting guns. However, at that time my body build was small, so I only went shooting a few times a year.
Tell us how you began in competitive shooting?
During the summer of 2019, all I did was sit at home and do nothing. So, my mom wanted me to go shooting with my dad. One day I asked to tag along with him to practice. At the range, he introduced me to Steel Challenge and the idea of competitive shooting. He brought along the same AMT Custom Shop 10/22 for me to shoot. By this time, I was big enough to handle the gun better. It felt light and easy to maneuver. That was my first step into the competitive shooting world. After that, I began practicing weekly with my dad. (Note: His dad is longtime Bianchi Cup and action pistol competitor Ichiro Nagata.—Ed.)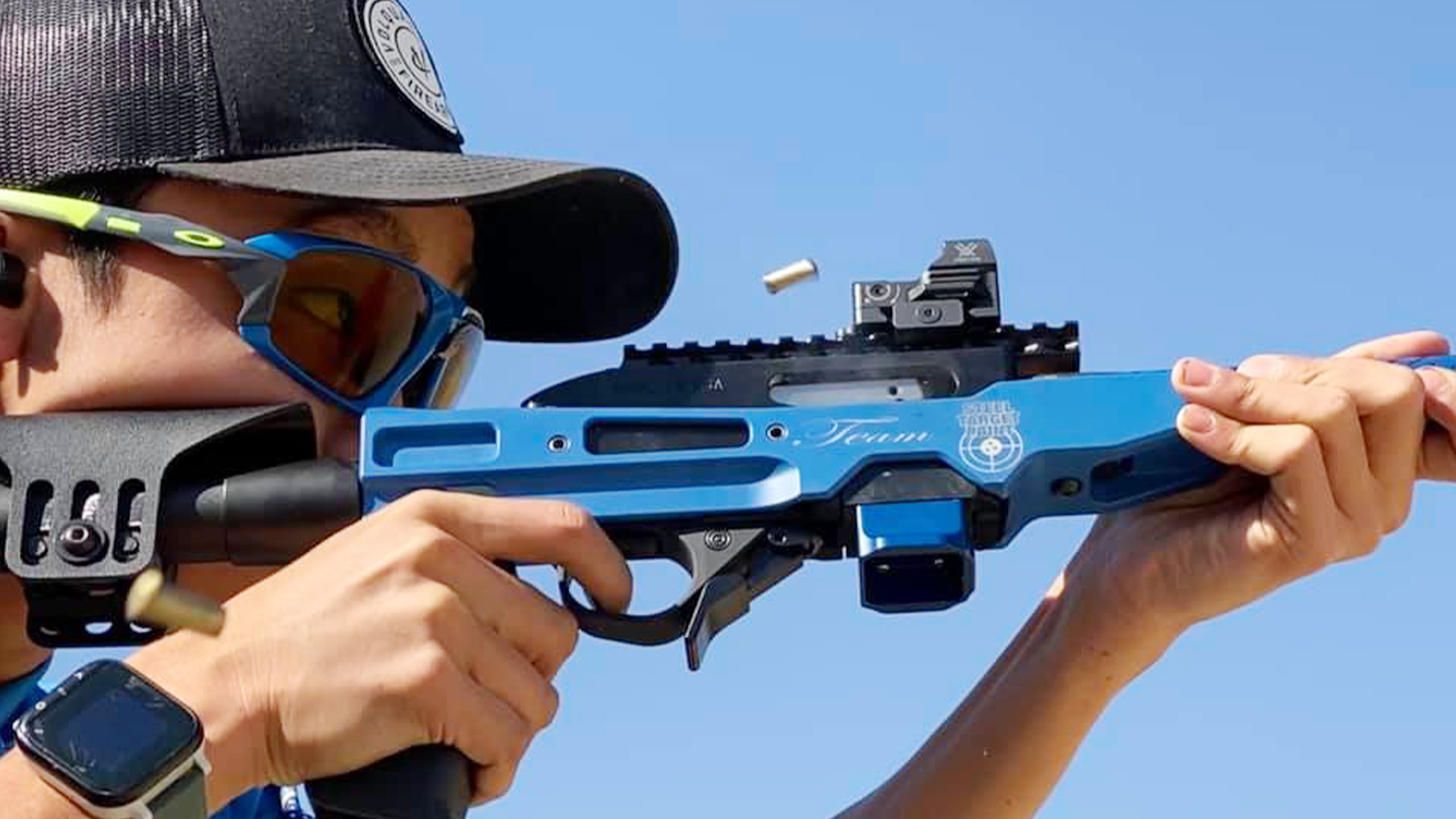 What firearms and other gear do you use for competition?
In Rimfire Rifle Optics and Irons, I use a Magnum Research Swithbolt, with a Kidd single-stage trigger and a Modshot chassis. On my Optics rifle, I run a C-More RTS2 (six MOA). As for Irons, it's Wiland USA front and rear sights. For ammo, I mainly shoot Eley Force and CCI Clean. Both guns weigh in at about four pounds, two ounces. They both hold tight groupings at 50 yards, and I never worry about malfunctions.
In Rimfire Pistol, I shoot a Nelson Custom Guns Conversion system on a titanium 2011 frame. The Nelson upper works flawless and is built in a manner similar to my Open gun. So, practicing one imitates the other. I have a CMore RTS2 on this gun as well (six MOA). The gun is balanced perfectly, with no side being too heavy or light. Plus, I never worry about malfunctions running Eley or CCI ammunition.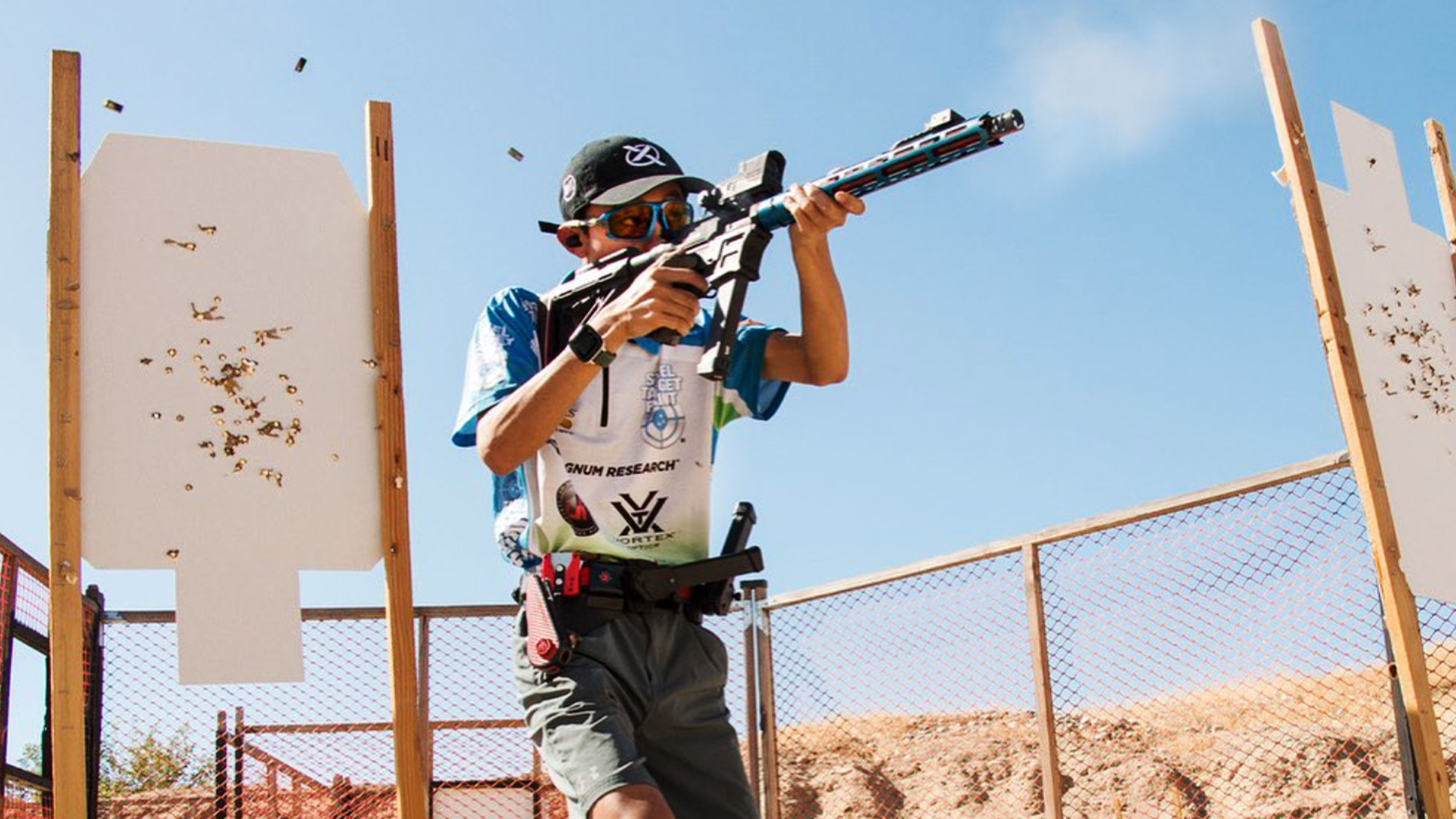 For Pistol Caliber Carbine Optics and Irons, I shoot the same lower and swap uppers when I change divisions. The upper receivers are all Taccom. Each upper sports a Taccom Standard bolt, along with the company's upper receiver, 10/16 barrel and ultralight handguard. For Optics division, I use a Wilcox Boss-XE dot sight, and I also have a Novel Arms Surehit Master mounted at 45 degrees behind the Boss-XE. For Pistol Caliber Carbine Irons, I run the same setup as Optics, but the dot sights are replaced with a Striplin Custom Gunworks ghost ring rear sight and a Striplin front sight.
In Open division, my gun is built off of an STI 2011 Steel frame. I have a TEVO Sports thumblock attached to the frame, with FTP Shooting Sports Alpha on top (six MOA). The trigger, sear, leaf spring, disconnecter and hammer are all Infinity firearms. The grip is a standard 2011 polymer grip that has been modified to fit my hands. The slide is a Caspian, with a three-port comp and a Bar-Sto barrel. For ammo, I run Federal American Eagle in 9 mm. This gun runs soft and reliable. In Carry Optics, I shoot a standard Glock G17 with a slide that's milled out to fit a Picatinny rail on the back. On top of the rail is an Aimpoint Micro dot sight. The trigger is a Timney Glock trigger that was lightened by Taran Tactical, and the barrel is from Bar-Sto.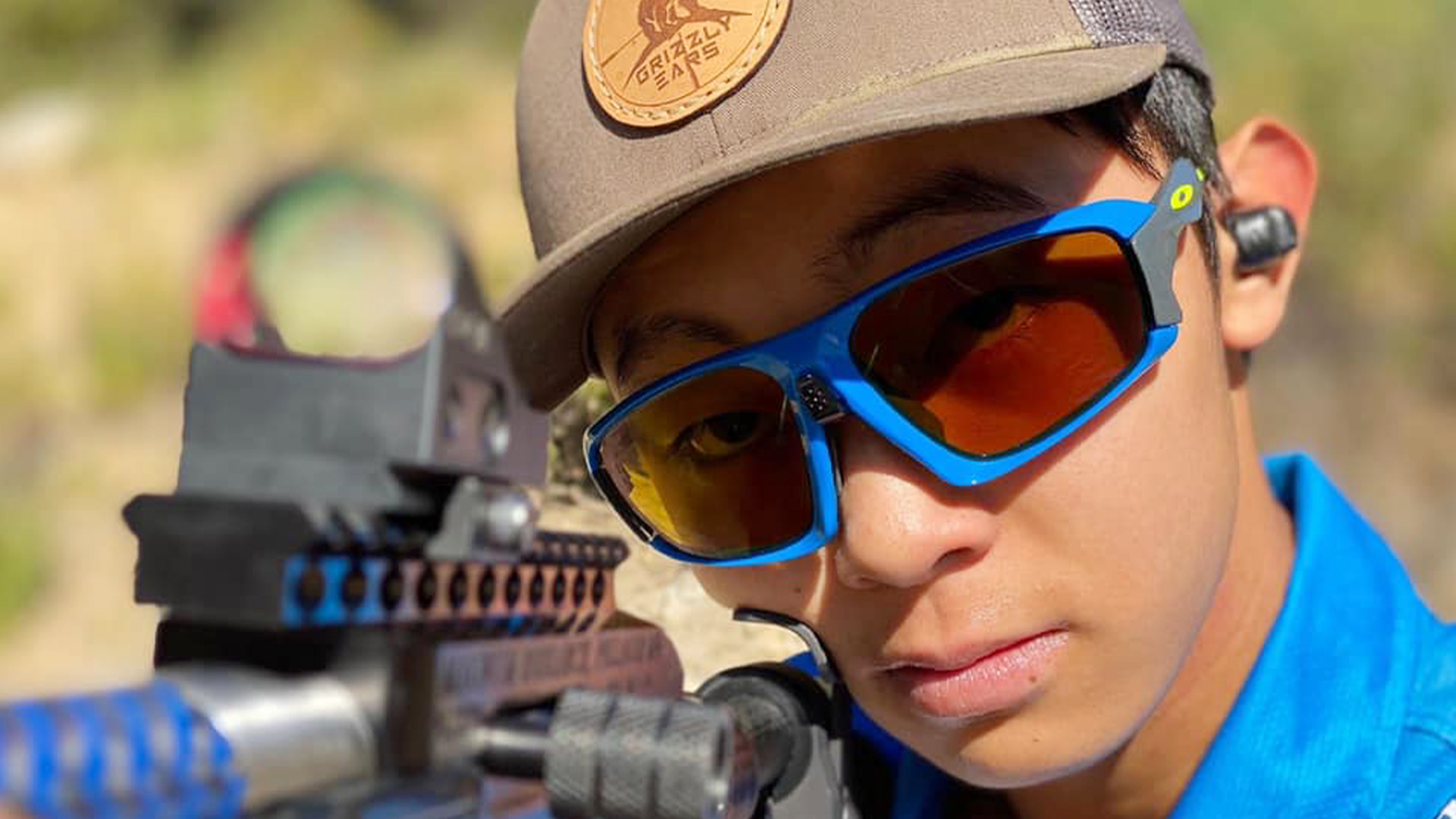 Tell us about your range bag and what you carry in it besides your firearms?
My range bag is made by Tuff Products. It has a simple, low-profile design, but is also fairly wide, which makes it easy to store in the car. There are two inside pockets where I put my pistols. Each pocket has a divider with room for four pistols inside. In the center of the bag, there is a nice, wide pocket that provides enough space to hold all of my shooting glasses, ear protection and magazines. Then, on the outside of the bag is one extra pocket which holds my extra magazines.
I always bring my main sources of eye and ear protection—my pair of Hunters Gold glasses in Oakley frames and Grizzly Ears Predator Pro earbuds. Apart from the protection, I carry spare batteries, a timer and Hoppe's lubrication. I also pack six Glock mags and six 2011 mags, both with Taran Tactical baseplates, along with six .22 Long Rifle Nelson Custom widebody magazines and a dozen Ruger BX-10 10-round mags equipped with Kurt Grimes basepads. To save time prepping mags, I also bring a Maglula loader for each type of magazine.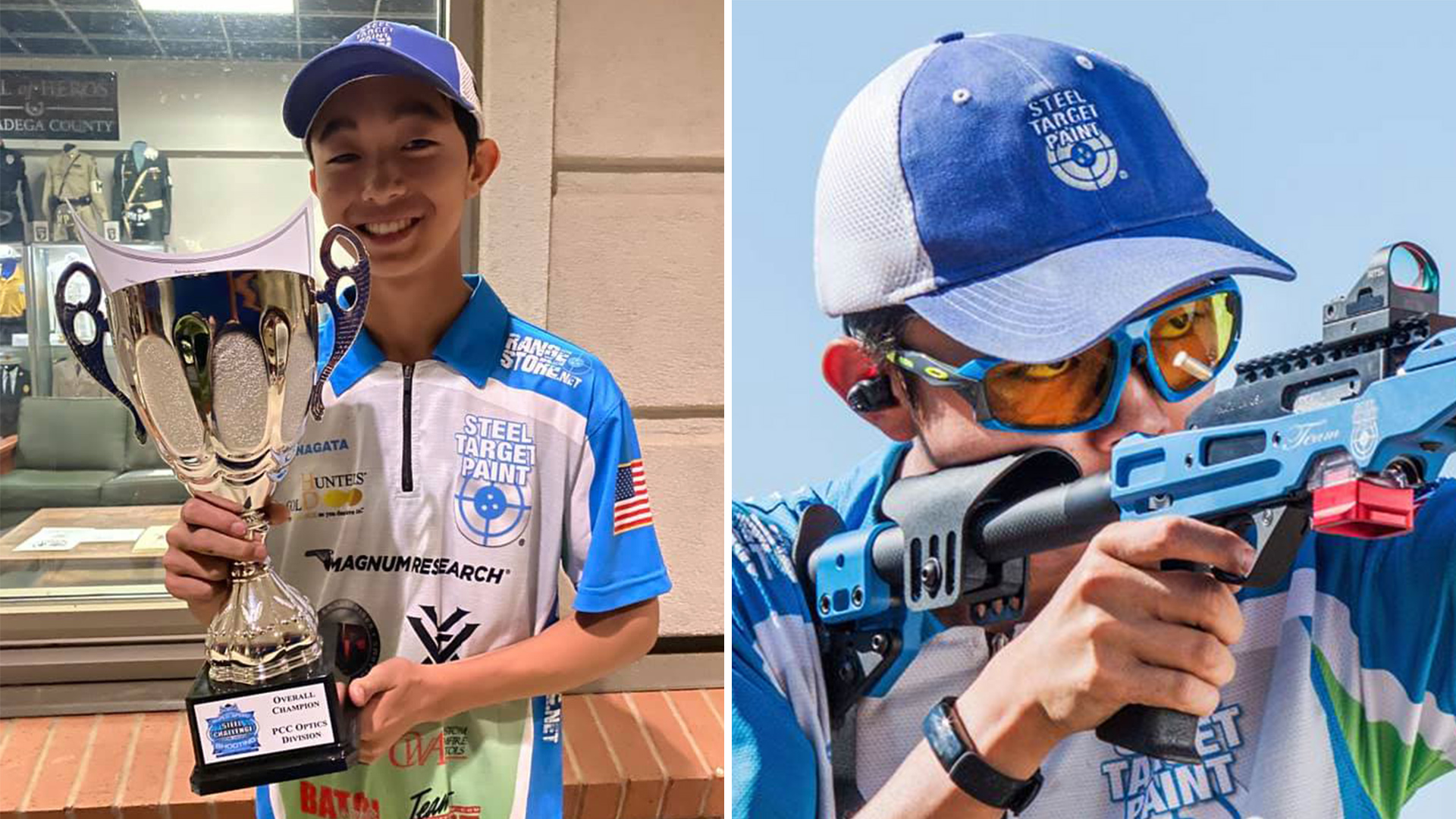 What do you do in your free time?
In my free time, I practice a lot of dry firing, speedcubing, piano, airsoft shooting and running.
What would you tell someone interested in finding out more about your sport?
I recommend browsing online and watching people shoot, to get a good idea of what you're getting into. Also, take a look at my Instagram page (@Kenshiro_nagata) for tips and tricks when it comes to shooting Steel Challenge. If you've decided that you want to take a shot at Steel Challenge, then visit the website and look for some matches near you. After you find a good place, I recommend attending a match and just watch. This will help give you an idea of what equipment you might need and how to keep yourself safe.
Any tips for new shooters?
First, stay safe. Competitive shooting is a fun sport that will give you a rush while you're on the line. Because of that, you might forget about safety. Always wear your eye and ear protection and control your muzzle. Simply follow those rules to keep shooting. When it comes to practice, take some time out of your day for dry-fire training. Even 10 minutes a day will help your eyes learn how to move quicker and help you get used to moving your gun. Lastly, one of the most important aspects—stay humble. It doesn't matter how many world titles you have, if you're not humble you won't make things fun with other shooters. So, always make sure to stay within yourself and have fun.