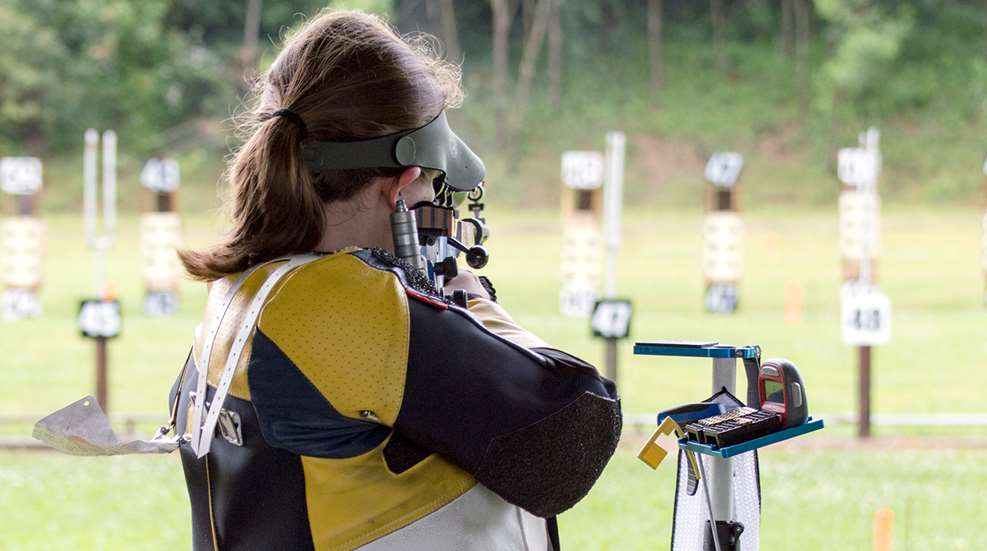 Above: Elizabeth Gratz competing at the 2015 NRA National Metric Championship in Bristol, IN.

On the eve of the national championship, West Virginia University junior Elizabeth Gratz was awarded the Elite 90 Award for NCAA Division I Rifle.



The Elite 90, an award founded by the NCAA, recognizes the true essence of the student-athlete by honoring the individual who has reached the pinnacle of competition at the national championship level in his or her sport, while also achieving the highest academic standard among his or her peers. The Elite 90 is presented to the student-athlete with the highest cumulative grade-point average participating at the finals site for each of the NCAA's championships.

"I'm really pleased for Elizabeth and proud of her," WVU rifle coach Jon Hammond said. "This award is a great recognition of all the hard work she does away from the range. She is always determined to not just do all her homework, but to also always put her best effort into every assignment. That is why she has a 4.0 GPA. I've been hoping to have a team member win this award, and I'm really proud of Elizabeth to be the first."

Eligible student-athletes are sophomores or above who have participated in their sport for at least two years with their school. They must be an active member of the team, traveling and a designated member of the squad size at the championship. All ties are broken by the number of credits completed.

A three-time GARC Scholar Athlete, Gratz was named to the CoSIDA Academic All-America Women's At-Large Third Team last year. She also is a two-time Collegiate Rifle Coaches Association (CRCA) All-Academic Team honoree, as well as a member of the President's List, Big 12 Commissioner's Honor Roll and Garrett Ford Academic Honor Roll.

Gratz, along with teammates Jean-Pierre Lucas, Ginny Thrasher, Milica Babic and Morgan Phillips, will shoot for the No. 2-ranked Mountaineers at this year's NCAA Championships, hosted by the Ohio State University on March 10-11, at French Field House, in Columbus, OH. The four-time reigning National Champions, WVU is in the hunt for an unprecedented 19th title.

Article courtesy of WVU Athletics.