by
Chris Christian, Field Editor
posted on September 18, 2017
Support NRA Shooting Sports USA
DONATE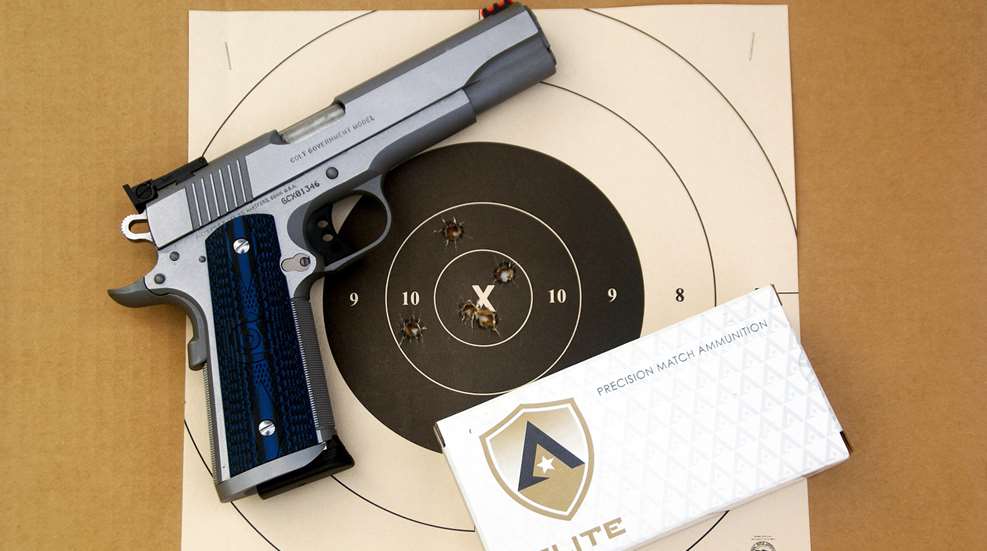 Introduced in the late 1950s, the Colt Gold Cup National Match became the standard by which all other factory .45 ACP Bullseye pistols were judged. Incorporating features that heretofore had only been available from custom gunsmiths, the National Match began winning trophies right out of the box.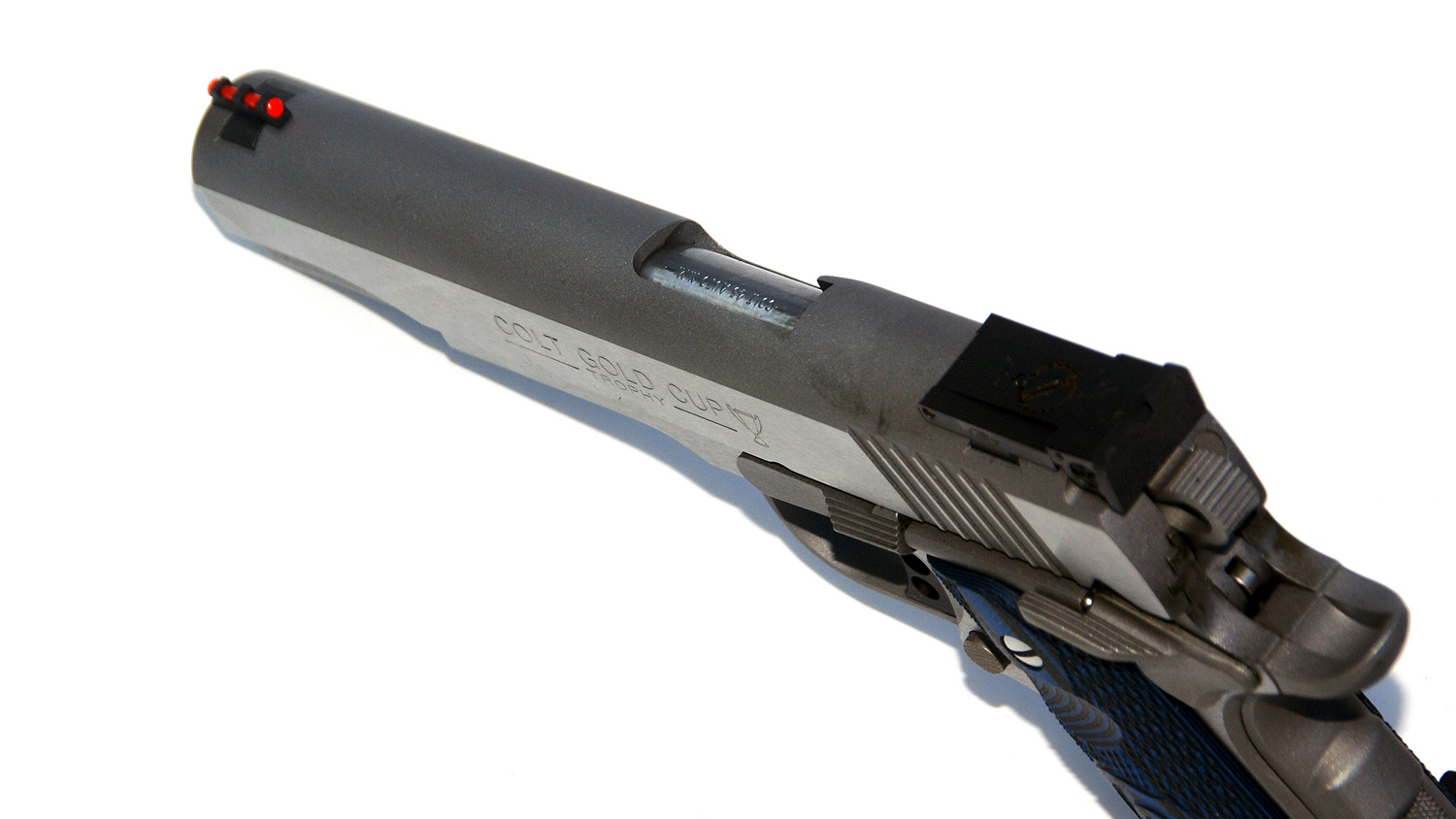 It has become a 'standard' in Bullseye competition, and the 2017 introduction of the new Gold Cup Trophy makes it a viable option for today's Action Pistol competitors.

The gun

The Gold Cup Trophy ($1,699) is a full-sized 1911 with a five-inch barrel. It's available in .45 ACP (8-round magazines) and 9 mm (9-round magazines). Both are identical in their construction and features. I chose the .45 ACP model for testing.

The frame, barrel and slide are built from stainless steel, with a brushed satin finish. The empty weight is 38-ounces, with an overall width of 1.25-inches. The frame features an undercut trigger guard to allow a proper 'high grip.' The front strap is checkered in 25 LPI. A modest, but very effective, mag well graces the bottom grip frame. The two eight-shot magazines supplied with the .45 ACP were fitted with extended base plates that mated perfectly with the mag well opening and made magazine seating quick and positive. The grip safety includes a pronounced 'speed bump' and the beavertail is of the up-swept design, with the proper hammer notch for the round spur hammer. The grips are checkered G10 models with a slight left side scallop behind the magazine release.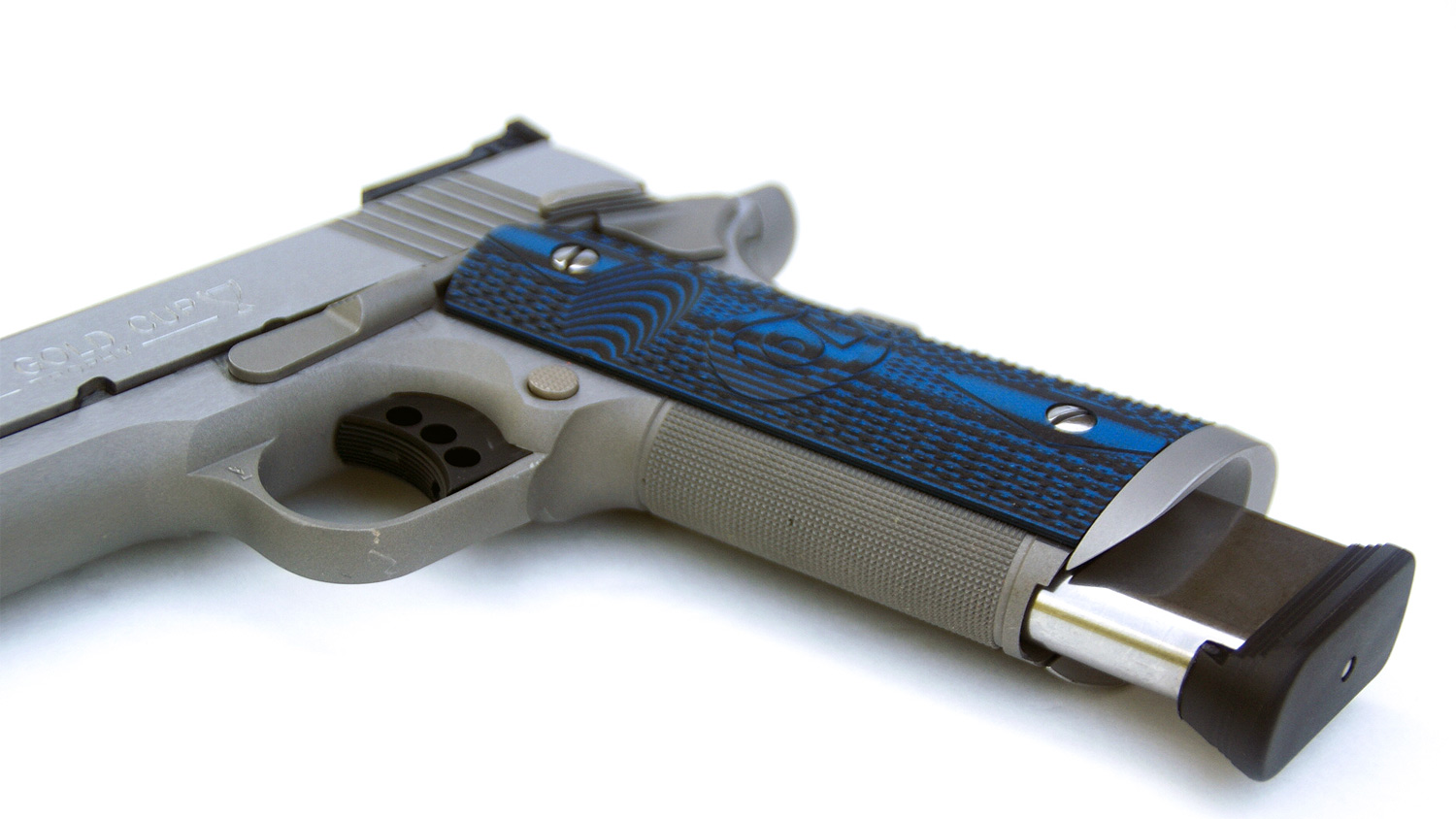 The barrel is Colt's National Match and uses a six groove right hand 1:16 twist in .45 ACP with a double-wound recoil spring and a standard spring guide. It features the 70 Series operating action, with the wide 70 Series three-hole aluminum trigger. The trigger broke at a consistent four-pounds and seven-ounces on my Lyman Digital Trigger Pull gauge. There was a slight (about 1/32-inch) take up and then a very crisp break with zero creep or over travel. The controls are single left side and consist of the slide release, checkered magazine release, and extended combat-style thumb safety.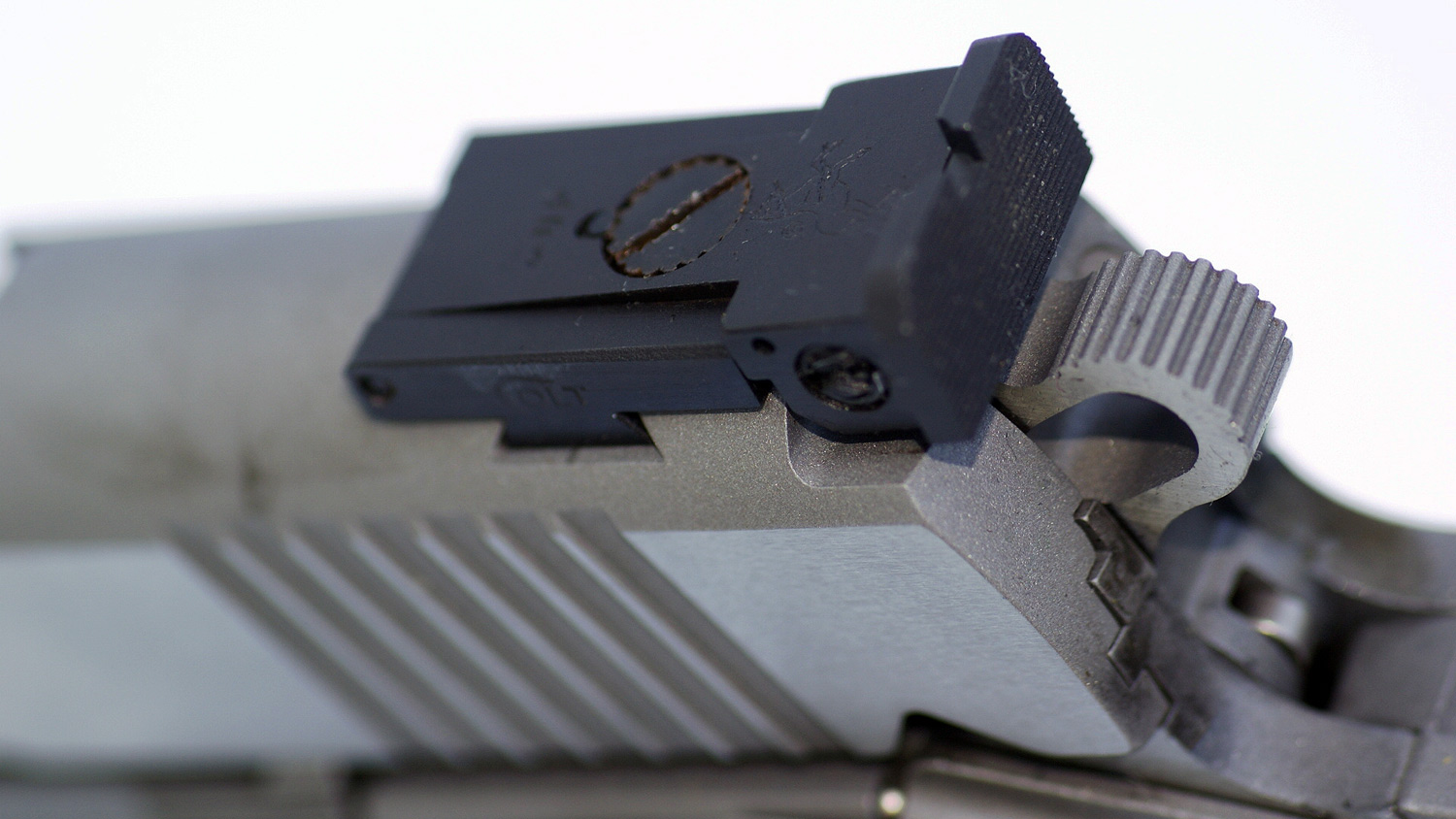 The rear sight is a fully-adjustable Bomar-style with a plain black blade. The front sight is a Novak fiber optic. It's set into a protected open top mount that allows easy fiber optic rod (FO) replacement. The color supplied on the test gun was red, but the optic rod appeared to be 0.060 size and could easily be switched to many other colors from readily available aftermarket sources like Brownells. It filled the rear sight notch and was quick to acquire. That's a plus for Action shooters. For Precision shooters it may prove 'a bit too much.' However, the sight is dovetailed onto the round-top slide with a standard dovetail cut and could easily, and inexpensively, be replaced with a thinner black blade for those trying to punch out the X-ring in an NRA standard pistol target.

On the range

My experience has been that tightly-built match 1911s don't run very well when they're dry, so before any firing I stripped the Gold Cup down to give it a proper lubing. A flat barrel bushing wrench was included with the gun, and it was welcome! The barrel bushing was the tight fit I would expect on a Colt-made match-grade 1911 and it wasn't coming free without the wrench. Take down and reassembly was straight forward with no surprises.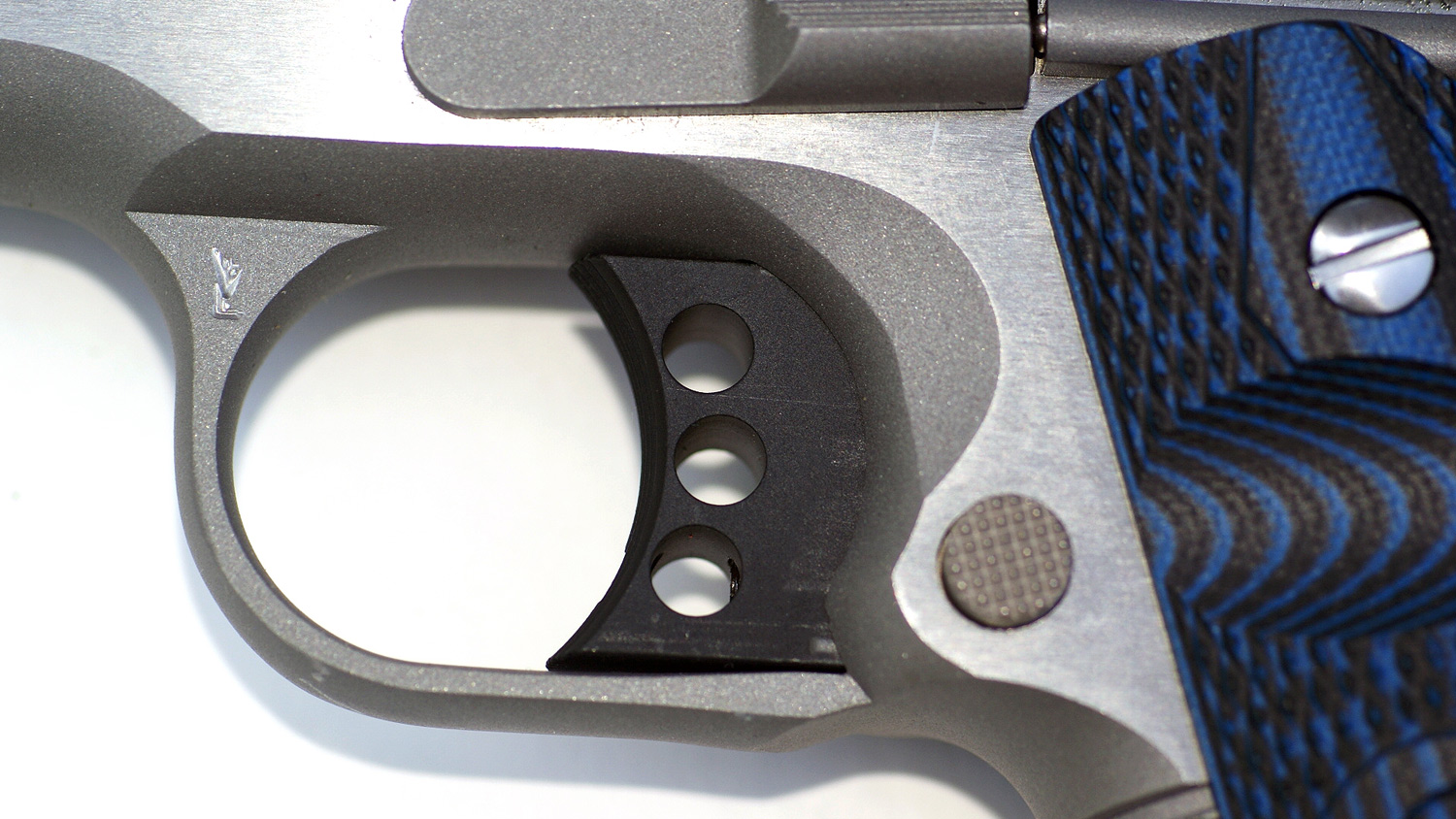 I had an adequate selection of .45 ACP loads on hand, but given the Major caliber Action Pistol slant of this new Gold Cup Trophy I decided to use factory loads making the 165 minimum Major Power Factor (PF). They included Atlanta Arms 230-grain FMJ Select and their 185-grain JHP Elite. Aguila's 230-grain FMJ is a relative newcomer, and a box was available. I also stumbled upon a box of Federal's new American Eagle Syntech 230-grain load during a gun shop visit. I was interested in how the polymer-coated bullet would perform so I purchased a box for this test. Finally, in a nod to the traditional Bullseye role the Gold Cup has played (and can still fill), I added my Xtreme Bullet 225-grain heavy plated FP handload that doesn't make Major 165 PF but has performed well in a precision role in the various guns I have shot in that discipline.

The first step was zeroing the gun from a bench at 25 yards. Out-of-the-box, the rear sight was bottomed out and it was shooting about eight-inches low and a few inches right with 230-grain loads. It took no time to get it centered. There's no 'guesswork' with a Bomar-style sight. Crank in what you want and it delivers—and stays where you put it. Unless you decide to change it, and then the changes are positive and repeatable. There is a reason why they are favored by Bullseye shooters.

Once zeroed, I found a suitable holster in my "old holster box" and set up some IDPA targets and a few scenarios. All were within 15 yards and were basically, 'cocked and locked and quick from the holster'. The gun handled well. The thumb safety was positive and the combination of checkered G10 grips, front strap stippling, and the speed bump grip safety provided a solid shooting grip. Getting on the target quickly was definitely aided by the big fiber optic front sight.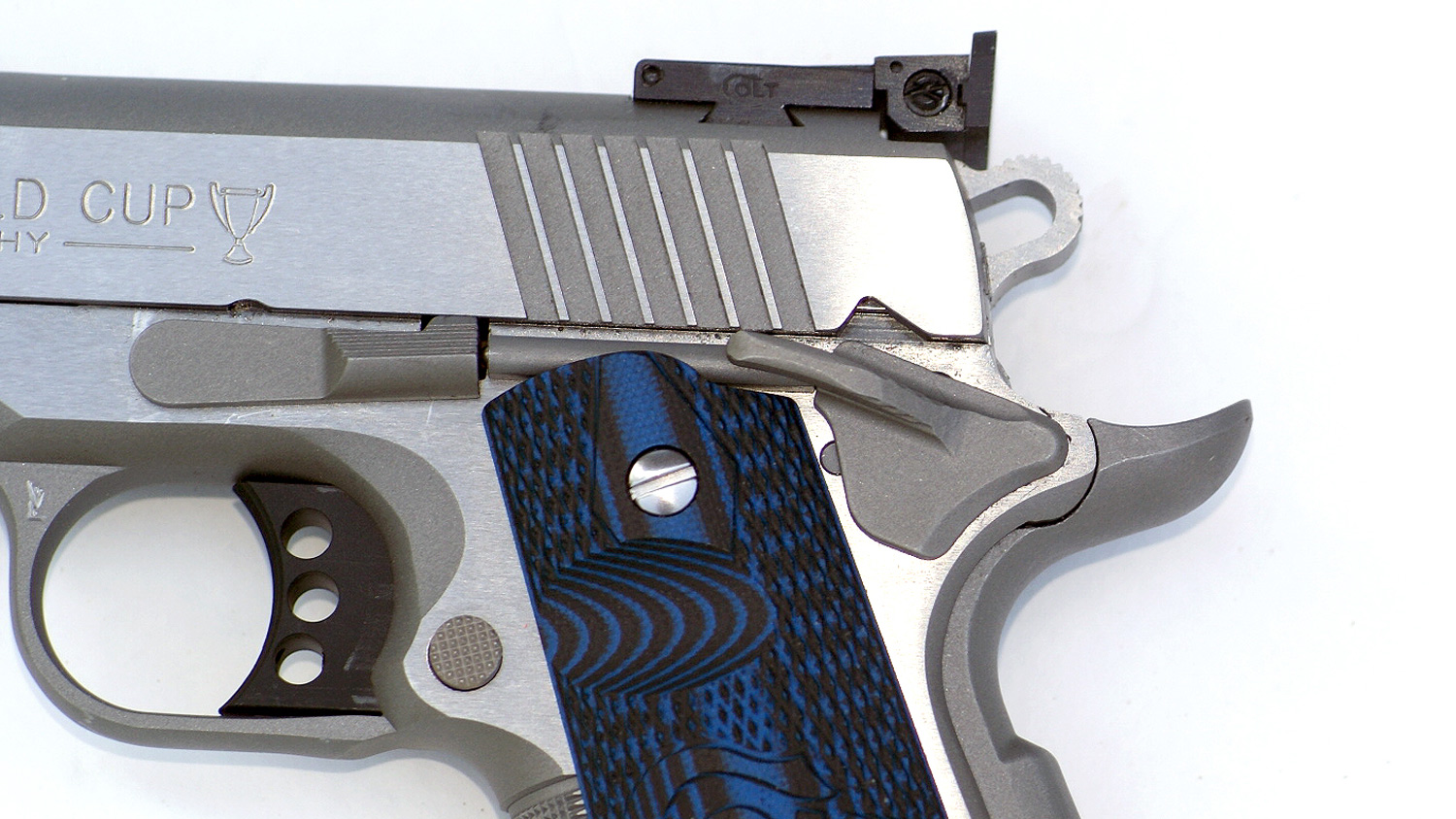 I ran about 200 rounds through the gun while checking all of the loads on hand for functioning. The only 'malfunctions' that occurred were when two rounds of the Federal Syntech went 'click' instead of bang. Cocking the hammer and trying again set them both off. The rest of that box fired and ejected normally, as did all the loads from the other manufacturers, so I would consider that an ammunition-related malfunction and not a problem with the gun.

Bench rest accuracy testing was next and the chart below shows the results. However, I have to say that I think the Gold Cup Trophy could be a bit more accurate than my chart figures show. The big FO sight was great for close and fast, but not quite conducive to wringing out maximum accuracy at 25 yards. With the exception of the Syntech load, all groups would show three or four rounds clustered into 1.5- to 1.75-inches, and one or two 'flyers' that expanded the group. I would speculate that the groups could have been a bit smaller with a thinner black front sight.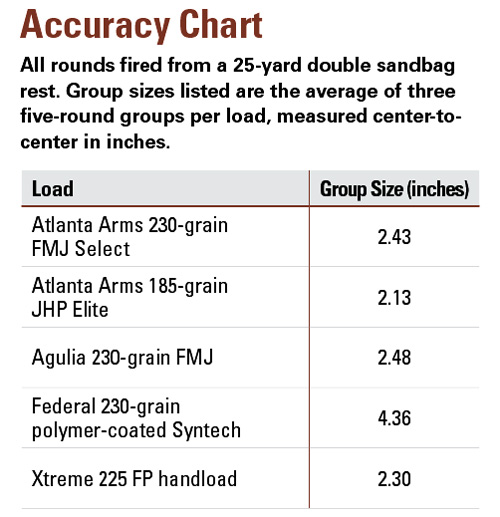 The gun is well-suited for IDPA Custom Defensive Pistol division (CDP) as well as USPSA/Steel Challenge Single Stack division (SS). It's also perfectly legal in USPSA L-10 division, although the eight-round magazine capacity could put a shooter at a disadvantage. Adding some extended base plates or 10-round magazines (Chip McCormick has them) fixes that.

Time marches on, and given the increased interest in fast-paced Action shooting games, Colt is keeping up with the times.