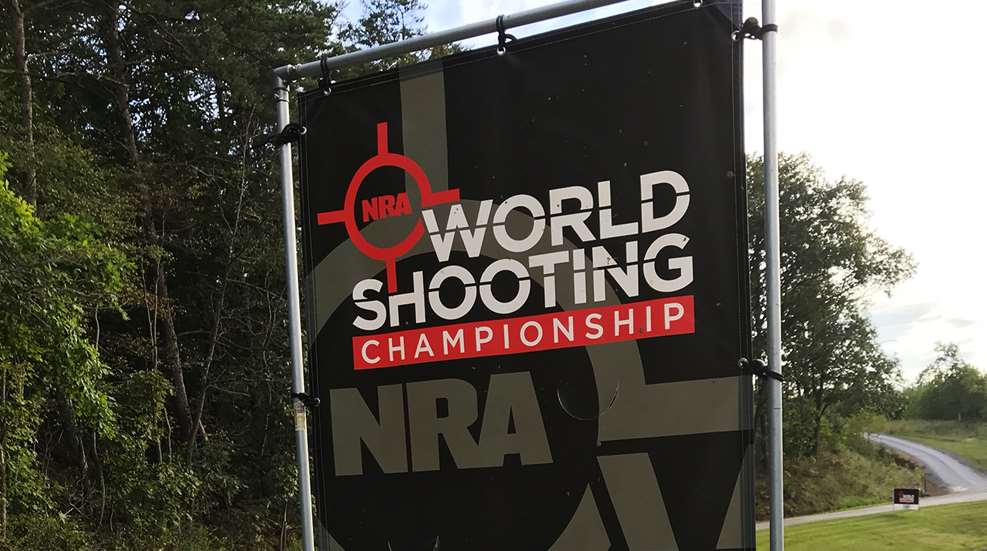 It's September, and that means it's time for the NRA World Shooting Championship. Now in its fifth year, the fan favorite multi-discipline tournament begins tomorrow, September 20, at the Peacemaker National Training Center in Gerrardstown, WV. The match has a unique format in that all guns and ammo are provided to shooters. While the $25,000 first place cash prize and large, merchandise-laden prize table with the usual trimmings are present (thanks to generous sponsorship from companies like Kimber), there's been a few changes this year, stage-wise.

"The stages this year are going to be a little more fluid as we are trying to add movement and depth," said Cole McCulloch, director of NRA Competitive Shooting. "It has been fun putting the stages together and we look forward to watching everyone compete through all of them! Stage designs will be posted at each stage on game day! Remember don't shoot the good guys and have fun!"

The biggest change is certainly the addition of Biathlon. How exactly did this Olympic discipline end up occupying Stage 12?

"This year we opted to add the Biathlon shooting discipline to the NRA World Shooting Championship, as we are constantly seeking to improve the world's greatest test of shooting," added McCulloch. "Biathlon is a remarkably difficult discipline that tests a shooters ability to shoot well with an elevated heart rate in generally unsupported positions."

NRA staff is truly committed to presenting competitors a true test of shooting prowess by adjusting sports involved. Also new this year is the Silhouette Rifle stage, where shooters will tackle chickens, pigs, turkeys and rams at 490 yards.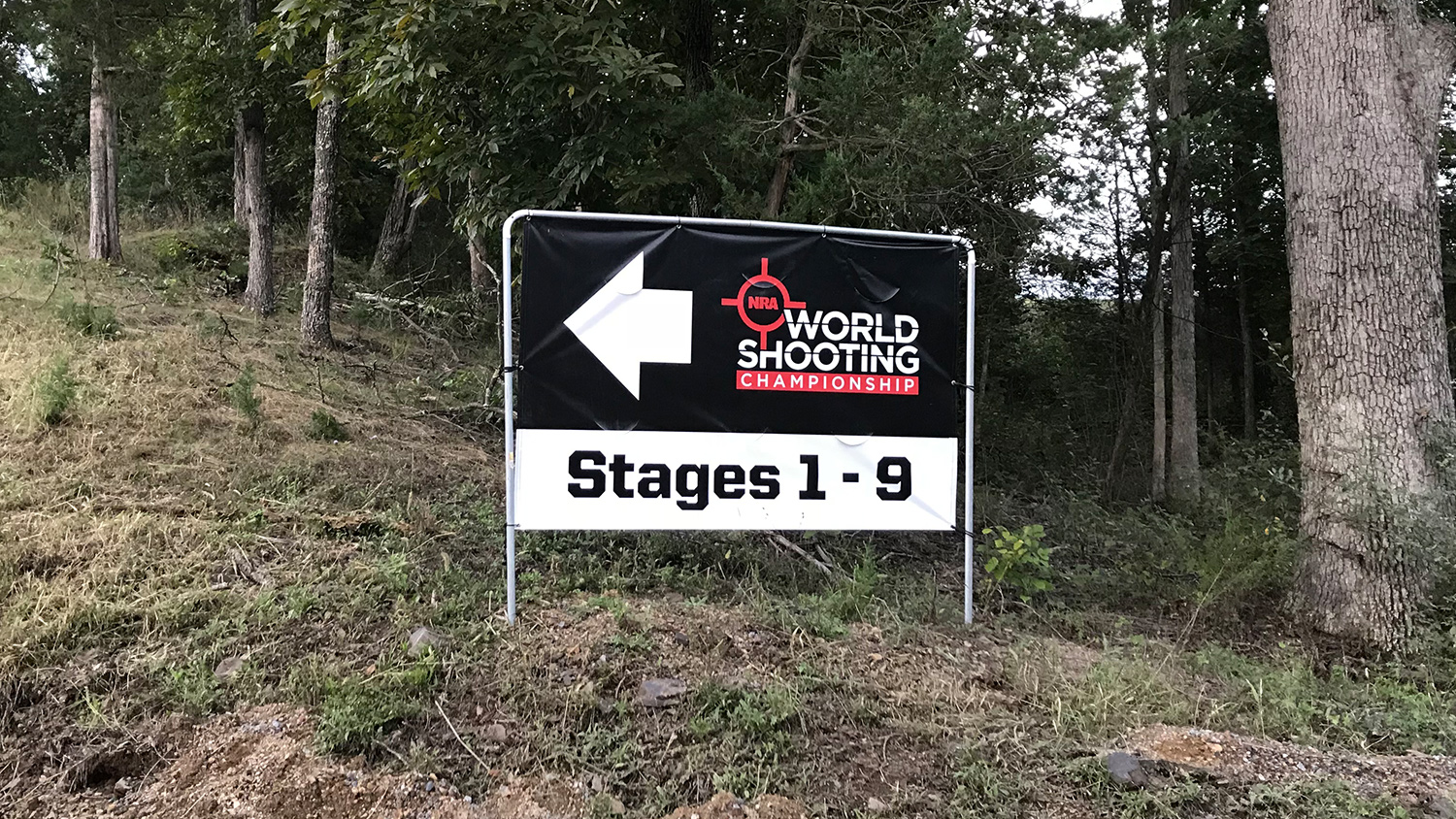 Here's a stage-by-stage breakdown of this year's match, along with scoring info:
Stage 1: NRA America's Rifle Challenge, sponsored by Interordnance, Inc.
Rifle: I.O. M215 KeyMod
Optic: Bushnell Elite Tactical 1-6.5x24 mm
Ammo: Global Ordnance 5.56
Course of Fire: Field course
Target: Paper and frangible
Scoring Type: Time plus
Par Time: 180 seconds
Stage 2: 3-Gun, sponsored by Strategic Armory Corps
Rifle: ArmaLite M-15 Competition
Optic: Vortex Crossfire Red Dot
Ammo: Nexus 5.56 mm 77-grain Match
Pistol: Canik TP9SFx
Ammo: Federal 9 mm 124-grain FMJ
Shotgun: Mossberg JM Pro Series
Ammo: Rio 12-gauge 2-3/4 1-1/8, No. 8
Course of Fire: Field course
Targets: Mixed steel and paper
Scoring Type: Time plus
Par Time: 180 seconds
Stage 3: NRA Precision Pistol, sponsored by Kimber
Pistol: TBD
Ammo: Federal .45 ACP 230-grain FMJ
Course of Fire: Static Course
Distance: 25 Yards
Target: NRA B-16 25-Yard Slow Fire Paper
Scoring Type: Points
Point Value: X-Ring = Bonus, 10- to 5-rings true to points, outside 5-ring = 0
Par Time: 5 minutes
Stage 4: NRA Action Pistol Falling Plate Event, sponsored by SIG Sauer
Pistol: SIG P320 X-FIVE Full-Size
Ammo: SIG 9 mm 115-grain FMJ
Course of Fire: Static course
Distance: 20, 25 yards
Target: Six, 8-inch round steel falling plates
Scoring Type: Points
Point Value: Each plate, 4 points
Par Time: Eight and nine seconds, 20 and 25 yards, respectively
Stage 5: USPSA, sponsored by Canik
Pistol: Canik TP9SFx
Ammo: Federal 9 mm 124-grain FMJ
Course of Fire: Field course
Target: Mixed steel and paper
Scoring Type: Time plus
Point Value: A = 5, B = 4, C = 4, D = 3
Par time: 180 seconds
Stage 6: Cowboy Action Shooting, sponsored by Henry and Ruger
Rifle: Henry Big Boy Classic
Revolver: Ruger Vaquero Bisley
Ammo: Federal 45 Long Colt 225-grain
Course of Fire: Field course
Target: Mixed steel
Scoring Type: Time plus
Par Time: 180 seconds
Stage 7: Precision Rifle Series, sponsored by Strategic Armory Corps
Rifle: Surgeon RACS Limited
Optic: Leupold VX-3i LRP 6.5-20x50 mm
Ammo: Nexus .308 Win. 168-grain HPBT Match
Suppressor: AWC
Course of Fire: Field course
Target: Mixed steel
Scoring Type: Time plus
Par Time: 180 seconds
Stage 8: Designated Marksman Rifle Challenge, sponsored by JP Enterprises
Rifle: JP LRP-07 Long Range Precision Rifle
Optic: Nightforce ATACR 4-16x42 mm
Ammo: Federal 6.5 Creedmoor 140-grain Gold Medal Sierra MatchKing
Course of Fire: Field course
Target: Mixed steel
Scoring Type: Time plus
Par Time: 180 seconds
Stage 9: NRA Silhouette, sponsored by Smith & Wesson
Rifle: S&W M&P 15 Sport II Optics Ready with M-Lok Handguard
Optic: Bushnell Forge 3-18x50 mm
Ammo: Federal .223 Rem.
Course of Fire: Static course
Distance: 490 yards
Target: Mixed steel
Scoring Type: Time plus
Par Time: 180 seconds
Stage 10: 6-Stand Sporting Clays, sponsored by Mossberg
Shotgun: Mossberg International Silver Reserve II Super Sport Over Under
Ammo: Rio 12-gauge 2-3/4" 1-1/8 No. 8
Thrower: Crazy Quail Mini
Clays: White Flyer
Course of Fire: To be announced at match
Target: Frangible
Scoring Type: Points
Point Value: Each broken clay is worth 4 points
Par Time: None
Stage 11: Trap Sporting Clays, sponsored by Crazy Quail and Mossberg
Shotgun: Mossberg International Silver Reserve II
Ammo: Rio 12-gauge 2-3/4" 1-1/8 No. 8
Thrower: Crazy Quail Mini
Clays: White Flyer
Course of Fire: To be announced at match
Target: Frangible
Scoring Type: Points
Point Value: Each broken clay is worth 4 points
Par Time: None 
Stage 12: Biathlon, sponsored by Magnum Research
Rifle: Magnum Research MLR22AT
Optic: Bushnell CQTS 2.0 Elite Tactical
Ammo: CCI .22 LR Standard Velocity
Course of Fire: Field course
Target: Falling steel
Scoring Type: Time plus
Par Time: 180 seconds
Scoring
Since there are 12 vastly different disciplines, all with their own individual scoring systems, occasionally there are modifications to the discipline scoring guidelines, which are reflected in the stage briefs. As in years past, Practiscore is utilized for scoring throughout the match.

There are two types of scoring systems: Time plus stages have a competitor's individual score calculated from time plus penalties. Match points are the individual score divided by the first place state winner's score.

Points stages have a competitor's individual score from the total number of scoring hits per stage. This will vary depending on the stage design, for example clays, target scoring rings, etc. The score will be determined by adding points on the target, plus a bonus for each X.

SSUSA will be providing coverage of the match, check back for updates as the match progresses. Scores will be available at wsc.nra.org