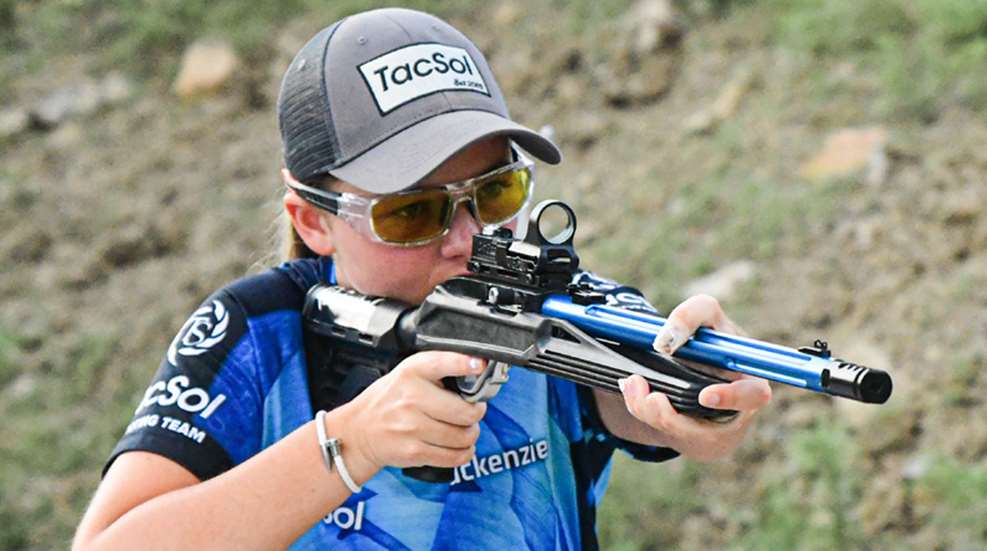 When you meet Mackenzie Bragg, you will notice she is a quiet but articulate young woman. However, there is something about her that you might not know—Mackenzie holds a world record in Steel Challenge. The record she holds is not just as a junior, nor is it as a lady shooter—Mackenzie set the overall world record in Rimfire Rifle Open (RFRO) this past May with a time of 64.45 seconds. Not only that, but she beat 142 other competitors in the process at the 2019 Steel Challenge World Speed Shooting Championship, held at the CMP Marksmanship Park in Talladega, AL. RFRO is the largest division in Steel Challenge competition.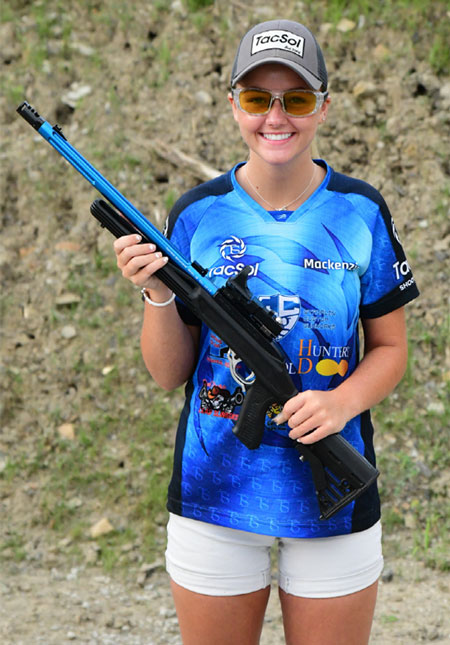 As a child, Mackenzie played softball. Her dad, Joseph Bragg, coached her teams—but when she was seven years old, Joe passed away unexpectedly. Without her father, her best friend, to coach and mentor her, Mackenzie lost interest in softball and quit playing at age 10.
Mackenzie was invited by her uncle, Eric Bragg, and his daughter, Zoey, to do some winter shooting at a local indoor range. Eric set up paper targets that were shaped like Steel Challenge targets, complete with one target that was attached to a red stake to indicate the "stop" plate. Eric told Mackenzie to shoot four targets first and shoot the target on the red stake last. Mackenzie raised the rifle and let it rip. Eric told her to go slow so she would hit them all. She replied that she'd hit all the targets. Sure enough, when he examined the targets, she had hit them all! This was the first time she'd fired a rifle. Eric thought it must be beginner's luck, until she did it again—and again. In the spring, Eric, Zoey and Mackenzie began shooting local matches with all three sharing the same rifle.
The trio found themselves at a Rimfire Challenge match, not knowing they needed a pistol as well as a rifle. Still, they shot the match just for fun. Watching Cheyenne Dalton and Allie Barrett shoot, both Zoey and Mackenzie told Eric that they wanted "to do what Cheyenne and Allie did". Two weeks later, they shot a steel match in Wilmore, KY, at Bluegrass Sportsman's League. This time, they also had a pistol.
Mackenzie says she doesn't practice much. "I practice one or two times before a big match—that's all." Eric says he wishes she would practice more; "I think she would be an even better shooter if she did."
"My biggest struggle is my mental game. I spent some time in Georgia with Kaci (Cochran) Truitt. She helped me with this part of my game. I don't want the ROs to call my hits and I don't want to look at my times. At WSSC this year my mental game was at its best for me. That's why I did well," explains Mackenzie, adding, "Of all the Steel Challenge stages, I like Outer Limits the least. When I move and get to the second box, I tend to rush myself and have make-up shots."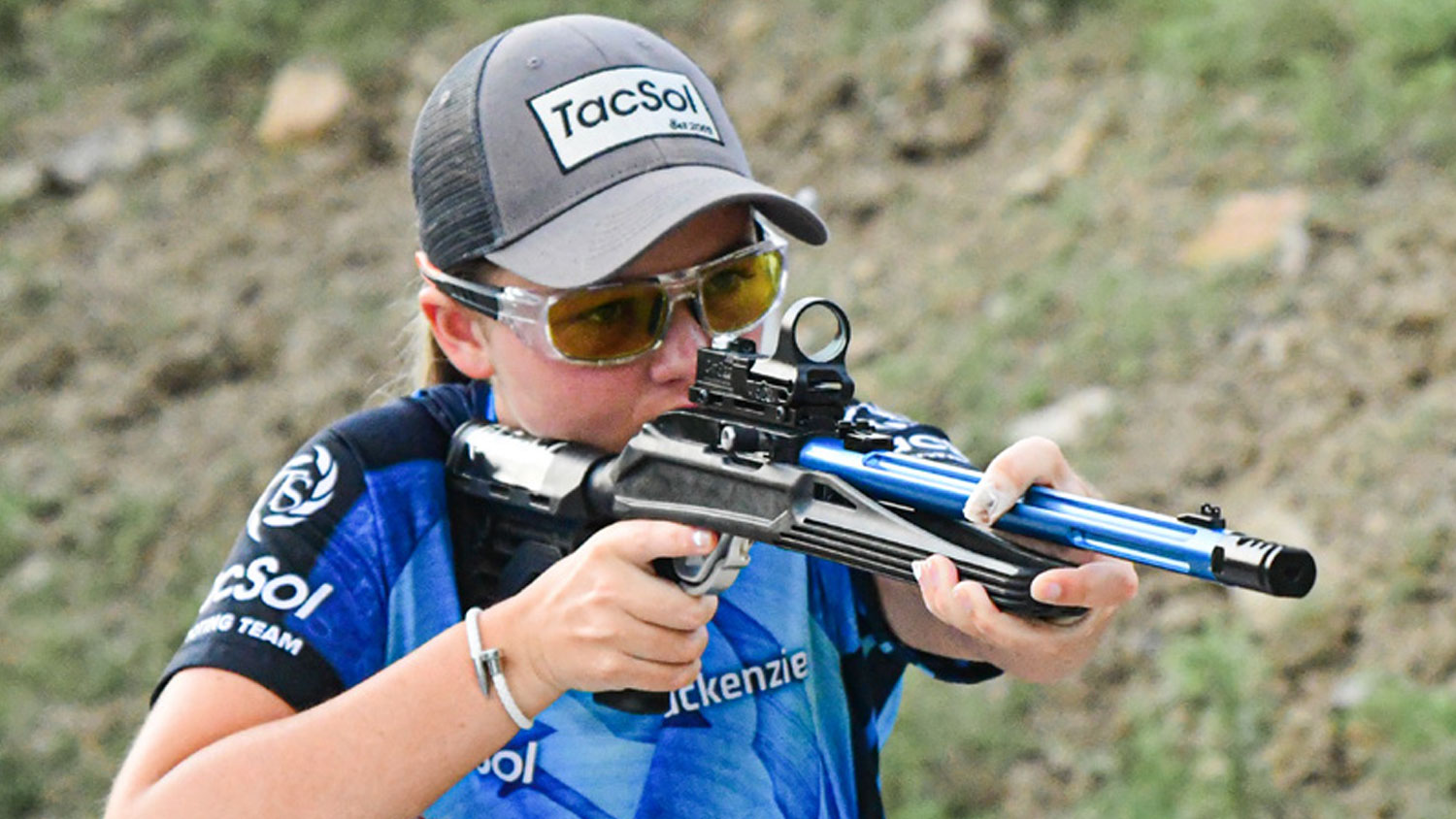 Rimfire Rifle Open is her favorite division. "It's been my favorite since I started." So, it makes sense that besides shooting steel matches, Mackenzie has shot some USPSA since joining in January of 2017. She has shot in both PCC and Open divisions and says she hopes to compete in more USPSA matches soon.
At 16, Mackenzie will begin her junior year at East Brook High School in Marion, IN, where she is a member of the National Honor Society. Her interests include hunting and fishing, also hanging out with her best friend and cousin, 13-year-old Zoey. After high school she is considering a degree in Criminal Justice or in Forensic Anthropology.
Wherever her shooting takes her next and whatever career she pursues, we have not heard the last from Mackenzie Bragg.
Learn more about Mackenzie Bragg by visiting her Facebook page.
Article from the July/August 2019 issue of USPSA's FrontSight magazine. Photos by Carole Bryant
---
See more: