Team USA's Vincent Hancock, Amber English, Kayle Browning, Maddy Bernau and Austen Smith will be in Larnaca, Cyprus, this week to compete at the 2021 ISSF President's Cup Shotgun (World Cup Finals) from October 19-24. A competition limited to the top 12 shooters in the world for both men's and women's trap and skeet, they will compete for the prestigious "Golden Target" or "Best Athlete of the Year" award. In addition to the coveted Golden Target Award, individual winners in each discipline will receive a $15,000 prize. The total prize purse is $859,200.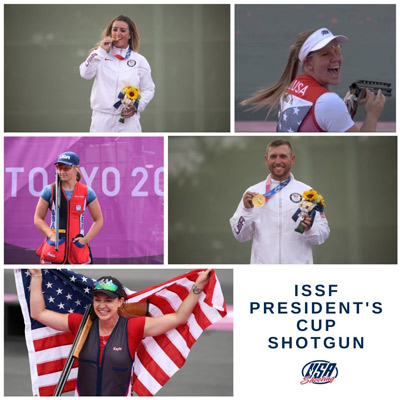 For Vincent Hancock, the three-time Olympic Skeet Champion, the 2021 President's Cup marks his eighth consecutive showing. He's placed second in six out of his seven previous President's Cup appearances, and is looking for a first place win hot on the heels of his Olympic gold medal in Tokyo.
Amber English, the second half of USA Shooting's Olympic skeet sweep in Tokyo, will make her fourth President's Cup appearance this week. In 2019, she finished third at the event, her highest President's Cup finish to date.
Kayle Browning, who finished sixth at the ISSF President's Cup Shotgun in 2012, will shoot for gold nine years later with a Tokyo Olympics silver medal in Women's Trap to her name.
Tokyo 2020 Olympic bronze medalist Maddy Bernau and Olympian Austen Smith will make their President's Cup debut in the Women's Trap and Women's Skeet events this week.
With Team USA coming off its most successful Olympic Games since 1964, the shotgun team aims to capitalize on the momentum from Tokyo and showcase their supremacy in the shotgun disciplines, as well as compete for a share of the $859,200 prize purse.
Learn more at USAShooting.org and ISSF-sports.org.
Lead photo: Amber English training in Tokyo prior to the 2020 Olympic Games. Photo courtesy of USA Shooting.
---
Read more: 
What's In Your Range Bag, Allison Zane?