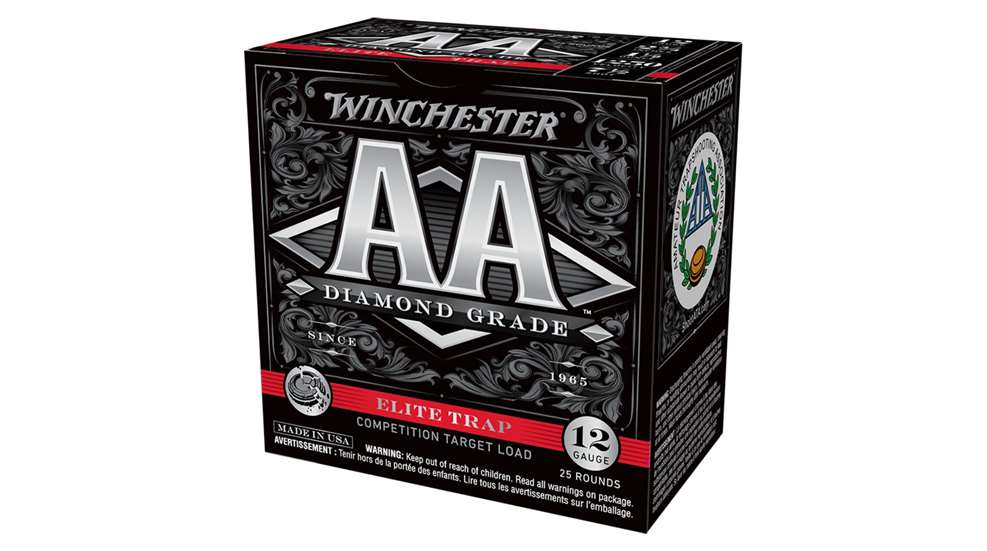 New from Winchester Ammunition is AA Diamond Grade Elite Trap, a new competition target load. Using the legendary AA wad and the Diamond Grade line's extremely hard shot, these new shotshells are legal for use in sanctioned ATA (Amateur Trapshooting Association) matches. (The ATA is the sanctioning body for the popular Grand American tournament.)
Similar to the original AA Diamond Grade ammo released last year, Elite Trap is loaded with an alloyed 8 percent antimony shot, which is the hardest shot available. Winchester has taken an additional step of precision sorting the shot to make sure that only the most round, consistent pellets make the grade. According to the company, the result is "extremely consistent patterns that are tighter and more uniform for more broken birds and higher scores."
To ensure that the new Elite Trap product is legal under ATA rules, it uses non-plated Diamond Grade shot.
Winchester AA Diamond Grade Elite Trap is offered in 12-gauge, 1⅛ ounces, No. 7½ shot at 1,250 f.p.s. This is a perfect 2¾-inch load for handicap shooting all the way back to the 27-yard line. Put simply, Diamond Grade payloads are meant to smoke clay targets. In addition, Winchester uses a nickel-plated head on the outside of the cartridge for smooth feeding and extraction.
Available in 25-round boxes, Winchester AA Diamond Grade Elite Trap is in stores now. Learn more at winchester.com.
---
Read more:
Winchester AA Diamond Grade Shotshell Target Loads Available Now